HR Runs Simple with Innovations in Travel and Expense Management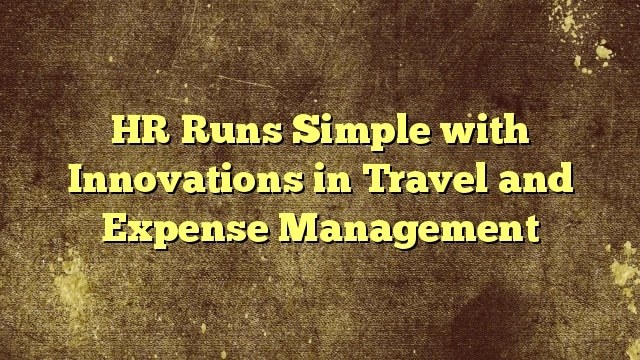 If you've ever used an app to book and pay for a taxi journey, you know how convenient it is. The mytaxi app pinpoints your present location, finds a taxi for you, and tells you when it will arrive. It automatically displays your preferred payment method – such as credit card – and lets you choose a tip amount before asking you to confirm the total payment. Finally, it sends you an e-receipt and the amount is debited to your account. Job done!
Faster Travel Expense ReimbursementsNow some business travelers will enjoy even more convenience than that. Because companies that deploy Concur software for their travel expense management will benefit from an extension to the mytaxi process chain that allows payment receipts to be assigned to an approved business trip and the total receipt amount charged to the appropriate company credit card automatically – saving employees all the hassle of trawling through emails to dig out the relevant documents. Taxi and other costs are automatically assigned to a business trip and submitted electronically to the employee's manager for approval. The manager then simply checks the smartphone app and approves the employee's costs, so that – provided that the company has created the employee as an "employee vendor" – he or she will be reimbursed well in advance of his or her next salary payment.Similar automatic processes will be available for Lufthansa bookings for the first time from 2016, with the option of booking flights via the familiar online travel tool or directly in a Lufthansa app."The software will also ensure that company-specific booking conditions are taken into account and corporate travel policies complied with," says Concur marketing director Andreas Mahl.
"Until now, transactions had to be specially prepared in the Concur software before being provisioned to SAP and posted," explains Andreas Labinski, a senior solution consultant at Concur.
In addition, a number of suppliers including mytaxi, Lufthansa, and Starbucks will begin deploying Concur's TripLink functionality, which was previously only available to customers using Concur software on data centers located in the U.S.
Consequently, the mytaxi-style approach to processing flight, hotel, rental car, and taxi expenses can potentially be applied to an entire business trip. The idea is that all the costs an employee incurs while traveling on business are captured electronically and appear on a single expense report. Where automatic capture is not possible, a picture of the receipt taken on a smartphone and a few manual entries are enough to ensure that the data can be processed in digital form.
"Ideally, my travel expense claim will have been processed by the time I return from my business trip," says Mahl, describing a goal that is increasingly becoming a reality.
As well as reducing the employees' administrative workload, the Concur solution benefits companies by ensuring corporate and regulatory compliance and performing automatic plausibility checks to rapidly detect errors in the approval process. But the software's chief benefit is that it simplifies travel expense management processes and creates greater transparency for both companies and their employees.
According to a study by market researchers Aberdeen Group, employees who use Concur software to claim back their travel expenses cut the time they spend on this task by three-quarters and are reimbursed two-thirds faster than before. What's more, the processing costs per travel expense claim are halved ‒ from €14 to €6 ‒ and the software ensures compliance with corporate travel policies.
The Power of Big Data
The 30,000 or so businesses around the globe that use Concur software generate a cartload of data: On an average day, the software registers 2.8 million log-ins, 170,000 trips booked, and 700,000 expense reports processed. Plus, in any 24-hour period, around 180 million records are archived that contain valuable information about itineraries, prices, modes of transportation, and accommodation.
"Big Data can help companies optimize their travel spend," says SAP expert Labinski.
For example, if a cost analysis shows that a company's employees spent a total of 800 nights in Marriott hotels, it may be possible for that company to negotiate a discount for its employees with the hotel chain. Big Data is also a driver in encouraging employees to be price-conscious. For example, if they select a flight or accommodation that is below a specified "price to beat," they win points that they can redeem for future travel. An employee planning a flight will automatically be shown an average price for flights on that route that the software has calculated from comparable historic bookings. A flight that is cheaper than the average price can be booked automatically, whereas a more expense one requires separate approval from the employee's manager.
And the next innovation is waiting in the wings: Business travelers who are in a hurry and have to ride in taxi that only issues paper receipts will soon very likely be spared the task of making additional manual entries when they photograph their receipt. Because Concur is currently working to maximize automation in the post-photo data capture process. This will involve the software using character recognition to register the cost of the journey and geolocation technology to trace the taxi route before automatically assigning the receipt to the correct business trip.