Review
University of Maryland, Master of Science in Supply Chain Management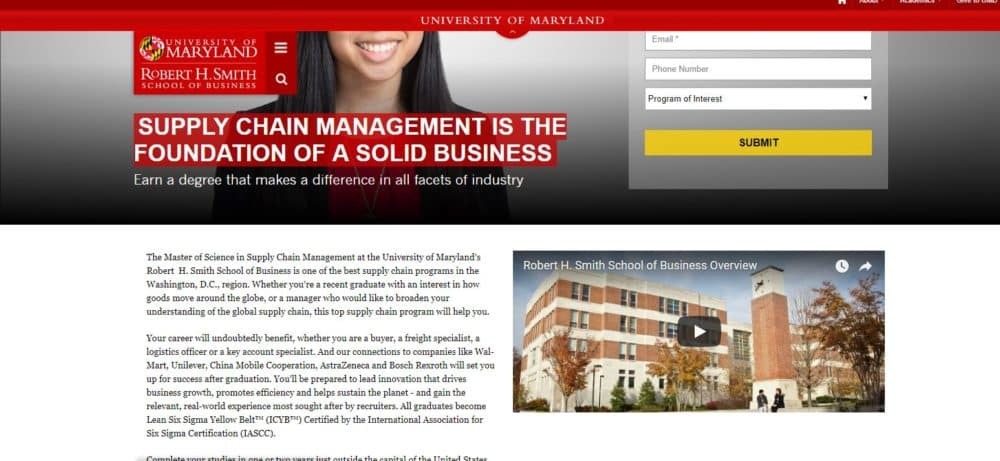 Overview
The Smith MS in Supply Chain Management is a cohort-based, lock-step program requiring 30 credits for graduation. The program is designed as a 16-month program; students have the option to accelerating the program and earn their degree in 10 months.
Supply Chain Masters Programs
• 30 credits
• Capstone projects
• Professional Internships
• Industry access
• Full-time, cohort
Master of Science in Supply Chain Management
Total of $49042 (In-State), $62422 (Out of State)
What is best?
• Capstone projects
• Professional Internships
• Industry access
• Full-time, cohort
What are the benefits?
• Unparalleled technology
• Invaluable connections to advance your career
• Supply chain management lab
• AACSB certified
• Industry exposure
• 200 top ranked faculty
• Lean six sigma certification
• Scholarships available
Master of Science in supply chain management from the university of Maryland, is a distinctive program, being among the only 5% accredited schools out of 16,000 schools worldwide granting business degree, by the Association to Advance Collegiate Schools of Business (AACSB). It is also one of the best supply chain programs in the Washington, D.C, and region. The rigorous curriculum prepares prospects to lead innovations that drives business growth, promotes efficiency and help sustain the planet. This skills gained helps make a difference in all facets of industry. The learning process is carried out by a proficient 200-top ranked faculty, whose expertise goes beyond class and into the field itself. University of Maryland has connections to companies such as Walmart and Unilever which will set you up for success after graduation. Experimental learning is key to this study, promoted through projects involving real life supply chain management challenges. Students interact with great companies to help solve real problems through analysis, creating solution and implementing them. This projects are also supplemented by internships which test skills and knowledge in real life situations. The unparalleled technology is an eminent resource to supply chain management learning. Prospects have access to highly-equipped supply chain management lab Master of Science in supply chain management gives rise to graduates with superior quality skills, sought after recruiters. The degree program ensures proficient professionals highly equipped for any challenges encountered in the supply management field.