How to Select the Best Talent Management Software for Your Business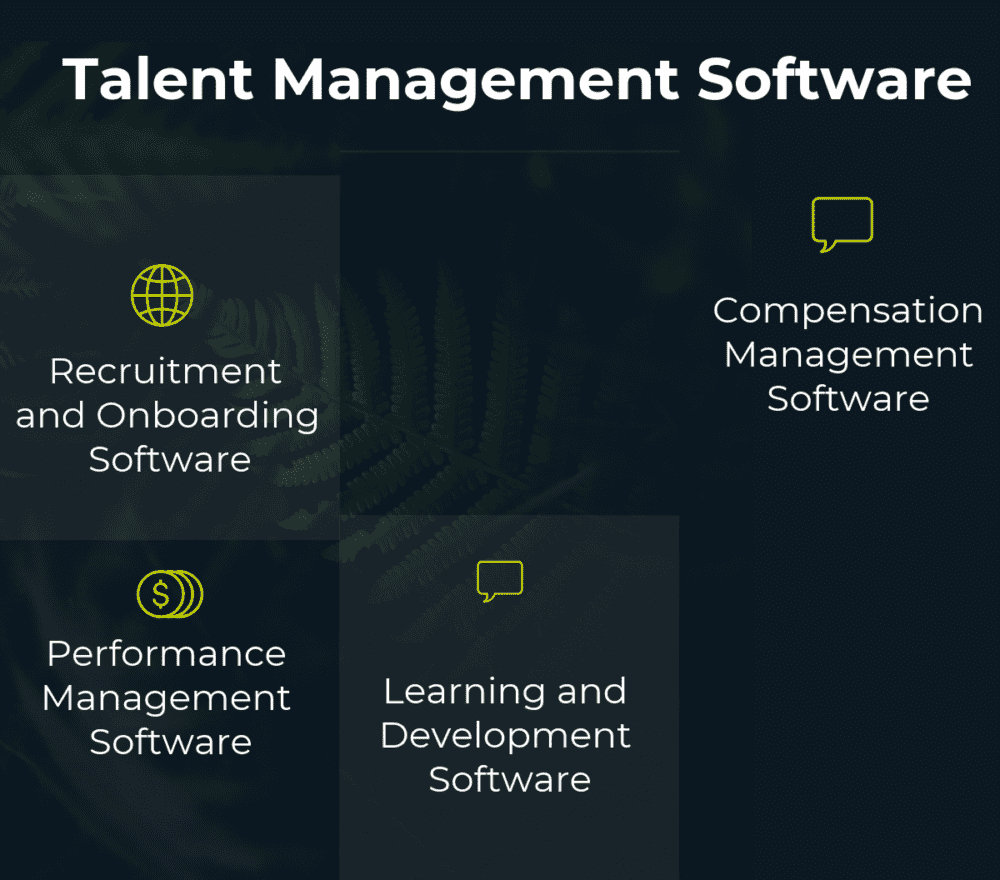 There is a direct correlation between the success of an organization and the nature of staff employed. Disruptive technology is increasingly affecting the static model that was earlier used by organizations. New entrants in the market are embracing the use of technology to leverage their operation.
To keep up with these new entrants, organizations are finding it necessary to nurture their human capital focus being on employee training and skills development. As a result, Talent Management Software is slowly turning out to be a high priority purchase for companies. This not only helps an organization develops their employees' skills but it also helps them maintain their high standards of performance.
What are Talent Management Software?
Talent Management Software is an integrated system that is used by HR professionals to manage employees as a competitive advantage. The system addresses the four broad functional areas commonly known as pillars of talent management.
What is involved in talent management? This mainly deals with employee development, redeployment and retaining of the best talents. The quality of an organization is determined by the kind of employees hired. But this does not stop here. The organization has to strive to retain and nurture these talents otherwise it will end up losing them to competitors.
The main focus of talent management system is on the provision of strategic assistance to an organization in the accomplishment of long-term goals. The system can either be a standalone application specifically addressing one part of the process, or it can be an integrated suite of software applications aimed at the entire employee lifecycle.
It is worth noting that talent management services are not meant for HR only.  It is a holistic system that incorporates employees, managers, and leaders as well. The system makes the staffs more aligned and productive which has a positive effect on their productivity. At the end of the day, the organization gets to benefit as a whole.

What are the types of Talent Management Software?
Management software is of strategic importance to any organization. To be specific, Talent Management Software helps the organization achieve strategic gains in the achievement of long-term goals. The software focuses on the most critical areas of talent management which helps the organization to be better equipped in retaining and attracting talents.
Recruitment and Onboarding Software: The software focuses on attracting and hiring the best employees and successfully integrating them into the organization.  This software is critical in ensuring the company succeeds in hiring and retaining their employees.
Performance Management Software: This system is responsible for goal setting for both the company and the various teams existing in the organization. The main focus of performance management is in measuring, appraising and managing employee performance. Through performance management, managers are able to identify top performers as well as conduct regular evaluations.
Learning and Development Software: The software focuses on areas that relate to development and training of employees. This also includes training on compliance as well as workforce and career development.
Compensation Management Software: This allocates financial value to employees such as salary, bonuses and benefits packages. The software helps the organization attract and retain talent by awarding employees fairly and competitively.
You may like to read Best Practices for Digital HR Transformation
What are the features of Talent Management Software?
Good Talent Management Software should lead to; improved productivity of talent management processes, improved decision making, more engaged employees and high quality of hires. The question is what are the key features that you should consider if you are to reap maximum benefit from your Talent Management Software? Here are a 'must-have' features the system should have;
Performance management: The system should be able to align with the company model of tracking performance. The system can also be customized to track the desired objectives as well as integrate the available data with other existing systems in the organization.
Succession management: The succession module provides an integrated view of both internal and external talent associated with a specific role. Succession planning should incorporate both executive and operational staff.
Compensation management: The software should be able to adapt to the emerging compensation methods in the organization. There is need to have a flexible system that aligns with the different sales performance management to manage compensation effectively.
Recruiting and talent acquisition: The system provides specific focus on talents at the time of interview and social outreach. Gauging the skills of applicants before they are hired helps in the employment of qualified candidates.
Talent analysis: Employees have different capabilities. This has a direct effect on their performance. Your system should be able to analyze and determine the key skills from the staff.
Competency management: For an organization to achieve its goals, the staff should be equipped with the desired skills. The software should assist in identifying skill gap from the employees. This will enable allocating resources to the right staff. As a result, you are able to have the competent personnel.
Staff development: Attracting the right talents is not enough. The company should put in place staff development programs as well. This helps in tracking employee progress as well as impact new knowledge and skills.
You may like to read Top Talent Management Software
What are the benefits of Talent Management Software?
Juggling the numerous tasks of HR can be a daunting task. There is a lot of engagement starting from recruiting the right candidate, onboarding, to succession planning. To streamline all these processes, you need to have the right talent management system. Here are four ways TMS can benefit an organization.
Data collection and sharing: An integrated TMS shares data across the entire system allowing easy access. This enables managers to make an informed decision as they are able to get a glimpse picture of what is happening in the organization.
Improves hiring: TMS helps integrate the entire hiring process starting from posting job adverts, to tracking applicants, conducting interviews and making offers. This gives recruiters more time to focus and identify the most talented and suitable candidate.
Track performance: An integrated talent management system provides the necessary tools to managers in tracking the top performing employees thus able to recognize and reward them.
Retain top talent: Having all the information of employee hosted on one platform helps managers to track performance review, goals, skills, and career aspiration. The system makes it easy to analyze and report on which employees need training, monitoring or promotions.
What are the latest trends of Talent Management Software?
Adoption of mobile apps in talent management: With the increased use of mobile devices, vendors have found it necessary to develop mobile apps that allow job recruiters connect with potential employers easily regardless of location. Recruiters are able to post job notifications on mobiles devices, likewise, candidates can apply and even be interviewed online. HR apps such as engagement and feedback, learning, employee feedback, video-interviewing have emerged creating a lucrative market for the software vendors.
Increased use of social media: Gone are the days where a job advert would only appear in print media. Nowadays, jobs are shared through social media platforms such as LinkedIn. The popularity of social networks allows recruiters gather information about a candidate from multiple sources thus getting a clear picture of who they are dealing with.
The emergence of video tools: A video is considered as a powerful tool in talent management. The tool helps to improve HR processes and creates a positive candidate experience. Video-interviewing is taking over the traditional interview process where a one-on-one interview was the norm. Organizations are able to save on resources while at the same time having access to a wide pool of talents. This, in turn, promotes organizational growth and productivity.
How to Select the Best Talent Management Software for Your Business?
Talent management is crucial to the success of a company. This necessitates investing in a TMS that will meet your needs, keep you up-to-date as well as automate data update. But how do you pick the right system from the many options in the market? Here are some of the factors to consider before settling for one:
Social features: How are the social features configured? Can it be collaborated with different apps, track, and integrate social networks and preferences? You need a system that can easily interact with the users on the social platform.
Is it mobile: Some of the questions you need to ask when choosing Talent Management Software are; does the software have a self-service feature and is it available via the mobile web or as a mobile app? Can the software be supported across multiple mobile operating systems and form factors? If there is a mobile app, how does the functionality compare with the desktop or laptop version? You also need to check if the mobile security is on par with the laptop or desktop security.
Data analytics: The software should be able to generate and transfer data to your business intelligence tool for further analysis and decision making. Look for a system that enables you to create a dashboard and out-of-the-box reports that will meet the needs of the stakeholders as well as yours.
Cloud-based or on premise solution: Confirm if the software is hosted or if it is in form of software as a service (Saas). In case your organization is operating from different locations, does the software guarantee business continuity from all the locations? Sometimes you will find an organization with on-premise and cloud-based solution running concurrently. As such, you need software that can be offered on a hybrid cloud basis. Also, confirm if the cloud-based software is secure and compliant.
Your requirements: Consider your requirements and see if the software offers standard features to map your business process.
Cost / subscription: Consider the cost and subscription fees for the numbers of users
Here are the trending and the top rated Talent Management Software for you to consider in your selection process:
Talent Management Software
PAT Index™
Is Free Talent Management Software Worthwhile?
Talent Management Software has many features and can do a lot to help your business to succeed by managing talent, but it can be expensive. There are plenty of free Talent Management Software available. There are two categories of Talent Management Software based on licensed model: Open Source Talent Management Software and Proprietary Talent Management Software.
Based on Installation type, there are On Premise Talent Management Software and Cloud based Talent Management Software and selection of the installation type depends on your business and organization requirements.
You can find limited free versions and full-fledged free trials in both the licensing models.
You could try Free Open Source Talent Management Software if you have a development team available in your company and time available to set it up and running. As these are mostly community supported, the support available also depends on the usage basis of the product.
You could try a limited version of Proprietary Talent Management Software to check how it fits to your business before making a big investment. These software comes with limitations and you need to buy the features using the up-selling vendors offers to make it useful. A free limited version from a proprietary product company will make it easier to upgrade in the long run and also help you determine if that company's solution is what you want.
There are also many drawbacks to Free Limited version of Proprietary Talent Management Software. These limited version do not have nearly as many features available in a fully functional paid version, and there are limits such as number of features and functionality, modules, storage limits, number of reports, limited data integration options, and also on the number of users you can have. The free versions also have limited support options.
Based on your functionality requirements and business fit, you can always choose a free trial and experience the system with your data before buying and migrating to a full-fledged solution.
Is there a one size fits all Talent Management Solution: Unfortunately there are no one size fits all solution as each of the products has its own core strengths in functionality, industry focus, integration capability and core features.
We recommend determining how the software fits to your business in terms of features, functionality, and business process with a free trial.