3 Best Practices for Digital HR Transformation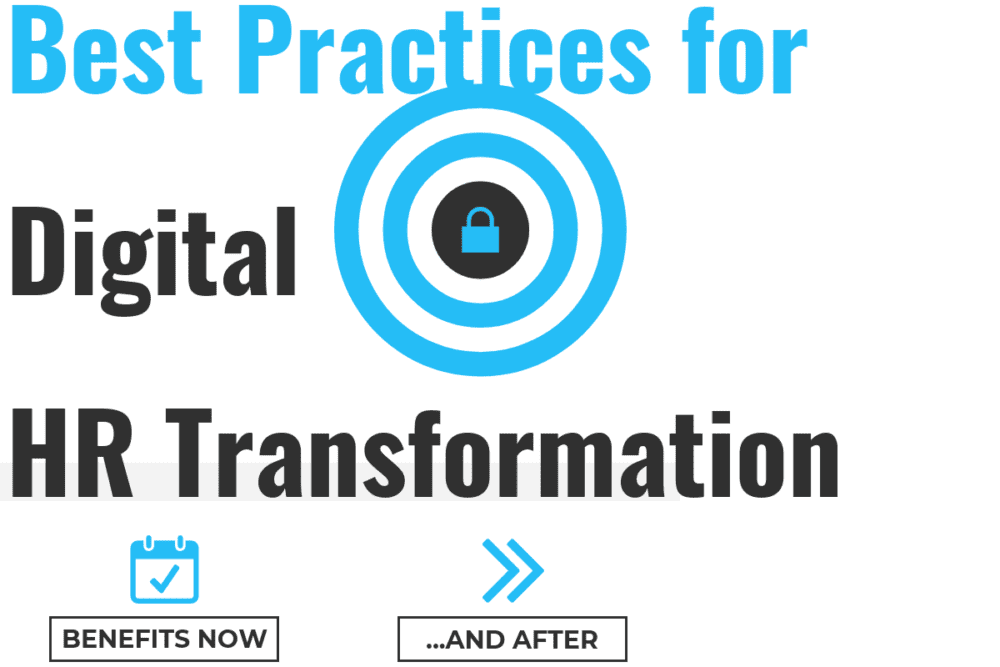 Human Resources (HR) department or team helps employee share their grievances that may transform the organization positively. For many years HR has been transforming on efficiency, employees secure access to HR services and data and automation. Human resource management system (HRMS), employees and manager self-service and talent management are some of the strategies and technologies that have supported this initiative.
However, through the availability of new digital technologies such as machine language, artificial intelligence and cloud technologies including frequent mobile updates, there has been a new HR transformation that is undertaking. Digital transformation is the change management process associated with the application of digital technologies such as the Internet of Things, machine learning, blockchain, Industry 4.0, Big Data, and artificial intelligence in all aspects of human society.
Organization HR services and strategies are delivered throughout the business by the enabled capabilities of HR transformation. Modernized HR transformation is mainly focused on performing new things wholly compared to traditional HR transformation that focused on achieving things better. The digitized aspects do not replace the current focus efficiency and automation of conventional HR transformation. Instead, they work in collaboration in most cases to ensure more augment automation.
The primary component of overall HR's strategy is digital HR, which is becoming more critical. They help in improving effectiveness in decision making and build HR workforce for the future through its new capabilities. Every individual in an organization nowadays can interact with digital technology mostly on a daily basis thus making every person a potential HR system user. Every employee in a company will be engaged if an HR system experiences are based on consumer-grade digital skills, thus enabling them to perform at their best leading to organizational purposes being converted into performance.
You may like to read: Top Core Human Resource Management Software (Core HR) and How to Select the Best Human Resource Software for Your Business
What are the benefits of Digital HR Transformation?
Enterprises are evolving, and there is a need for converting promise into purpose thus forcing them to integrate digital HR transformation to deliver innovative solutions.
Creating the Workforce of the Future: There is a need for new approaches that can help build the new workforce of the future by shrinking skilled talent and moving demographics to meet the digital needs. For an organization to be successful today, there is a need talent and potential full drive in ensuring the company purpose is achieved. A goal is what drives employees, and the employees drive business performance. The HR needs to develop and local talents, assess the areas with risks and know their ability. A clear strategy in digital HR can achieve it.
Ensure Better Employee Experience: Employee experience is the ability to develop personalized, engaging experience, attaining the needs and facilitating their careers, provide modern consumer experience to enable them to get their work done productively and efficiently. It is more than the user interface.
Increase Accuracy in Dashboards and Analytics Data: In driving business to success, HR is one of the key stakeholders.  HR transformation ensures business and HR make informed decisions through the accessed data to allow business double their profitability, productivity and enhance employee engagement.
Manage the Workforce: Businesses need to manage their workforce both part-time, full-time and extended employees as labour increases and impact business outcomes, workplace experience and the organizational culture. Digital HR transmission ensures complete visibility, workforce management and total control over essential processes for all skills.
Increase Efficiency and Agility to Meet Evolving Business Needs: The use of HR Transformation enables to respond to business changes quickly at the same time ensuring superb user experience and excellent performance. The HR suite has several solutions that power the strategies digitally by offering the ability to innovation through connected and open platforms and partner developed apps to extend its capability to improve decision making.
What are the priorities in Digital HR?
Intelligent Solutions: The new ways of engaging of workforce and management of processes have been re-invented by the use of digital technologies. HR digital transmissions can unlock smart business full potential. Artificial intelligence and other digital technologies within the HR digital transmissions ensure users attain the same digital experience as that they would get through consumer experience.
Data pattern are analyzed by the embedded intelligence to find future risks and challenges like the ability to discover critical skills and employee flight risk.
Business-Based HCM: To critically solve challenges in today's business world, executives need to gather facts and information in real-time and use them to make right decisions. With the HR digital transmission, leaders can access real-time analytics and track workforce priorities which include diversity and gender. Having the real-time insights, the HR can work on cross-company business planning and integrated workforce to alight the company data.
Natural Language Interaction: Businesses should encourage continued use of HR digital processes that have messenger applications, chatbots and voice recognition capabilities. The system helps users to get operation executed speedily. Through the use of natural language via voice, gesture or texts digital systems remind users what they need, what they might have forgotten and when they need.
Agile External Workforce Engagement: The process of getting work done has changed lately, For an organization to be successful it needs to find a mechanism where they can engage its workers quickly and being able to manage them effectively. HR digital transformation ensures customers can reach out to candidates and inquire about their availability on a given project or role. These capabilities will lead to an increase in business agility and quick hiring cycle times.
What are the steps for Digital HR Transformation?
Technology and business program designers work together and require instant feedbacks from each other across the company. Thus they need a solution that will ensure efficient solutions with innovative concepts that will ensure that the business will succeed. This can only be through digital transformation. Below are four phases of the digital transforming solution:
Prepare: On the prepare phase HR digital transformation first, start with defining the project scope within each company functional area and as well establish business goals and drivers. In the same time, the HR executives identify overall transmission objectives of the department; group members find specific functional roles objectives like the management of recruiting and the success measures.
In this phase, there is an initiation of a formal component of project management. Members of each team of specific transformation find designs solutions and outline integration preparation. In this phase, you have to ensure that the stakeholders are in alignment with the project by having talent management transformation team to seek out stakeholders so that you may test ideas and provide feedback. Transformation team develops a solution from the input offered in return.
Realize: Once the feedback has been incorporated into the previous prepare phase, the next step is the realize phase where a solution is configured with both IT and business members working together. It is internally known as "viral adoption", with a mission of discovering what is not working with the configuration pilot.
The other goal of this phase is to develop an interest, outline a new solution and develop for the pilot configuration supports outside of HR. The principal objective of realizing phase is to show how the performance management would look like in the future with digital transformation. Success in this phase is the transformation team can achieve its goals and be able to understand the goals they were attaining to achieve.
Verify: You have realized your goals and ways to achieve them the third phase to ensure the whole organization is prepared for integration of new solutions. This phase follows the learn as you go approach, whereby the transformation team once they receive feedback from users or stakeholders they make the appropriate changes and ensure that the solution is customized as needed.
On this phase data is moved from old technology or methods to new solutions, business scenarios are tasted by the pilot team with the transferred data. On this stage all user-access related issues have been solved, cloud-based forms are working, and all customized extensions are functioning correctly.
Launch: This is the last and final phase of the digital transformation process, and it's when the new solution is launched. Any business issues or neglected data migration is reconciled and attended to by the talent management transformation team. For the rollout of the new solution, the transformation teams prepares then execute the change management plan including training users activities and rapid adoption communication plan that will encourage the users of the new solution.
Once all these objectives are met by the transformation team, and there is no other inhibitor they can initiate go-live so that the solution may be launched. All the stakeholders that were involved in these digital transformation processes at this point have agreed that the new solution is ready for rollout and public use.
What are the Best Practices in Digital HR Transformation?
Digital HR Best Practices 1 - Socialize findings at each step of the way
The Digital transformation system can process inputs and feedback successful from users and stakeholders.
Digital HR Best Practices 2 - Develop balanced transformation teams
Users, HR experts and change agents groups are balanced in between with the use of digital transformation as well as business experts and technology to ensure solutions are created with users in mind rather than imposed upon users.
Digital HR Best Practices 3 - As part of transformation process include ongoing management changes
For continuous efforts to implement the desired changes adoption of the new solution is critical, so that employees may not be returning to the previous processes that were ineffective to the business.
Here are the trending and the top rated HR Software SMB for you to consider in your selection process:
Top HR Software SMB
PAT Index™
You may like to read: Top Core Human Resource Management Software (Core HR) and How to Select the Best Human Resource Software for Your Business