Review
Sage HRMS Talent Management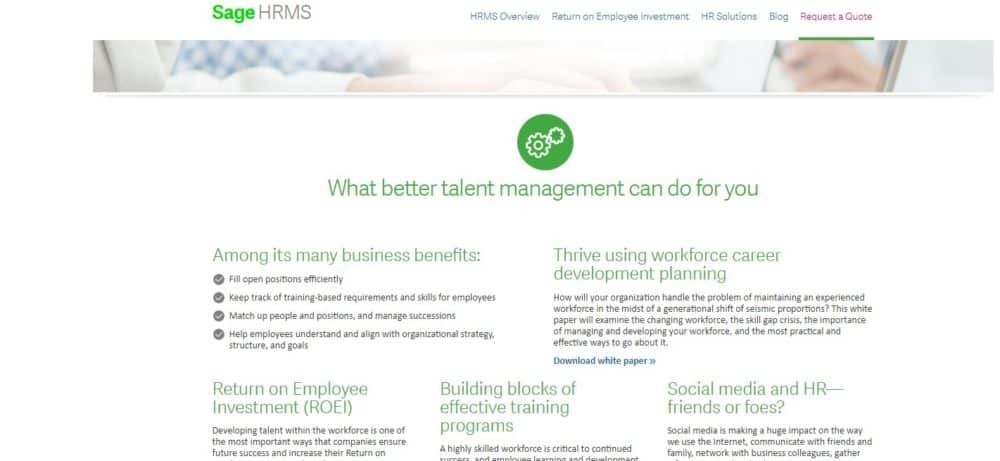 Overview
Talent Management modules—available as extensions to Sage HRMS—deliver the tools to help HR managers and executives keep employees engaged and satisfied.
Talent Management Software
• Automated payroll processing
• Employee self-service solution
• Enrollment automation
• Time tracking
• File management
• Help desk
• Sage advisor
Small (<50 employees), Medium (50 to 1000 Enterprise (>1001 employees)
Sage HRMS Talent Management
What is best?
• Automated payroll processing
• Employee self-service solution
• Enrollment automation
• Time tracking
• File management
What are the benefits?
• Eliminate much paperwork associated with HR
• Chose who to have access to sensitive data
• Get regular legislative and compliance updates
• Easily create accurate, timely reports and analysis
• Increase retention by giving high level of services to employees
Sage HRMS talent management, is a fully customized software that has been designed with HR managers and executive in mind. The solution offers technologically advanced features to make workflow seamless and empower employees while at the same time keeping a competitive eye open.
This helps you to improve results at a low cost. The advanced tools tracks employees important employee information and to automate HR and benefits transactions such as payroll, to give you more time to devote to other important issues. With sage HRMS talent management tools, managing compliance and the risk of litigation is done deftly. It can be difficult to keep up with government policies and new rules.
Sage HRMS tools record employment status, EEO, FLSA, 1-9 data and any pertinent information needed to demonstrate compliance with various hiring and discriminative laws. Sage HRMS facilitates communication and training of employees and managers so that the company does not face expensive lawsuits by employees as a result. Effective tools have also been put in place to ensure timely payrolls hence avoid any fees that may incur. Recruiting and on boarding new hires is now seamless with the advanced technology used in sage HRMS.
Managing performance and compensation information such as job definitions, reviews with documentations, employee ratings and salary range as well as other incentives such as bonus are kept systematically. Security features such as audit trails gives you an upper hand to keep record of who gets access to sensitive employee data. The software is all-rounded, making HR management easier.
You may like to read: How to Select the Best Human Resource Software for Your Business and Top Talent Management Software