Business Intelligence Tools and the Types of Business Intelligence Software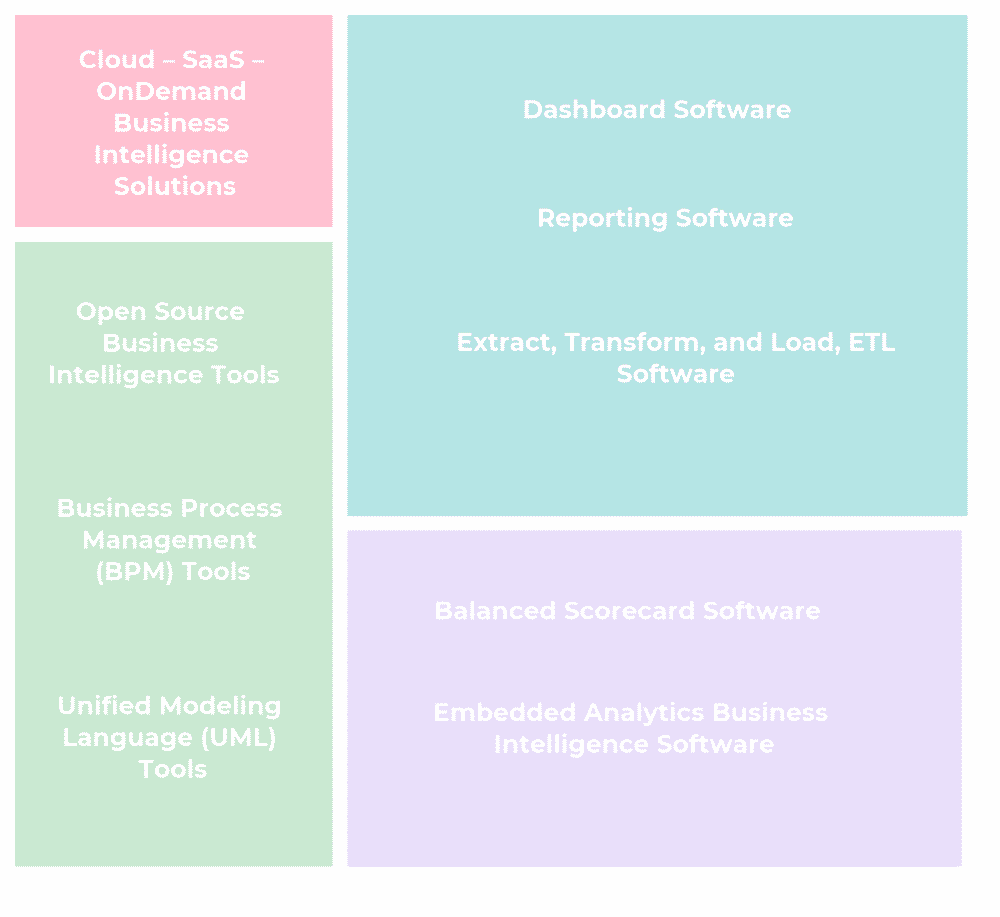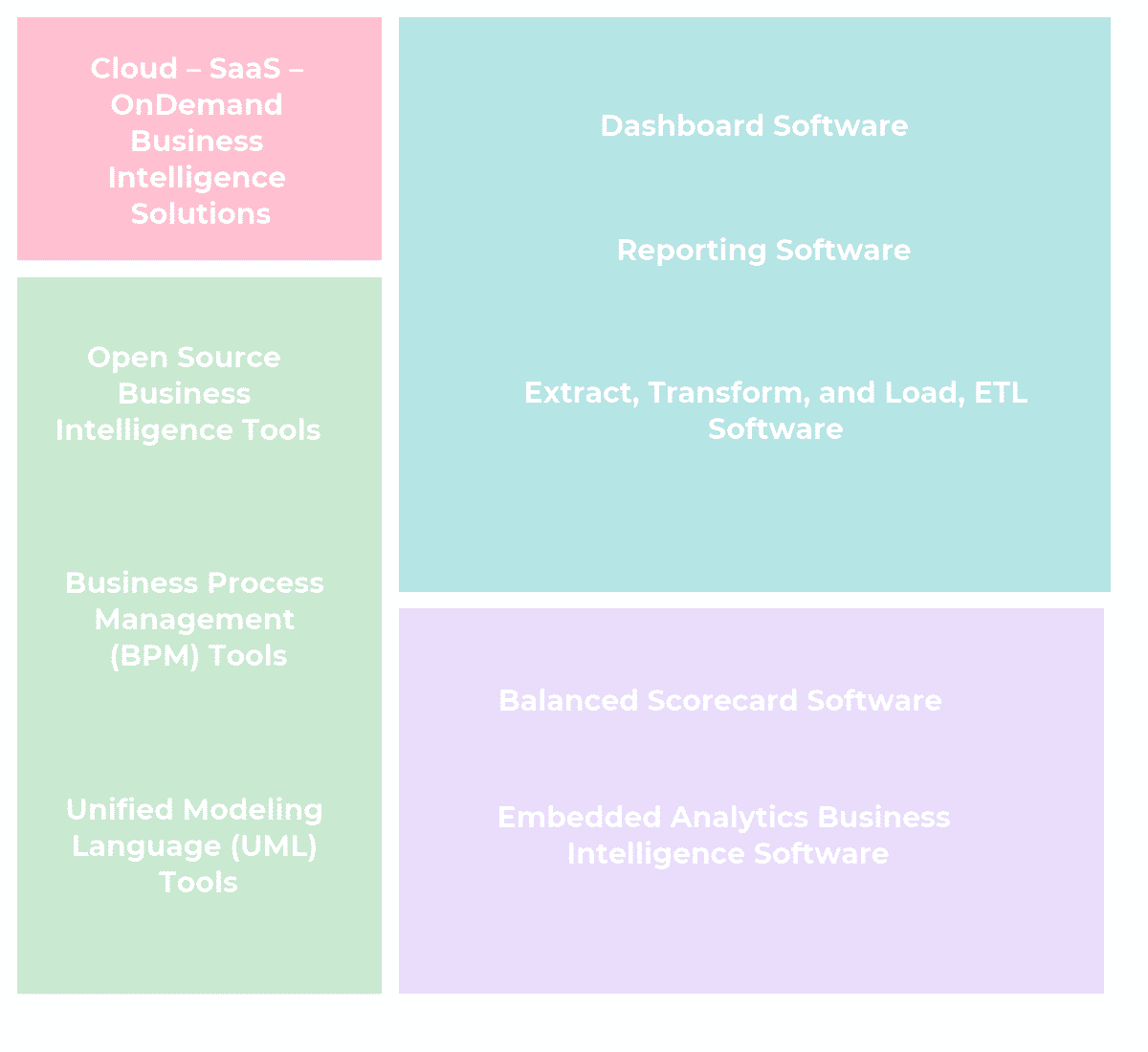 Business Intelligence Solution transforms the raw data into meaningful and useful information for intuitive presentation of knowledge and for the publication of business intelligence objects.
Business Intelligence solution enables, the collection and ingestion of intelligence data through enrichment and augmentation. Business Intelligence solution can handle large amounts of information through collaboration.
The Business Intelligence solution helps to identify and develop new opportunities through theories, methodologies, processes, architectures, and technologies.
Business intelligence deployment can bring additional business value in all of the business verticals. Tangible benefits can be achieved in measurement, analytics, reporting, enterprise reporting, collaboration, collaboration platform, knowledge management.
What are the Functionalities of Business Intelligence?
Analysis: Business Intelligence solution analyze the raw data with seasonal, trend analysis , what if scenarios, modeling using different data modeling techniques and similar functionalities.
Reports: The solution provides very comprehensive functionalities for creating reports for better understanding of the business data. Business users can create, view, modify report and visualizations online and offline and with other office products.
Real time monitoring: Business Intelligence solution provides tools to analyze the real time up to the second operational data to enable the business to take quick and informed decisions.
Dashboards: The solution provides dashboards which helps the business to monitor, measure and manage business performance in a very quick manageable way.
Scorecards: Business Intelligence solutions provides industry standard scorecards to enable the business to measure the key performance indicators.
Collaborative Business Intelligence: Business Intelligence Solution provides capabilities to collaboratively share the information with different stakeholders with in the organization and outside.
Mobile Business Intelligence: Business Intelligence solution provides functionalities to make the same information such as reports, dashboards, monitoring available in mobile device.
Advanced Analytics and visualization: Some of the business intelligence solutions provide advanced analytics and visualisation capabilities enabling real time visualisation in different forms and methods and to augment additional functionalities.
Sisense empower the most non-technical user with the ability to access data and build interactive dashboards and business intelligence reports. Sisense provides a variety of dashboard widgets to pinpoint the best visualization for your data, such as: geographical maps, gauges to measure KPIs, line charts to determine trends, scatter plots to see correlations, and pie charts for clear comparisons.Sisense enables to customize dashboard layout with drag-and-drop features to place each widget exactly where you want for optimal representation.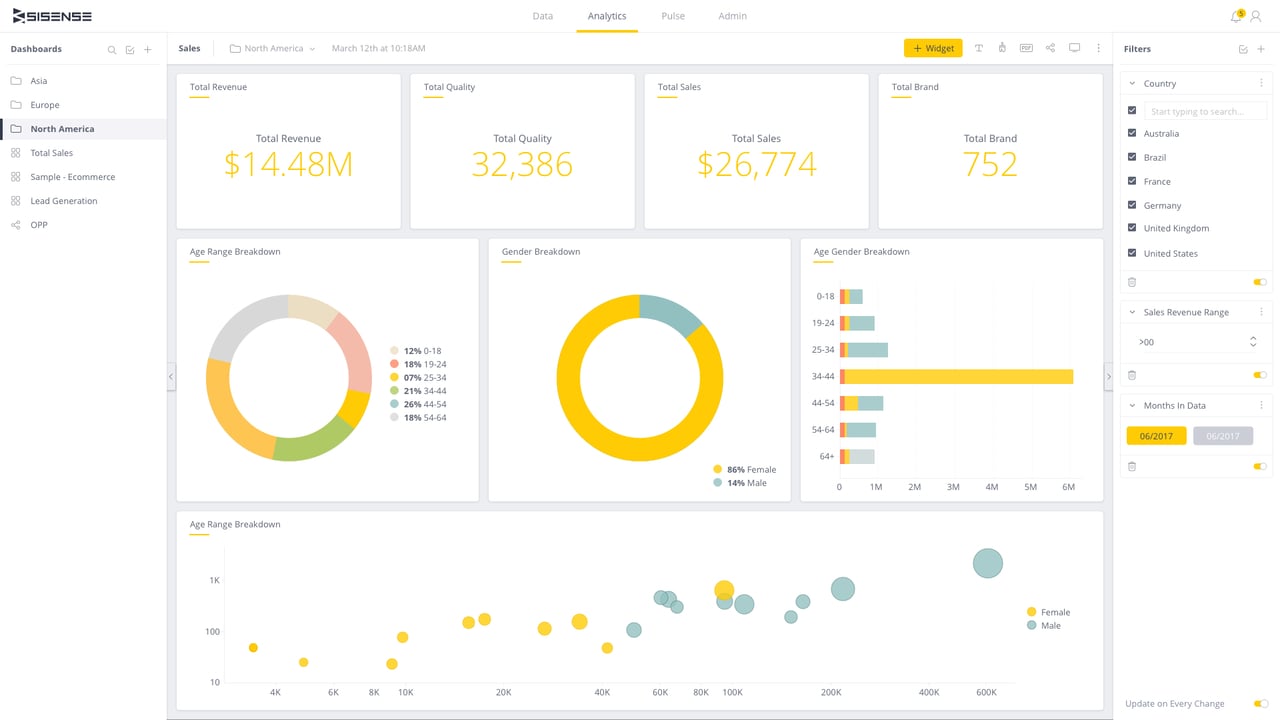 What are the Applications of Business Intelligence solutions?
Provides business insight, in time to deliver value.
Integration across the extended enterprise with role based information availability.
Data delivered to support real-time decision-making.
Metrics that are aligned with data that can be adapted as the business changes.
Measurement of metrics and benchmarking with information about progress towards the business goals .
Provides analytics to arrive at optimal decisions and to perform business knowledge discovery.
Collaboration platform for the different stakeholders of business to work together.
Knowledge management for a data driven company.
The Example data flow of a Business Intelligence Solution
Business Intelligence solution uses data gathered from a data warehouse or a data mart. The source data is collected from multiple sources through transformation and stored in an infocube or a data warehouse. A data warehouse is a repository of analytical data that facilitates decision support.
Data Flow:
Source Systems: data is extracted from multiple source systems.
Extraction Structure: data standardization and referential integrity checks.
Operational Data Store: data cleansing and data profiling checks.
Data warehouse: central repository and storage for data. data completeness,referential integrity and consistency between sources are checked.
Reporting: web based and or graphical user interface reporting.
What is Web Business Intelligence?
Web business Intelligence is a set of new tools and software for business intelligence that enables the dynamic querying of real time corporate data by employees and business users with a more web and browser based approach to that data. Web business intelligence provides flexible, intuitive, drag-and-drop, instant dashboards, ad hoc reporting tools and interactive analytics on the Web, that is on desktop, laptop or mobile device. Web mining requires techniques from both information retrieval and the artificial intelligence domain.
Web business Intelligence is achieved using the service oriented architectures (SOA), which enables for a flexible, composable and adaptive middleware. Open standards for exchanging data such as XBRL, the Extensible Business Reporting Language, Web Services, various semantic web technologies and benchmarking of technologies enable using data external to an organization.
Today's in memory database, distributed database and other technological advancements have moved the speed of processing of classical data warehousing into near real time. The result is real time business intelligence. Real time business intelligence delivers information about the business operations as they occur. Real time means as to the second when it happens and it provides access to information whenever it is required.
The advantages of Business Intelligence Software includes:
Deliver personalized business intelligence to clients, colleagues, customers, and partners.
Productivity improvement by giving users an intuitive tool which clears the backlogs.
Improve ad hoc reporting and analytics across any data source .
On the go analytics when you need them, no matter where you are.
Make real-time data visible to all relevant parties.
Enable efficient streamlined contribution to planning and execution process.
Provide simple and timely access to planning and execution data and relevant business information.
Intuitive user interface for Web business intelligence, providing extensive spreadsheet capabilities like formulae, functions, graphics, etc.
Enable faster and more accurate plans and execution aligned to customer demand requirement.
What are the Top Business Intelligence Tools Types-Top BI Tools Types
Business intelligence tools are application software that are used to retrieve, analyze, sort, filter, process and report data from business intelligence solution. These tools read raw data that is stored, in a data warehouse or data mart or info cube or tables in a database. Some of the top business intelligence tools are spreadsheets,  software for reporting and query display, Online Analytical Processing, digital dashboards, data mining, data warehousing, decision engineering, process mining, business performance management and geographical information systems.
Spreadsheets: Generally used is Microsoft Excel, open source spreadsheets software, web based spreadsheets. There is also business intelligence software with spreadsheet as front end user interface.
Digital dashboard: Dashboards are easy too read real-time user interface, which shows a graphical presentation of the current status.
Reporting and querying software: Reporting and querying software are either open source or proprietary software which are used to report, query, sort, filter and display data.
Data Visualization Software: Data Visualization Software helps you with visual analysis of datasets to create visualization of your data in minutes for meaningful insights. These visualization makes it easy to discern and share insights with in your departments.
Corporate Performance Management Software: Corporate Performance Management tools enable the middle and senior management of an organization to review the performance of enterprise in achieving the pre-selected goals.
OLAP Tools: OLAP is online analytical processing. OLAP tools helps users to interactively analyze the data from multiple sources in a multidimensional view based on the users business perspective.  The functions in OLAP are drill down, drill up which is the consolidation, swap, aggregation, disaggregation, slicing and dicing.
Self Service Business Intelligence: Self Service BI is an approach which enables business users to access and analyze data without the help of IT.
Mobile Business Intelligence: Mobile Business Intelligence is about bringing Business Intelligence to mobile workforce on the go by providing them the ability to read historical data and analyze the real time information on mobile devices such as smartphones and tablets.
Embedded Business Intelligence Software: Embedded Business Intelligence Software is the integration of business intelligence capabilities within business process applications, portals and other systems.
Extract, Transform, and Load Software: ETL Software are software tools that are used to combine, blend, clean, profile and audit data from different sources.
Self Service Data Preparation Software: Self Service Data Preparation Software enables the data analysts to prepare and clean data to perform analyses without the help of IT team.
Data mining Tools: Data mining tools are discovering patterns in large data sets involving methods using artificial intelligence, machine learning, statistics, and database systems.
Data warehousing Tools:  Data warehousing is a central repository of data. This is created by integrated data retrieval from different sources. This acts as a consolidated repository for storing the data for future retrieval for analysis.
Decision intelligence: Decision engineering is a framework for decision making. This bring together many techniques such analytics, reasoning and machine learning techniques to overcome the issues in decision making.
Process mining: Process mining is analysis based on event logs stored in an information system which is aimed at providing information for process analysis and governance.
Business Performance Management: Business performance management is a set of processes for managing the performance of an organization using the selection of the goal, consolidation and review.
Unified Modeling Language: Unified Modeling Language is a modeling language to help system and software developers for specifying, visualizing, constructing, and documenting the software systems.
Local Information Systems: Local information systems are designed primarily to support geographic reporting.
Free Business Intelligence Solutions
Free Cloud Business Intelligence Software: Google Data Studio, Tableau Public, IBM Watson Analytics Free Edition, Zoho Reports Free Edition, Microsoft Power BI Free Edition are some of the Top Free Cloud Business Intelligence Software.
Free Proprietary Business Intelligence Software: QlikView Personal Edition, Qlik Sense Desktop Personal Edition, InetSoft Style Scope Agile Edition, Visualize Free, Prognoz Platform Personal Edition, Actian Vector Analytic Database Community Edition, EspressReport Lite are some of the Top Free Proprietary Business Intelligence Software.
Free Open Source Business Intelligence Software: Knowage, Pentaho Community Edition, Seal Report, Jedox Base Business Intelligence, A Reporting Tool, BIRT, Jaspersoft Business Intelligence Suite, Pentaho Reporting, Metabase, SQL Power Wabit, Widestage, HelicalInsight, ReportServer Community Edition, NextReports, Jmagallanes, Mondrian, RapidMiner Starter Edition, KNIME Analytics Platform Community are some of the Top Open Source Business Intelligence Software.
You may like to read Free, Cloud and Open Source Business Intelligence Software