Review
DataLion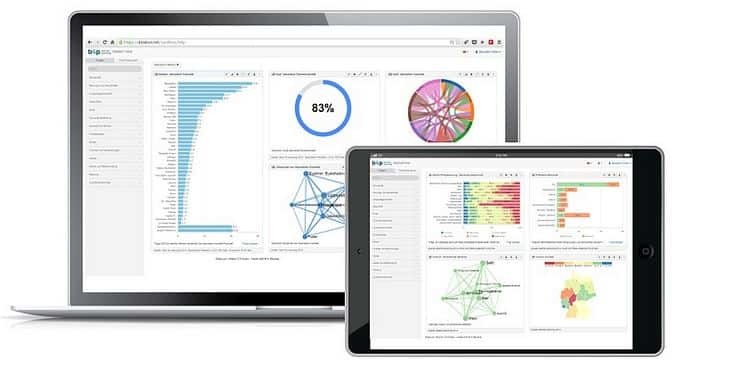 Overview
DataLion offers innovative visualizations such as networks, heatmaps, bubble charts, chord diagrams and maps, it can even integrate your own custom chart types.
Business Intelligence Software
•Integrates with Existing Platforms
•HIPAA Certified Platform
•Instant Notifications
•Shareable Insights
•Access from Multiple Devices
•Data Extraction and Cleansing
Small (<50 employees), Medium (50 to 1000 Enterprise (>1001 employees)
What is best?
•Integrates with Existing Platforms
•Shareable Insights
•Access from Multiple Devices
•Data Extraction and Cleansing
What are the benefits?
• Gain valuable insights
• Access dashboards and reports from anywhere
• Support meetings with maximum information and content
• Export charts and dashboards
• Create complete presentations within a few minutes
• Work with data from different sources
Discover, visualize and monetize exciting insights from the company's marketing, research, media and BI data with DataLion. It provides users dashboard solutions for better and more efficient data visualization and storytelling.
DataLion offers a large number of innovative and meaningful visualization types. Its flexible frameworks allow users to combine the best charts of different origin in one dashboard with the same look and feel. DataLion also makes it possible for customers to integrate custom client visualizations which will save the company a lot of time than by just doing it manually.Data are represented in different forms, with DataLion, users can choose among the different data visualization such as Bar Chart, Network, Chord Diagram, Maps and bubble charts.
Bar charts are commonly used to compare quantities; it comes in all imaginable colors while making sure that it is always with the correct legend automatically generated with data source, number of cases and population numbers. Users will be able to customize or make necessary updates as well. User can change the charts to absolute numbers (weighted or unweighted), percentages or population projection or change the diagram to columns or stacked bars.
To visualize affinities between media, brands or users, network diagrams are often used while the layout is generated with the Force Atlas algorithm. On the other hand, pie charts are also available if users wanted to use them for gathering data and even reporting or presentations.
For users who wanted to target a specific location, DataLion can handle both geographical coordinates (longitude and latitude) as well as semantic locations such as counties, states or countries. This helps a lot in establishing on a particular area while users will be able to get an immediate overview on all information when needed or even just for monitoring.
You may like to read: Open Source, Free and Top Dashboard Software and How to Select the Best Dashboard Software for Your Business
DataLion ScreenShots