Review
SAP Lumira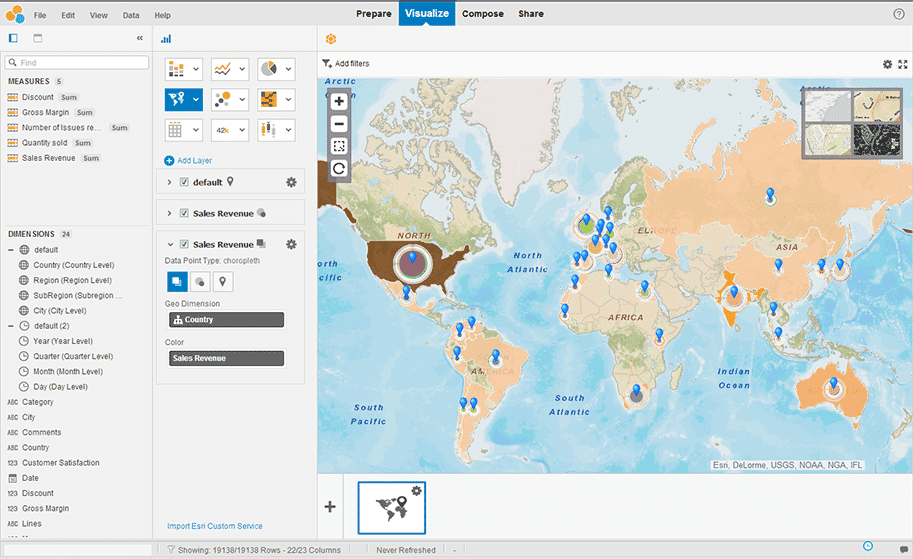 Overview
SAP Lumira software helps to bring together and transform large and small data to discover hidden insights and answers.
Data Preparation Software, Data Visualization Software, Dashboard Software
• Connects To Any Data Set
• Uncover Hidden Trends
• Slice It. Dice It. Visualize It.
• Create Your Own Story
• SAP Lumira, standard edition - USD 185.00 per user
Small (<50 employees), Medium (50 to 1000 Enterprise (>1001 employees)
What is best?
• Create beautiful and interactive maps, charts, and infographics
• Import data from Excel and many other sources
• Perform visual BI analysis using intuitive dashboards
• Securely share insights and data stories with your team
What are the benefits?
• Manipulate and transform data with ease
• Connect to your data big and small
• Combine visualizations into storyboards
• Access and share insights securely
• Acquire data from multiple sources
SAP Lumira
SAP Lumira is a self service Business Intelligence solution from SAP which allows business users to access, transform, visualize data, analyze the trends, and share insights on the BI platform or in the cloud.
SAP Lumira software combines self-service BI discovery and visualization with interactive dashboards and analytic applications – all in one solution that rapidly promotes insight across the organization.
Deliver faster insights easier, with a simple interface for self-service data visualization, data connectivity, and advanced development tools.Enable IT to manage, govern, and deliver fresh data to business users to uncover hidden insights in real-time and drive decision-making, eliminating the need for shadow IT.Integrate on-premise data discovery, dashboards, and analytic applications with business user access to all analytics across the organization using SAP Analytics Hub.
You may like to read: Open Source, Free and Top Dashboard Software and How to Select the Best Dashboard Software for Your Business
SAP Lumira ScreenShots