Top 32 Sales Intelligence Platform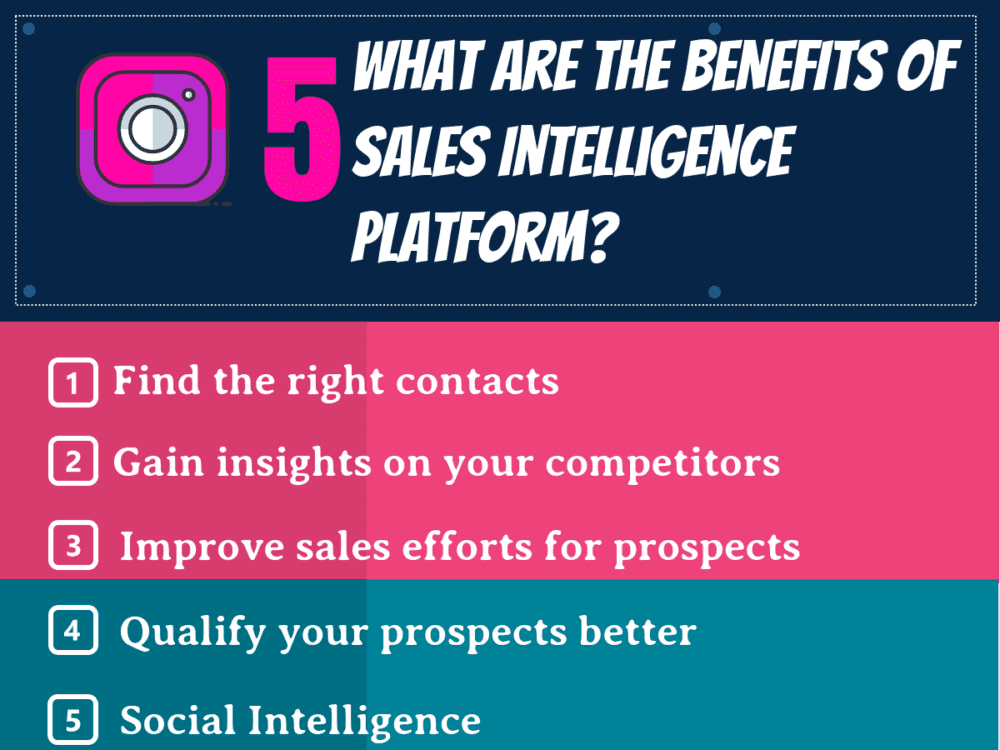 The importance of data to business growth cannot be stressed enough! And even though we reside in a data-driven world, salespersons should not forget that sales are about the people and not data. In fact, sales reps spend up to 30% of their time searching for data. Luckily, sales intelligence can significantly reduce this time.
And that's not all! Sales intelligence allows you to make good first impressions. Given that it gathers information from online directories, Facebook, and Google search pages, your pitch will be more relevant to the business prospect at hand. Also, sales intelligence acts as a GPS for sales. How? Sales teams that are under lots of pressure to close a huge number of deals can use it to eliminate bad leads so that they can focus on leads most likely to convert.
Example of Sales Intelligence Platforms: D&B Hoovers, ZoomInfo, Bizible, Artesian, Growbots, WealthEngine, Velocify, Lead411, Datahug, RainKing, Charlie App, Winmo, Beckon  , DiscoverOrg, Salestools.io, InsightSquared, Sendbloom, RelPro, Unomy, Clearbit Enrichment, sales-i, Datanyze, D&B Workbench Data, DemandFarm, MediaRadar, Owler, OnePageCRM, ZynBit, Oceanos, ProsperVue, Gryphon, HG Focus are some of the Top Sales Intelligence Platform.
What are Sales Intelligence Platform?

Sales Intelligence Software helps companies use internal and external data to increase sales and improve sales processes. Companies use sales intelligence software to improve the quality and quantity of sales leads by using data to find new opportunities and provide salespeople with the information they need to take advantage of them. This type of software is used by marketing and sales executives to define and implement sales strategies based on their data combined with external data such as lists of prospects and databases of contacts.
Sales intelligence refers to the collection of technologies, applications and practices that collect, integrate, analyze, and present customer data. It gives sales companies relevant information about their prospective clients and a better insight as to who their campaigns are reaching. From that, it can then produce solutions and adjustments that will improve your sales team performance.
It takes a lot of valuable time dealing with mountains of data and that is where sales intelligence come in. These platforms analyze the potential prospects through their social media data, online journeys, and search engine questions. Salespersons could then use this information to segment, target, and improve their campaigns as well as marketing assets.
Simply put, the ultimate goal of sales intelligence is to provide you with the relevant leads. This saves you from having to sort through loads of data. With that said, it is clear that sales intelligence is a worthy investment for any company that expects sales success!
Some of the important features found in good sales intelligence platforms include:
Dashboards: This feature allows you gain valuable insight by allowing you to see data visually presented in tables, graphs and other important figures. A good sales intelligence platform will even offer solutions to any queries that might arise.
Anywhere access: Regardless of whether you are at home, on the road, in the office, being capable of making informed and accurate decisions wherever you are is important. Postponing decisions until you get to your place of work might cost you time and money.
Relationship Management, Flexibility and simplicity: Provides Relationship Management features connecting your Contact database.It should be flexible and simple as it controls your ability to use the platform. The software should be simple enough to use that you don't need to be an IT expert to enjoy its benefits.
Sales Intelligence: Provides Sales Intelligence about your customers from your Contact Management.
Combines CRM activity with sales history: Your sales intelligence software should be capable of seamlessly merging the sales performance of your team and customer relationship activity. This permits you to match orders, budgets and sales to your notes.
Top Sales Intelligence Platform

D&B Hoovers, ZoomInfo, Bizible, Artesian, Growbots, WealthEngine, Velocify, Lead411, Datahug, RainKing, Charlie App, Winmo, Beckon  , DiscoverOrg, Salestools.io, InsightSquared, Sendbloom, RelPro, Unomy, Clearbit Enrichment, sales-i, Datanyze, D&B Workbench Data, DemandFarm, MediaRadar, Owler, OnePageCRM, ZynBit, Oceanos, ProsperVue, Gryphon, HG Focus are some of the Top Sales Intelligence Platform.
Top Sales Intelligence Platform
PAT Index™
1
D&B Hoovers
D&B Hoovers combines the powers of former Hoovers solution, insights-rich Dun & Bradstreet data, and the robust Avention OneSource platform to provide sales, marketing, research, and procurement professionals with the information they need to make informed decisions and gain competitive advantage. D&B Hoovers profiling and prospecting capabilities give you actionable insights about companies, contacts, and their areas of interest so that you can develop relevant messages and uncover your best prospects. D&B hoovers intuitive analytics helps you target qualified sales leads, access up-to-date business information, and improve Return on Investment (ROI). D&B Hoovers aggregates and selects sources of information from…
Overview
• Segmentation filters
• Sales prospecting
• Conceptual search
• Smartlists
• Contact decision matrix
• Company profiles
• Alerts
• Reports
• CRM Integration
• SWOT analysis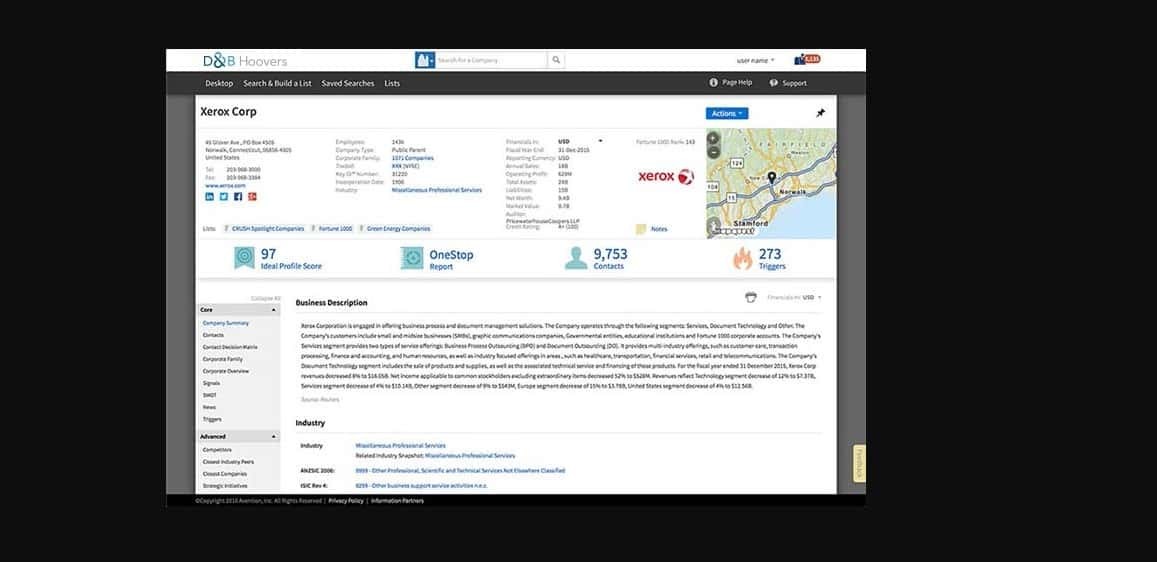 2
ZoomInfo
ZoomInfo is a growth acceleration platform which combines the world's most comprehensive B2B database with sales and marketing solutions to rapidly identify, target and search qualified contacts. ZoomInfo offers features such as detailed and accurate information, direct dial phone numbers and email addresses, advanced prospecting functionality, build targeted lists of B2B contacts, start new conversations and integrations like Salesforce.com plugin, ReachOut for LinkedIn & Salesforce.com, data integration and form complete. ZoomInfo lets users get access to detailed, accurate information on people and companies with more direct dial phone numbers and email addresses while its advanced prospecting functionality allows users to…
Overview
• Search: Advanced contact & company search
• Build: Advanced export options
• Insights: In-depth database analysis
• Enhance: Improve the quality of your existing data
• Community – Free
• Business – Get quote on site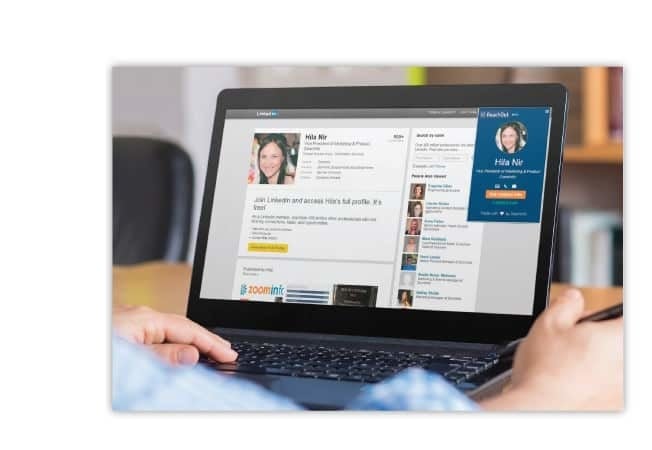 3
Bizible
Bizible automatically track marketing interactions across all channels, from keywords to conferences and everything in between.Insights to help you measure and optimize marketing efforts for revenue to maximize growth and understand and impact the future with a goal-oriented and high fidelity forecast to help you make decisions. Bizible unifies user behavior and advertising data with sales outcomes, allowing user to control the success of the marketing investment. Bizible use omni-channel marketing attribution data to align teams under one goal: revenue. Bizible's "CMO" dashboard provides clarity across all the marketing channels -- whether offline or online -- so one can maximize…
Overview
• Support The Entire Marketing Organization
• Streamlined Reporting And Tracking Setup
• Deliver Results And Revenue
• Generate Revenue, Not Leads
• Track First-Click To Deal-Won With Ease
• Scale Paid Media With Confidence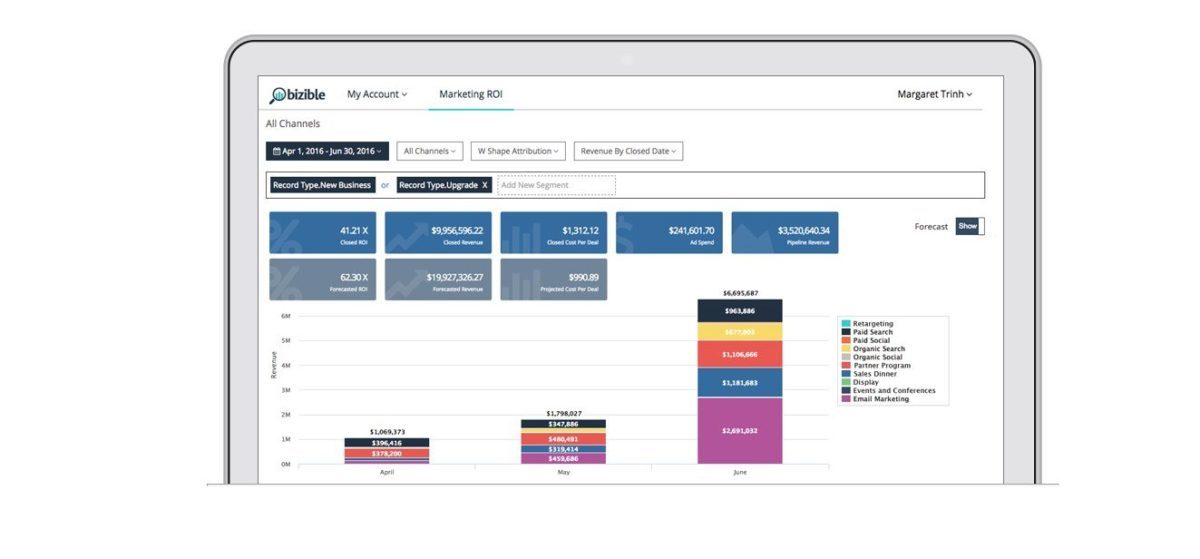 4
Artesian
Artesian is a software solution that provides contextual, relevant insight into companies and their markets in real time, helping you get to know your customers better and giving you a competitive edge when it really matters. Artesian gathers information on industries, organisations, individuals and topics from millions of sources and uses clever algorithms to filter and transform the information into commercially valuable insights. With Artesian, you can track your customers, prospects competitors and partners, spot business opportunities and manage risk. Artesian helps customer curious businesses increase credibility, competitiveness and customer satisfaction. Artesian Solutions provides professional help on expanding your connections…
Overview
•Increase customer satisfaction
•Build Deeper Relationships
•Uncover more opportunities. Manage risk effectively
•Build credibility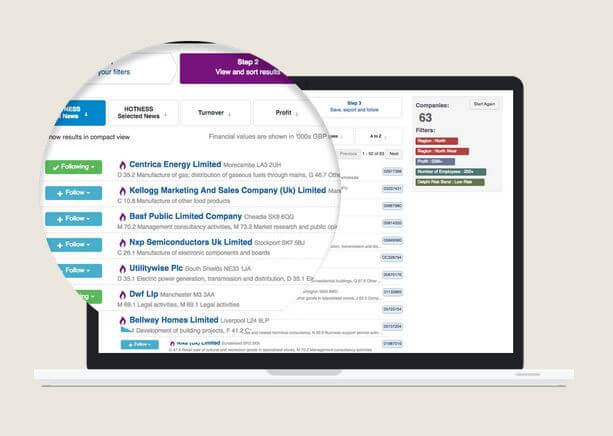 5
Growbots
Growbots makes use of Artificial Intelligence (AI), Growbots enables sales agents to interact directly with prospective customers instead of using the tedious manual prospecting and outreach processes. It enables each of your team members to quickly get a high quality, tailored contact list. Growbots features a self-updating database that constantly adds new data sources keeping email bounce rates below 10%. With access to 200 million decision makers, Growbots is one of the most substantial and comprehensive database on the market. Growbots allows you to use filters to describe your ideal customer profile or build a list of all decision makers…
Overview
• Automatic prospecting
• Automated campaigns
• Dashboards
• Salesforce Integration
• Outbound sales
• AI algorithms
• Collaboration tools
• Onboarding
• Contact list

6
WealthEngine
WealthEngine (WE) provides wealth intelligence solutions to help fundraising, marketing and business development professionals create strategies to extend their reach and build their prospect pipeline. It predicts who the best buyers, donors or investors are and gives users the insights they need to understand what drives their decisions. WE's unique data takes the guesswork out of sales, marketing and fundraising, so users can engage with people most likely to buy, invest or donate. Some of WE's most impressive features include WE Search which pulls together data from 60 sources to look through 300 million profiles and 122 million households. Users…
Overview
•(Re)Search
•Wealth Scores
•Screening
•Predictive Analytics
•Lookalikes
•Consulting
•Prospecting
•Great Data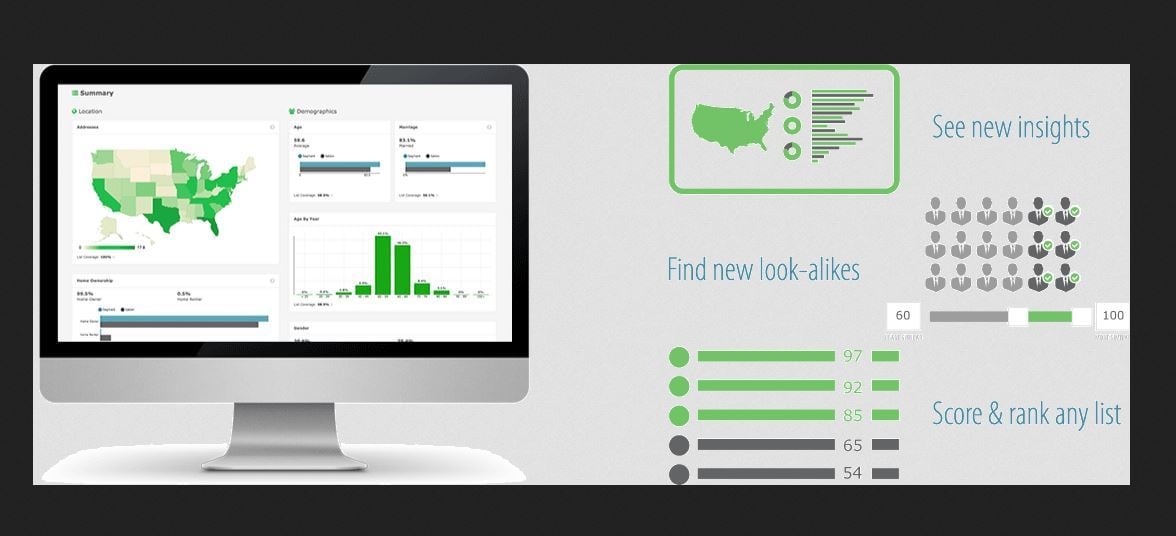 7
Velocify
Velocify is the leading sales acceleration platform. The company helps more than 1,500 sales teams sell more by bringing speed and control to the entire sales process. Velocify helps sales teams prospect with more precision, accelerate lead engagement, and implement optimized workflows, ultimately helping sales teams find and convert more leads. Velocify LeadManager automatically captures, de-dupes, intelligently distributes, and prioritizes leads so sales reps stay ahead of the competition and focused on closing more deals. Users can seamlessly capture and automatically de-dupe and distribute inquiries coming from a variety of sources, including website lead forms, marketing automation systems, and more…
Overview
•Grow Sales Faster with Lead Management
•Capture and Deduplicate Leads
•Intelligently Distribute Leads
•Guide Selling Process
•Velocify LeadManager Standard $60 per user per month,
•Advanced $95 per user per month,
•Velocify Dial-IQ Outbound $40 per user per month,
•Plus $60 per user per month,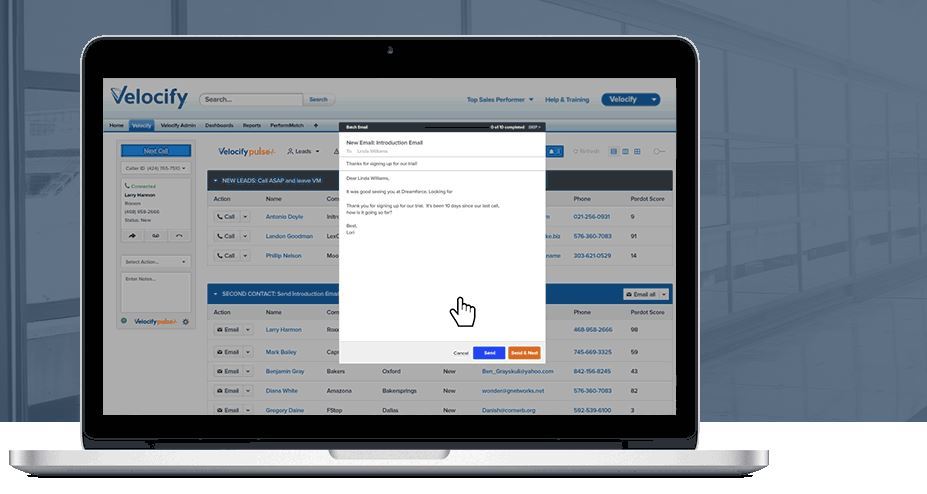 8
Lead411
Lead411 is a trigger-based sales intelligence platform for recruiters, sales teams, marketing managers and business builders which provides corporate and contact context in order to increase their lead identification and conversion rates. Lead411 offers features such as view unlimited emails/verifications, list building, sales triggers, CRM Export, Gmail Integrations, Chrome Extension, IT Intelligence Data, currently hiring data, trigger list building, international data, custom triggers, track star champion tracking, share saved searches, phone support, onboarding, data append, all sales triggers and download bot. Lead411's verified list development technology turbo-charges marketing programs with high quality target lists that are more accurate and reliable…
Overview
• Sell More
• Search Less
• Grow with Us
• Integrations
• Easy Chrome access
• Trigger-based sales
• Basic - $75 per month (3 month minimum)
• Pro - $125 per month
• Team - $349 per month
• Enterprise – CALL 877.673.1022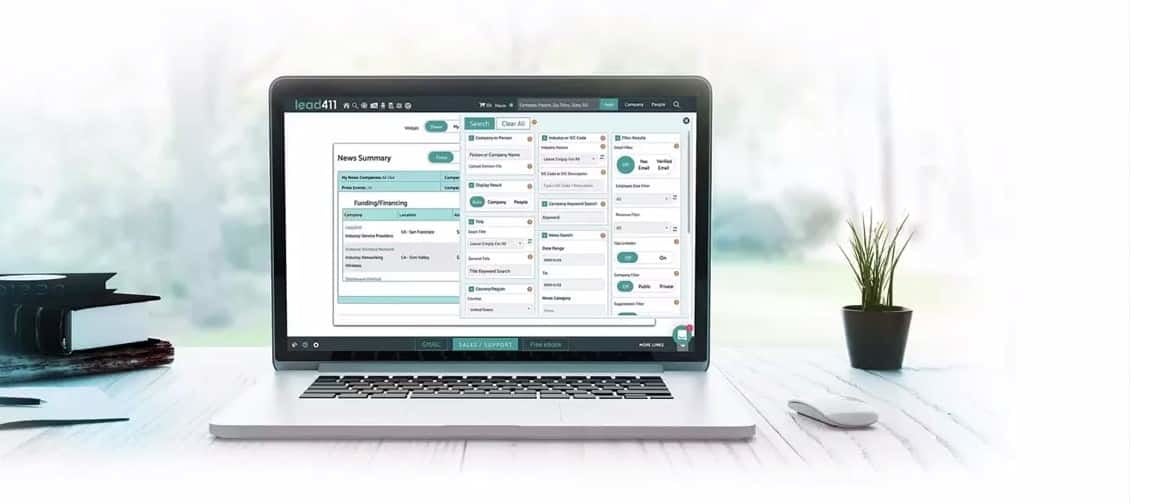 9
Datahug
Datahug is a collaborative forecasting and pipeline management solution, built in Salesforce.Datahug automates essential components of the sales process including lead routing, deal strategy/stakeholders, deal next steps, pipeline management, forecasting, forecast accuracy. By automating these capabilities, it allows to get real-time information without manual and administrative steps.Within Salesforce, gives a deeper understanding of the history and dynamics of each deal. Allows to see all communications with those involved, even contacts not already associated with the opportunity in CRM. Pipeline Flow allows seeing how the pipeline has changed over a customizable period of time. Understand if the deals which the team…
Overview
•Coaching Metrics
•Activity Tracking
•Forecast History
•Forecast Rollup
•Pipeline Flow
•Pipeline Management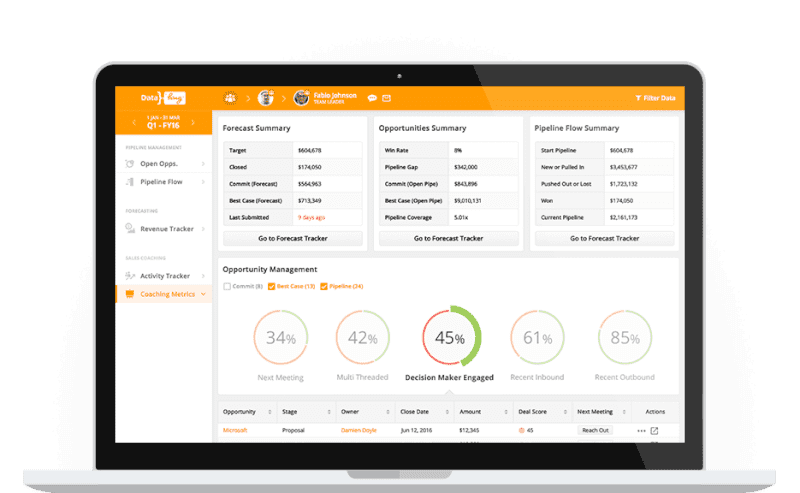 10
RainKing
Rainking is a Sales Intelligence software and SaaS platform for the Technology and Marketing Industries that lets users filter and rank based on their needs and fuels users' sales and marketing teams to achieve sustainable growth. Rainking offers solutions such as ABM & ABS, Actionable Intelligence, Competitive Intelligence, Customer Success & Retention, Data Quality & Management, Data Sets, Integrations, Lead Generation, Predictive Analytics, Sales & Marketing Alignment and Targeting & Ranking. Rainking provides users with surface companies that fit their ideal buyer persona and identify the decision-makers and budget holders that they need to connect with then access detailed profiles…
Overview
• Actionable, forward-looking intelligence
• Powerful software
• Streamlined workflow
• Seamless integrations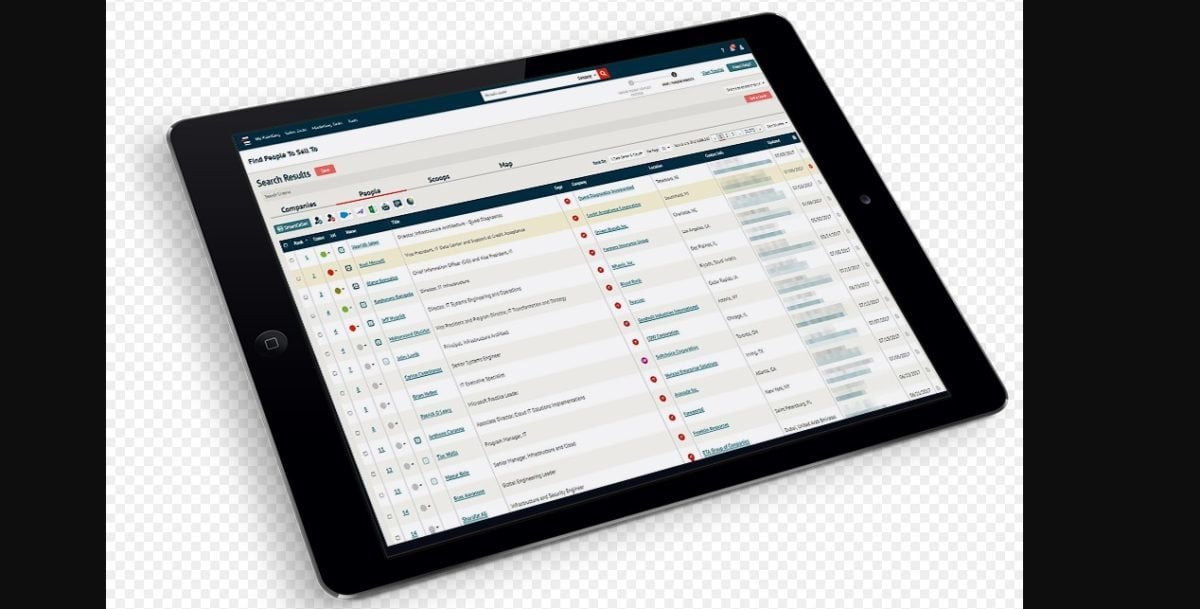 11
Charlie App
Charlie app updates its users all key details of upcoming meetings based on your calendar. It gets data from hundreds of sources to build this information and automatically sends you an email of the same. This enables you to know the people you are going to meet with, before the actual meeting. It delivers to you their complete profile about the things they are interested in, what you have in common, and the critical insights on their company. It also provides you with personal information regarding them which include the person's company, role, and experience, as well as email and…
Overview
• Real-time messaging/alerts
• Contact data accuracy
• Company profiles
• Personal profiles
• Industry research
• Lead builder
• Multiple data sources
• Data segmentation
• Data cleanse
• Search
• CRM Integration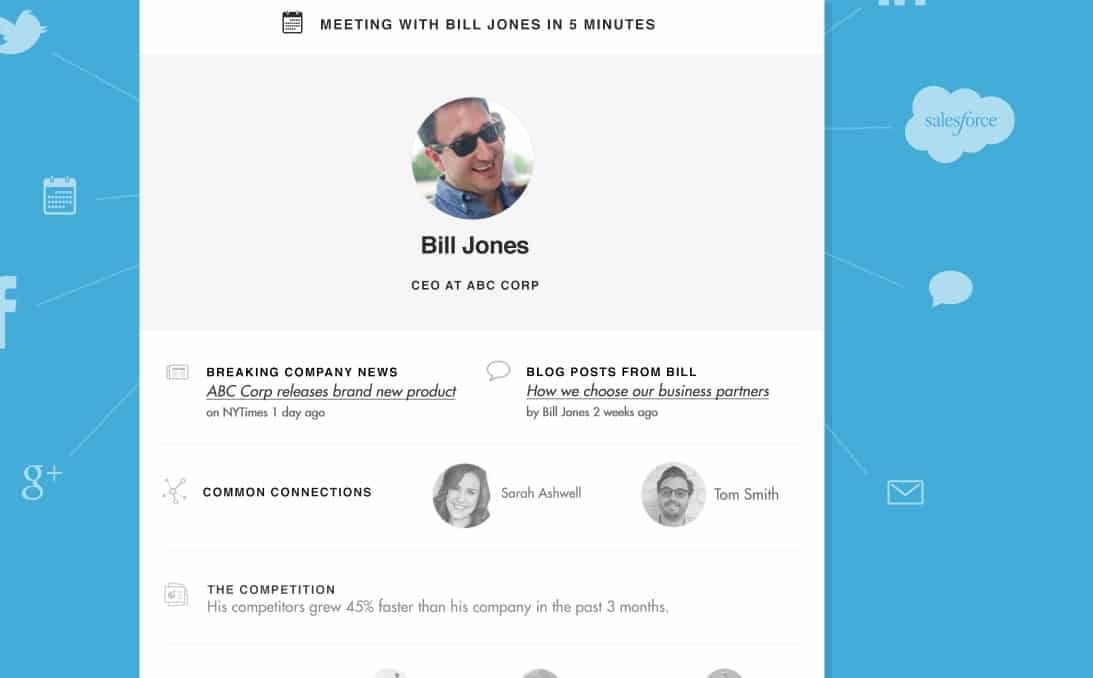 12
Winmo
Winmo is a prospecting tool which provides actionable sales intelligence for companies looking to connect with national advertisers and their agencies. Winmo offers features such as agency/brand relationships, brand specific decision-makers, 120 day verification cycle, recommendations & alerts, Winmotalk, brand media spend, research requests, ad creative vault, digital display detail, integrations with LinkedIn, salesforce and sharp spring, single sign on authentication, predictive analysis, accounts & decision-makers on the move, spending shift forecasts and top 100 most vulnerable accounts. Winmo lets users instantly generate targeted prospect lists by using advanced search filters for industry, media spend, geography and titles. Winmo lets…
Overview
• Targeted Search
• Social Sales Intelligence
• Forecasted Leads
• Integrated Solutions
• Alerts & Recommendations
• Select – Request pricing
• Advantage – Request pricing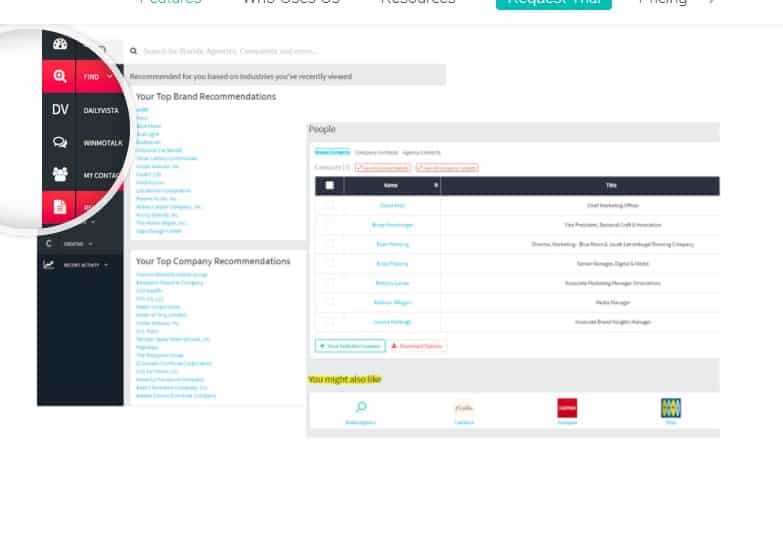 13
Beckon
Beckon enterprise software delivers clean, trusted data and real-time marketing intelligence for agile decisions at the speed and scale of modern marketing. The platform combine data best practices with marketing best practices, Beckon provides automated data management, total visibility into cross-channel marketing performance, integrated campaign planning, omnichannel analytics, real-time dashboards and scorecards, and marketing KPIs right out of the box for fast time to value. Beckon develops spontaneous enterprise software which enables the marketer to unlock their data in order to achieve growth. The clean, integrated, normalized performance dataset of marketing and resulting reports of performances, scorecards and analytics of…
Overview
•Connect
•Data
•Analytics
•Answers
•Dashboard
•Scorecard
•Calendar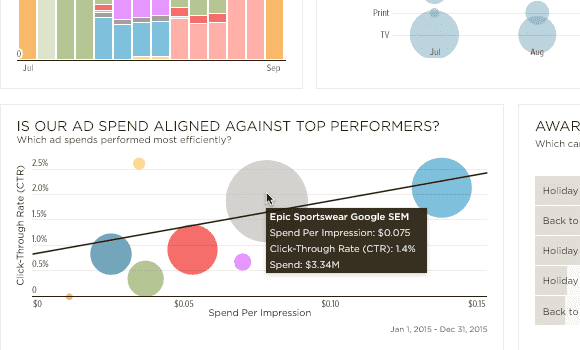 14
DiscoverOrg
DiscoverOrg is a marketing and sales intelligence software which gives Sales and Marketing teams the information and insights they need to find, connect with, and sell to target buyers with greater effectiveness. DiscoverOrg offers features such as sales and marketing contact data update every 60 days, direct-dial phone number, real-time, actionable information, robust search functionality, multi-criteria searches, quick search option, technology stack filters, HG Data's installed-technologies intelligence, integrated CRM or marketing automation tool, customizable data widgets and integrations with Salesforce, Microsoft, Hubspot CRM, Bullhorn, SugarCRM, Netsuite, Pipedrive, Zoho, Marketo, Hubspot, Eloqua, Pardot, Act-On, Salesloft, Outreach, Tellwise, Chrome, Firefox, Safari, Edge,…
Overview
• Continuous Data Refresh
• Detailed Org Charts
• Verified Direct Dials
• Triggers
• Unified Search Grid
• Technology Install Base
• Bulk Match
• DealPredict
• AccountView
• Geotargeting
• Workflow Alignment
• Customizable Dashboard
• Mobile Optimized Site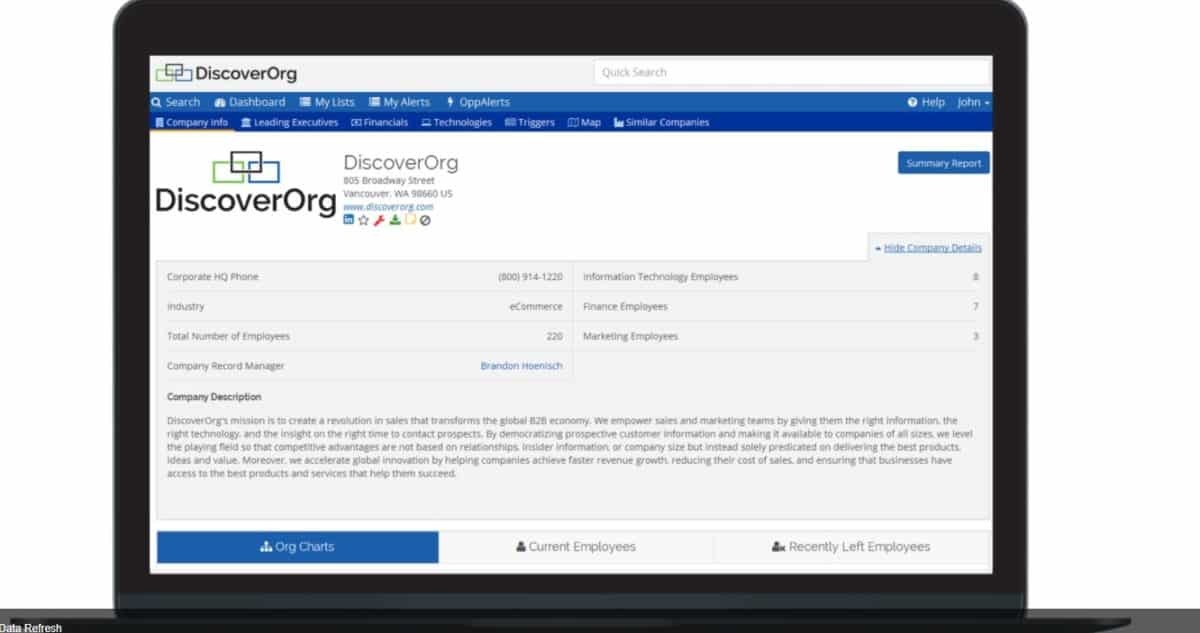 15
Salestools.io
Salestools is designed to speed up your sales process by quickly identifying new accounts and prospects with Live Data. Live data is up-to-date, reliable prospect and company data that is always refreshed every 8 weeks, to ensure you reach the right prospect. With accurate data you are also able to save hours spent prospecting, and to close more deals faster. Salestools utilizes account-based prospecting which enables your sales representatives to research directly through targeted data. Salestools insights enable you to prospect any website by department and seniority using Live Data. Salestools Insights chrome plugin lets you filter data in the…
Overview
• Company profiles
• Basic search
• Sequence Tracking
• Salesforce integration
• Chrome Plugin
• Cloud platform
• Email integration
• Team Onboarding
• Data export/import
• Starter – $75/user/month
• Standard – $150/user/month
• Professional – $200/user/month
• Enterprise – $250/user/month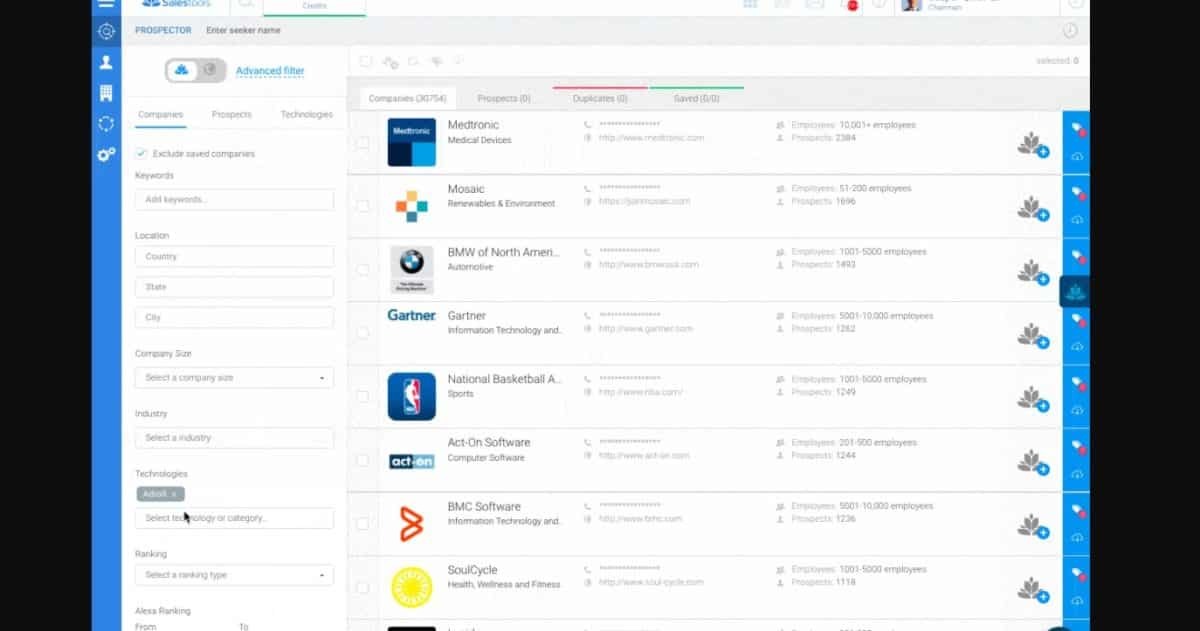 16
InsightSquared
InsightSquared is a sales performance analytics solution that quickly delivers pre-built reports on every major sales metric. Unlike spreadsheets, InsightSquared's visual, maintenance-free reports and dashboards provide a custom lens into real-time sales results. Use InsightSquared to establish better relationships with the whole team as well as the setting goals for maximum revenue. InsightSquared uses Accurate Sales Forecasting models that can predict deals that are also accurate and dependable. Every person that is part of the sales team will be able to accessdata to better understand and achieve numbers, with InsightSquared; it will provide the necessary information to ensure accurate forecasts…
Overview
•Custom Configuration
•Simple Report Builder
•Multiple Data Connectors
•Unlimited Logins
•Custom Alternative Values
•Historical trending

17
Sendbloom
Sendbloom enables you to turn leads into opportunities with customized and personalized sales campaigns. Sendbloom integrates with Salesforce enabling you to easily launch campaigns from any lead or contact page in Salesforce, or from your Sendbloom mailbox. SDFC integration features a click-to-call dialer that lets you make direct calls without leaving Sendbloom. Segmentation of contacts is simplified by Sendbloom's Segment Designer: a unique segmentation tool that enables you to build and run campaigns of any complexity. With easy-to-use drag-and-drop interface, Segment Designer sorts out variables from Sendbloom's robust database, and can integrate with your own data enabling you to send…
Overview
• Campaign manager
• Open & Click tracking
• Custom templates
• SDFC Integration
• App Integration
• Segment Designer
• Analytics and Reporting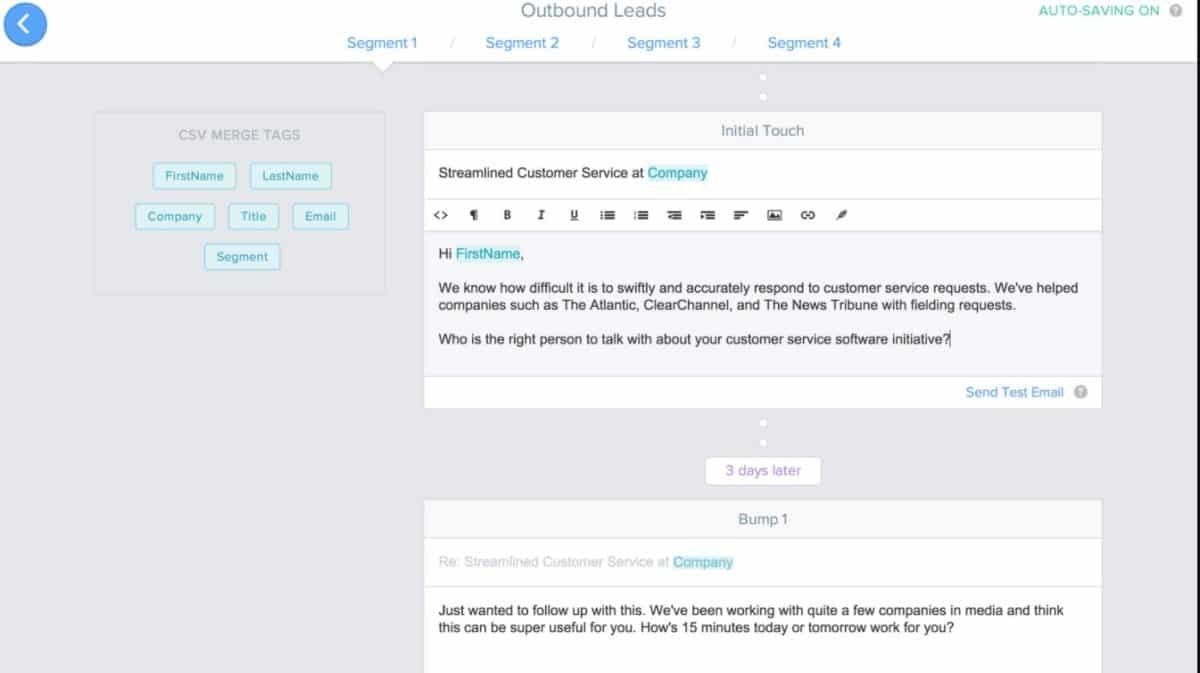 18
RelPro
RelPro enables companies to leverage on data aggregation and analytics to establish and develop executive-level relationships efficiently and systematically. RelPro is easy to use and requires no special setup or software. RelPro's database contains contact details and relationship intelligence for over 150 million decision-makers at 7+ million companies, amassed from the finest sources globally. This enables you to easily and accurately find real-time leads, at large and mid-market companies, including company executives and senior management, thereby developing or strengthening existing relationships. RelPro's simple user interface offers a flexible search experience allowing you to create your own custom search topics and…
Overview
• CRM Integration
• Alerts
• Actionable insights
• Multiple data sources
• People & Company search
• Tech search
• Relationship mapping
• Data services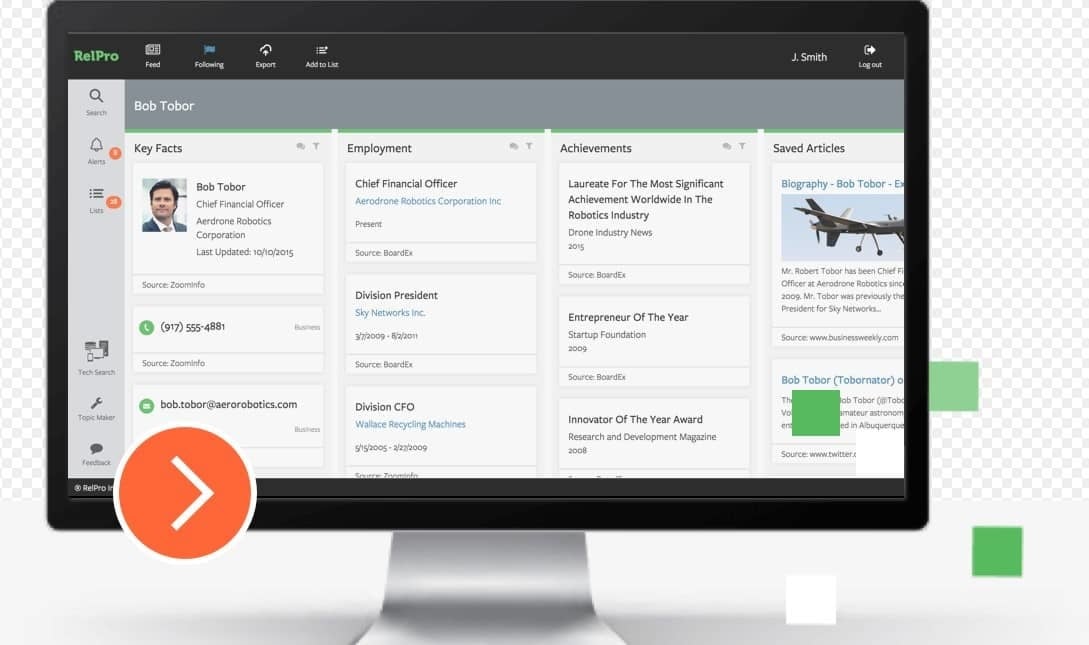 19
Unomy
Unomy provide sales executives with the information they need to be the FACE of their organizations. Armed with the industry's top business data platform, Unomy's clients can easily learn and understand their prospects and customers, talk to the right people, be relevant and stay relevant, every single time. Unomy provides in-depth sales and marketing intelligence to B2B companies around the world. Every day the teams of data scientists, software developers, analysts, and B2B sales and marketing mavens are helping businesses around the world find new customers, win more deals and market more effectively. Unomy is a simple and intuitive application…
Overview
•Finding new customers.
•Prioritizing your leads.
•Improving your workflow.
•Building smart lists of targeted prospects.
•Closing more deals, faster.
•Improvin your marketing ROI.
•Discovering business opportunities.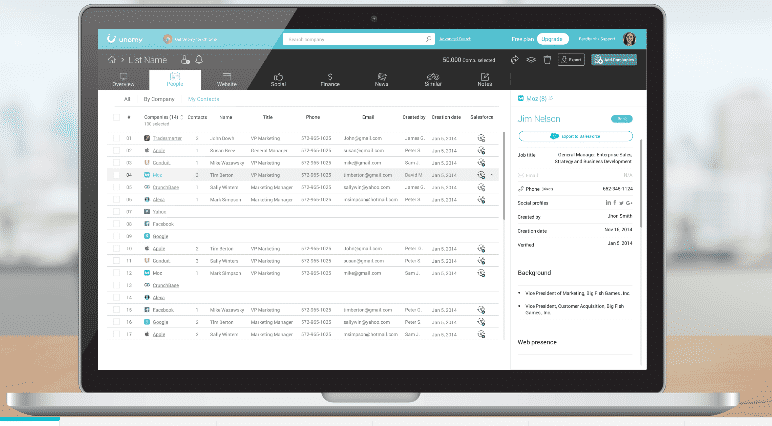 20
Clearbit Enrichment
Clearbit Enrichment transforms each new email or domain into a complete person or company profile, enriching users' customer understanding, and giving their team the context necessary to take action. Clearbit Enrichment offers features such as real-time search, up-to-date information, pre-built widget, map data, Clearbit for Developers and integrations with Slack, Marketo, Salesforce, Segment and Zapier. Clearbit Enrichment instantly surface actionable data points like location, job title, company size and even what technology products they use using the email or website users send to instantly surface actionable data points like location, job title, company size and even what technology products they…
Overview
• Fresh, accurate info
• Broad coverage
• Over 85 unique data points
• Pre-built integrations
• Enrichment with Salesforce/Marketo - Starting at $499/mo. Billed Annually
• Enrichment with Segment/API – from 2500 to 50,000 API requests, $99 to $499.00/mo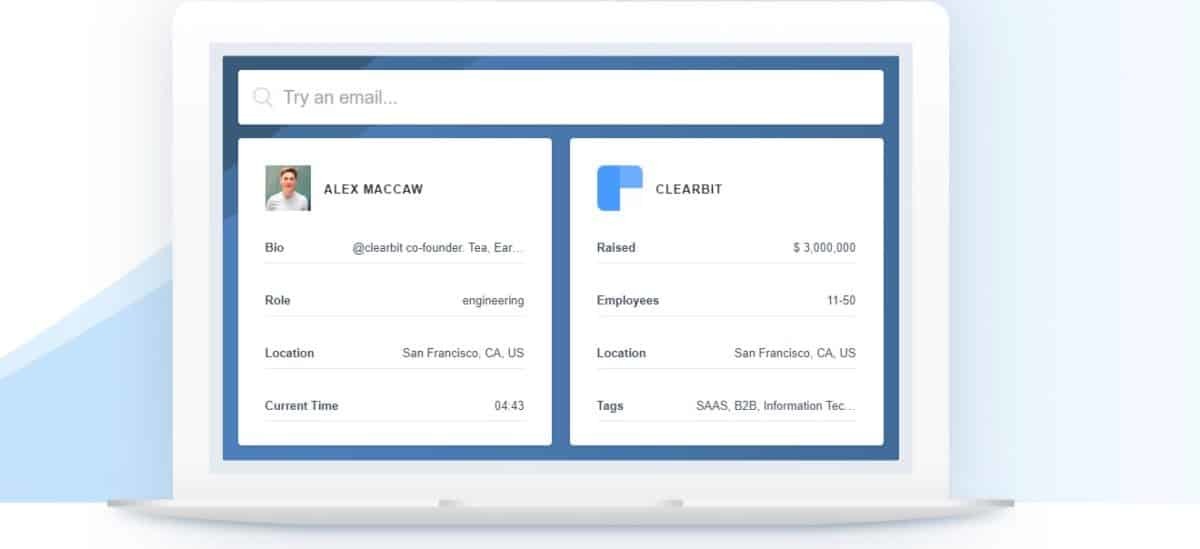 21
sales-i
sales-I is designed specifically for 'low-tech' users, sales-i quickly delivers powerful business analytics that provide clear answers to the company's most commonly asked business questions. With its Business Intelligence software, users can truly focus on discovering new sales, managing customer relationships and growing revenues. Most salespeople struggle to spot which customers' orders are dropping and where their next sale is coming from. Sales-I's BI tool is loaded with smart features to turn this situation around and find the easy-to-close sales opportunities within the company's customer data. The sales-i alerts system will inform the sales team when a sales opportunity is…
Overview
•Customer and Product Analysis
•Automated Sales Reports
•Desktop and App Access
•CRM Access
•Team Reporting
•Manage Users
•Campaign Creation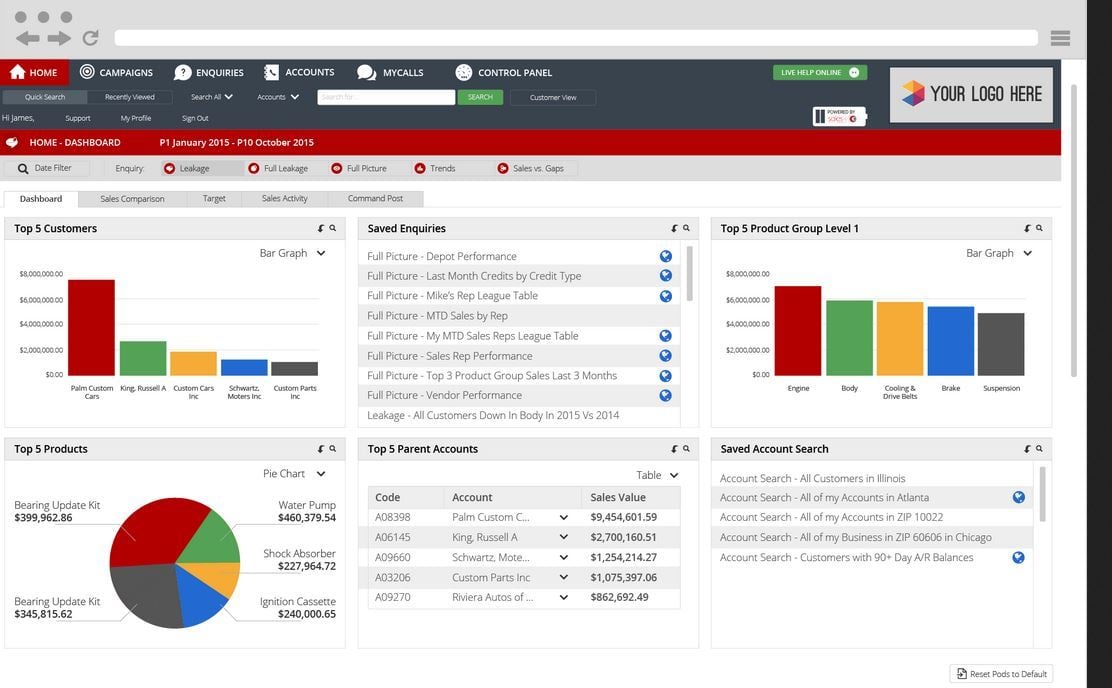 22
Datanyze
Datanyze is the leading technographics provider which empowers modern sales and marketing professionals to make smarter data-driven decisions and continuously analyzes millions of data points across the web to determine technology usage and other buying signals. Datanyze offers free tools such as technographic analysis, chrome extension and webinars/eBooks. Datanyze monitors the web and mobile technology choices of 40+ million companies to help the users find and reach their best prospects when they are looking to buy. Datanyze can alert the users when a key account has added or dropped a competitive or complementary solution by taking a snapshot of the…
Overview
• Technology Tracking
• Predictive Analytics
• Prospecting
• Data Enrichment
• Technographics
• Basic - $300/1, $250/2, $217/3, $193/4, $174/5, 6+ contact sales
• Premium - $600/1, $500/2, $433/3, $385/4, $348/5, 6+ contact sales
• Enrichment – salesforce, hubspot, Marketo, Datanyze API – contact form
• Datanyze Insider
• Free
• Startup - $10/month
• Enterprise - $10/month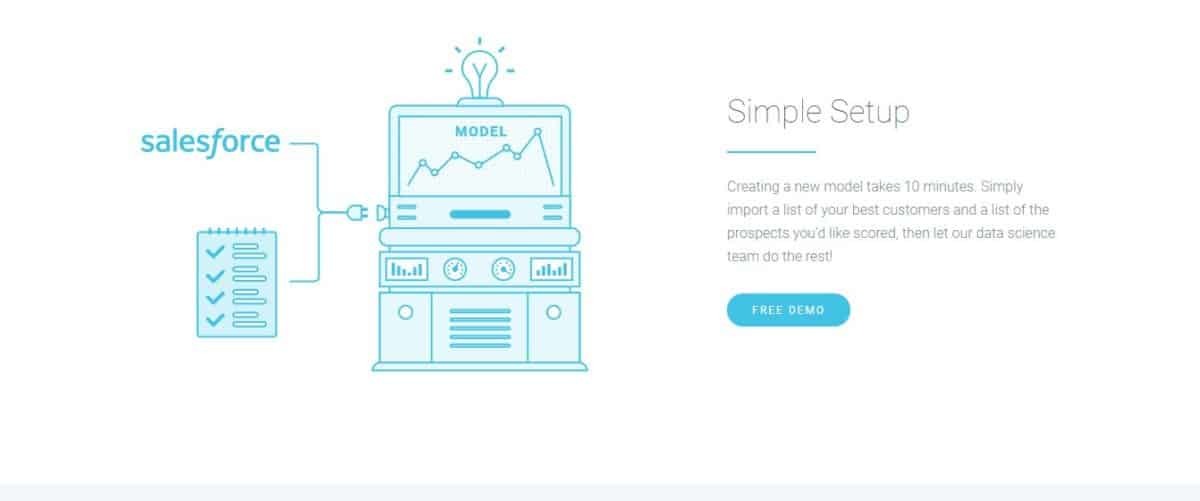 23
D&B Workbench Data
D&B Workbench Data is a data inspired, secure, cloud-based platform that optimizes your data, helps you profile your best opportunities, and target the audiences you want to reach. It helps you grow the most valuable relationships in business by uncovering truth and meaning from data. It helps you get clean actionable data. It helps you find meaning in your data and makes it work to progress the goals of real people. It has the largest global commercial database and it's all about helping you create build smart relationships. D&B Workbench Data offers a free data health scan that accesses the…
Overview
• Lead builder
• Integration to CRM/Marketing automation
• Data cleaning/enrichment
• Data segmentation/filtering
• Search
• News/people alerts
• Connections
• Reporting
• Free trial.
• Contact for Pricing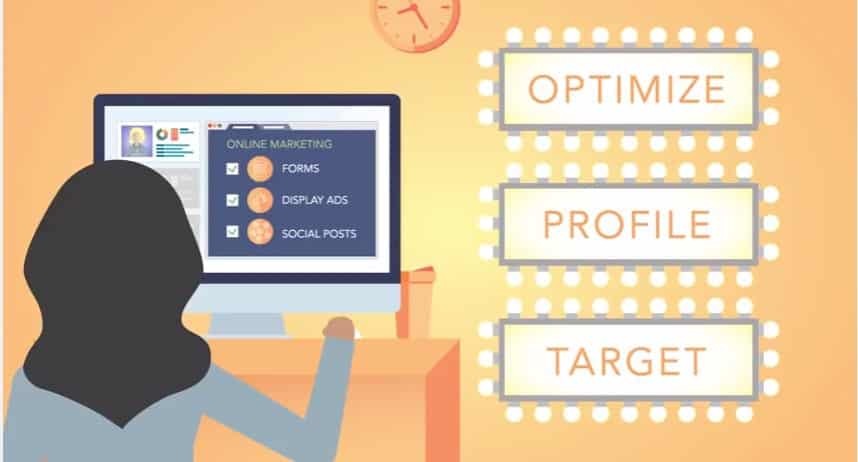 24
DemandFarm
DemandFarm is key account management software which helps growth of key accounts. Because of its technology it enables the people and institutionalizes the process that drives Key Accounts. Technologies that enable the people are effortless data management – customer centric insights can be set in one place and in one format from existing CRM data; smoother stakeholder engagement which provides easy collaboration across global team; optimal execution integrates existing methodology into daily ops in order to achieve max efficiency; power of visual technology provides easy access tabs, proactive and visual; seamless adoption – dedicated customer support team and security –…
Overview
• Customer centric insights can be set in one place and in one format from existing CRM data
• Provides easy collaboration across global team
• Whitespace analyzing which allows users to see the big picture and the details
• Uses supporting insights and tools

25
MediaRadar
MediaRadar is a comprehensive Ad-sales intelligence solution that provides integrated prospecting tools, actionable advertising insights, and the specific contact information that agencies need to empower their teams to close more deals and increase their client base. MediaRadar helps you determine who to talk to, when you should reach out, and what you need to say to trigger sales. MediaRadar has an extensive database that is reviewed every 90 days, and which is searchable by company, seniority, helping you find the right contact. MediaRadar also helps you find nearby locations for your meeting, local weather, direct links to social media feeds,…
Overview
• Integrated brand analysis
• Peak spending analysis
• Ad sales management tools
• Email alerts
• Mobile apps
• Customized interface
• CRM Integration
• Campaign optimization tool
• Dedicated client services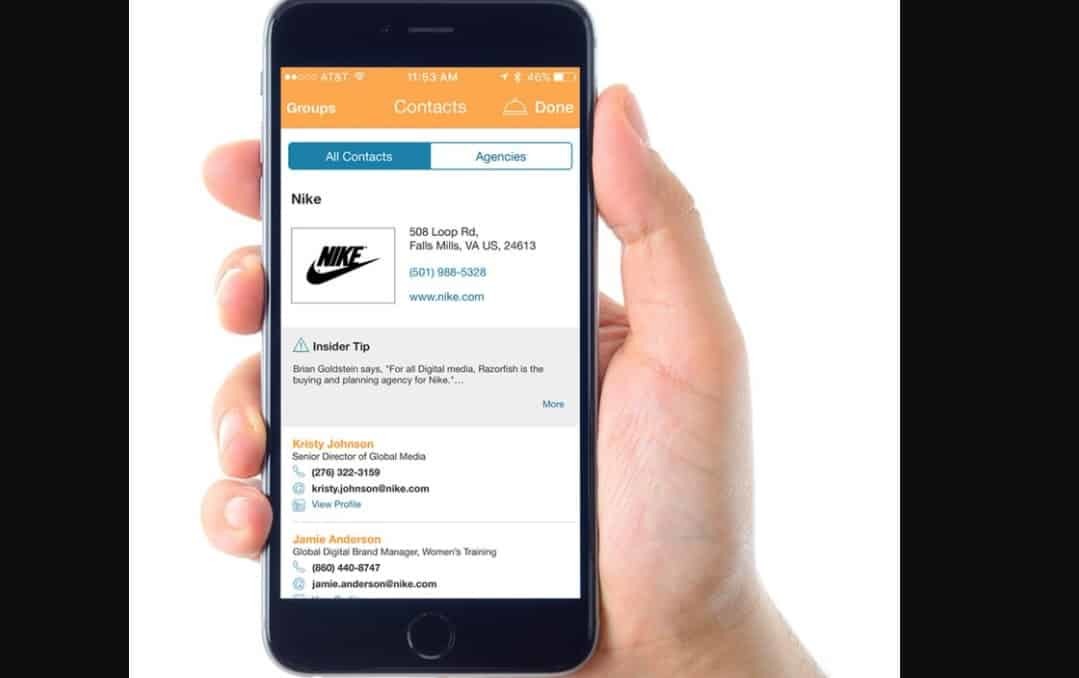 26
Owler
Owler provides a community-based business insights platform that business professionals use to gain competitive edge through real time news and alerts. Most business professionals hold valuable knowledge and important insights about a handful of companies regarding their employers, competitors, and industry leaders. Through its community based model, Owler enables all this important information to be shared seamlessly on its webpage, or through data cards in Owler email products. Members of the Owler community contribute unique competitive insights, such as private company revenue estimates and CEO approval ratings, every few seconds. Owler Instant Insights deliver alerts on funding announcements, acquisitions, and…
Overview
• Instant insights
• Daily snapshot (News & Alerts)
• Weekly showdown (performance benchmark)
• Company profiles
• Competitive analysis
• Web platform
• Advanced search

27
OnePageCRM
OnePageCRM has converted the complexity of CRM into a to-do list so that users can convert leads to customers, reach targets and grow their businesses. This way sales staff focus on what drives sales, not bloated software with ineffective charts and graphs. And if users have a standard or predictable sales process then they can use the software's "Pre-defined Sales Actions" to streamline their workflow and execute sales with ultra-efficiency. OnePageCRM ensures that contacts are not trapped in teams' individual phones or email accounts making businesses inefficient. Instead, all of them can be found in one place. Moreover, with the…
Overview
•Low maintenance and easy set up
•Unlimited Contacts, Notes, Deals & 1GB file storage
•Integrations with Email, MailChimp, Wufoo, Help Scout and more
•Reporting on Sales Pipeline, Activity and Marketing
•$12 per User / Month
•$11 per User / Month (1 month free with annual payment)
•21-day free trial (No credit card required)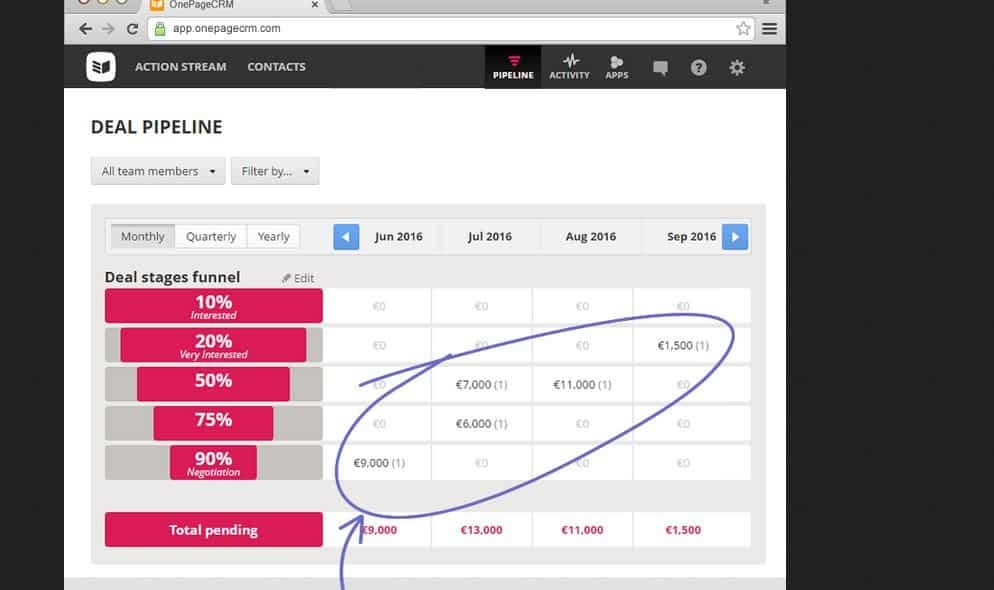 28
ZynBit
ZynBit is an online software for CRM (Customer Relationship Management) that merges the user's email to display all the alerts and automate functionalities. It can work with Office 365, Gmail and Outlook. Zynbit eliminates the data entry associated with tracking customer activities like email, meetings, and tasks, and get awesome customer intelligence with email and web visitor tracking to help users focus only on hot prospects and opportunities. In that way, users have more time for their real job; can perform their work in a detailed way, as they see what's relevant for their customers; will streamline their pipeline; and…
Overview
•Office 365, Gmail and Outlook
•Tracks customer activities
•Syncs calendars, tasks, emails and contacts
•Oauth
•Citrix, Remote Desktop, VMware and Google Apps
•Team Dashboards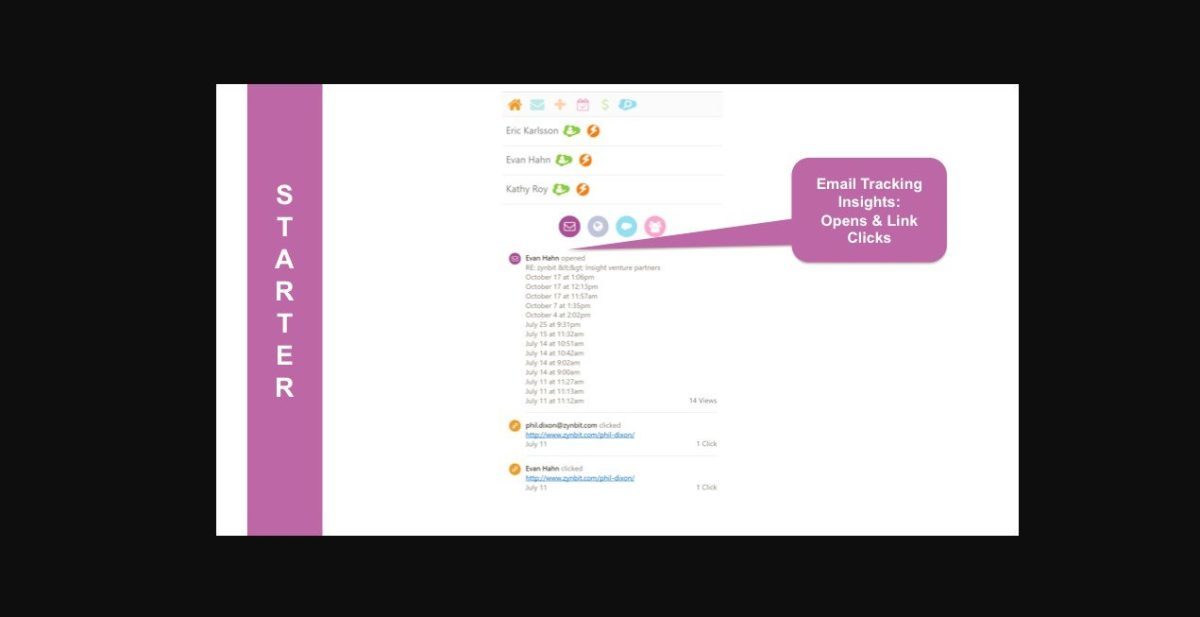 29
Oceanos
Oceanos sales intelligence technology, network of data sources, and creativity, sets them apart from other providers. Oceanos contact database contains over 145 million contact records. Oceanos List Optimizer solution drills down this volume of data for a deep search within the specified account. Oceanos leverages on your audience definition to find key contacts within its database with a high level of accuracy. Oceanos Cleanse and Append application enables you to perform Contact Gap analysis: a health check that analyzes your house contacts, highlights the percent that align to your audience definition, and assigns it a data score to reflect the…
Overview
• Contact discovery
• Data management
• Data cleanse
• Data append
• Data scores
• Contact Gap analysis
• Account-based marketing
• Cloud platform
• CRM integration
• Starter – $1500/month
• Growth – $4,000/month
• Enterprise – $9,500/month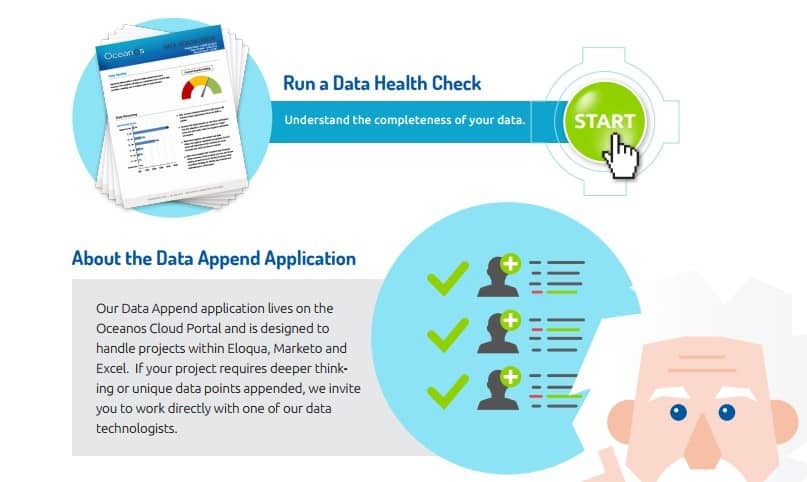 30
ProsperVue
ProsperVue is visuals sales acceleration which collaborates with sales operations, marketing managers, sales leaders and analytics experts in order to empower reps and increase productivity. It provides analytics insights so user can identify powerful insights of customer, markets and industry trends. Users can determine the market through segmentation which allows splitting opportunities, leads and customers into different groups. Building custom territories by mapping out, according best customer and prospects, is also available. In order of making better sales decisions ProsperVue offers integrated data which gives more accurate and insightful picture into pipeline enabling reps. Visual sales acceleration also includes pipeline…
Overview
•Provides analytics insights
•Offers integrated data
•Uses predictive lead scoring to prioritize daily activity, and spend more time with the leads
•Has segment builder which allows creating statistical models using custom fields and objects
•Provides color pin optimization, analytics library for creating propensity models and saving it to an internal library
•Trial – 0 USD/month
•Standard – 35 USD/month
•Advanced – 50 USD/month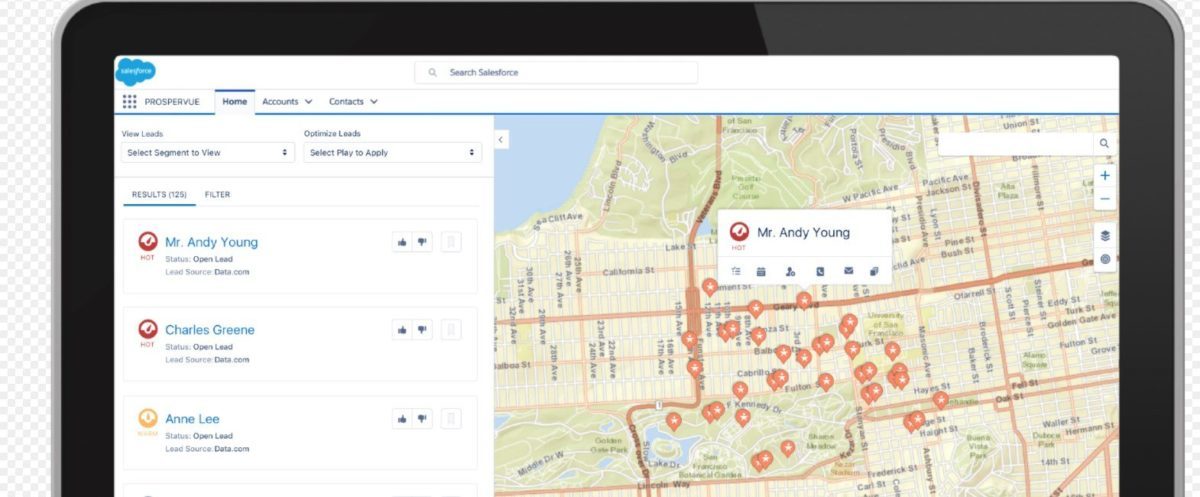 31
Gryphon
Gryphon sales Intelligence empower many enterprises with tools that improve the productivity of large dispersed sales teams. Gryphon sales Intelligence gives sales managers timely insight into your organization's sales performance across regions, offices, or sales representatives. Gryphon's cloud-based technology ensures call activity data from any device is automatically captured and easily recorded through keyword disposition tags. All call details are auto-logged within the Gryphon's secure cloud platform and CRM, and visible in real-time on Gryphon's Sales performance dashboard. Gryphon's highly accurate performance dashboards process call data including audio conversations, and deliver intuitive, actionable insights for sales leaders to make fast,…
Overview
• Sales intelligence
• Sales performance
• Secure cloud recording
• Speech analytics
• Sales reports
• Salesforce integration
• Mobile apps
• Universal access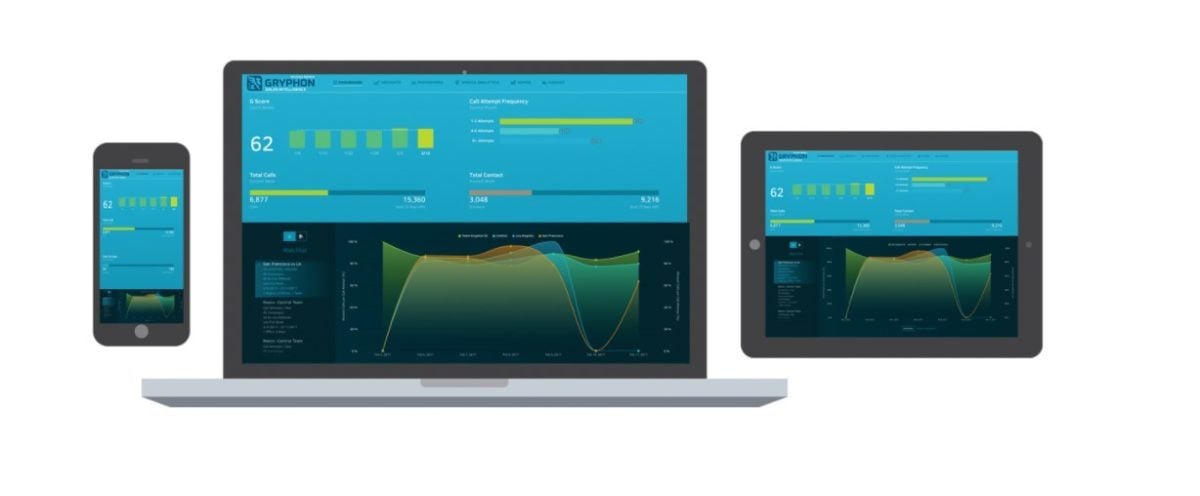 32
HG Focus
HG Focus is the quickest, most accurate business intelligence tool for individuals & small teams to get instant insight into what technologies are installed at companies the users are visiting on the web and gives sales and demand generation teams a glimpse into how recently HG Data has verified their use where this invaluable piece of information can be used to qualify leads, create precise and meaningful messaging, tailor conversations to fit both the needs of users and the prospect, shorten the sales cycle and increase ROI. HG Focus offers features such as Favorite products and integration with SFDC, LinkedIn,…
Overview
• Gain Customer Relevance
• Target Competitive Products
• Control Your Pipeline