Review
Grow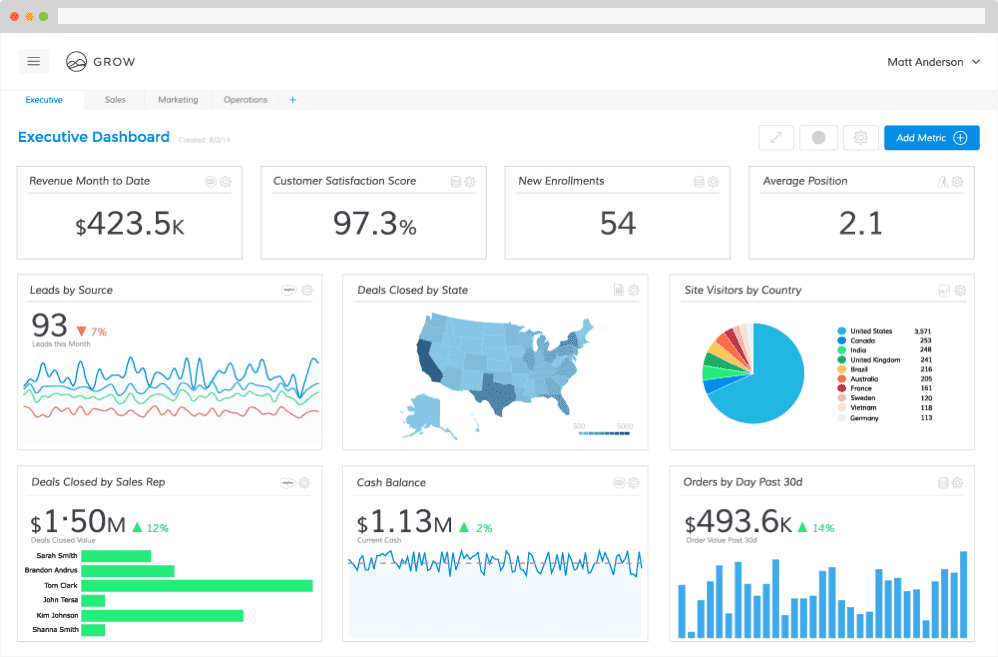 Overview
Grow is built for executives and teams of small to medium businesses who are frustrated by having to run time-consuming reports with scattered information that's quickly out-of-date. With Grow's software, you can get the information you need, how and when you need it, and share it so everyone knows the score.
Business Intelligence Software
•Pre-built 100+ Metric Templates
•Private and Secure
•Supports Quickbooks, Salesforce and Dropbox and more
•Drag and Drop Tools
•Simple Set Up
•Custom Integration
Small (<50 employees), Medium (50 to 1000 Enterprise (>1001 employees)
What is best?
•Pre-built 100+ Metric Templates
•Private and Secure
•Supports Quickbooks, Salesforce and Dropbox and more
•Drag and Drop Tools
What are the benefits?
• Dedicated onboarding services
• No need for technical resources eg. IT, developers, analysts.
• Cloud based platform with anytime-anywhere access
• Automatic refresh for real-time data
• Pre-built metrics for your BI dashboard in one click
• Easy to use data editor for quick slicing and dicing
Grow is a software that provides help to both small and medium businesses that need help in organizing reports and other important information and access them in one single neat place. Get information when needed and how it's needed with Grow, be able to share it with other people too so that everybody in the business is fully aware of the current situation.
By simply selecting the metrics that are needed, Grow has a library of services that includes Quickbooks, Salesforce or Google Analytics, after which, users can drag in to the company's own data sources like SQL databases or spreadsheets, and manage those information as easy as possible. All these functions can be done in just a matter of minutes since Grow's software interface is designed to be used easily and effectively.
Grow's growing data connection sources makes it possible for users to collect information from different sources such as Quickbooks, Salesforce and even Dropbox, Grow can also do custom integrations and will be adding more sources in the future to ensure efficiency with their services.
Grow's dashboard is private and secure, with read-only access to the data. All information is being transferred over the Internet via SSL encryption to make sure no data is being compromised.
Grow uses a reverse SSH tunnel so that all data resides behind a secured firewall and ensures that users don't have to open a port. All these features are all included with Grow's software and can be utilized without the need for any IT people help. Create and update all information necessary by different users of the account and be done with just minutes of setting up.
You may like to read: Open Source, Free and Top Dashboard Software and How to Select the Best Dashboard Software for Your Business
Grow ScreenShots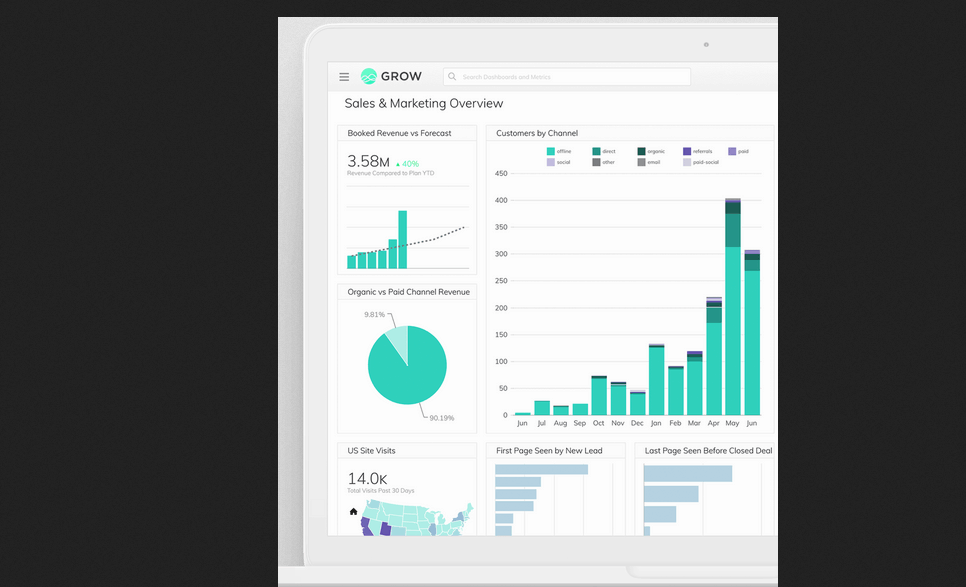 Grow Videos