Review
Geckoboard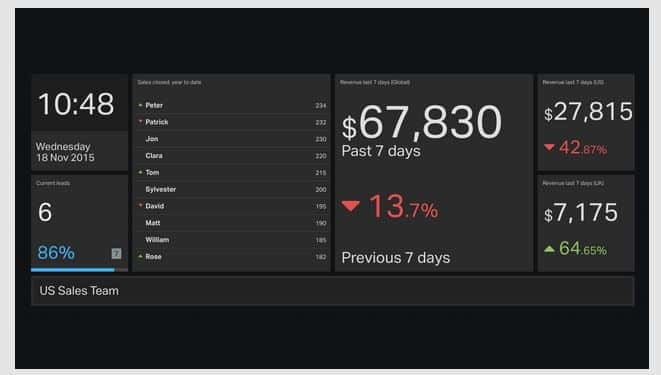 Overview
Geckoboard is a data communication tool that connects to all your data sources and displays your most important metrics on a beautifully designed and intuitive dashboard.
Business Intelligence Software
•60+ Pre-Built Integrations
•Powerful Spreadsheet Integration
•Flexible Datasets Api
•Secure Sharing Links
•Collaborate
•Basic $ 31 USD per month
•Team $ 127 USD per month
•Team Plus $ 199 USD per month
Small (<50 employees), Medium (50 to 1000 Enterprise (>1001 employees)
https://www.geckoboard.com
What is best?
•60+ Pre-Built Integrations
•Powerful Spreadsheet Integration
•Flexible Datasets Api
•Secure Sharing Links
What are the benefits?
• Drag and drop interface that makes designing an effective dashboard easy.
• Easy to turn raw data into simple and intuitive visualizations.
• You can cycle through several dashboards with "sharing loops"
• You can share a dashboard quickly without having to log in with temporary "sharing URLs"
• Lets you restrict access to sensitive dashboards by IP address.
• Hosted and maintained in the cloud, with no downloads required
Geckoboard is an easy to use and understand dashboards that users will find easy to navigate and create according to their specific needs. Choose between Sales, Marketing, Support, Web Analytics and CEO dashboards and find them fully customizable and ready for use as the users begin to navigate the product.
Geckoboard' easy to use software makes it possible to build dashboards that can show live progress of the goals on TVs around the office. This gives everybody a better view of the picture and what needs more attention to better achieve or improve the whole team's key performance indicators.Geckoboard has more than 60 built in integrations that most users will find helpful especially if they have been using these sources for quite some time.
Users will be able to connect to their most important metrics and be able to manage them properly and effectively. Some of the most popular integrations that Geckoboard have are Facebook, GitHub, CSV, Amazon Cloudwatch, Bitly, Excel, Google Adsence, Google Adwords, LinkedIn, Instagram, RSS, MailChimp, twitter, Zendesk and so much more.
Geckoboard let users visualize metrics from Google Sheets and Excel on the dashboards in just a matter of few clicks. Numbers are very important figures when it comes to analyzing and creating reports and Geckoboard makes it easy for users to use their spreadsheets and merge all important data in to powerful software.
Geckoboard uses the simplified drag and drop interface that makes every user independent and be able to manage all content. Its visualizations have been designed to remove complexity and communicate the meaning behind an organization's metrics simply and clearly. Other features include Full Screen Mode to make sure users can see the whole process, Dashboard Loops is another great feature where in it cycle through several dashboards on one screen so everyone can see the metrics they need.
You may like to read: Open Source, Free and Top Dashboard Software and How to Select the Best Dashboard Software for Your Business
Geckoboard ScreenShots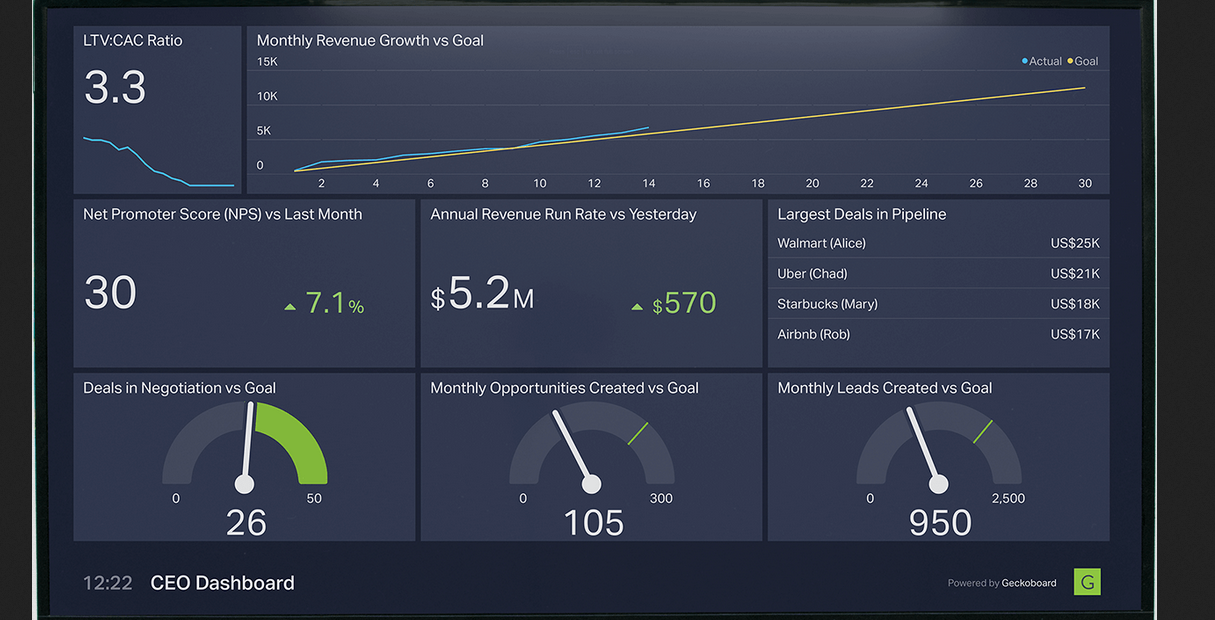 Geckoboard Videos