Review
Klipfolio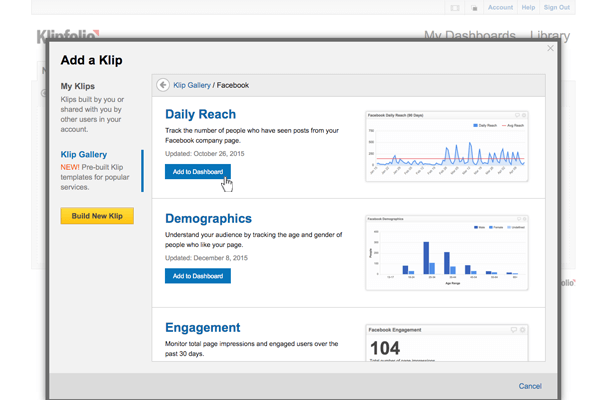 Overview
Klipfolio, have access to an extensive array of data services for developing custom visualizations and have access to our growing library of pre-built metrics and visualizations.
Business Intelligence Software
•Unlimited Users
•Klip Editor
•Unlimited Data Refreshes
•Private Links
•Download Reports
•Client Management
•SSO
•Publish $49/mo
•Grow $99/mo
•Team $199/mo
Small (<50 employees), Medium (50 to 1000 Enterprise (>1001 employees)
https://www.klipfolio.com/
What is best?
•Unlimited Users
•Klip Editor
•Unlimited Data Refreshes
•Private Links
What are the benefits?
• Makes your business easily accessible and visible.
• Provides access to real-time data.
• Help you see and understand your data.
• Displays information in an easy to comprehend way.
• Delivers data via effective visualizations created using built in templates.
• Integrates with various data sources.
• Automatically integrates and analyzes data.
Klipfolio Dashboard is a cost-effective, flexible solution that integrates with 1000s of data services to create powerful business dashboards. With customers in healthcare, financial services, consumer packaged goods, non-profit, and marketing, Klipfolio is changing the way data is used one dashboard at a time.
Klipfolio is a cloud app that most companies take advantage of whenever they wanted to build and share real time business dashboards whether on web browsers, TV monitors and different mobile devices. Klipfolio is 100% cloud base which gives the users the freedom to access all data wherever they go. If the information needed is for a computer or a file sharing service, Klipfolio allows users to connect using Excel, CSV, and XML files from computer, FTP and SFTP files from your server, and connect from DropBox, Box, and Google Drive file sharing services.
On the other hand, data coming from database such as MSSQL, MySQL, Oracle Thin, Oracle OCI, Sybase SQL Anywhere, PostgreSQL, Firebird, DB2 are also compatible with Klipfolio. Nevertheless, data from other cloud apps are also directly connected with Klipfolio, this includes Facebook, Twitter, Moz, Pingdom, Salesforce, Marketo, Google Analytics, Google Adwords, Xero, HubSpot, New Relic and so much more.
Klipfolio also provides a huge collection of pre-built metrics and visualizations that can help the business accelerate their dashboard development. With its powerful and easy to navigate features, users will not have any problems creating and updating any information on the dashboard.To ensure all numbers are well taken correctly, Klipfolio has included some math functions to ensure every figure is well calculated. This lessens the tasks on computing and let the dashboard deal with it all the time.
You may like to read: Open Source, Free and Top Dashboard Software and How to Select the Best Dashboard Software for Your Business
Klipfolio ScreenShots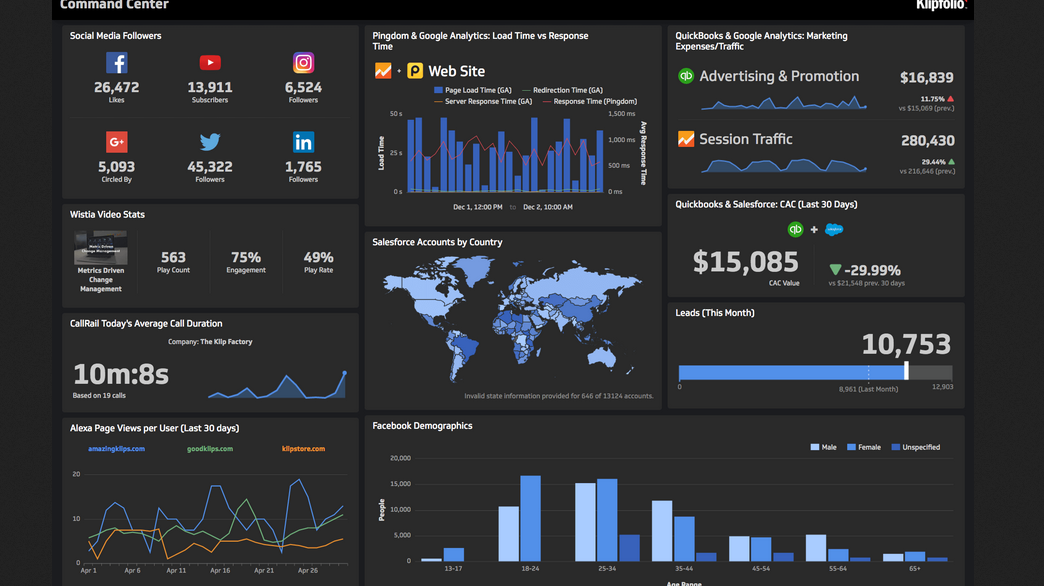 Klipfolio Videos