20 Free, Open Source and Top Balanced Scorecard Software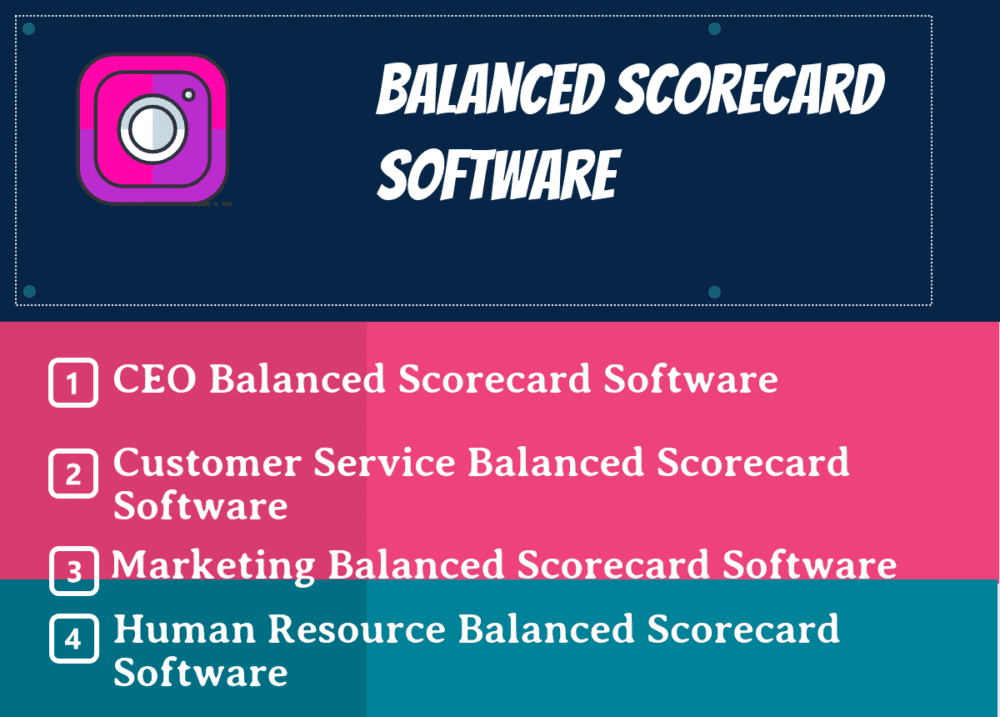 Modern businesses are operating is a highly competitive field and many businesses cannot survive without utilizing the appropriate performance management tools. Businesses need to constantly monitor and manage their performance in order to thrive in the unforgiving environment.
The balanced scorecard is one of the most popular performance management tools. Businesses need such strategic management and planning tools to communicate their objectives, align their everyday activities with their business strategy, and prioritize tasks, services and products. Also, businesses need to utilize the appropriate tools to measure and track their progress towards their strategic goals.
Since it is difficult to perform these tasks without using the appropriate technology, software development companies have developed balanced scorecard software to help businesses conduct their business activities with ease. Businesses need to identify the most appropriate balanced scorecard software to streamline their performance management and strategic planning tasks.
Examples of Balanced Scorecard Software: Corporater, BSC Designer, QuickScore, ClearPoint Strategy, Spider Strategies, Strategy Map, PBLScoreCard, ESM, iStrategi, PeopleSoft Scorecard, QPR Software, i-nexus, Theoris Vision are some of the examples of best Balanced Scorecard Software.
Examples of Free and Open Source Balanced Scorecard Software: bambooBSC, X KPI, BSPG, cBSC - collaborative balanced scorecard are some of the best examples of Free and Open Source Balanced Scorecard Software.
What are Balanced Scorecard Software?
Balanced Scorecard Software focus on the strategic agenda of the organization with a selection of a data items to monitor which are a mix of financial and non-financial data items.  Balanced Scorecard  is a visual tool used to measure the effectiveness of an activity against the strategic plans of a company and provides a semi-standard structured report, supported by design methods and automation tools.
Balanced Scorecard  maps an organization's strategic objectives into performance metrics in four perspectives, including financial, internal processes, customers, and learning and growth.
Balanced scorecard software allows organizations to view their organizational performance. It uses a comprehensive management framework and various features to help organizations carry out strategic management tasks. The software includes features such as a scorecard, a dashboard, and a strategy map. These features enable users to see their performance information and Key Performance Indicators (KPIs).
Users can view this information in the form of diagrams and visualizations of the organization's strategic goals and other measures of successes. Automation and design tools allow business users to monitor progress and the activities of employees. Businesses that use balanced scorecard software can easily build single or cascading scorecards with customized elements, publish perfect reports based on their data, track their goals, and manage perspectives, measures and objectives in an accurate and timely manner. With this software, businesses can constantly track their key metrics and develop a strategic plan to achieve their future goals.
You may want to review How to Select the Best Balanced Scorecard Software for Your Business
Strategy maps: Allows businesses to automatically create strategy maps after building their balanced scorecard. The best balanced scorecard software can automatically create these maps from the user's objectives and perspectives. Strategy maps communicate the strategy of the organization and users can perform different tasks including adding logos and drawing arrows between objectives. Users can also move and resize objects that represent objectives.
Visualization of Organizational Structure: Includes powerful visualizations of organizational strategy and structure. These visualizations communicate relationships between the organization's key performance indicators and objectives.
Dashboards: Dashboards help businesses to see their performance at a glance. They allow business users to add live data in the form of images, text, and graphs. Businesses can use them to monitor their critical data and drill down to gain more insights on data and performance trends.
Key Performance Indicators : Balanced scorecard software includes a feature that allows organizations to build KPIs and monitor performance and operations at all levels. Businesses can use this feature to track goals and KPIs over time.
Annotations, attachments, and collaboration: This is an important feature because it allows users to engage in discussions and attach relevant documents. Users can initiate discussions on certain items and make the information available from the different visualizations.
You may want to review How to Select the Best Balanced Scorecard Software for Your Business
Top Balanced Scorecard Software
Corporater, BSC Designer, QuickScore, ClearPoint Strategy, Spider Strategies, Strategy Map, PBLScoreCard, ESM, iStrategi, PeopleSoft Scorecard, QPR Software, i-nexus, Theoris Vision are the Top Balanced Scorecard Software.
Top Balanced Scorecard Software
PAT Index™
Sisense empower the most non-technical user with the ability to access data and build interactive dashboards and business intelligence reports. Sisense provides a variety of dashboard widgets to pinpoint the best visualization for your data, such as: geographical maps, gauges to measure KPIs, line charts to determine trends, scatter plots to see correlations, and pie charts for clear comparisons.Sisense enables to customize dashboard layout with drag-and-drop features to place each widget exactly where you want for optimal representation.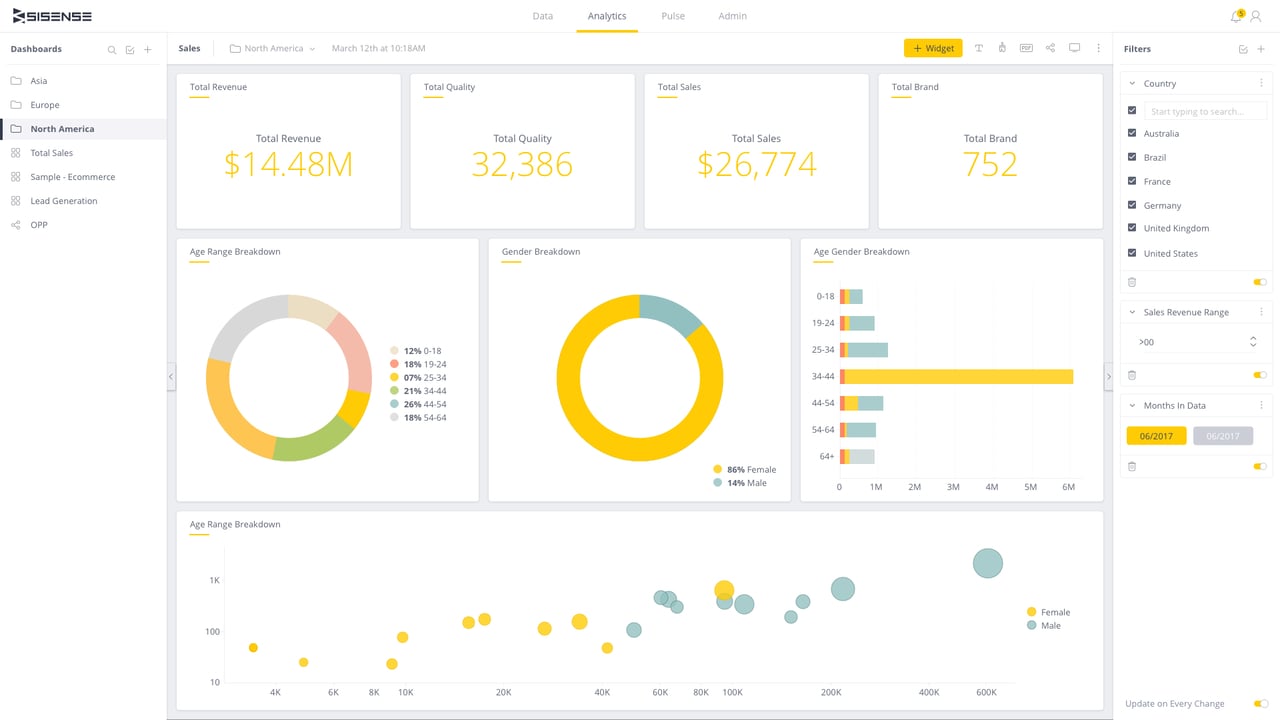 1
Corporater
Corporater is a global software company that empowers medium and large organizations to evaluate, manage, and continually improve business performance by providing a business management platform that adapts to client's unique business model, out of the box. Corporater's Business Management Platform is a revolutionary platform that enables businesses to link multiple management disciplines, including compliance, risk, strategy, operations, quality, projects, processes, HR and finance within a single interface to provide the right business context to make the right decisions. Using Corporater, you can create your own business management solutions for business dashboards, strategy management, KPI management, corporate performance management, BI…
Overview
•Balanced scorecard and XPP model
•Strategy maps
•Perspectives
•Strategic objectives
•Cascading of strategy and alignment
•Operationalize strategy
•Strategic planning
•Strategy execution
•Strategic review meetings
•Annotations
•Data source integrations
•Interactive
•Key performance indicators (lead and lag)
•Scorecards
•Visual analytics
•Widgets
•Benchmarking
•Feedback management
•Goal management
•Prioritization
•Progress tracking
2
BSC Designer
BSC Designer is a balanced scorecard software available as a cloud-based service and Windows desktop application. BSC Designer is a user-friendly tool that helps business consultants in building business scorecard with strategy maps and KPIs in just few minutes. BSC designer enables business consultants to create professional strategy maps. BSC Designer is easy to install, configure and it helps a lot with Balanced Scorecard, strategy maps, and KPIs. BSC designer helps business executives to add important business goals and to specify cause-and-effect connections between them. BSC Designer enables users to create strategic themes. With BSC designer user can create KPIs,…
Overview
Setup KPIs
Generate Performance Reports
Prepare Dashboards
Knowledge Base Access
Create Strategy Maps
Visualize Organizational Structure
3
QuickScore
Quickscore is a cloud based strategy management software which helps organizations to link Strategy with business objectives, Metrics and Initiatives. It has powerful dashboard and report functionality and users can export everything to Word, PowerPoint, PDF and Excel. With QuickScore all Key Performance Indicators and business objectives can be tracked over time. Years of data can be viewed easily. Very old data can be archived at the touch of a button. In addition, with QuickScore, performance thresholds can be changed and tracked as well. With QuickScore creating a strategy map is easy. Users just need to simply select, move and…
Overview
Scorecards
Objectives
Key Performance Indicators
Track Goals Over Time
Dashboards
Strategy Maps
Share Dashboards
Linked Actions
Cascading Scorecards
4
ClearPoint Strategy
ClearPoint's is a strategy management software .With the help of ClearPoint , business executives can manage scorecards in a timely and accurate manner. ClearPoint's Balanced Scorecard (BSC) software allows executives to manage objectives, measures, initiatives, and action items in one place with no hassle. ClearPoint's allows users to create a single scorecard or multiple cascading scorecards to cover every division, department, and team. ClearPoint help user to customize scorecard according to requirements. ClearPoint help users to manage perspectives, themes, objectives, measures, and initiatives. With ClearPoint, users can create custom reporting fields to follow their organization's unique methodology. ClearPoint also help Create…
Overview
Scorecards
Customization
Reports
Integration
Notificatins
Security
Administration
5
Spider Strategies
Spider Strategies is Web-based metric tracking software that powers balanced scorecards and gorgeous performance dashboards. Agile, smart, and convenient. Software developed by spider strategies enables businesses to see how well they are performing. They can see their key performance indicators and metrics. They can view their balanced score cards. Once companies view how they are performing by looking into various metrics, companies can devise strategies and alternative plans if they find out something is going wrong. The product does not require installation of special equipment or servers to run the software. All companies have to do is to access the…
Overview
•Calculate metrics
•Performance goals can be viewed
•Strategy maps can be created
•Data could be exported to different formats
•Requires no special installation to work with
•Important information can be bookmarked
•Workable on IPhone, IPad and Androids.
6
Strategy Map
Strategy map software is dedicated as an aid to creating organization's Strategic Picture and then aligning Organizational Operations to the relevant components. Strategy map enables users to view and edit all the primary Vision/Mission Statements. Strategy map allows users to display the company Logo inside the map to provide improved corporate identity. Strategy Map contains Perspective Row Aligned flowchart with the ability to have up to 9 rows. Strategy map software provides on screen help on tips for creating a strategy map. Strategy Map software displays regions, departments and employees in a relational tree view. The Organizational tree can have…
Overview
Software & License
Startup Module
Vision Mission
Strategy Map
Balanced Scorecards
Drill-Down Cross Refernce
Export to Grid
Export to chart
7
PBLScoreCard
PBLScoreCard is a multilingual easy-to-use, web-based balanced and business scorecard software solution that incorporates an accountability system, communication process and a robust scorecard system. The easy-to-use format brings familiar functions and layouts allowing for a short learning curve. Users will be able to manage data easily and able to understand with any special skills required.It also features a Multi-Lingual option for users to let them choose their language when working with PBLScoreCard. Available languages are English, Spanish, French and German. Other features includes easy to create automatic data roll up and provides senior leaders with metric drill down capabilities, Import…
Overview
•Executive Dashboards
•Metrics
•Meetings
•Analytics
•Email Support
8
ESM
ESM is robust strategy management software which help organizations to better understand and manage strategy. ESM enables professionals in articulating organizational mission, vision, and values to clarify the foundation of strategy. ESM's PESTEL Analysis helps analyst in understanding political, economic, social, technological, environmental, and legal factors that impact the strategy .ESM's SWOT Analysis help analysts in capturing organizational strengths, weaknesses, opportunities, and threats. ESM enables decision makers in taking decisions on the basis of latest data with real time Strategy Maps, dashboards, and fully automated Balanced Scorecards. ESM enables managers to define top-level organizational goals, KPIs, and strategic initiatives directly…
Overview
Dynamic strategy maps improve strategic communication
Drive alignment across multiple business units/departments and Balanced Scorecards
Track progress against strategic Objectives, Measures (KPIs), and Initiatives
Easily publish real-time dashboards to any website
9
iStrategi
iStrategi is a user-friendly yet comprehensive BSC tool to manage, monitor and operationalize organizations's strategy. iStrategi gives users the power to communicate and collaborate with the owners and contributors of the organization strategy to ensure that the goals can be met, and if not, what action can be taken to correct it. iStrategi is designed top-down based on BSC methodology and thus is designed to be intuitive and user-friendly. With interactive strategy maps, user will be able to see Strategy maps with traffic lights instantly . From the strategy maps, users can drilldown by clicking the relevant strategy objective or…
Overview
Business Intelligence & Data Warehousing
Balaned Scorecard software& Services
Software Development Services
IT Staff Augmentation
NetSupport Software
Training services
Health Care
10
PeopleSoft Scorecard
PeopleSoft Scorecard is a robust strategy management tool that enables organizations to align corporate strategy with tactical execution. By providing the ability to define strategies, communicate critical success factors to everyone in the enterprise, and measure tangible results on a continuous basis, PeopleSoft Scorecard empowers business executives to identify opportunities for improved effectiveness and optimize the performance of entire organization. Using PeopleSoft Scorecard, business executives can orchestrate entire planning and performance management process in a collaborative manner. From developing and communicating corporate strategy, to determining appropriate performance metrics, to monitoring and measuring performance, PeopleSoft Scorecard ensures that every employee throughout…
Overview
Database
Middleware
Cloud Solutions
Applications
Engineering Systems
Industries
Engineering Systems
Server & Storage Systems
Business Analytics
11
QPR Software
QPR Software offers a comprehensive selection of tools that enable not only process modelling, performance analysis and measuring but also enterprise architecture. QPR Suite comprises four separate software products that can be integrated together to support organizations in developing operations as a whole, looking at the big picture. These components are: 1. QPR EnterpriseArchitect 2. QPR ProcessDesigner 3.QPR metrics 4.QPR Process Analyzer. QPR EnterpriseArchitect help professionals with the gain capabilities for analyzing, planning and improving business. QPR EnterpriseArchitect is intuitive and easy to use, both business and IT users prefer QPR EnterpriseArchitect as it helps to ensure that operations are…
Overview
Balanced Scorecard
Business Process management
Enterprise Architecture
Quality Managemnt
Lean Process Improvement
Performance Managemnt
Risk Management
Strategy Execution
12
i-nexus
i-nexus Enterprise Performance Management software is a SaaS application that closes the loop between business objectives with KPIs and projects (actions) to deliver them. Users can drive predictable performance, report with confidence and align every employee with specific objectives. Users can shift the emphasis from measuring performance to improving it. i-nexus enable users to focus on the consequences of information, not information itself. i-nexus make it easier to understand the root cause analysis of underperformance with the data collection and analysis system. i-nexus provides collaborative environment for metric owners to discuss performance, communicate decisions and address gaps. With i-nexus Enterprise…
Overview
Customer Success
Strategy Execution Community
Strategy Execution Consortium
Stratex Hub
Partner Hub
13
Theoris Vision
Theoris Vision Software is the key to unlocking the deep insight that important data can deliver. The Theoris Vision Software Solution Platform brings together 2 separate and powerful business intelligence solutions. 1.Vision Connect 2.Theoris Vision Server .Vision Connect allows a business user to access, extract and transform information from virtually any data source for building dashboards and reports either through Vision Server or any other reporting tool. Vision Connect allows a business user to access, extract and transform information from virtually any data source for building dashboards and reports either through Vision Server or any other reporting tool. Vision Connect…
Overview
Strategic Services
Satffing Services
Project Based Services
Free and Open Source Balanced Scorecard Software
bambooBSC, X KPI, BSPG, cBSC - collaborative balanced scorecard are the Free and Open Source Balanced Scorecard Software.
1
bambooBSC
bambooBSC is an opensource Balanced Scorecard (BSC) Business Intelligence (BI) Web platform, Strategic management, Departments Performance Analysis, Employee Performance Analysis, Key Performance Indicators (KPIs), KPI report, Department/Personal balanced scorecard report, region performance view, BSC Strategy MAP, KPI dashboard, SWOT and report, PDCA & PDCA report, OLAP, SQL client query results as CHART. It was built in spring4 + struts2 + hibernate + mybatis + apache-shiro + activiti. Features include BSC's Vision, Perspectives, Objectives of strategy, Key Performance Indicators (KPIs). and Maintain measure-data, KPI report, Personal and organization BSC report, Strategy Map, and BSC SWOT, Provides SQL client query results show…
2
X KPI
X KPI is a free spreadsheet program that allows managing financial and non-financial indicators, comparing over any time period and analysing actual vs target metrics.Build your KPI Structure based on the different level hierarchy (up 4 levels). Create your structure with personalized level's name. Create up to 100 KPI's and associate them to the structure levels and the managers in your organization. Define all KPI's features. Define your KPI's Target for each period and enter the Actual value. Manage your KPI's for a period of five years and move from one year to the next. Analyze each of the KPI…
3
BSPG
BSPG is a complete Balanced Scorecard environment running on PostgreSQL and comparable to many similar commercial softwares for measurement-based management, to manages a company strategy, through objectives, measures and targets, reports and graphics. The Balanced Scorecard is a powerful framework to help organizations rapidly implement strategy by translating the vision and strategy into a set of operational objectives that can drive behavior, and therefore, performance. Strategy-driven performance measures provide the essential feedback mechanism required to dynamically adjust and refine the organization's strategy over time. The Balanced Scorecard concept is built upon the premise that what is measured is what motivates…
4
cBSC - collaborative balanced scorecard
cBSC - collaborative balanced scorecard is a collaborative tool to support the strategic development of company or public balanced scorecards. All employees of a business unit can develop together a balanced scorecard using cBSC - collaborative balanced scorecard.
cBSC - collaborative balanced scorecard
You may want to review How to Select the Best Balanced Scorecard Software for Your Business