Review
QuickScore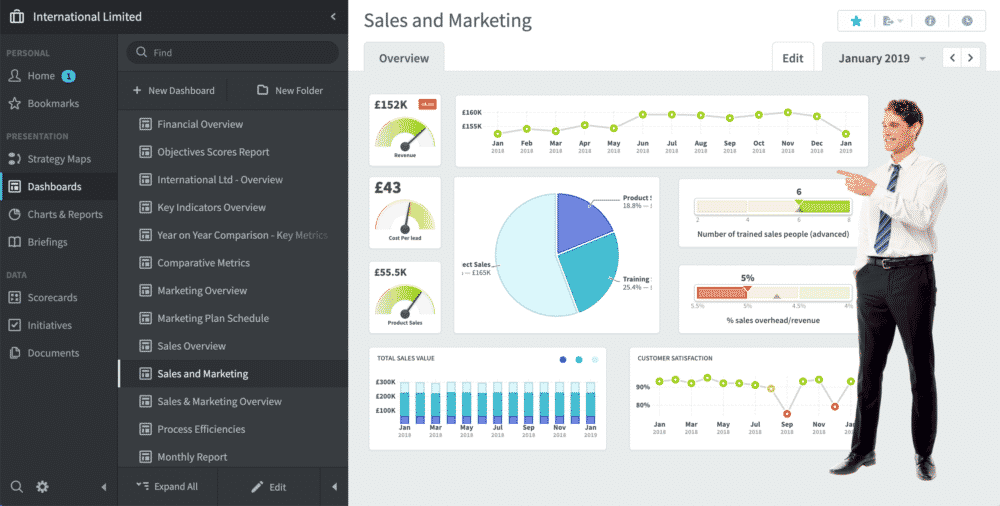 Overview
QuickScore can help you link your strategy to your business objectives, metrics and initiatives or tasks. It has powerful dashboard and reporting functionality and you can export everything to Word, PowerPoint, PDF and Excel.
Balanced Scorecard Software
•Scorecards
•Objectives
•Key Performance Indicators
•Track Goals Over Time
•Dashboards
•Strategy Maps
•Share Dashboards
•Linked Actions
•Cascading Scorecards
•£95/user/month payable quarterly or annually
•One month free for annual payment
30-day free trial, no obligation to buy
Small (<50 employees), Medium (50 to 1000 Enterprise (>1001 employees)
Free online training sessions (Two)
Video training
User guides
Onsite training
Helpdesk
QuickScore is sold by Intrafocus Limited
https://www.intrafocus.com/
What is best?
•Publish Pixel-Perfect Reports
•Build Scorecards Easily
•Create Stylish Dashboards
•Auto-Build Strategy Maps
•Track Goals Over Time
What are the benefits?
•Drill Down
•Powerful Search
•Add Alerts
•Export Everything
•Recommended by the Balanced Scorecard Institute
QuickScore is a strategy and key performance indicator (KPI) management tool. Unlike other products it can link your strategy to strategic objectives, KPIs and initiatives or tasks. The framework allows companies, organisations and governments to continue using whatever strategic process they have adopted. Whether it is the Balanced Scorecard, Strategic Horizons, the Ansoff Matrix or a strategic process created in-house, the model can be built within QuickScore.
The application is also flexible enough to be used as a simple KPI manager.
Once a structure has been created, and this usually only takes hours, the data can be aggregated in dashboards, charts and reports and briefings. Dashboards can displayed on external devices and intranets or on websites (free of charge) as well as within the application. And of course, any screen, dashboard or report can be exported to a format of your choice. You can create briefing using a mixture of dashboards, charts, initiatives and images.
The immensely powerful dashboard interface allows you to drag and drop and resize any element in the system. Creating a dashboard takes minutes. Once created, all of the dashboard elements will update automatically when KPIs are updated. This includes any objectives, perspectives or themes you may have added. This means a monthly report can be created at the click of a button. Just select the date and the application will do the rest.
If you use strategy maps then there is a special dashboard feature for you. Strategy maps can be autogenerated. The application will recognise your scorecard structure and place your objectives into the correct perspectives and colour them based on their current status. One click and you can see how well your entire organisation is performing.
QuickScore is used by small to medium sized organisations and very large corporations and governments. It is intuitive while having a wealth of advanced features suited to complex environments. QuickScore is used by medium sized companies like PowerJacks who have 15 users all the way up to the US Army whose system includes 30,000 users. The software is cloud based for general use but if you require an on-site version that is available as well.
You may like to read: Free, Open Source and Top Balanced Scorecard Software and How to Select the Best Balanced Scorecard Software for Your Business
QuickScore Features
Scorecards
Key Performance Indicators
Dashboards
Strategy Maps
Public Dashboards
Cascading Scorecards
Intelligent Search
Reports
ETL Integration
QuickScore Pricing
User based pricing
- from £95/user/month
- to £20/user/month
Priced per user per month
Charged quarterly or annually
Annual discount available
Flexible licensing and hosting
QuickScore Videos