How to Select the Best Balanced Scorecard Software for Your Business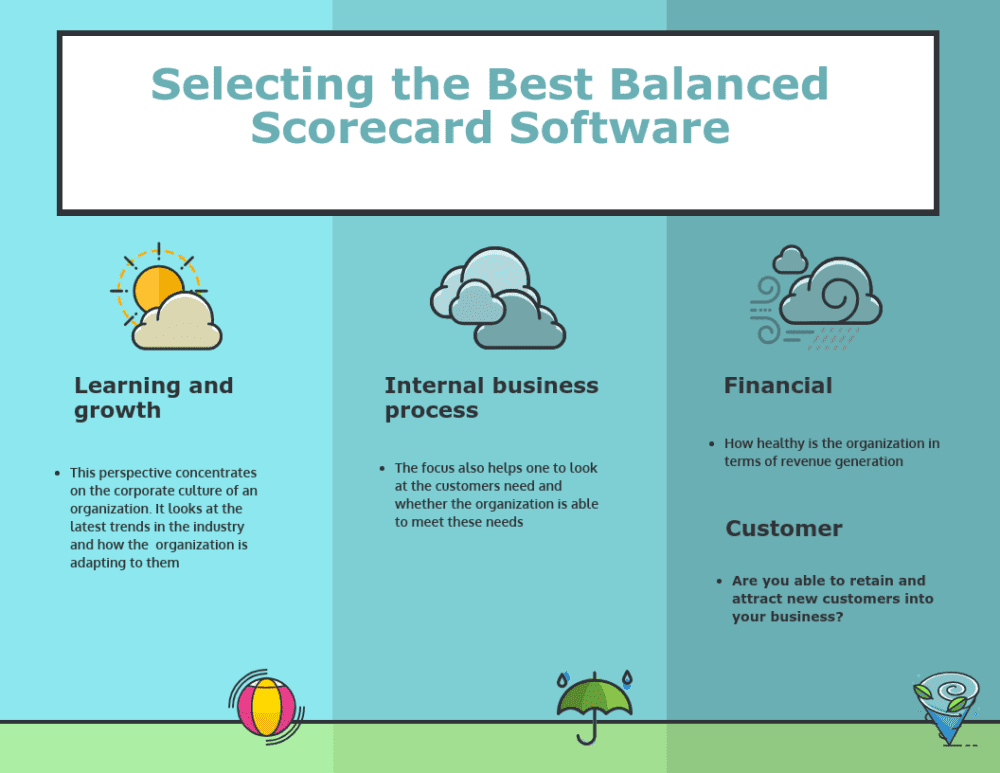 To determine the success of an organization, you should consider looking at both financial and strategic measures. Focusing on the financial measures only tend to give a skewed view since it only looks at the short-term goals. To have a balanced view of the organization performance you need to look at both short-term and long-term goals.
Balanced scorecard looks at the strategic measures that have been set to propel the organization into success. Why is it different from other management tools? The software focuses on both short-term and long-term measures. The software further breaks down the strategic vision into small actionable steps that should be followed on day to day basis for the company to achieve its vision.
To keep the company on track, the management must ensure key metrics have been met. these metrics should be tracked in real time so as to ensure any obstacle that may arise is arrested as early as possible. That's what the software does.
Besides tracking key metrics, the Balanced Scorecard Software is able to provide regular updates on critical matters as well as track all the parameters at a go. The users are able to lay down a clear direction that should be taken and also come up with a plan that should be followed to achieve the goals.
The system also allows one to check on the set parameters regularly to ensure the performance is on track.
What are Balanced Scorecard Software?
Balanced Scorecard is a key performance metric used in strategic management to identify and improve various internal functions of a business and their resulting external outcomes. This is a management system that focuses on the strategic goals of an organization and used to measure and provide feedback . The system guides the management in coming up with the right parameters that should be measured if an organization is to achieve the set goals.
Balanced scorecard measures the health of an organization from four different perspectives. The four perspectives concentrate on different aspects of the company so as to ensure there is a balanced view of the organization's performance. These perspectives are:
Learning and growth: this perspective concentrates on the corporate culture of an organization. It looks at the latest trends in the industry and how the organization is adapting to them. It ensures that employees are able to share their knowledge by trying to get rid of bureaucracy. The perspective also looks at the latest technology and how the organization is adapting to it so as to remain competitive.
Internal business process: the focus here is on the efficiency of the business. How is the organization utilizing the limited resources to achieve growth? Is your business able to adapt to the prevailing business condition? The focus also helps one to look at the customers need and whether the organization is able to meet these needs.
Customer: Are you able to retain and attract new customers into your business? Are your customers satisfied with your services? Remember the success of a business depends on the number of customers served.
Financial: the financial measure is a major focus of the balanced scorecard. It looks at whether the organization is making money. How healthy is the organization in terms of revenue generation?
You may want to review the Free, Open Source and Top Balanced Scorecard Software
What are the features of Balanced Scorecard Software?
Flexibility: The functionality and operation of a balanced scorecard should be as flexible as possible. This is to ensure the users are not discouraged from using the system due to complexity. The aim of a balanced scorecard is to link the company's strategies with its organizational culture. A rigid system tends to discourage employees as well as the managers from using it thus making it inefficient.
Communicate: Balanced scorecard should be viewed as a tool of communication. It is a tool that is used to communicate company's strategies to all the members of an organization. As such the system should be able to guide and define the direction that should be taken in case of unfamiliar occurrence. The communication should be in real time to ensure the message is received on time.
Business framework support: Balances scorecard should be able to look at both financial and non-financial measures of an organization. Normally, a non-financial measure present strategy of improving the future financial performance of a company. By linking the two aspects, non-financial measure serves as an indicator of the future financial performance of the organization.
Assessment: A good system should be able to asses and recommend only the most critical measures that should be observed. By doing so, the management is able to concentrate only on the key measures that are needed for full implementation of strategies. Balanced scorecard system ensures there is no proliferation of key performance indicators thus freeing managers to focus on value adding activities in the organization.
Workflow management: The system lays down clearly the company's objectives, sets targets and a strategic map that should be followed. These are linked together to ensure that there is no conflict in the operation of the business. In case a conflict arises, the system ensures the same is kept to the bare minimum.
What are the Types of Balanced Scorecard Software?
CEO Balanced Scorecard Software: The system gives an umbrella view of organization performance. It looks at how strategies will be executed and how the performance will be measured. It also looks at the general objectives of the company as well as key performance indicators.
Customer service Balanced Scorecard Software: The system looks at the customer service and aligns it with the overall business strategy as well as existing customer service model and the problems experienced.
Marketing Balanced Scorecard Software: The main focus of this system is on customer retention and the cost involved in attracting and retaining these customers. The system should also be able to determine the conversion rate per sales channel utilized. Marketing BSC can also be tailored for content marketing focusing on the number of sales generated from your content.
Human Resource Balanced Scorecard Software: For an organization to thrive, talent management must be monitored closely. The organization should also be up to date with the current trends in the market. HR BSC basically focuses on that. The system also looks at the current wage rate and any factors that would directly affect the demand and supply of these talents.
Sales Balanced Scorecard Software: This system helps to identify and pay special attention to key elements that boost your sales. The system offers guidance on how to deal with a sale request from the initial stage all the way to the closing of the sale. Performance of your team can also be measured using this tool.
Employee engagement Balanced Scorecard Software: This looks at the level of employees' engagement in the organization and how it is impacting on their performance. There is a direct correlation between employee engagement and their performance which should be the major focus of this software.
What are the Benefits of Balanced Scorecard Software?
Helps in the communication of the company strategy: To clearly communicate the strategic plan, managers make use of a strategic map. The tool helps in aligning different departments so as to achieve business goals. A well implemented strategic map helps employees to have a clear goal in mind as they work on the set measures, identify key goals, and understanding of strategic elements. They are also able to relate to different objectives and how they affect each other.
It aligns departments and divisions: BSC helps to align different departments and division with a common strategy. The system provides a structure where one is able to link critical objectives with the objectives of the company. It helps to asses if your measures can be rolled out with the enterprise-level measures and how one can link a project with the enterprise-level project. The system also provides a structure that can be used in case a project is being shared across multiple divisions.
Helps employees link their individual goals with the organization strategy: Strategy-focused organization framework allows individual employees to align their goals with the organization. Employees are able to link their annual performance targets with that of their department and further link it with the entire organization's goals. BSC helps to promote teamwork as they are able to relate to different teams and improve on their performance thus improving the performance of the entire organization.
How to Select the Best Balanced Scorecard Software for Your Business?
You may want to review the Free, Open Source and Top Balanced Scorecard Software

Easy to customize: Different organizations use different balance scorecard in their day to day operation. This is because each organization has its own unique goals and strategies that have been set. Thus, you should go for a system that can be easily customized to meet your specific needs. You can run a test on the system before purchasing by asking your vendor to model one of your most complicated KPI. Running such a test helps to identify the most appropriate software instead of blindly investing in a system that cannot deliver results.
Reporting features: A good BSC should be able to give both qualitative and quantitative reports of your company. The system should be able to generate figures, charts, and qualitative analysis at the same time. Look for a system that will keep on reminding you to answer the question 'why' if you want to have an optimal value of the system.
Export features: It should be easy to obtain reports from your system without complication. Look for a system that can export your data in a clear and organized manner either to an excel sheet, PowerPoint or PDF format. The data should be neat and easy to use.
Automation and integration: One of the reasons for adopting a BSC platform in an organization is to help save time. The system should have features that can be automatically integrated such as; email application integration and scheduling of email reminders, data uploads, and automatic status color setting business rules. Settle for a system that can easily integrate with the existing programs without incurring lots of expenses.
Access rights: The system should be able to limit users' access based on their rights. Ensure your system can limit the user to only the fields they are supposed to view and work on. Different users should have different rights based on their responsibilities. While settling on a particular BSC, ensure these features form part of the system.
Mobile platform: With the current technology, different apps have been developed to ensure employees can easily access different platforms through their mobile gadgets. This should also apply to your balanced scorecard platform. Look for a system that can be accessed using mobile platform as well. This will ensure that information is communicated in real time and prompt action is taken whenever there is a need. This would come in handy especially for field officers as they don't have to go back to the office to update their reports.
Easy to use: Don't settle for software that is too complicated for your team. A good system should be easy to learn and use. Having complicated software may result in frustration which in turn will lead to employees rejecting it. You should organize training before introducing the software to ensure the employees are ready to adopt it once it is introduced. The platform should also come with clear guidelines on how to operate so as to make it easy to operate without necessarily looking for IT technician.
Top Balanced Scorecard Software
You may want to review the Free, Open Source and Top Balanced Scorecard Software
Top Balanced Scorecard Software
PAT Index™
Free and Open Source Balanced Scorecard Software
You may want to review the Free, Open Source and Top Balanced Scorecard Software