Review
ESM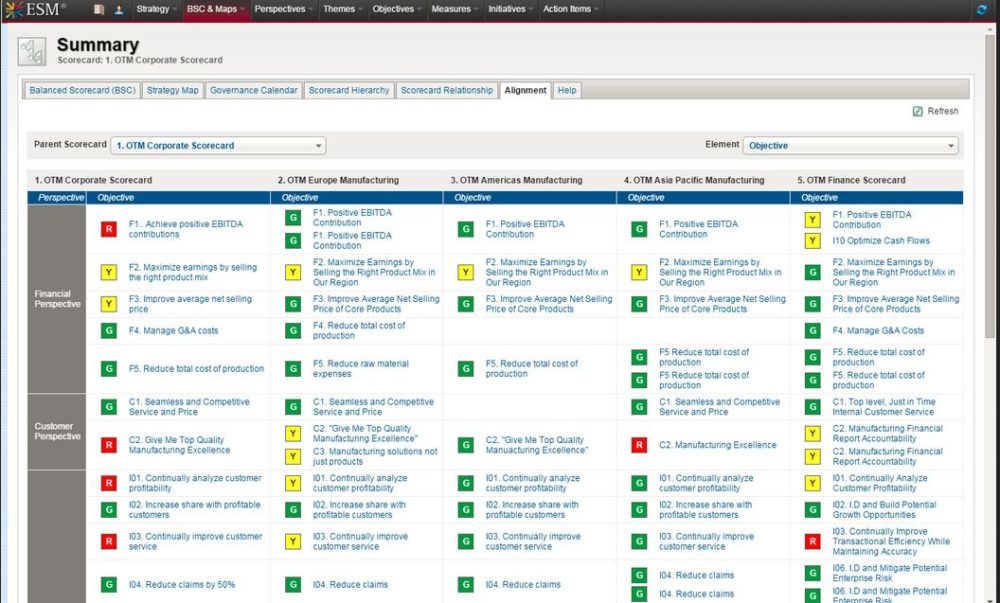 Overview
ESM define your top-level organizational goals, KPIs, and strategic initiatives directly in ESM+Strategy. Then align supporting business units to your overarching vision.
Balanced Scorecard Software
Dynamic strategy maps improve strategic communication
Drive alignment across multiple business units/departments and Balanced Scorecards
Track progress against strategic Objectives, Measures (KPIs), and Initiatives
Easily publish real-time dashboards to any website
30 day free trial
Contact for pricing
Small (<50 employees), Medium (50 to 1000 employees), Enterprise (>1001 employees)
ESM is robust strategy management software which help organizations to better understand and manage strategy. ESM enables professionals in articulating organizational mission, vision, and values to clarify the foundation of strategy.
ESM's PESTEL Analysis helps analyst in understanding political, economic, social, technological, environmental, and legal factors that impact the strategy .ESM's SWOT Analysis help analysts in capturing organizational strengths, weaknesses, opportunities, and threats. ESM enables decision makers in taking decisions on the basis of latest data with real time Strategy Maps, dashboards, and fully automated Balanced Scorecards. ESM enables managers to define top-level organizational goals, KPIs, and strategic initiatives directly in ESM+Strategy and align supporting business units to their overarching vision.
ESM's Simple reporting tools and automated web service integration help professionals in getting the latest information instantly. ESM helps professionals to better keep track strategic initiatives via Gantt charts and milestone/task breakdowns. ESM helps users to keep important information in one place. ESM'S automatic personal dashboards make viewing, analyzing, and updating your Balanced Scorecard quick and easy. With ESM's export capabilities, users can create leadership-meeting-ready PDF, PowerPoint, and Excel reports instantly.
ESM help professionals in keeping track of personal goals, measures, and initiatives throughout annual review process. ESM help managers to identify key competencies and skills for employees to develop, then assign specific tasks for improvement. ESM's HR Analytics, view alignment matrices and performance reports help professionals to make right decisions in right time. Mangers can see how employee performance affects strategy via ESM's "PeopleScore".
You may like to read: Free, Open Source and Top Balanced Scorecard Software and How to Select the Best Balanced Scorecard Software for Your Business