Review
QPR Software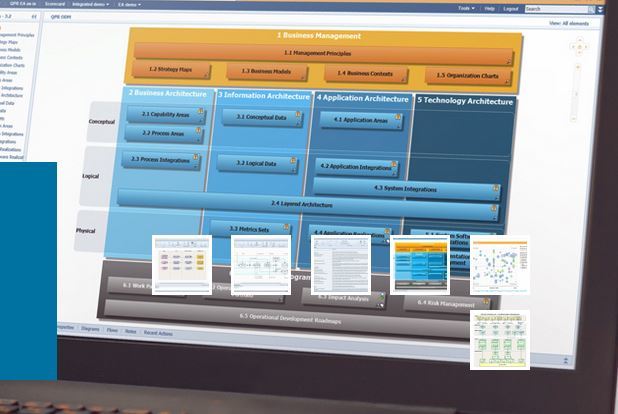 Overview
QPR Software provides solutions for strategy execution, performance and process management, process mining and enterprise architecture in over 50 countries. Users of QPR Software gain the insight they need for informed decisions that make a difference.
Balanced Scorecard Software
Balanced Scorecard
Business Process management
Enterprise Architecture
Quality Managemnt
Lean Process Improvement
Performance Managemnt
Risk Management
Strategy Execution
Small (<50 employees), Medium (50 to 1000 Enterprise (>1001 employees)
QPR Software offers a comprehensive selection of tools that enable not only process modelling, performance analysis and measuring but also enterprise architecture. QPR Suite comprises four separate software products that can be integrated together to support organizations in developing operations as a whole, looking at the big picture. These components are: 1. QPR EnterpriseArchitect 2. QPR ProcessDesigner 3.QPR metrics 4.QPR Process Analyzer.
QPR EnterpriseArchitect help professionals with the gain capabilities for analyzing, planning and improving business. QPR EnterpriseArchitect is intuitive and easy to use, both business and IT users prefer QPR EnterpriseArchitect as it helps to ensure that operations are in line with their strategy.
QPR EnterpriseArchitect is highly configurable for the modeling and analysis capabilities needed by the organization. QPR ProcessDesigner is a leading business process modeling tool to describe, analyze, communicate and improve business processes.
QPR ProcessDesigner's easy process modeling and designing helps business being more agile, effective and customer centric. To help professionals achieve process improvements, QPR targets all the business process management initiatives. The web based QPR Portal offers an efficient communication, collaboration and monitoring place for all stakeholders.
QPR Metrics combines a robust and flexible performance management functionality with a beautiful user experience. Stunning dashboards and scorecards with KPIs are also available in user's pocket through QPR Mobile Dashboard. QPR Metrics is the perfect solution for automating strategy execution, operational performance management, people performance management, risk management and project portfolio management. QPR also uniquely combines performance and quality management enabling operational improvement.
Process KPIs are available using QPR's patented process mining technology. QPR Process Analyzer extracts and reads the timestamps used to record specific events along procurement and/or supply chains: taking an order, sourcing the goods, transporting them to the customer, receiving the payment, etc. The software then visually models these timestamps in such a way that professionals can instantly identify deviations from an ideal process flow to find the root cause of a problem that may be costing business money.
You may like to read: Free, Open Source and Top Balanced Scorecard Software and How to Select the Best Balanced Scorecard Software for Your Business
QPR Software Videos