Review
FusionCharts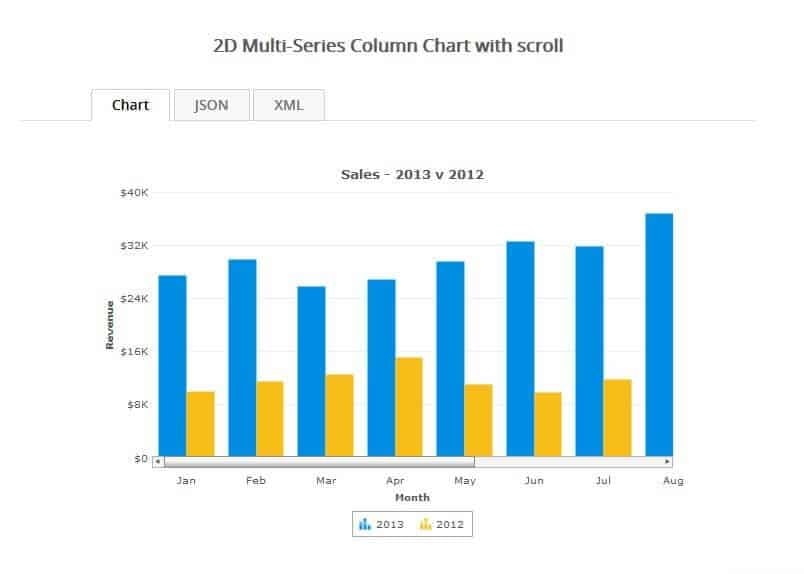 Overview
FusionCharts is a comprehensive JavaScript charting library, with over 90+ charts and 1000+ maps.
Business Intelligence Software
•Intelligent label manager
•Informative tool tips
•Trendlines
•Visually editable charts
•Real time charts and gauges
•Visual selection of Data
•Client-side data update
•Developer $497
•5 Developer $1,297
Small (<50 employees), Medium (50 to 1000 Enterprise (>1001 employees)
https://www.fusioncharts.com/
What is best?
•Trendlines
•Visually editable charts
•Real time charts and gauges
•Visual selection of Data
•Client-side data update
What are the benefits?
• Create unlimited levels of drill-down in minutes
• Export charts as JPEG, PNG and PDF images for use in emails and ppts
• Analyze only the data series you want to
• Make your chart information-rich yet clutter-free
• Visualize the same data with a completely different perspective
FusionCharts is a comprehensive JavaScript charting library, with over 90+ charts and 1000+ maps. FusionCharts gallery of live examples, hosted in JSFiddle, has charts and maps with full source code to help you get started in a minute to create JavaScript graphs.
FusionCharts Suite XT comprises : FusionCharts XT, the flagship product of the FusionCharts Suite XT, FusionWidgets XT, a product consisting of data visualization components best suited for executive dashboards and plotting key performance indicator, FusionMaps XT, a collection of over 960 data-driven vector-based maps, PowerCharts XT, a set of advanced charting tools for domain-specific uses, FusionCharts Plugins and Wrappers which assists in various scenarios of quick deployment.
FusionCharts Suite XT puts data statistics in action and analyzes the underlying codes. The JavaScript API provides client-side data updates, updates the individual parameters, exports charts as images or PDFs and creates multi-level drill-down.
This feature of LinkedCharts creates plenty of levels of drill-downs in minutes, employing a single data source. It also features exporting images/PDF. JPEG, PNG and PDF images for use in emails and PPTs are also controlled by the same feature. Interactive Zooming & ScrollingPlot is another feature that handles bulks of data like stock quote and compares them with the highly interactive zoom and scroll charts.
Intelligent Label Management is a feature that helps select the best chart for the label automatically. It also features real-time Charts and Gauges that help create stock manufacturing and monitoring apps along with charts.
This feature also allows the charts to automatically update themselves. Interactive Legend feature allows the analysis of only the data series that are required to be viewed and hides the rest. Informative Tooltips help make the charts rich with information that it obtains from different sources. Formatted Numbers adds number suffixes and prefixes. It also controls the decimal accuracy and defines number scales.
Highlight Data Points is a feature that highlights data sets. Trendlines help add context to the charts. It also enables planning and estimation in the charts. Log Axis Charts allow the plotting of the data that varies widely by employing the logarithmic scale. Regression Line is another feature that uses the regression line and derives particular trends from distorted data. It also helps predict future values and make the analysis more detailed.
You may like to read: Open Source, Free and Top Dashboard Software and How to Select the Best Dashboard Software for Your Business
FusionCharts Videos