Review
AnswerRocket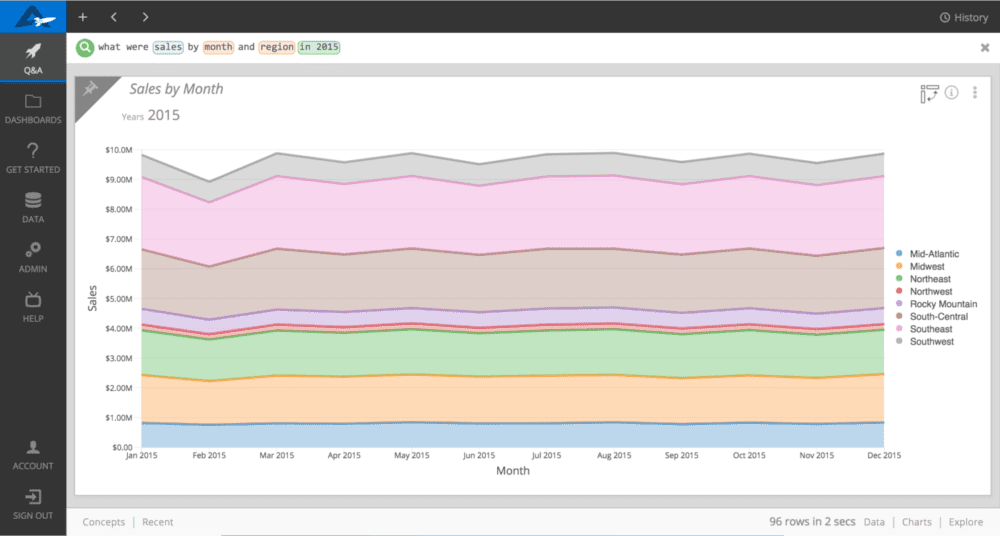 Overview
AnswerRocket empowers business users to ask questions about enterprise data and get instant answers without the help of a technician. Users type their business question the way they would ask a person. AnswerRocket rephrases the question to provide feedback and provides suggestions.
Business Intelligence Software
•Visualization, Reporting & Analytics
•Data Warehousing Automation
•Big Data
•Demand Planning
•Supplier Management
•Financial Analytics
Small (<50 employees), Medium (50 to 1000 Enterprise (>1001 employees)
What is best?
•Visualization, Reporting & Analytics
•Data Warehousing Automation
•Big Data
What are the benefits?
• Explore your business faster
• Understand your data
• Send emails anytime
• Connect with data anywhere
• Make better, faster, data-driven decisions
AnswerRocket is a Search-Powered Analytics that helps users get the right answers based on simple questions that doesn't require any technician in formulating them. Users can simply type in their questions the way that they would want to deliver it as if asking another person and AnswerRocket will be the one responsible suggesting or paraphrasing the questions and provide accurate answers.
AnswerRocket responds to natural language questions with visualizations that make data easy to understand and explore. It could be in a form of graphs or charts, depending on what is needed by the business. AnswerRocket provides solutions that users will be able to grasp immediately.
Users of AnswerRocket will have full drill-down capabilities to drive to deeper insights. A particular graph or chart will have multiple options to dissect the most detailed information its users to view and act on.
With AnswerRocket's Visualization Customization and Control, it will allow users to view the same information on different types of presentation, choosing the best visualization that meets their needs with just a single click. No need to ask a programmer or any specialist to do so.
AnswerRocket's Guided Analytics help users to find the best possible solution by providing suggestion in cases where in the system cannot understand a term that is provided together with the query.
This helps finding solutions quicker and making sure that the user only get the right answers.In addition to cloud services like Google Analytics and Salesforce.com, users can also connect AnswerRocket to virtually any dataset such as MySQL, Adobe Analytics, Amazon Redshift, Apache Drill and so much more.
You may like to read: Open Source, Free and Top Dashboard Software and How to Select the Best Dashboard Software for Your Business
AnswerRocket ScreenShots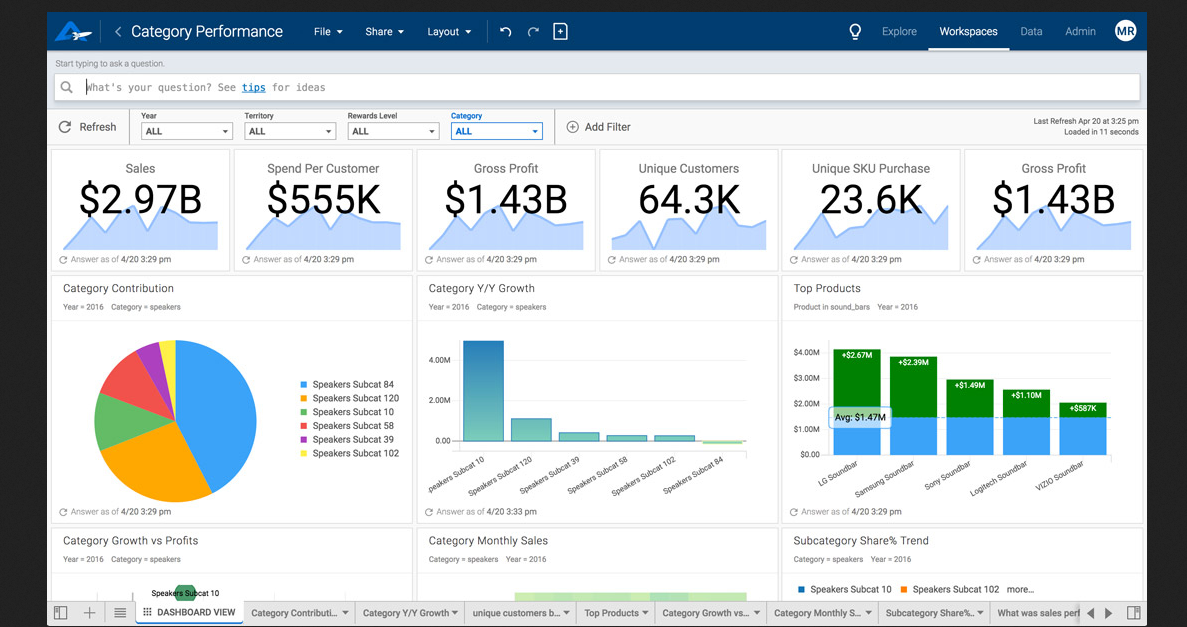 AnswerRocket Videos