Top 21 Self Service Data Preparation Software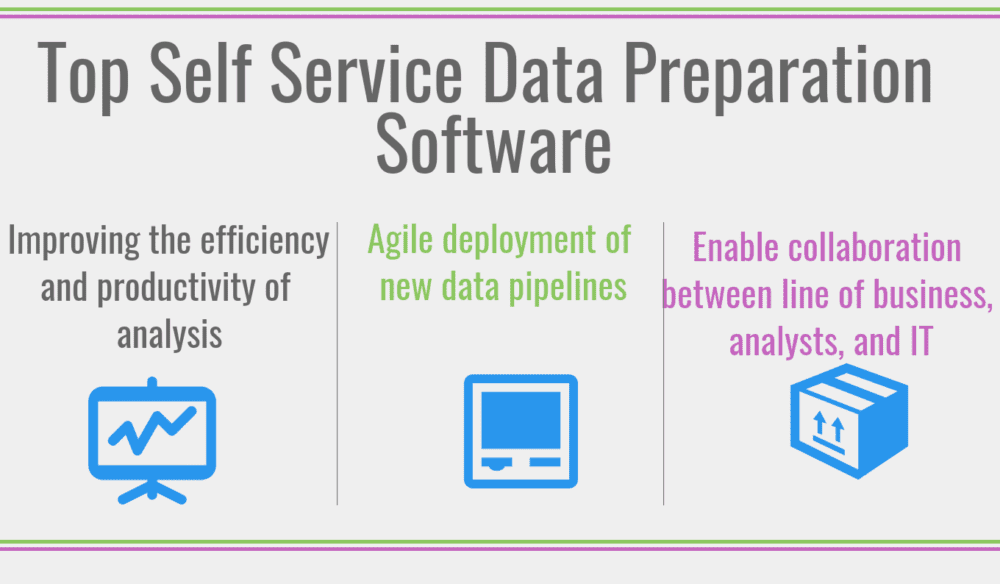 Over the last few decades, dozens of companies have been utilizing data analysis computer programs to evaluate and present important data. Most of these programs were initially part of larger data mining computer systems.
However, things have changed considerably over the last couple of years. There are now new standalone data preparation software products available on the market. They capture different types of data from different types of sources and can be used even by laymen with just a little bit of training hence the term self-service. This is in contrast to previous programs that were designed for programmers and skilled statisticians.
With the new data preparation software products, you can combine, transform, evaluate, and filter data before analysis making them perfect for business analysts and managers who want to gain insightful knowledge from the data they have.
What are Self Service Data Preparation Software?
A self-service data preparation software product prepares data for further usage. Most of them have multiple capabilities accessible on easy-to-use interfaces that can help you to quickly complete certain tasks. Unlike complex data preparation computer programs, a self-service data prep software will allow you to easily complete data preparation, and to evaluate theories and hypotheses.
Most data preparation software products also have single interactive pages for easy viewing complex data. Others auto-suggest patterns and relationships between datasets to make it easier for business owners to assess and analyze important information. This type of software products can also contain statistical tools for "cleaning data" of noise and for the identification of patterns and trends without needing specialized assistance.
In short, you could boost your business's data gathering, analysis and data quality by getting one of these software products. And give it the competitive edge it needs to be more productive and efficient.
Data preparation software packages offer more than just preparation. They make it easier for businesses to do a number of things including:
Visual Profiling and Transformations: Visual profiling is basically the transformation of your data into figures, charts, graphics and other kinds of illustration for easier understanding of complex data sets. While transformation is the representation of data in a different way that may also be "easy to consume". You can get these two features with any decent data prep software.
Tagging, Annotations, and Sharing: As you get more insight into your data set by transforming and visualizing your data using data prep software, you could also use the software to share or analyze data with other stakeholders. Some data prep software can allow you to work on the same data at the same time while in different locations through centralized sharing.
Self-Service Data mashups and blending: This capability helps users to merge different types of data and draw useful insights from the resulting composite data.
Self-Service Data Discovery: You can use self-service data prep packages to quickly identify patterns and trends within your data sets.
Interactive and intuitive User Interface: Self-service datasets are made for laymen. So every type of guy can enjoy the features and capabilities with only a bit of training.
The purpose of data preparation is to transform data sets in a way that the information contained is best exposed to the tool. Data preparation tools and platforms enables Data discovery, exploration, analysis, conversion, cleaning, transformation, modeling, structuring, curation and cataloguing.
You may like to read Best Practices for Data Preparation Software
Top Self Service Data Preparation Software
Trifacta, Microsoft Power Query for Excel, Paxata, Waterline Data, Looker, Vero Analytics, ClearStory Data, Datameer, Informatica Axon, Workday Prism Analytics, FICO Big Data Analyzer, Tamr, Datawatch, Teradata Listener, Segment
Top Self Service Data Preparation Software
PAT Index™
1
Trifacta
Trifacta's Visual Data Profiling features provide immediate visibility into unique elements of the data set like data distributions and outliers to inform the transformation and analysis process.Trifacta uses data inference techniques to introspect the data and automatically apply initial shaping and metadata recommendations for the user. This greatly accelerates the transformation process. Users can quickly un-nest and iterate on the shape of their data in preparation for the dataset's downstream use. Trifacta's data enrichment features make standardizing data, joining datasets and aggregating data outputs to the right level, faster and more accurate.Advanced visual data profiling capabilities that guide users through…
2
Microsoft Power Query for Excel
Microsoft Power Query for Excel is an Excel add-in that enhances the self-service Business Intelligence experience in Excel by simplifying data discovery, access and collaboration. Microsoft Power Query for Excel, provides a seamless experience for data discovery, data transformation and enrichment for Information Workers, BI professionals and other Excel users. Power Query features include identify the data about from the sources work with such as relational databases, Excel, text and XML files, OData feeds, web pages, Hadoop HDFS. Power Query let discover relevant data from inside(*) and outside organization using the search capabilities within Excel and combine data from multiple,…
Microsoft Power Query for Excel
3
Paxata
Paxata is self-service Adaptive Data Preparation platform that lets business analysts rapidly collect, explore, transform and combine data with the same freedom they are used to in their analytic discovery. Paxata's solution lets business people make data sets ready for ad-hoc analytics without going through the painful and manual steps they traditionally dealt with. Paxata platform was built with a data management layer that persists data inside the Hadoop Distributed File System (HDFS) and a real-time columnar parallelized in-memory pipeline data prep engine powered by Intellifusion. The data prep engine wraps Apache Spark v1.1 with additional functionality built to optimize…
4
Waterline Data
Waterline Data is an automated data discovery platform that helps Data architects inventory all data in Hadoop automatically at scale, and provision data to business users securely and to make the data ready for analysis automatically without having to explore every file manually. Waterline Data also helps to discover lineage and business metadata automatically, as well as manage metadata. Waterline Data Inventory automatically profiles and catalogs all the files in Hadoop, detects when the contents of files have changed and notifies users and inspects each field in a file to infer its meaning, tags the field accordingly, and generates key…
5
Looker
Looker : Looker is a web-based business intelligence platform that brings people and data together. Looker puts actionable data in the hands of the people who need it most, through a unique data description language called LookML. LookML is a easy-to-use modeling language for encapsulating business logic, defining important metrics once and then reusing them throughout the model. Using LookML, analysts can create and curate custom data experiences so any employee can explore and utilize the data that's most relevant to them. Looker was built from the ground up to enable Big Data processing, leveraging dialect-specific SQL and analytic functions…
Overview
•Better insights, better outcomes
•Modern APIs for integrated workflows
•Business Intelligence
•Embedded Analytics
•Workflow Integration
6
Vero Analytics
Vero is an SQL IDE that can Write SQL. It goes beyond providing basic keyword hinting to generating complete queries, automatically resolving complex join trees and providing Alias Aware code completions. Vero generates Multi-Pass SQL Scripts that Data Engineers and Analysts write manually. This makes automatic join resolution, in database blending and federated queries easier. Vero also allows its users to run queries across separate databases as if they are collocated. Users can drag and drop to generate a data blending query scaffold and then proceed to hack the query. Vero's high performance data blending tech takes care of moving…
Overview
Multi-Pass SQL Scripting
Data Blending / Federated Queries
SQL IDE
Data Exports
Wrangle & Load Files
Metadata
7
ClearStory Data
https://www.clearstorydata.com/
ClearStory Data infers what's in data to speed data preparation and converge disparate data on the fly. Internal and external data access requires no pre modeling or skills that mandate data specialists. ClearStory's Intelligent Data Harmonization identifies data relationships across disparate data sources and converges data on-the-fly, to reach holistic, interactive answers faster. ClearStory's advanced data harmonization platform is powered by an inference and profiling engine to extract metadata in real-time, using Apache Spark's fast in-memory processing. Data dimensions including dates, time, currencies, geographical entities, and other custom attributes can be inferred and blended with no pre-modeling or prior knowledge of…
8
Datameer
Datameer Professional, is a SaaS big data analytics platform targeted for department specific deployments. Datameer offering features leading Hadoop cloud providers Altiscale and Bigstep. Datameer simplifies the big data analytics environment into a single application on top of the powerful Hadoop platform. Datameer combines self-service data integration, analytics and visualization functionality that provides the fastest time to insights. Datameer simplifies the big data analytics process into a single self-service big data application on top of Hadoop, disrupting a multi-process system. With more than 70+ pre-built data connectors for any data type, size or source, a spreadsheet user interface, and over…
9
Informatica Axon
Informatica Rev, merge data from multiple sources, including spreadsheets, and prepare it for analysis. Informatica Rev, is a spreadsheet like interface combined with a recommendation engine, that provides business users with intelligent guidance on combining, preparing and cleansing data. It offers an intuitive user experience optimized for business users to bring together data for business decision making in visualization tools such as Tableau. Informatica Rev let business users seamlessly operationalize any work that needs to be handed off to IT. Features include simplified data blending and merging, auto standardization and validation, managed provisioning of complex sources and easy enrichment with…
10
Workday Prism Analytics
Platfora is an end-to-end big data analytics platform with a native-Hadoop infrastructure that enables analysts, business professionals and data scientists to instantly access and drill down into the rawest forms of petabyte-scale data without the need for IT support. Platfora analyze all of data to answer the toughest questions with no code required including data preparation, data warehousing and business analytics are included. Platfora Big Data Analytics includes significant enhancements to the visual analysis capabilities and processing engine, including interactivity at Big Data Scale, advanced visualizations and geo analytics. Platfora provides the ability to interactively analyze the biggest of big…
11
FICO Big Data Analyzer
FICO Big Data Analyzer, is a purpose-built analytics environment for a new generation of data professionals. Big Data Analyzer empowers a broad range of users to collaboratively explore data and discover new insights from any type and size of data on Hadoop. FICO Big Data Analyzer, provides features to ingest your own data, explore, query and visualize data, find and re-use analytic assets, wrangle big data for predictive and prescriptive modeling, export insights for downstream decisions and services and empower data and business teams to collaborate. FICO Big Data Analyzer closes the loop between data exploration and insight discovery with…
12
Tamr
Tamr's data unification platform catalogues, connects and curates hundreds or thousands of internal and external data sources through a combination of machine learning algorithms and human expert guidance reducing the cost, time and effort of preparing data for analysis. Tamr, catalogs, connects and curates the vast reserves of underutilized internal and external data using a combination of machine learning with human guidance so enterprises can use all their data for analytics. Tamr dynamically catalogs the organization's information assets with their crawlers, entity tagging, and metadata visualization features to provide a comprehensive, organized, bottom-up inventory of all information assets within enterprise.…
13
Datawatch
Datawatch provides a platform for visual analytics to acquire, prepare, and transform data from structured and multi-structured sources such as PDF and log files, as well as real-time streaming data, into visually rich analytic applications. This allows users to dynamically discover key factors that impact any operational aspect of their business. Datawatch Managed Analytics Platform deliver an enterprise solution for self-service data preparation and visual data discovery. The capabilities delivered with the Datawatch Managed Analytics Platform include self-service data preparation, advanced data enrichment, automation without scripting, access multi-structured data, synchronous visual authoring, visual data discovery and frictionless governance. Datawatch provides…
14
Teradata Listener
Teradata Loom enables data analysts and data scientists to easily find, access, and understand data in Hadoop. Loom quickly start with data analysis to accelerate the time from data acquisition to delivering business insights and enables highly exploratory, iterative interactions with the datasets to quickly prepare the data for meaningful statistical analysis. The Loom workbench is a simple browser based, intuitive user interface accessible in a self service fashion by multiple users in the organization. Features include single, unified integrated platform from discovery to metadata management to data preparation, automated source discovery, metadata generation, and data profiling. Self service discovery…
15
Segment
Segment provide its users a better way of collecting data from customers and be able to send it to everyone in the team. Stream data to all marketing integration needs that the people need as well. This process ensures that all departments are getting the right data to better come up with solutions that can be planned and take action right away. All information from customers is vital to a company to understand how they can connect with them and better provide services. From mobile devices, websites, servers and cloud applications, Segment will be able to process these data obtained…
Overview
•Unlimited Integrations
•Unlimited Sources
•Unlimited Warehouses (Business)
•Schedule Loads
•Historical Import
•Alerts and Monitoring
•Developer Free
•Team $10 / 1000 MTUs (Pay as you go)
•Business $ Custom (Annual contract)
You may like to read Best Practices for Data Preparation Software