Top 24 Lead Intelligence & Lead Mining Software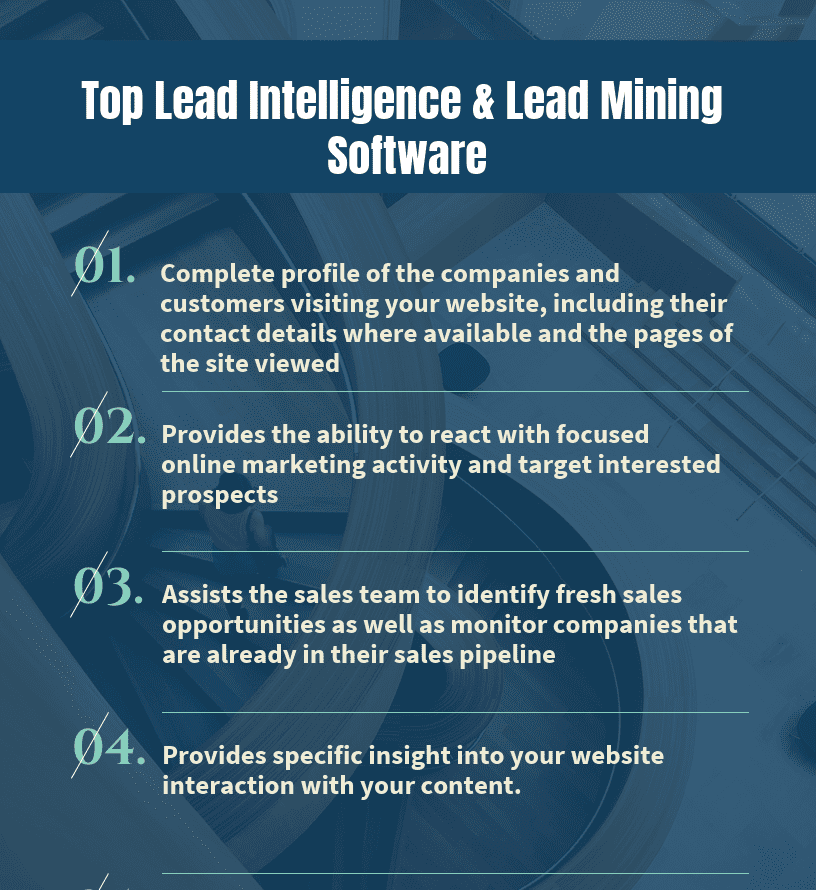 The world of business is changing, and more and more prospects are starting their search and evaluation of suppliers and customers online. You can be certain that a considerable amount of visitors to your website are worth your focused attention.
Lead mining software provides you with a complete profile of the companies and customers visiting your website, including their contact details where available and the pages of the site viewed. This gives your business or company the ability to react with focused online marketing activity and target interested prospects. Lead Mining Software (LMS) assists the sales team to identify fresh sales opportunities as well as monitor companies that are already in their sales pipeline. It also provides specific insight into your website interaction with your content.
Example of Lead Intelligence Software: Growlabs, Datanyze, RocketReach, Oceanos, Metadata.io, FullContact API, VoilaNorbert, Vendasta, LeadIQ, LeadFuze, Attentive, Synthio, BuzzBuilder, LeadLake, The List Online are some of the Top Lead Intelligence Software.
Example of Lead Mining Software: Prospect.io, Socedo, Albacross, KickFire, Prospectify, CartInsight, AeroLeads, LeadGnome, Datananas are some of the Top Lead Mining Software.
What is Lead Intelligence & Lead Mining Software?
Lead Mining Software uses technology to scrape data from websites, and find data in emails or social media. This information then needs to be transferred and managed using sales and marketing solutions. Companies use Lead Mining Software to find new business opportunities in their customer databases, sales history information, website visitors, social media following and more. Lead mining software can help increase the sales team pipeline of deals by finding new leads in existing data or new upsell potentials for existing customers. Through mining processes, salespeople and marketers can also validate client information that they already have (for example contact information) or improve the quality of their customer data by adding new information about existing customers.
A Lead Mining Software helps an organization to automate the selling methodologies that are designed to generate new business. It gives a bird's view of what's happening between consumer advertisement and the expected versus actual response to the said advertising. The methodologies are either designed for business to business or direct consumer engagement.
As a general principle, Lead Mining Software helps in leads management in that it provides a structured way of handling large volumes of business inquiries. It provides a platform on which data can be organized as it comes from across the various sales processes from a wide network of the distributed sales force. As the world becomes more integrated through the World Wide Web, more businesses are becoming tech-centric as they shift their selling processes from manual lead management to automated systems. All your efforts in marketing, advertising, brand development and sales will very soon become a mountain of data which will need automation to make sense of.
The software is, therefore, a critical connectivity component in driving a business' profitability as it helps in the acquisition of new customers, sell to and retain the existing customers, and create a brand that is easily recognized in the market.
You may like to read: How to Select the Best Campaign and Lead Management Software for Your Business, Top Campaign and Lead Management Software, Top Lead Capture Software and Top Predictive Lead Scoring Software
A lot of data acquired through mailing lists, social media, website or public marketing is just sitting there doing nothing for the company. With the lead mining software tools application, that data becomes a very valuable asset that contributes to a conversation with prospects which in turn can become a fruitful business relationship.
Lead mining software opens up new business avenues and opportunities delivering the best of results and increase in profits. This software also allows users to save and share search results by creating lists and exporting them in different formats such as spreadsheets, plaintext, and PDF etc.
Top Lead Intelligence Software
Growlabs, Datanyze, RocketReach, Oceanos, Metadata.io, FullContact API, VoilaNorbert, Vendasta, LeadIQ, LeadFuze, Attentive, Synthio, BuzzBuilder, LeadLake, The List Online
Top Lead Intelligence Software
PAT Index™
1
Growlabs
Growlabs is a complete suite of marketing and sales automation platform that provides teams with an excellent platform for identifying, engaging, and converting lead faster. Growlabs is vital for B2B companies by enabling them to automatically locate leads that match their ideal client profiles from the proprietary database. Growlabs makes use of machine learning algorithm that helps in optimizing who has to receive the campaigns and when to follow up. Growlabs also provides an excellent platform for enabling customers to reach prospects by using their native language. The key features provided by Growlabs include; generation of leads, automation of email,…
Overview
• Lead generation
• Email automation
• Smart inbox filters
• Multi-channel
• Actionable insights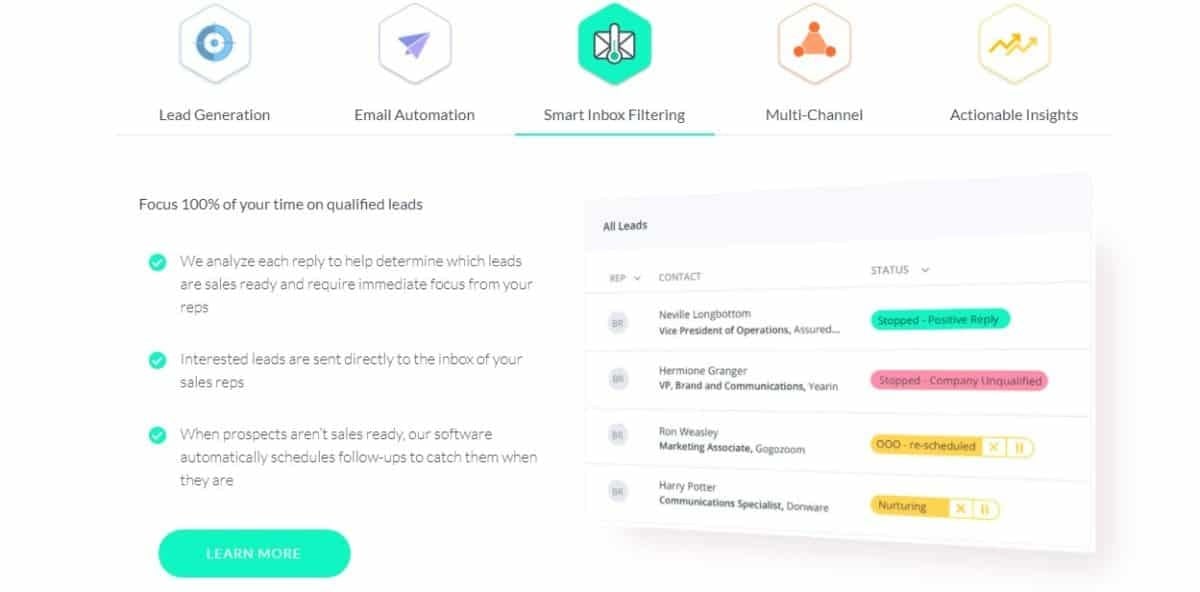 2
Datanyze
Datanyze is the leading technographics provider which empowers modern sales and marketing professionals to make smarter data-driven decisions and continuously analyzes millions of data points across the web to determine technology usage and other buying signals. Datanyze offers free tools such as technographic analysis, chrome extension and webinars/eBooks. Datanyze monitors the web and mobile technology choices of 40+ million companies to help the users find and reach their best prospects when they are looking to buy. Datanyze can alert the users when a key account has added or dropped a competitive or complementary solution by taking a snapshot of the…
Overview
• Technology Tracking
• Predictive Analytics
• Prospecting
• Data Enrichment
• Technographics
• Basic - $300/1, $250/2, $217/3, $193/4, $174/5, 6+ contact sales
• Premium - $600/1, $500/2, $433/3, $385/4, $348/5, 6+ contact sales
• Enrichment – salesforce, hubspot, Marketo, Datanyze API – contact form
• Datanyze Insider
• Free
• Startup - $10/month
• Enterprise - $10/month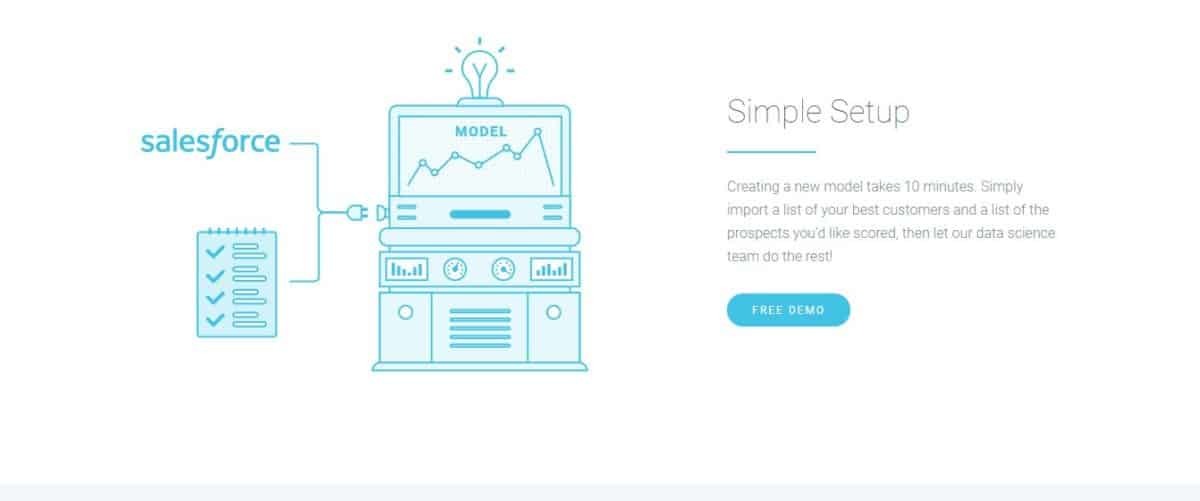 3
RocketReach
RocketReach is a lead intelligence software that leverages large scale data science to enable you reach to your leads faster. RocketReach enables you to un-limit your professional network by determining who you reach out to and who you can get in-front of, therefore, achieving ultimate success of your business. The primary features provided by RocketReach include an extended API access, integration with Salesforce, priority support, exporting leads to CSV, performing bulk lookups, and having access to 1150 lookups per month. RocketReach provides you with a first degree connection to any professional. RocketReach also provides you with an excellent platform for…
Overview
• 1150 lookups per month
• Bulk lookups
• Export to CSV
• Priority support
• Salesforce integration
• Extended API access
• Free - $0/month
• Bronze - $49/month
• Silver - $99/month
• Gold - $299/month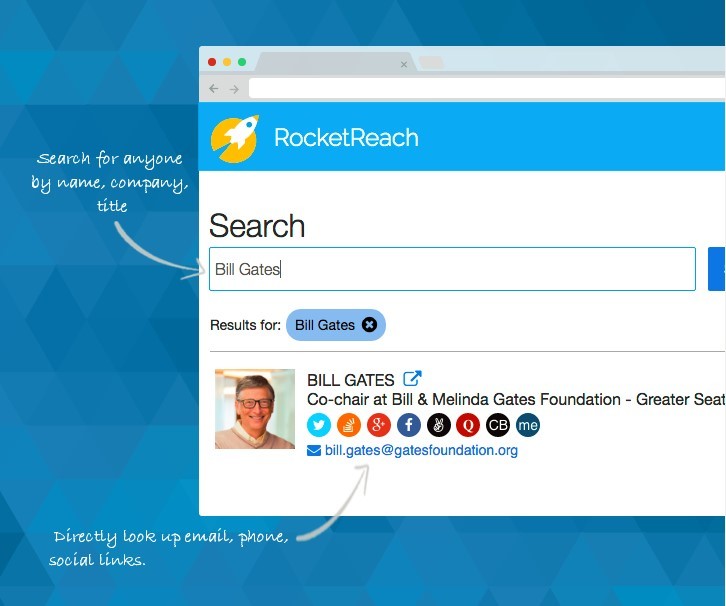 4
Oceanos
Oceanos sales intelligence technology, network of data sources, and creativity, sets them apart from other providers. Oceanos contact database contains over 145 million contact records. Oceanos List Optimizer solution drills down this volume of data for a deep search within the specified account. Oceanos leverages on your audience definition to find key contacts within its database with a high level of accuracy. Oceanos Cleanse and Append application enables you to perform Contact Gap analysis: a health check that analyzes your house contacts, highlights the percent that align to your audience definition, and assigns it a data score to reflect the…
Overview
• Contact discovery
• Data management
• Data cleanse
• Data append
• Data scores
• Contact Gap analysis
• Account-based marketing
• Cloud platform
• CRM integration
• Starter – $1500/month
• Growth – $4,000/month
• Enterprise – $9,500/month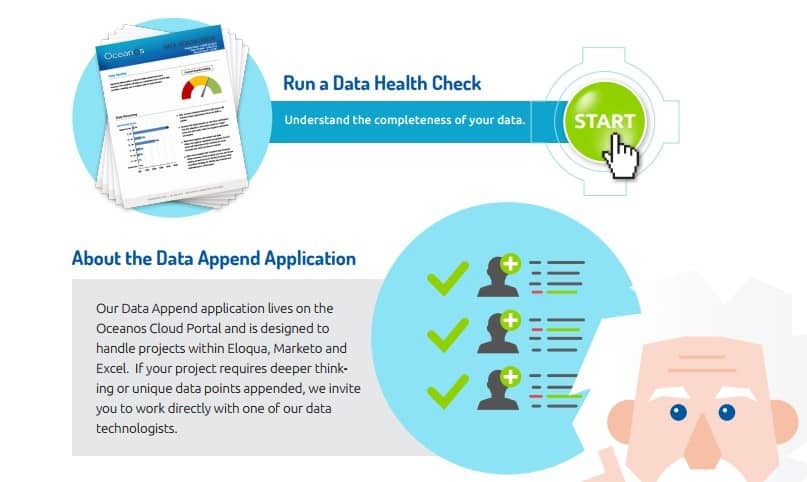 5
Metadata.io
Metadata.io is a lead intelligence software that provides you with an excellent platform for automatically creating a predictable and scalable lead flow from the target accounts. Metadata.io facilitates streamlining of demand generation by first plugging into existing automating systems used in marketing like Eloqua, MAarketo, and Pardot. Metadata.io uses their patented AI operator to ensure you automate the manual tasks. Metadat.io also provides you with 100 times the capacity for conducting multivariate offer and channel experiments against you target accounts. Through this benefit, Metadata.io enables you to accelerate existing opportunities and create a predictable and scalable lead flow. The primary…
Overview
• Discover your ideal customer
• Target lookalikes
• Engage the AI operator
• Optimize with machine learning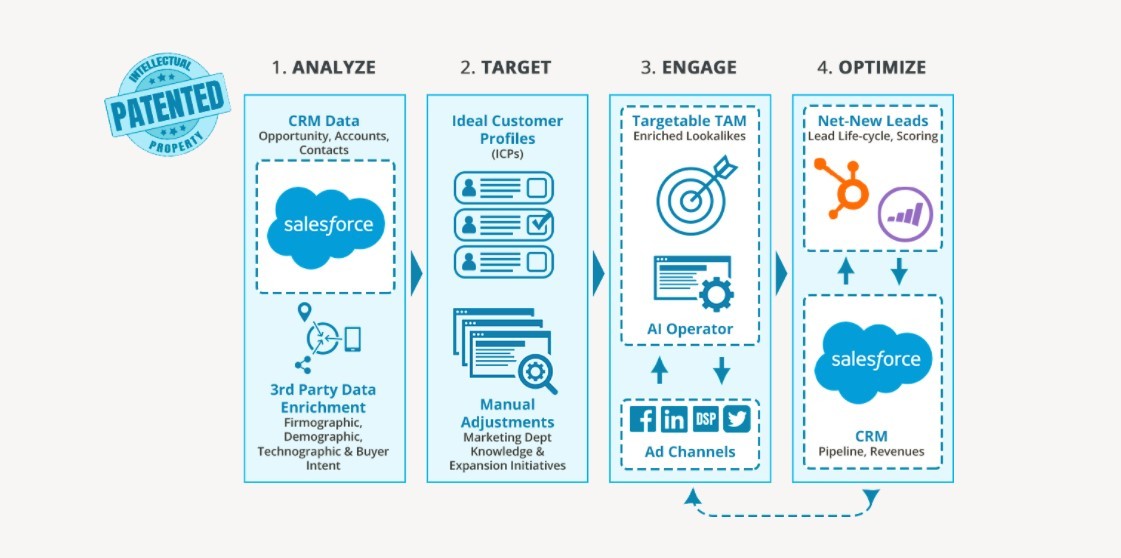 6
FullContact API
FullContact API is a lead intelligence software that provides you with an excellent platform for transforming partial identities into complete profiles that connect with prospects, captures the audience insights, and enhances the customer experience. FullContact API uses its identity resolution to enable you to improve product, sales, marketing, and customer support whether you work in B2C or B2B. FullContact API works great for marketers, product managers, data analysts, and developers. For the marketers, FullContact API enables them to improve the quality of marketing their leads. For the product managers, they have an excellent platform for building rich customer data into…
Overview
• Persona data
• Company data
• Data add-ons
• Data subscriptions
• Free – 100 matches per month
• Starter - $99/mo for 25000 matches
• Plus - $299/mo for 15000 matches
• Premium - $499/mo for 50,000 matches
• Enterprise – Lets talk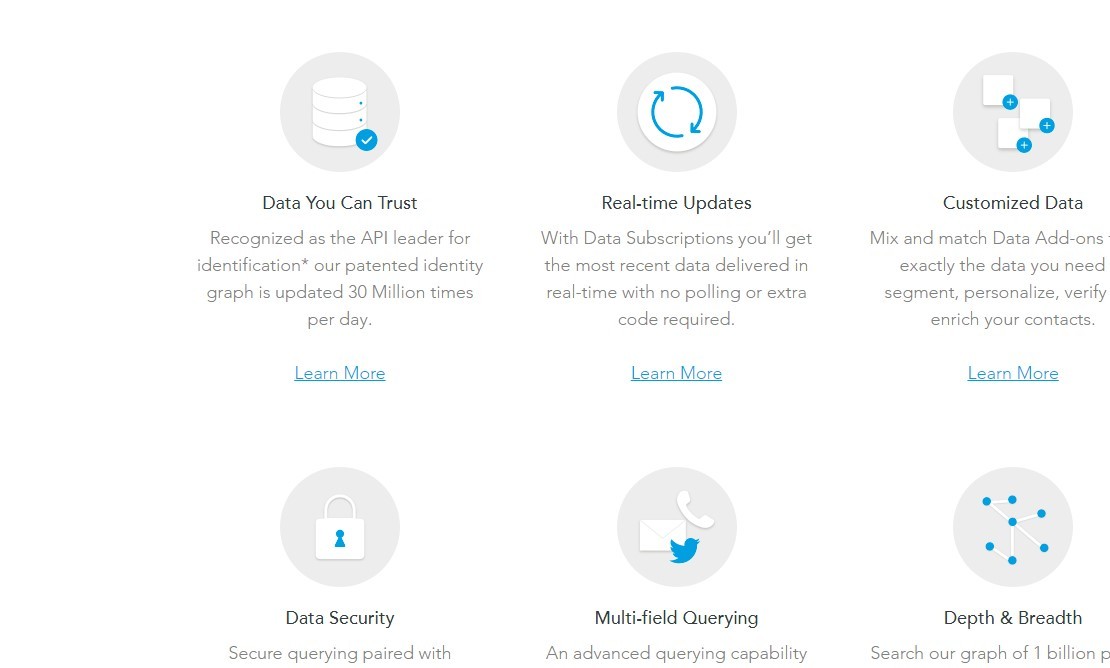 7
VoilaNorbert
VoilaNorbert is a lead intelligence software that provides you with an excellent platform for finding new email addresses and verifying the ones you have for the people who matter the most to your business. VoilaNorbert enables you to build marketing connections, generate a big list of sales prospect, and reaching potential recruits. The primary features offered by VoilaNorbert include verification of any email address, searching in bulk using your CSV file, searching via API, locating anyone's email address based on their name and company, and integrations with third part. In third part integrations, VoilaNorbert enables you to ass accounts such…
Overview
• Verify any email address
• Search in bulk using CSV file
• Search via API
• Find anyone's email address, based on their name and company
• Integrate with Zapier, Hubspot, Salesforce, and Drip
• Prepaid - $0.10 per lead
• Valet - $39 for 1000 leads/mo
• Butler - $79 for 5000 leads/mo
• Advisor - $199 for 15,000 leads/mo
• Counselor - $399 for 50,000 leads/mo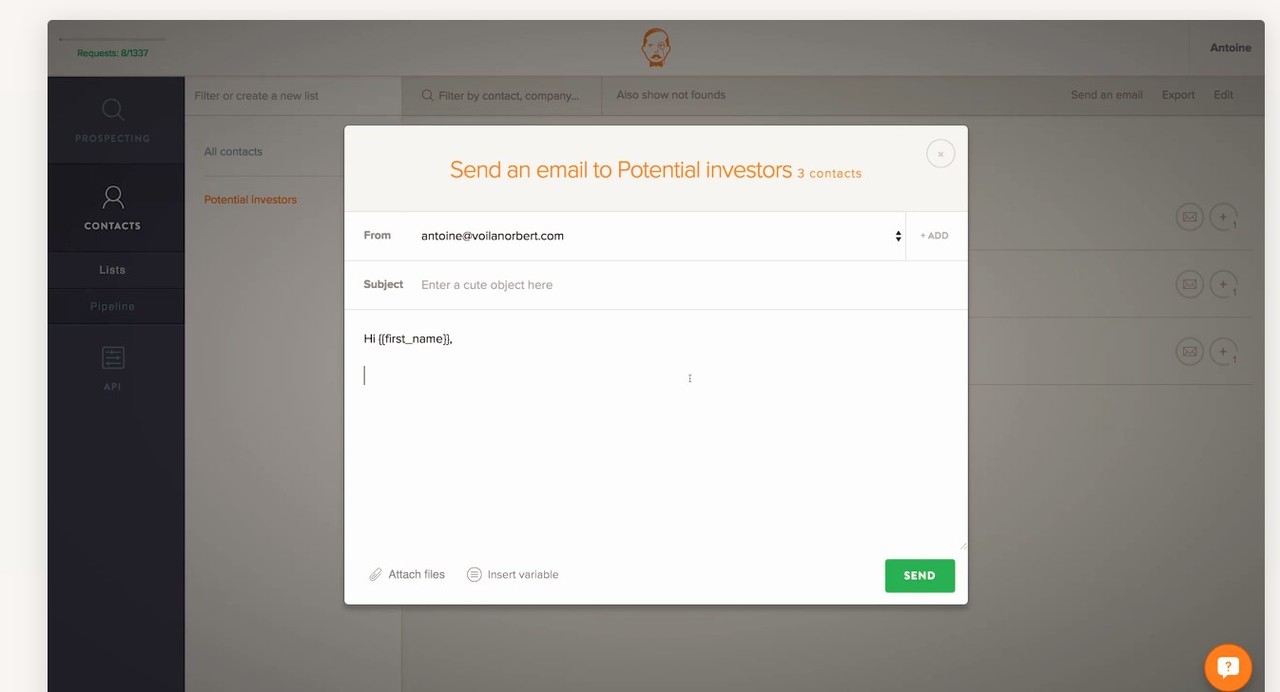 8
Vendasta
Vendasta is a lead intelligence software that provides with an excellent platform for selling digital solutions to local businesses. Vendasta is also specialized in sales and marketing and provides you with high-quality leads, better management of pipeline, and single sourcing of your sales data. Vendasta provides you with a curated marketplace of ready to sell apps to enable you earn more monthly recurring revenue. Vendasta provides you with a wholesale marketplace that offers you with a 24/7 access to the growing list of digital solutions for local businesses. With Vendasta, you have the ability of catering for any service model…
Overview
• Marketing automation
• Sales and success center
• Branding integration
• Reputation management
• Listing builder
• Social marketing
• Website pro
• Digital advertising
• Website creation
• Video creation
• Native advertising
• Review management
• Basic – Only available yearly
• Pro - $499/mo
• Enterprise - $999/mo
• Elite – Contact sales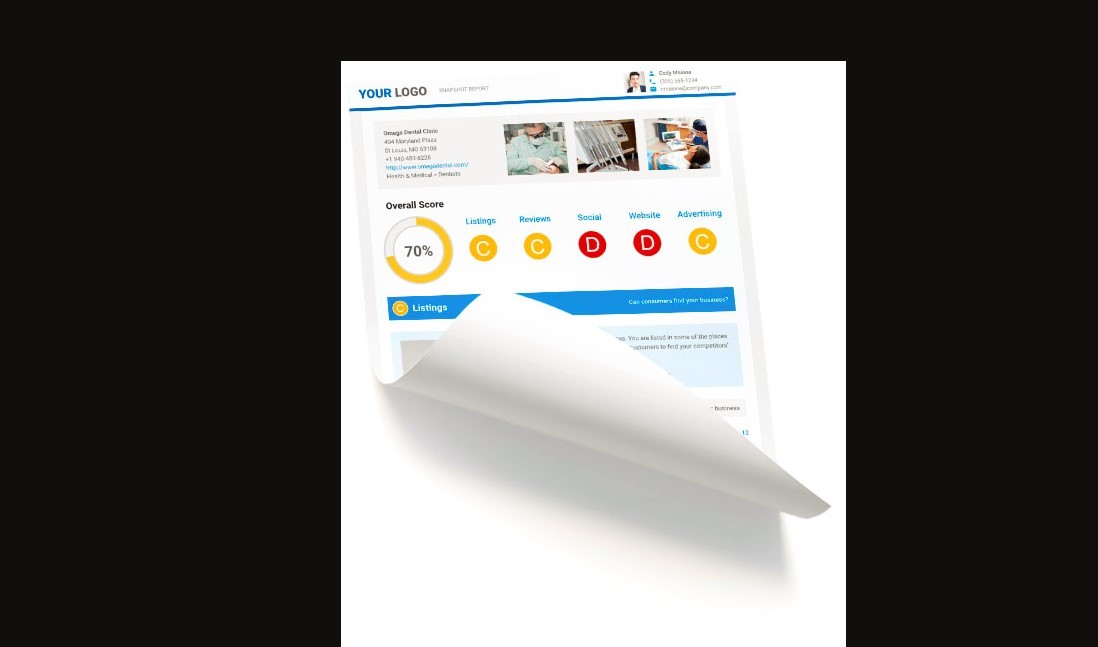 9
LeadIQ
LeadIQ is a lead intelligence software that enables you to find your prospect faster with no manual data-entry. LeadIQ provides you with an excellent platform for increasing the efficiency of your entire sales team by offering you features like VP of sales, sales operations, sale development reps, and account executives. The critical featured offered by LeadIQ include campaign builder, prospect anywhere, and account-based prospecting. LeadIQ enables you to pump up your sales team with a smooth workflow and accurate prospect data that allows you to quickly fill up your pipeline. The sales operations feature provides you with an excellent platform…
Overview
• Campaign builder
• Prospect anywhere
• Account based prospecting
• Account executives
• Sales development reps
• Sales operations
• VP of sales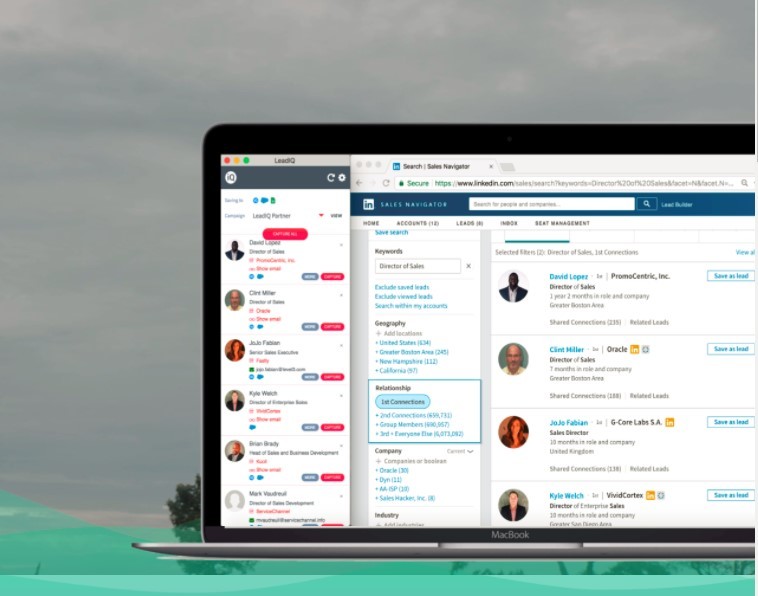 10
LeadFuze
LeadFuze is a lead intelligence software that turns cold leads into warm sales conversations. LeadFuze provides you with an excellent platform for spending more time with your qualified prospects who have an interest in what you sell with the help of their automated engagement and sales prospecting platform. LeadFuze simply provides you with an excellent platform for finding the right contacts, verifying the contact details, and reaching out to the leads through their personal emails. The primary features offered by LeadFuze include automated list building, scalable email outreach, and provides you with focus on interested prospects. In automated list building,…
Overview
• Automated list building
• Scalable email outreach
• Focus on interested prospects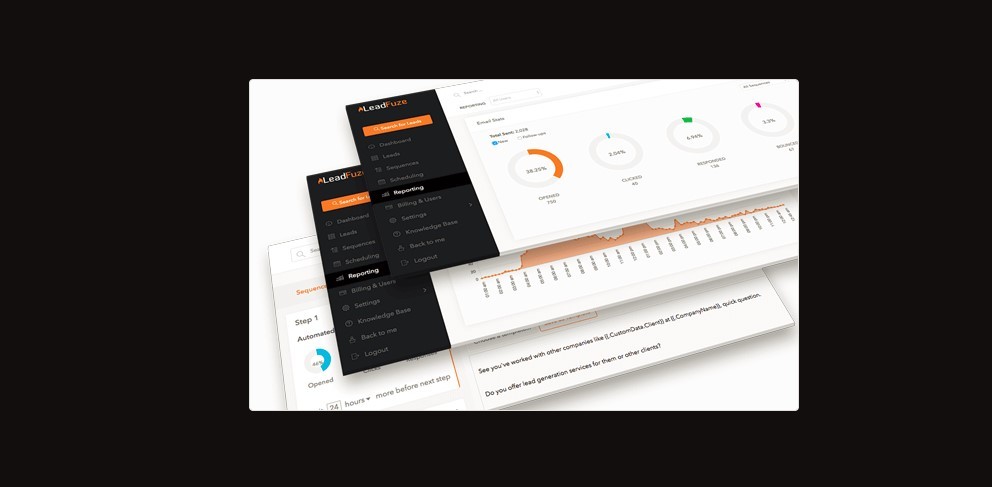 11
Attentive
Attentive is a CRM add-on that keeps the user's pipeline moving by giving the users insight, coaching, reminders, and clarity into how best to convert the user's leads. Attentive offers features such as sales onboarding, task management and recurring deals. Attentive's AI-based system keeps the user's revenue pipeline updated with minimal effort allowing the user's sales team to spend more time with customers and less time record keeping. Attentive helps the users to have a scalable sales process, showing relevant KPI's to make sure no deal falls through the cracks, keeping the user's deals organized, and reminding the users what…
Overview
• Automated reminders will always be there to help you never forget an important step.
• Set a likelihood for each deal and make your decisions easier.
• The amount set to each deal it's important data for your sales forecasting.
• Set deals as recurring and it will always be updated.
• Move deals to different stages quick and efficiently.
• Attentive – $49 per month price per user - up to 5 users
• Attentive Enterprise - custom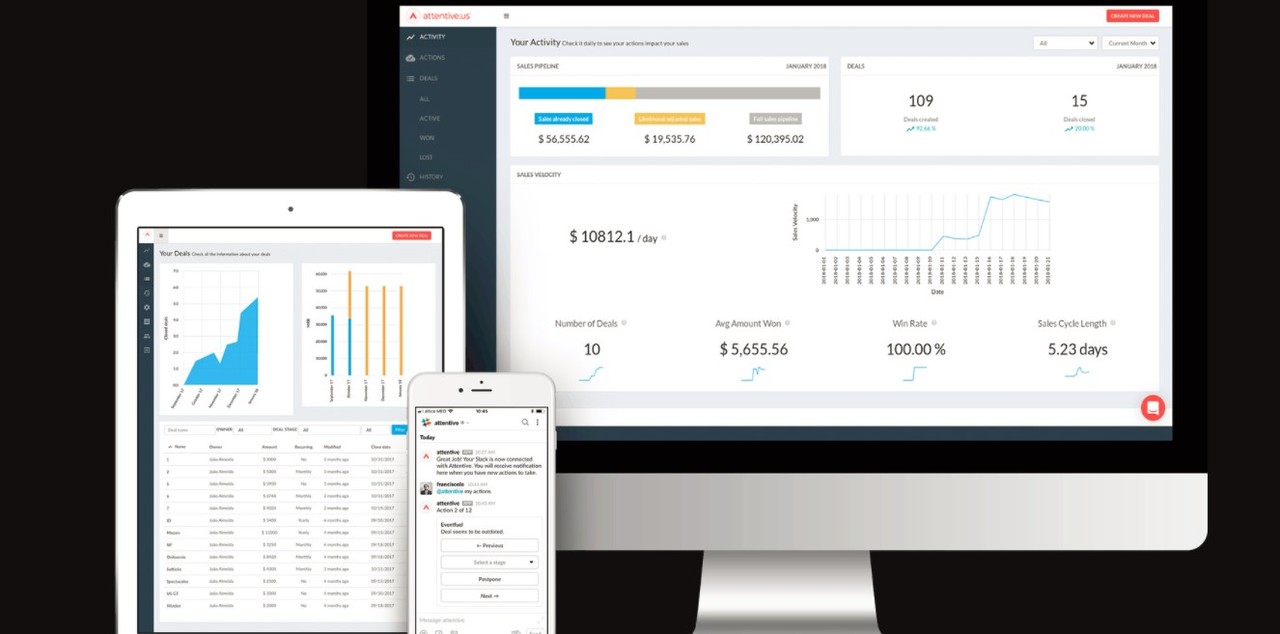 12
Synthio
Synthio is a lead intelligence program that accelerates your B2B marketing and sales pipeline to enable you to get to the right leads faster. Synthio enables you to get global data that stays current so that you may have the first approach to leads. Synthio is also a self-service platform that provides you with grade functionality and a customer data platform that easily integrates with other tools used in marketing. Synthio also provides a white-glove support by providing you with a named account executive, clear communication, and continuous improvements. The primary features offered by Synthio include technographics, net-new search, account-based…
Overview
• Net-new search
• Data cleansing
• Account-based marketing
• Data appending
• Global data
• Technographics
• Lead generation
• ABM execution
• Data enrichment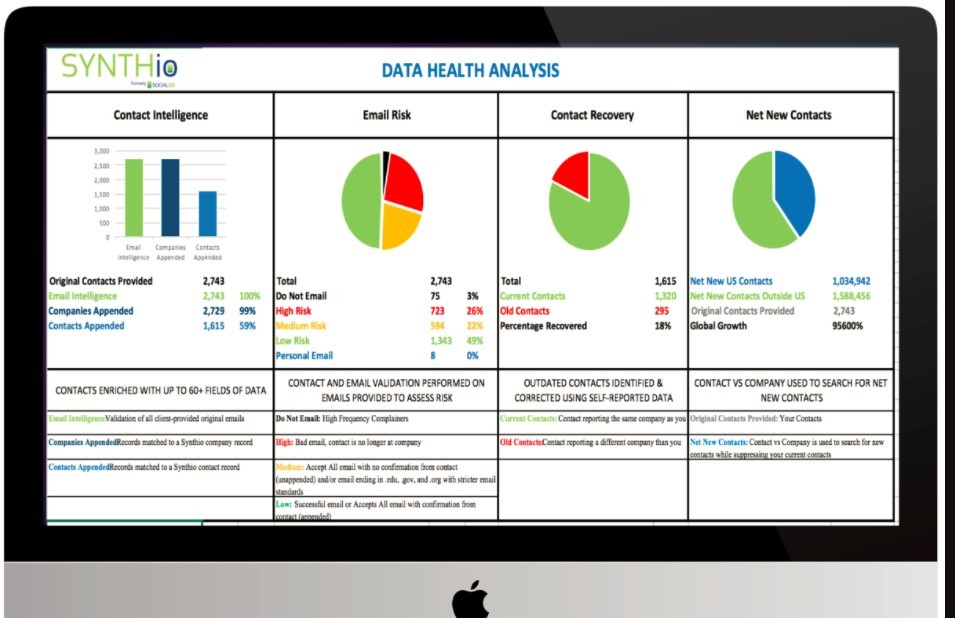 13
BuzzBuilder
BuzzBuilder is a lead intelligence application that provides an all in one sales platform that enables you to automate your prospecting steps, generate more leads, and easily connect with the interested prospects. With BuzzBuilder you have an excellent platform for eliminating cold calling and chasing of leads. In targeting better prospects, BuzzBuilder provides you with lead list tools that facilitate targeting of prospects who have a higher likelihood of purchasing your products. In generating more leads, BuzzBuilder provides you with templates that enable you to create email campaigns that motivate your prospects to take action. BuzzBuilder enables you to eliminate…
Overview
• Drip email campaigns
• Website visitor tracking
• HotLead follow-up lists
• Advanced email tracking
• Real-time alerts
• Individual - $127/mo
• Team – Call for pricing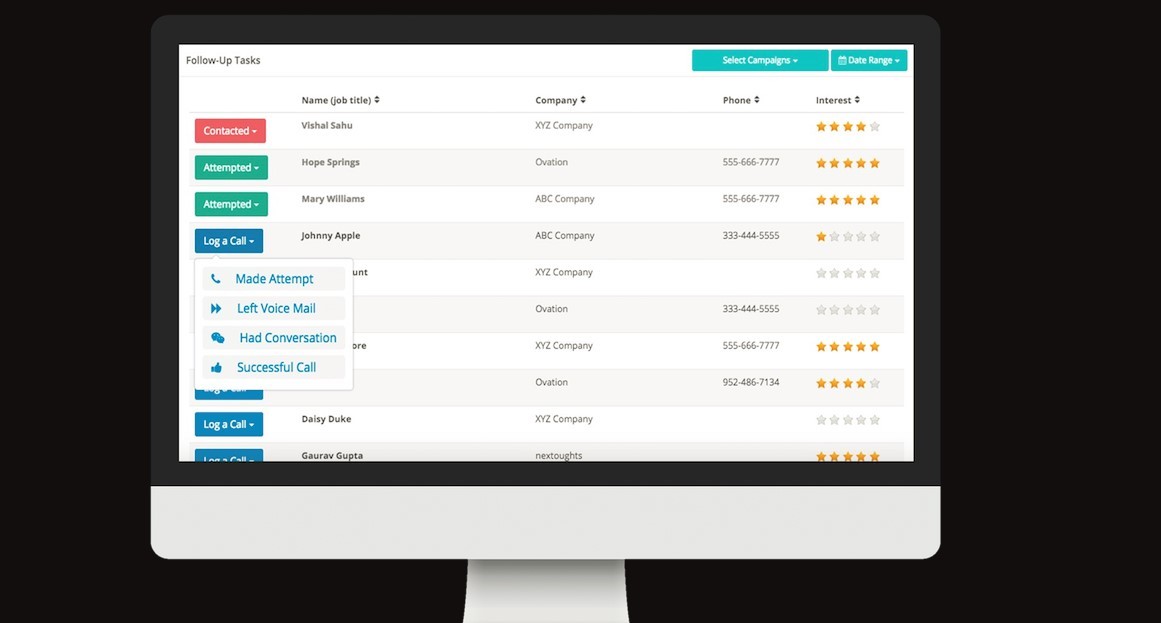 14
LeadLake
LeadLake is a lead intelligence software that analyses millions of data points on company information, buying intentions, technologies, web data, news and social media to enable you find real-time leads. LeadLake provides you with an excellent platform for identifying prospects that require your services. LeadLake enables you to easily locate email addresses, names, business phone numbers, and designations of people that matter for your business. LeadLake provides you with warm leads by showcasing buying intention that enables you to zero down on niche markets. LeadLake uses machine clean data with artificial intelligence to ensure that there is minimal errors experienced.…
Overview
• Classified leads
• Marketplace leads
• Social leads
• Forum leads
• Tender leads
• Remote work leads
• Predicted leads
• Leads with email ids
• Basic- $479/mo
• Pro - $149/mo
• Enterprise – $249/mo
• Platinum - $599/mo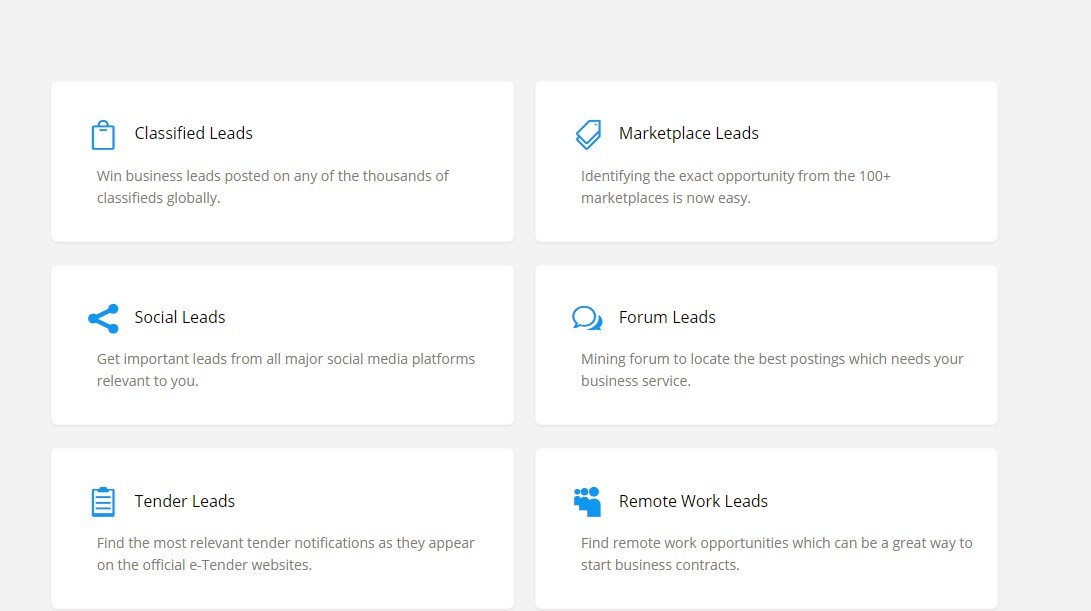 15
The List Online
The List Online is a lead intelligence software that is used by media sales, agency business development, advertising technology and sponsorship teams to generate new sales leads and strengthen their agency and brand relationship. The List Online provides you with an excellent platform for quickly identifying and engaging the most relevant media, advertising, and marketing decision makers as well as their respective agencies. The List Online enables you to improve the quality of your lead by enhancing your effectiveness. With The List Online, you have an ideal platform for getting immediate access to brand, company, and agency profiles and their…
Overview
• Winmo
• WinmoEdge
• WinmoTalk

Top Lead Mining Software
Prospect.io, Socedo, Albacross, KickFire, Prospectify, CartInsight, AeroLeads, LeadGnome, Datananas
Top Lead Mining Software
PAT Index™
1
Prospect.io
Prospect.io helps to automatically find and verify prospect's email, job title, phone number, etc by Prospect.io Google Chrome extension. Prospect.io CSV import to search or verify emails at scale. The user can send simple emails or use Prospect Drip Campaigns feature to set up a sequence of emails. Use the templates and all emails will be automatically filled with prospect information. Prospect Sales Prospecting platform is fully integrated with Sales force, Pipedrive, Close.io and Hubspot. Prospect.io Track email opens, clicks on your links, replies and conversions. Prospect Email Verification tool ensures that an email address actually exists, in real-time, without…
Overview
• Email Verification
• Email Finder
• Drip Campaigns
• Templates & Variables
• Mailbox Automation
• Click, bounces, out of office and conversion Tracking
• Campaign Stats
• Reporting
• CRM Integrations, Zapier, PieSync &Slack
• $99/month to use up to 2,000 credits/each month.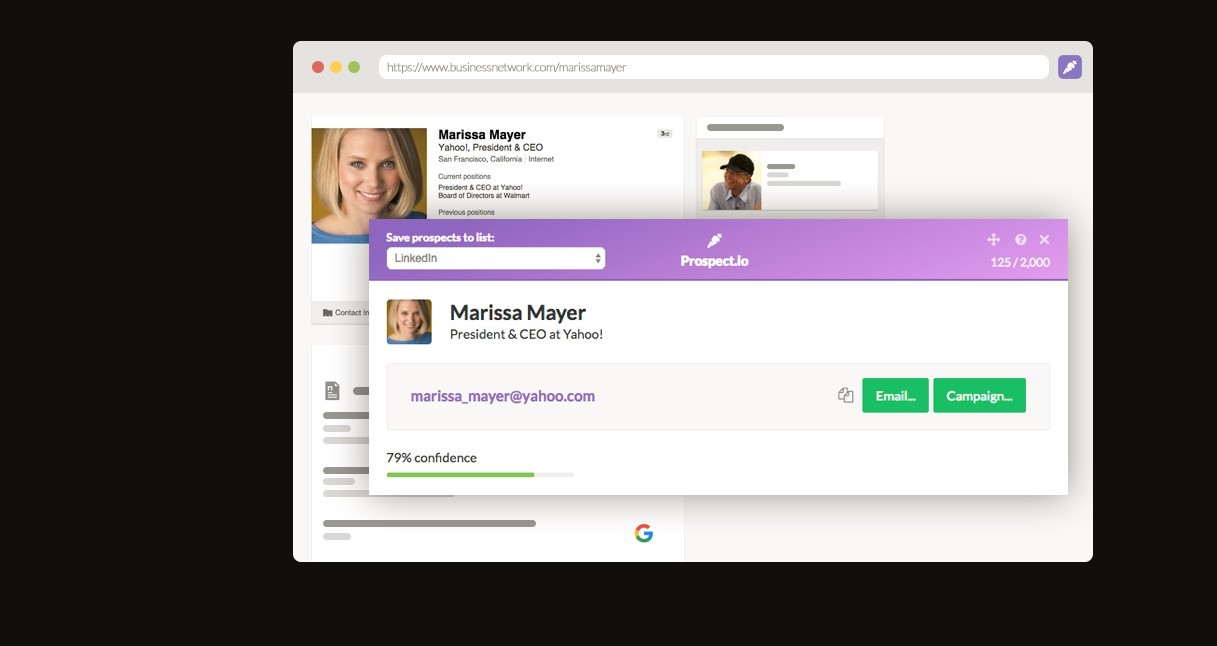 2
Socedo
Socedo A.I.-powered keyword engine finds the Twitter users most likely to engage with the user, based on the event hash tags they're Tweeting, influencers they're following, and other topics the audience cares about. Socedo tracks 15 million social media signals daily. Socedo is also the only solution that allows the user to find Twitter users based on the job titles that match the buyers. Socedo allows the user to follow the most relevant people every day, increasing the users' organic Twitter follower count, and can set up multiple campaigns to reach different audiences. With more followers who are actually interested…
Overview
• Lead Generation
• Supports Integrations
• Keyword suggestions
• Artificial Intelligence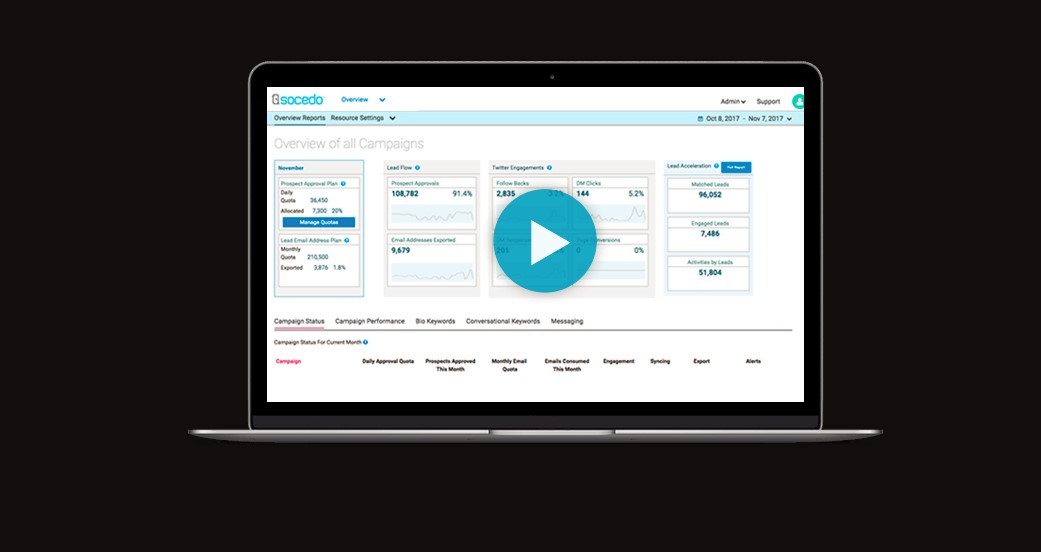 3
Albacross
Albacross is a Real-time Targeting platform for B2B and Employer Branding. Albacross works by identifying the companies that are visiting a website, and then by making that insight actionable in an organization's existing Marketing and Sales programs and technologies. Albacross offers Company-Targeted display advertising, website engagement analysis, and CRM integration for a consistent view of account behavior across client's digital presence. Albacross is a company that offers lead generation and Account Based Marketing services. With Albacross, users can easily track who's visiting their website, and where they're spending their time as well. Albacross identifies the visitors by mapping different data…
Overview
• Detailed Analytics & Simple Web Integration
• HTML5 banners: Capacity for rich media and variants
• Web Tracking tool: Customize filters to find the best leads and receive regular updates
• Albacross Tracking Code - Collect the customer data
• Lead fit tells how well a lead matches the brand's usual buyer persona
• Account-based marketing: Targets specific, high-value accounts to drive a significantly higher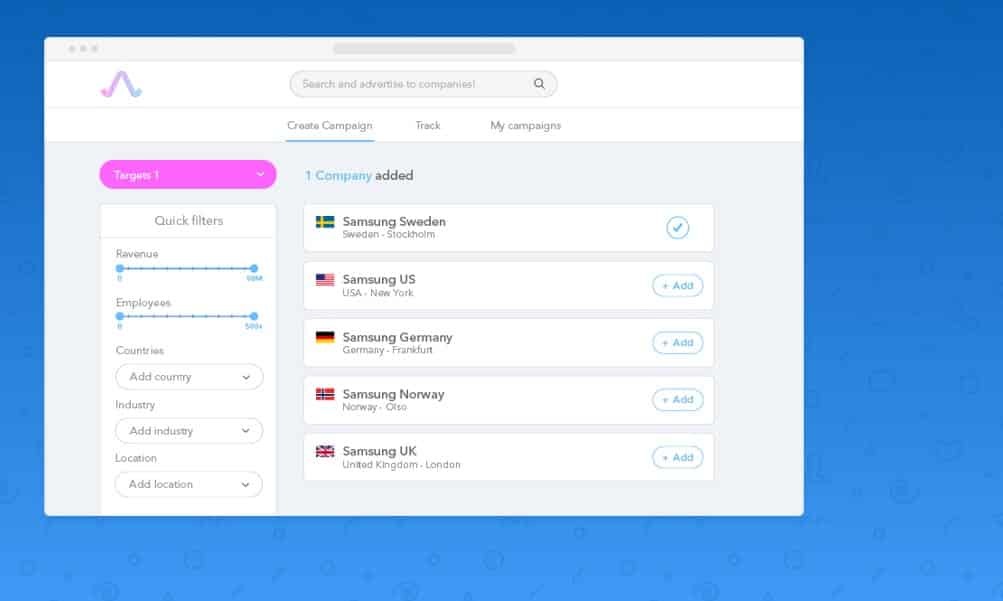 4
KickFire
KickFire's IP address intelligence & B2B firmographic data allows the user to translate IP addresses to companies, identify anonymous web visitors, and integrate account data into the technology stack – all based on a company's IP address. KickFire API uses proprietary IP address intelligence to power applications such as account-based marketing, content personalization, predictive, intent, B2B ad-targeting, and much more. KickFire LIVE Leads™ taps into the company's invisible pipeline by identifying anonymous web visitors showing buying intent for the products and services, in real-time. Kickfire seamlessly integrates into Google Analytics® and shows the user the exact companies visiting the website,…
Overview
• Lead Management & segmentation
• Real-time lead alerts & Multichannel Campaigns
• ROI Reporting
• Live Dashboard & User Permissions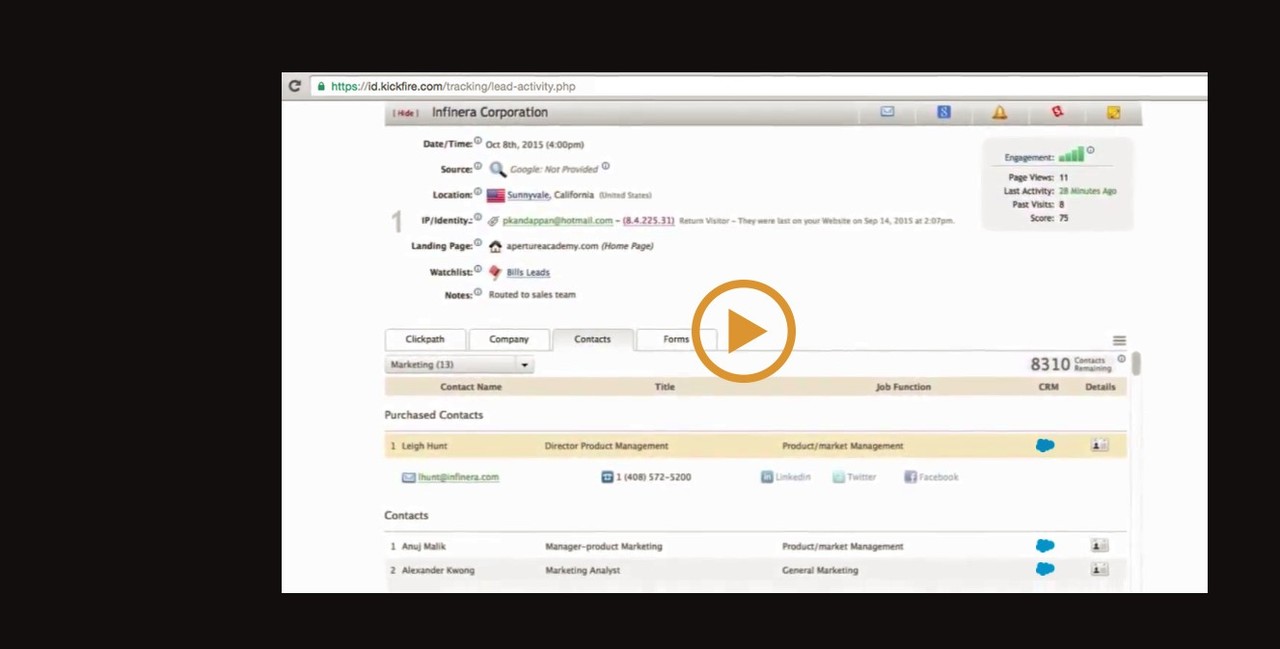 5
Prospectify
Prospectify is the only solution for building out the user's pipeline of leads to cleaning up the user's CRM data and which auto-updates right where the user's work. Prospectify features a custom data pipeline which is a smart and dynamic leads list that auto-updates and auto-populates to the user's CRM. Prospectify's custom data pipeline is a set it and forget it process that handles custom criteria and logic unlike anything before. Prospectify's custom data pipeline prioritizes personas/titles in the user's ideal order, and includes the ability to set cap or ideal range of contacts per account. Prospectify is the only…
Overview
• Prospect new leads inside your CRM
• Discover new direct dials
• Re-verify email addresses.
6
CartInsight
CartInsight curates millions of online stores & delivers a comprehensive database of ecommerce leads globally with deep intelligence about their traffic, industry, technology usage, key decision makers and a lot more. CartInsight focus on quality over quantity and deliver an actionable database of online stores which are real businesses with teams that are constantly building their ecommerce business - and buying tools, apps and services that the users are selling. CartInsight big data-powered technology scours millions of online stores across all major cart platforms, weeds out bad stores, test stores, empty shells and all the noise, delivering a clean database…
Overview
• Chrome Extension
• Sales intelligence
• Online stores database
• Data mining
• Natural Language processing
• Lead Generation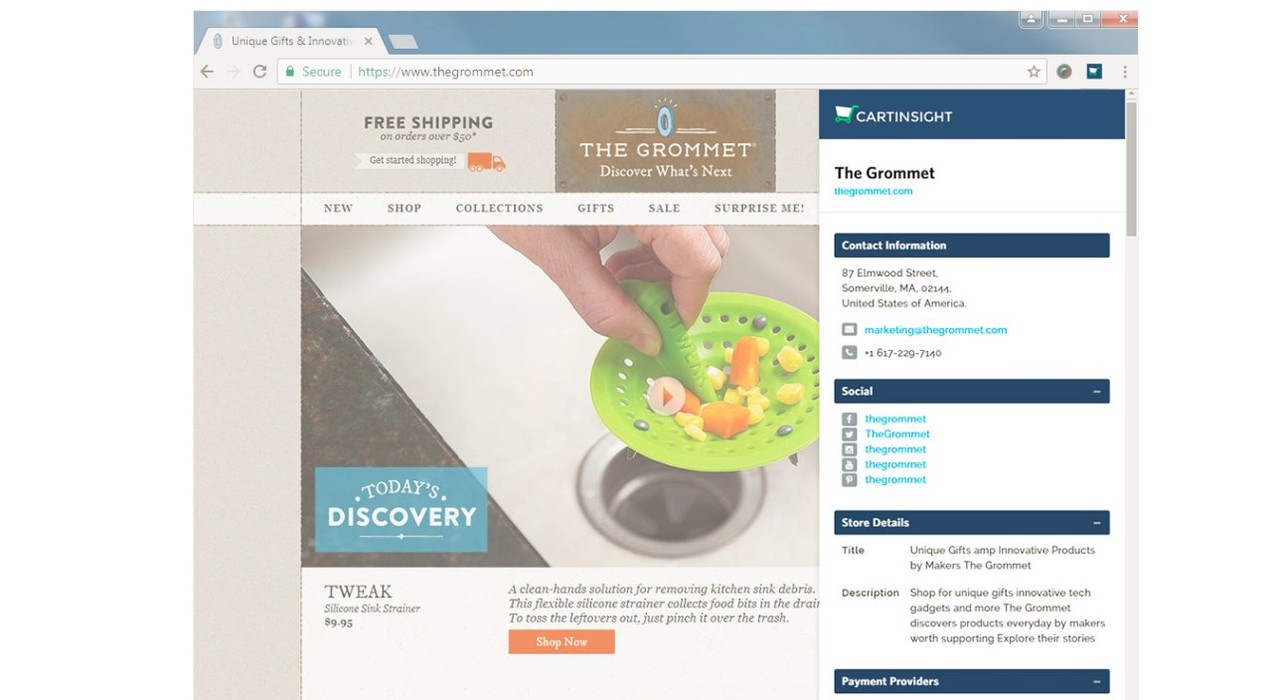 7
AeroLeads
AeroLeads is branded as one the most robust and powerful lead generation and prospecting tool in the market today. The user can start the sales with Aeroleads which is an all-in-one Prospecting and Lead Generation Software. This user-friendly business platform also boasts of being the only lead generation and prospecting software that is web-based on top of its clean interface and easy to use features. AeroLeads constantly updates its information database and rolls out new tools regularly. Getting the leads the user want is easy and fast with AeroLeads. All the users have to do is perform a search like…
Overview
• Prospect and Lead Generation
• Company and Individual Profiling
• Export Prospect Details to CRM
• Tagging & Team Collaboration
• Email and Phone Number Search
• Take Off – $49/month or $1,000 One-time
• Climb – $149/month or $2,000 One Time
• Cruise – $499/month or $3,000 One Time
• Enterprise – By quote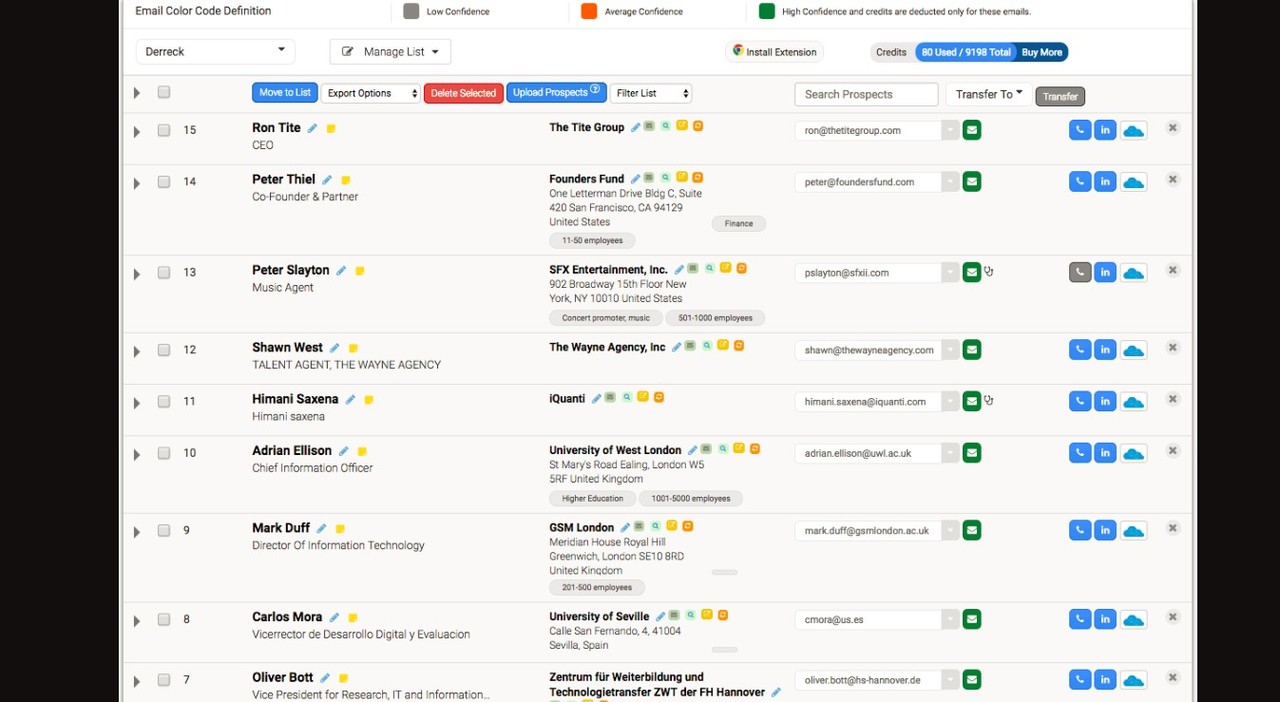 8
LeadGnome
LeadGnome is a lead mining software that provides you with an excellent platform for eliminating customer database decay while enriching and cleansing your database automatically. LeadGnome enables you to find sales opportunities and uncover trigger events such as job and email changes. With LeadGnome, you have an ideal platform for delivering account specific leads as well as generating 24% to 36% of contacts annually. LeadGnome automates the process of managing replies for emails to enable you to easily integrate with Marketo. The critical features offered by LeadGnome include growing of pipeline, increasing the sales velocity, maintaining database health, automating data…
Overview
• Grow pipeline
• Increase sales velocity
• Maintain database health
• Automate data entry
• Protect revenues and brand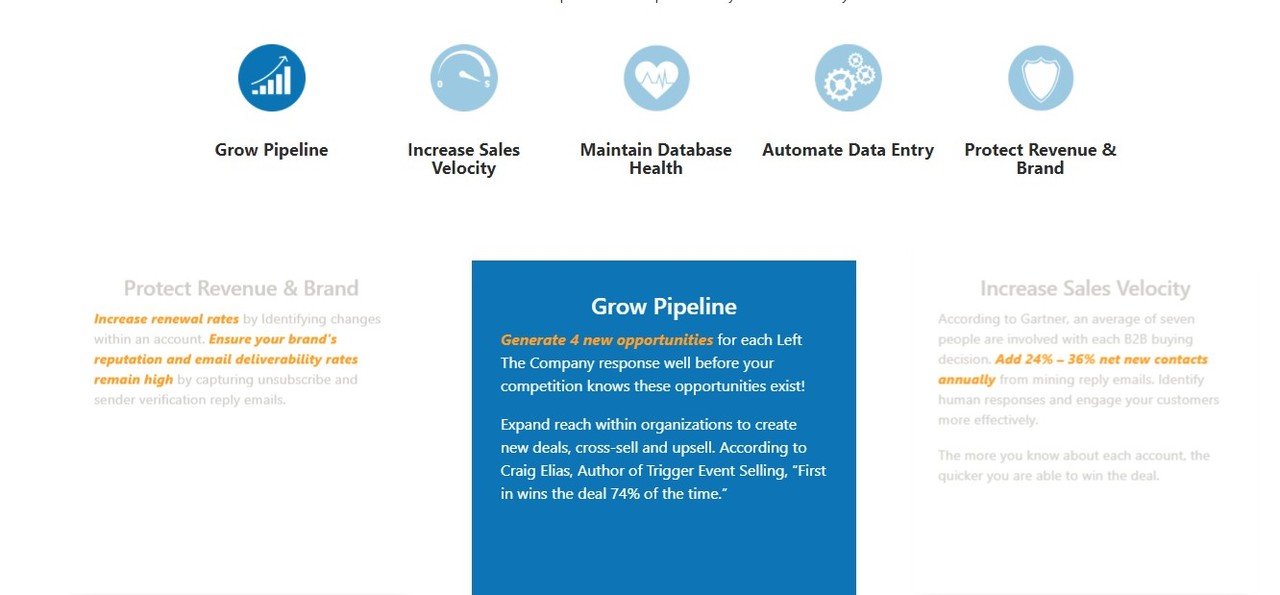 9
Datananas
Datananas is a Lead Relationship Management SaaS-based platform that helps to send targeted, personalized and automatized emails scenarios to Leads, to set up more appointments directly to the sales team calendar. Datananas sales platform helps in targeting the strategic key accounts, consolidating the B2B sales data and facilitates sales engagement through smart one-to-one email communications. Datananas is B2B lead generation software for sales teams of SMBs. With Datananas, salespeople can use professional social networks such as LinkedIn and Viadeo to create highly targeted lists of B2B prospects. Data is exported and enriched with phone numbers and professional email addresses, into…
Overview
• Emails cadencing
• CRM Integration
• Document Tracking
• Out-Of-Office detection
• Reporting and analytics
• Email inbox direct synchronization
• Sales campaigns, alignment & engagement
• Lead status management
• Sales Targeting
• Automated B2B emails generation
• Training and support
• Data synch and API integration
• B2B data flows organization
• Smart email replies detection & response triage
• Starting from $49/month
• Free trial

You may like to read: How to Select the Best Campaign and Lead Management Software for Your Business, Top Campaign and Lead Management Software, Top Lead Capture Software and Top Predictive Lead Scoring Software