Review
Infer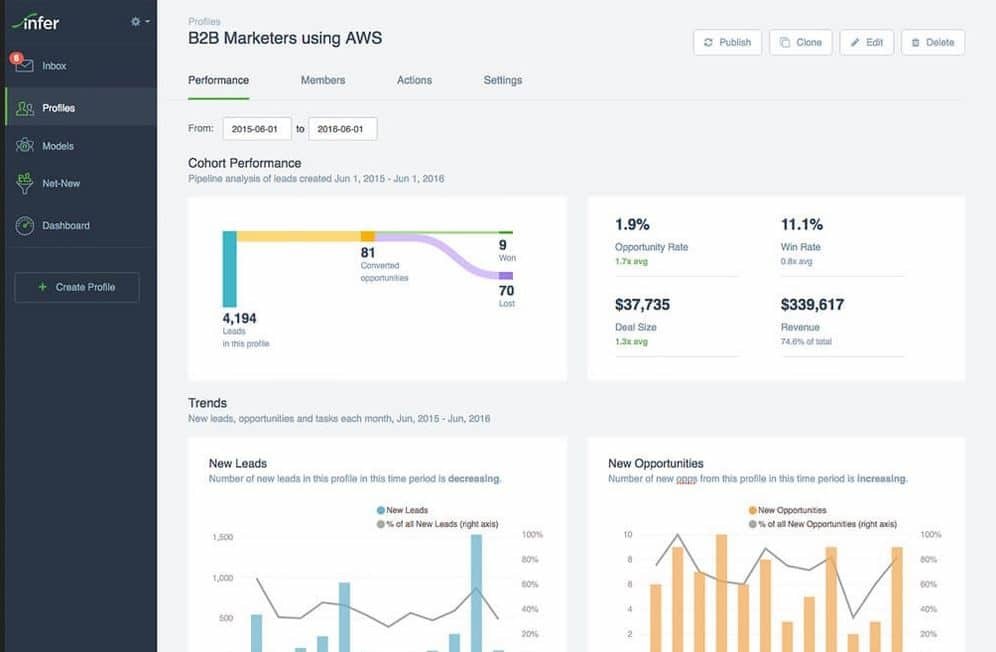 Overview
Infer delivers a predictive-first platform that helps companies win more customers. It leverages proven data science to rapidly model the untapped data sitting in enterprises, along with thousands of signals from the web.
Predictive Lead Scoring Software
•Predict potential customers
•Collects data from all possible sources
•Makes use of machine learning intelligence
Small (<50 employees), Medium (50 to 1000 Enterprise (>1001 employees)
What is best?
•Predict potential customers
•Collects data from all possible sources
•Makes use of machine learning intelligence
What are the benefits?
•Predictive Fit Modeling
•Multiple Models
•Link all data from CRM & Marketing Automation systems
•Build Profiles with Infer's external data cloud
•Improve nurture campaigns by providing relevant content
Infer is a predictive and analysis tool target for marketing activities. The software enables users to identify target market and potential customers who are likely to convert to real customers of the company.
The software makes of use of machine learning algorithms and data analysis technique coupled with machine learning and predictive intelligence, to get its work done.
The software delivers accurate results to find and target potential customers. The software is fast and efficient. The software follows some steps before delivering final results. Infer collects data already available inside the organization. It collects data from organizations systems, marketing automation systems and customer relationship management systems.
Data is collected from various data points before analysis is to be made. When data has been collected it is them matched and correlated with several data points of the software. The matches reveals information that hints social presence, website technology and so on. Once data has been collected and matching has been done, the software then identify various trends using machine learning algorithms.
Machine learning algorithms identify potential target market. Potential customers who are likely to become customers. The software integrates advanced customer intelligence with predictive intelligence, in order to make best analysis and to produce most accurate results. Infer has been empowering users to win more and more customers.
The product makes use of cloud based technology. Statistical data is analyzed to deliver final results. Infer analyzes data from various untapped sources in order to send important signals to users about customers and target market.