Review
Oceanos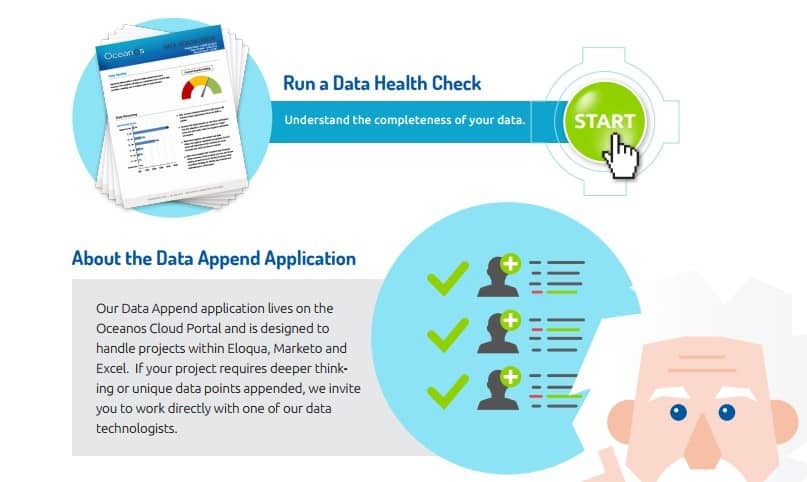 Overview
Oceanos Cleanse and Append application enables you to perform Contact Gap analysis: a health check that analyzes your house contacts, highlights the percent that align to your audience definition, and assigns it a data score to reflect the quality, and accuracy of your data
Sales Intelligence Platform
• Contact discovery
• Data management
• Data cleanse
• Data append
• Data scores
• Contact Gap analysis
• Account-based marketing
• Cloud platform
• CRM integration
• Starter – $1500/month
• Growth – $4,000/month
• Enterprise – $9,500/month
Small (<50 employees), Medium (50 to 1000 Enterprise (>1001 employees)
What is best?
• Contact discovery
• Data management
• Data cleanse
• Data append
• Data scores
• Contact Gap analysis
• Account-based marketing
Oceanos sales intelligence technology, network of data sources, and creativity, sets them apart from other providers. Oceanos contact database contains over 145 million contact records. Oceanos List Optimizer solution drills down this volume of data for a deep search within the specified account. Oceanos leverages on your audience definition to find key contacts within its database with a high level of accuracy.
Oceanos Cleanse and Append application enables you to perform Contact Gap analysis: a health check that analyzes your house contacts, highlights the percent that align to your audience definition, and assigns it a data score to reflect the quality, and accuracy of your data. Oceanos will then help you identify the key contacts missing within each of your target accounts, and append them to enrich your data.
Oceania has diligently tested, analyzed, and methodically benchmarked all types of data assets, to develop the data score criteria. Data cleanse and append app focuses on, improving lead generation, predictive analytics, and content alignment, letting you gain actionable insight. You will obtain a clear visibility into the state of your contact data and the addressable market.
The app is hosted on Oceanos Cloud Portal and is designed to integrate with and handle projects within Eloqua, Marketo and Excel. Data quality is of paramount importance especially with the emergence of account-based marketing which relies heavily of on accurate contact information. Oceanos data management strategies empower sales and marketing teams to improve performance, and deliver better results. It handles your data challenges so you can focus on generating marketing-attributed revenue.
You may like to read: Top Sales Intelligence Platform