Review
SalesWings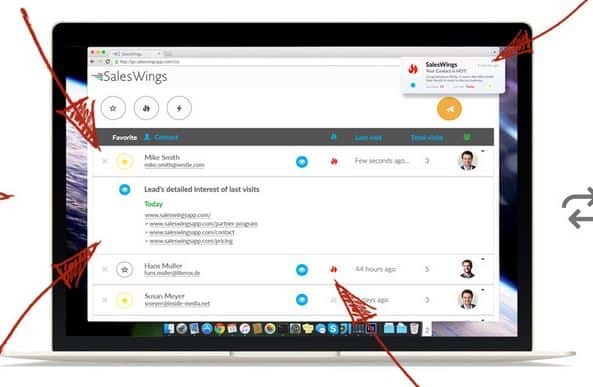 Overview
SalesWings analyzes your leads' website activity 24/7, and categorizes all marketing leads in 3 clear categories for your Sales Team as soon as leads click on your Email Campaigns or fill in your Forms.
Predictive Lead Scoring Software
•Use smart lead scoring.
•Lead website tracking.
•Real- time notifications.
•Web form tracking.
•Use LinkedIn tracking.
•Use API access.
•Salesforce integration.
•Use Partner and OEM Solution.
•Use email marketing solution.
Small (<50 employees), Medium (50 to 1000 Enterprise (>1001 employees)
What is best?
•Use smart lead scoring.
•Lead website tracking.
•Real- time notifications.
•Web form tracking.
•Use LinkedIn tracking.
•Use API access.
What are the benefits?
• Easy tracking
• Prioritizing and engaging hot leads
• Easy plug and play
• Powerful tracking engine
• Intelligent lead scoring
• Real time reports
SalesWings connects to most available email marketing platforms and web forms, in order to allow you to track and qualify your leads accurately.The intelligent algorithm analyzes data from your lead's website activity such as frequency of visits, time they spend and visit behavior, to clearly identify the hottest Leads.
SalesWings then automatically sends notifications to your sales team about opportunities to follow-up, in case they are too busy to check.Saleswings is a smart and lead scoring web application that qualifies the marketing leads and sales prospects of several companies with the predictive lead scoring of website activity. Saleswings connects to the email marketing platforms and web forms to track the marketing leads of companies.
SalesWings has an intelligent algorithm that can describe the data from lead's websites of different companies. SalesWings is a lead scoring app of Salesforce and it integrates lead scoring data for smart workflows. It provides lead scoring integrations and website tracking for Salesforce.com and Pipedrive. SalesWings uses simple API to connect with other CRM or Email marketing software by taking data from itself.
Saleswings is an easy-to-use web application for sales acceleration and predictive buying analytics. SalesWings is the world's first LinkedIn message tracking plugin. SalesWings LinkedIn message can track the links in messages or Emails of customers and helps to show that which prospects can visit their websites after receiving a message from them. SalesWings also provides Partner and OEM solutions to increase the average revenue per user by improving the products of companies with predictive lead scoring.
SalesWing has SDR Outbound Sales Tool and ABM software editors to accelerate the deal cycle of SDR teams. Modern sales and marketing teams of several companies can set their innovative CRM by taking the CRM solution from SalesWings and this CRM solution can go beyond the tracking features.
CRM solution is a modern and innovative technology that gives a competitive advantage to the marketing teams and brings clarity through Lead Scoring and Lead Website Monitoring information. SalesWings makes easy ways for their marketing teams to track their sales leads.
SalesWings takes data safety and stays up to date with threats. Its lead scoring application has successfully passed security inspection from Salesforce.com, and has prevented to several penetration tests.