Review
EverString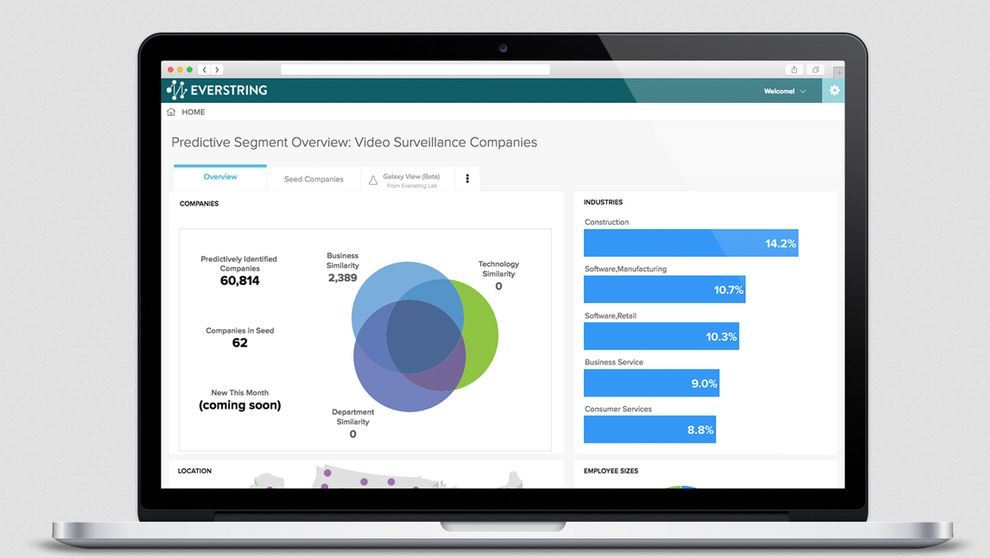 Overview
EverString gives sales and marketing teams access to the power of predictive marketing with our easy, self-service platform.
Predictive Lead Scoring Software
•Use predictive demand generation.
•Predictive lead scoring.
•Use company graph algorithms.
•Natural language processing scientists.
•Use Artificial Intelligence and dashboard software for large data sets.
Free trial available.
One-time license, subscription pricing model.
Contact Everstring for pricing information.
Small (<50 employees), Medium (50 to 1000 Enterprise (>1001 employees)
What is best?
•Use predictive demand generation.
•Predictive lead scoring.
•Use company graph algorithms.
•Natural language processing scientists.
What are the benefits?
• Score and prioritize accounts
• Reduce prospecting time
• Level up your demand generation efforts
• Find high-potential prospects
• Discover relevant insights in real time
Everstring helps several companies influence data to optimize sales and marketing capabilities. Everstring has a self-service platform that gives sales and marketing team access to the predictive marketing.
It has predictive segmentation that enables marketers to influence thousands of data signals to create data-backed groupings of accounts for marketing technology. Everstring platform has the capability to create predictive segments in a minute. These predictive segments can drive different marketing activities like marketing programs, new products release, market expansion, and more. Everstring has the capability to expand predictive demand generation that can increase the database and market to accounts of several companies.
Everstring's audience platform is the easiest platform that continuously integrates with existing marketing and CRM applications to find the customers for the companies. Everstring has unique company graph algorithm that enables the companies to drive their business solutions at scale. This graph algorithm captures the right audience for their business expansion. Everstring's graph algorithm collects approximately 20,000 data signals using the internet or commercial sources for many B2B accounts. It gives in-depth analysis to the target accounts.
Everstring's vision is to bring the benefits of Artificial Intelligence to B2B companies via simple to use cloud apps. Everstring's innovative platform can change and develop marketing strategies and sales into different forms with predictive analytics. Everstring's predictive marketing provides the best knowledge for more efficient and faster business expansion of companies.
Everstring team has strong belief about innovation and growth and this platform empowers their people with big responsibilities to define their particular roles. Everstring's platform helps companies to create pipeline with the only account-based, full funnel predictive analytics solution that can drive large conversion rate. Everstring recently launched Predictive Ad Targeting for qualified customers. So, it's a simple platform and leads and setup more workflows.