Top 28 Campaign and Lead Management Software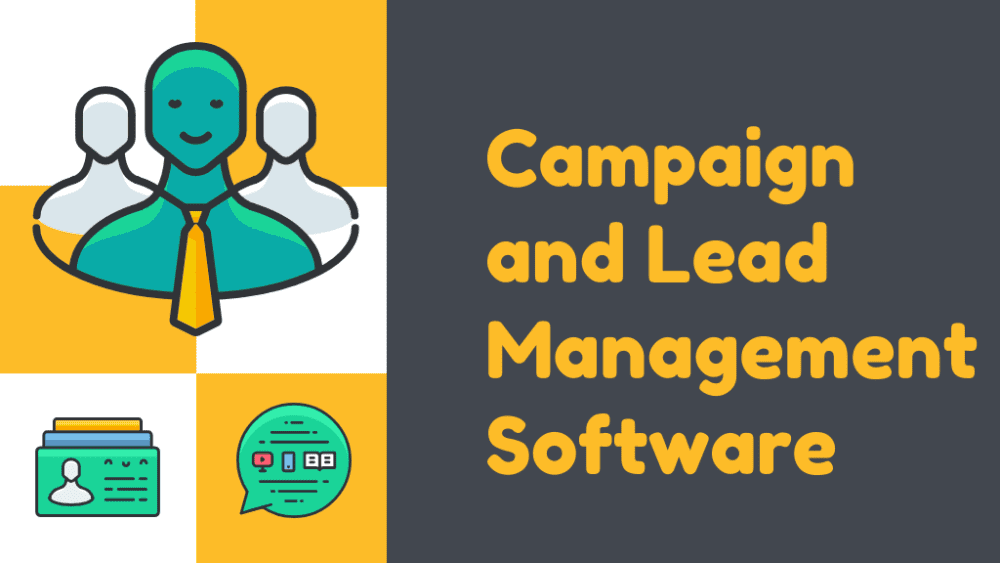 The management of a business outfit today involves many areas that need to be effectively coordinated. Business has gone beyond the usual interface of buying and selling; it involves a marketing program across different organic as well as paid channels which must be effectively coordinated. The processes involved are complex; if any business is to remain at the top and have the desired advantage over its competitors in this highly competitive market terrain; then there must be in place an effective Campaign Management Software to effectively coordinate its activities.
Top Campaign and Lead Management Software: Salesforce Marketing Cloud, LinkedIn Sales Navigator, AgilOne Predictive Marketing Cloud, Marketo Engagement Marketing Platform, Act-On, Sitecore, LeanData, HubSpot Marketing Hub, Alterian, Emarsys, ActiveCampaign, Selligent, SharpSpring, Driftrock, Resulticks, Sailthru, Distribution Engine, Zeta Global, RedPoint Global, Salesfusion, Mapp, Valgen, Hatchbuck, Listrak, EpiServer Marketing, Thalamus, Sizmek, Maropost are some of the Top Campaign and Lead Management Software.
Campaign Management Software is the tool that you need to engage your customers with your brand using the technology involved in the software. It is a clever way of creating a problem for the customer and positioning your brand as the answer to the problem. There are competing interests trying to get the attention of the customer; you have to devise an irresistible campaign strategy to convince your prospects on why your brand is the best among the rest. This is your business template well mapped out a plan of action; complete with the winning strategy that will ensure that you get the attention of your prospects.
What are Campaign and Lead Management Software?
Campaign and Lead Management Software helps to track all the right information about leads and the marketing campaigns. Campaign and Lead Management Software provides features such as tracking leads, linking leads to the marketing campaign. The Software provides tools  to convert more leads, faster and manage and track campaigns across all channels, including social media. This will help to make smarter decisions about where to invest, and show the impact of marketing activities on sales pipeline.
Targeting The Right Customers : When a brand targets the wrong customer, the result will be an exercise in futility. A marketing campaign should be one that focuses on the right prospects. This is one of the greatest features of this software. With it, brand executives will be able to target the right customers.
The Content Of Your Brand: Another area of importance is the development of your content; not just to inform your prospects about your brand, but a campaign that will convince your prospects to do business with you in an automated fashion. The content produced through this software is one that will engage the customer.
It uses an automated email marketing drive to get through to the customer: The email message is free and this is a very cheap way to get to as many as possible that are on your list. There are two approaches here; it is either the trigger/lifecycle approach; they are for different purposes.
The Perfect Combinations Of store and online campaigns : The process referred to as Omnichannel is the twin combination of the online and in-store campaigns. This is great because it is a way of satisfying your clients through online and offline approaches in an excellent seamless way.
 The Marketing Stats : This software will help solve the problem of analysis as well as the measurement of data. It will help brands to harmonize marketing efforts with the sales strategies.
A Detailed Feedback : This software has the capacity to give brands a detailed feedback at the go. The best of this Campaign Management Software will give brands instant tracking of their messages giving graphic details of when messages are delivered; opened and clicked on.
You may like to read: How to Select the Best Campaign and Lead Management Software for Your Business,  Top Lead Intelligence & Lead Mining Software, Top Lead Capture Software and Top Predictive Lead Scoring Software
Top Campaign and Lead Management Software
Salesforce Marketing Cloud, LinkedIn Sales Navigator, AgilOne Predictive Marketing Cloud, Marketo Engagement Marketing Platform, Act-On, Sitecore, LeanData, HubSpot Marketing Hub, Alterian, Emarsys, ActiveCampaign, Selligent, SharpSpring, Driftrock, Resulticks, Sailthru, Distribution Engine, Zeta Global, RedPoint Global, Salesfusion, Mapp, Valgen, Hatchbuck, Listrak, EpiServer Marketing, Thalamus, Sizmek, Maropost are some of the Top Campaign and Lead Management Software.
Top Campaign and Lead Management Software
PAT Index™
1
Salesforce Marketing Cloud
Salesforce Marketing Cloud helps to make the most of every customer interaction such as creating personalized, cross-channel customer journeys that deliver exceptional brand experiences. Salesforce Marketing Cloud provides Email, Mobile, and Web Marketing with ExactTarget, Social Media Marketing with Social Studio, Digital Advertising with Social.com, B2B Marketing Automation with Pardot. Features include Email marketing, Mobile messaging, Campaign management, Predictive Intelligence, Data and analytics, Social listening and analysis, Content marketing, Community engagement and social care, Media optimization and audience management on Facebook, Twitter, and LinkedIn, Lead generation, Lead qualification, Lead nurturing and Lead tracking. Journey Builder empowers to guide customers on…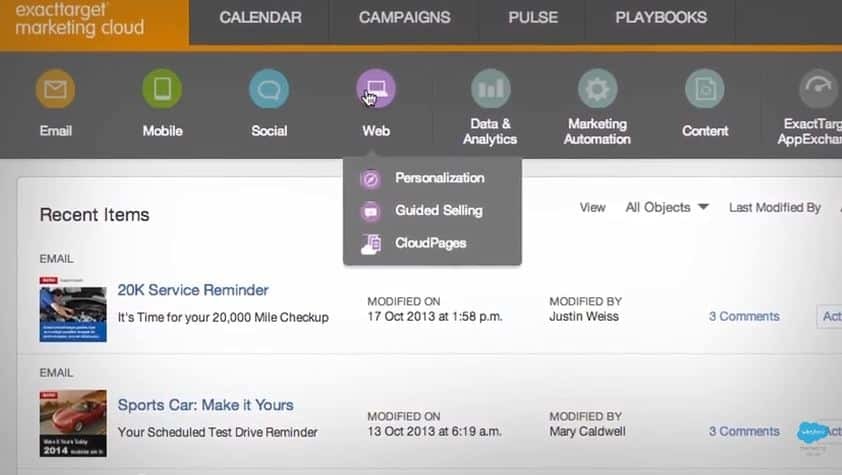 2
LinkedIn Sales Navigator
LinkedIn Sales Navigator tool features sophisticated algorithm to give you lead recommendations that are tailored to you. LinkedIn Sales Navigator has the tools to help you stay informed and up-to-date about your prospects. LinkedIn Sales Navigator get custom lead recommendations based on your preferences. Instantly import your Salesforce data with a single click and easily find the right leads with Advanced search with lead builder. Provide real-time sales updates on your prospects and customers, unlock full profiles for leads who aren't in your network and measure and track your social selling efforts with SSI dashboard. Professional and Team editions lets…
Overview
• Lead Recommendations
• Account and Contact Import
• Advanced Search with Lead Builder
• Real-Time Sales Updates
• Who's Viewed Your Profile
• InMail Messages
• TeamLink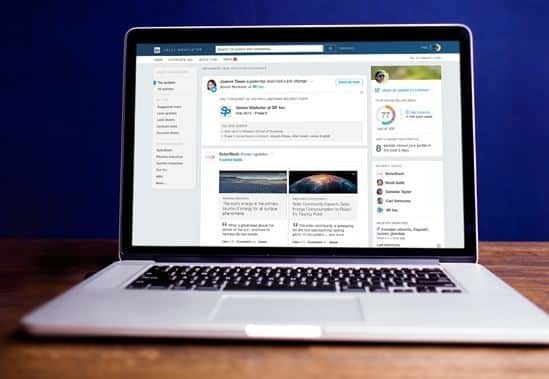 3
AgilOne Predictive Marketing Cloud
AgilOne is a Predictive Marketing Cloud that helps retailers, large and small, create relevant omni-channel customer experiences by complete and accurate customer profiles, out of the box predictive models and turnkey campaigns across different channels. AgilOne puts turnkey predictive analysis, turnkey hyper targeted campaigns and complete and accurate customer profiles in the hands of any marketer. Features includes turnkey predictive models, audiences, campaigns, creative templates, holdout testing, built-in email and web personalization, as well as connectors to existing marketing technology vendors. The out of the box predictive models includes propensity models, clusters and recommendations, that are self learning and don't…
Overview
• Data Integration
• Data Quality
• Predictive Analytics
• 360-Degree Customer Profiles
• Omni-Channel Data Activation
• Orchestrated Personalization
AgilOne Predictive Marketing Cloud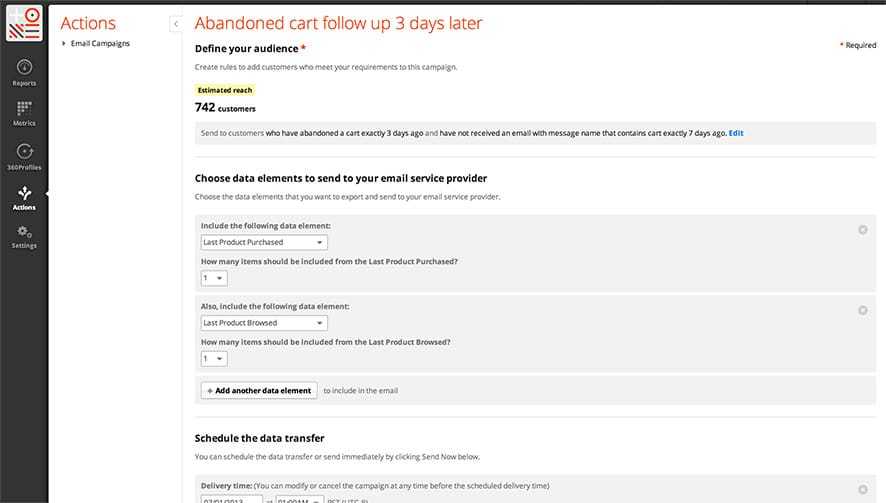 4
Marketo Engagement Marketing Platform
Marketo Engagement Marketing Platform help marketers to master the art and science of digital marketing. Marketo deliver software that helps marketing understand its target audience, engage them as individuals on their terms, measure the impact of their marketing efforts, and manage the team for success. Marketo Mobile Engagement allows marketers to drive lasting customer engagement by listening for customer behavior across web, social, email and advertising channels and communicating directly within the mobile environment. In addition, Marketo Mobile Engagement triggers communications across all other digital channels based on behaviors it detects in the mobile environment, creating a consistent conversation every…
Overview
• Customer Engagement Engine
• Social Marketing, Events, and Webinars
• CRM Integration
• Program and Campaign Analysis
• Success Path Analyzer
• Email and Landing Page Creator
• Mobile Responsive Template Library
• Campaign Dashboards and Reports
• Email Marketing
• Web Personalization
• Cross-Channel Marketing
• Revenue Analytics
• User Segmentation
• User Behavior Tracking
• Real-Time Behavioral Triggers
• Mobile Performance Dashboards
Marketo Engagement Marketing Platform

5
Act-On
Act-On integrated approach to marketing automation gives you all the functionality you want in an accessible, simple-to-use workspace. The user-friendly platform puts powerful marketing tools at your fingertips, making campaigns and programs easier and faster. Modern marketing scope spans outbound and inbound tactics, lead generation and nurturing strategies, and customer lifecycle optimization and advocacy programs. Act-On is a software-as-a-service, cloud-based marketing automation solution. Its platform is purpose-built to give small and medium-sized marketing teams all the value of marketing automation without the complexity big enterprise systems impose. Using the Act-On platform, marketers can easily manage and optimize all the stages…
Overview
• Measure, optimize, and see marketing's impact on business results with out-of-the-box reports
• Apps and connectors
• Reports and analytics, drive product adoption, upsell and cross-sell opportunities
• Inbound
• Outbound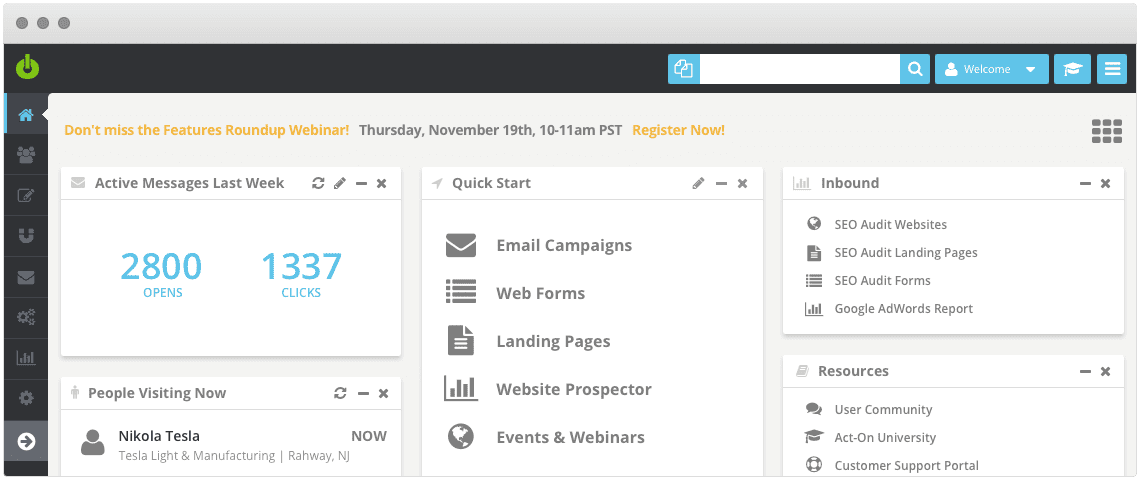 6
Sitecore
Sitecore is the global leader in experience management software that enables context marketing. The Sitecore Experience Platform manages content, supplies contextual intelligence, and automates communications, at scale. It empowers marketers to deliver content in context of how customers have engaged with their brand, across every channel, in real time. The web content management (WCM) system was built from the ground up as an integrated platform to support global, multilingual content at scale and provide the flexibility that enterprises demand. Sitecore is a Web Content Management solution developer that enables organizations to market in context of customer interactions. The Sitecore platform…
Overview
•Decouples content from presentation
•Offers in-session personalization
•Manages multilingual content
•Supports multiple sites
•Optimized for mobile and display-agnostic
•Delivers implementation speed

7
LeanData
LeanData enables stratigic lead management. LeanData's next generation router platform changes the way one think about lead management. It not only gives a visual representation of the lead flow, but also provides the ability to easily make changes in real time through a simple drag-and-drop UI.This empowers LeanData customers to take full control of their flow and allows them to make informed decisions about how they want to manage their leads. LeanData's transforms the way businesses think about managing contacts within Salesforce. With LeanData, businesses can design a routing process for contacts that is flexible, customizable and scalable. Account-Based Marketing.…
Overview
•Intuitive, Visual Workflow In Salesforce
•Self-Service Drag And Drop Interface
•Single Source Of Truth For Sales And Marketing
•Best-In-Class Matching
•Reporting And Attribution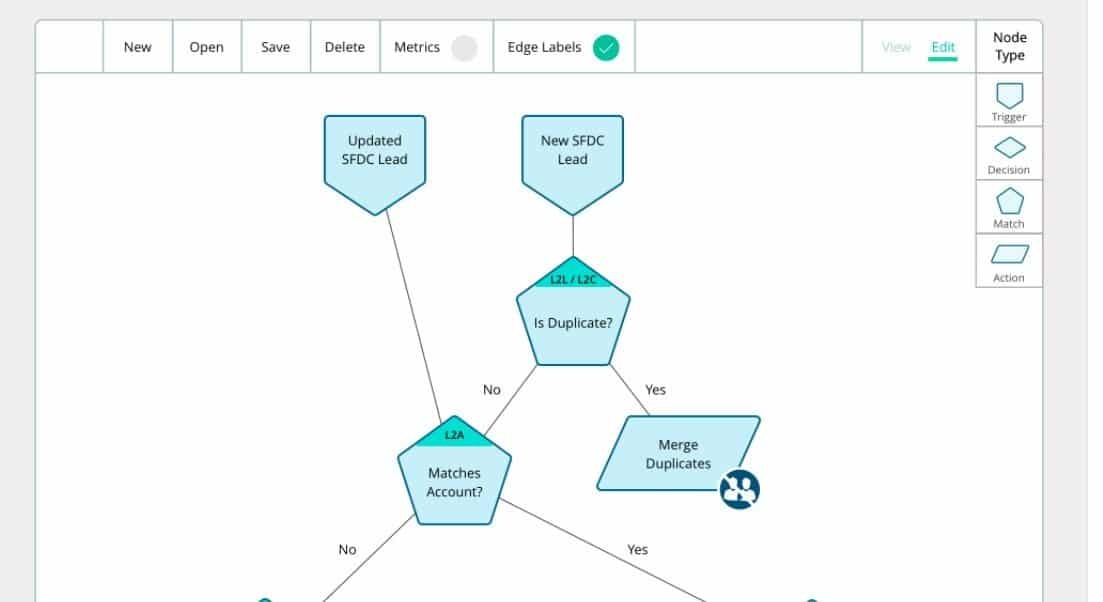 8
HubSpot Marketing Hub
HubSpot is an inbound marketing software platform that helps companies attract visitors, convert leads, and close customers. From attracting visitors to closing customers, HubSpot brings your entire marketing funnel together. Create content, optimize it for search engines and share it on social media, engage your prospects with landing pages, calls to action, personalized email and a personalized website. Create blog posts, ebooks, videos, and other content that answers questions your prospects are asking. Optimize it for search engines and share it on social media. Turn traffic into leads with powerful offers. Use landing pages to promote valuable material. Engage serious…
Overview
•Forms
•Contact activity
•Contact management
•Contact & company insights
•Ad management
•Conversations inbox
•Team email
•Live chat
•Conversational bots
•Reporting dashboards
•HubSpot branding removed
•Email marketing
•Lists
•Mobile optimization
•Blog & content creation tools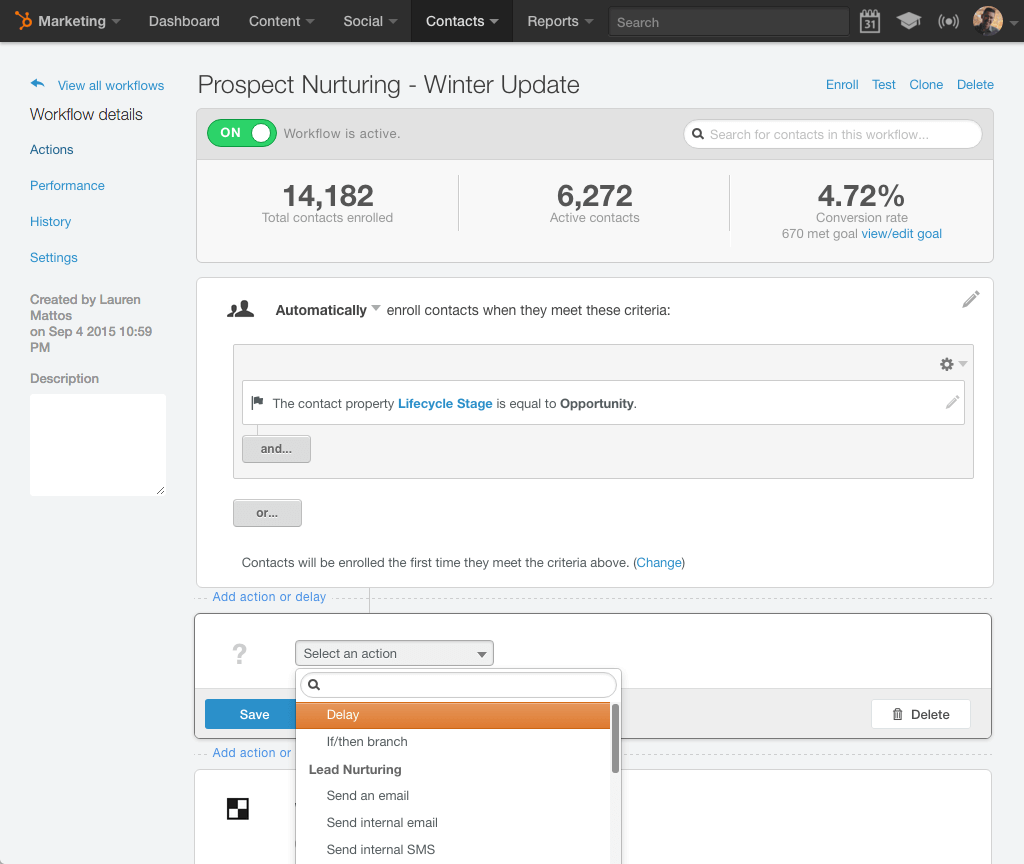 9
Alterian
Alterian is a leading provider of cross-channel campaign and real time interaction management software, which is used by its direct clients, agencies, and marketing services providers to deliver compelling and personalized customer experiences in multi-channel scenarios for many of the world's leading brands and corporations. The world of Campaign Management and Real Time Interaction Management are merging. The challenge the marketer faces today, with data silos, boundaries between multiple channels and customer communications must change. Customers expect brands to be joined up, they demand that brands use their personal information to deliver relevant experiences. The Digital Rules Engine enables cross-channel…
Overview
•Digital Rules Engine
•Campaign Management
•Analytics and Email

10
Emarsys
Emarsys is an innovative and easy-to-use fully-integrated marketing platform which enables brands around the world to deliver truly personal customer interactions across email, mobile, social, SMS, and web at scale. Emarsys offers features such as Data, Content Personalization, Automation and Analytics. Emarsys partners with leading e-commerce platforms such as Magento to provide turnkey solutions that connect the Emarsys Marketing Platform directly into users' online shop, seamlessly synchronizing users' customer base with users' marketing channels and customer engagement data. Emarsys' Unified Customer Profile contextualizes each individual's actions and uses their behaviors to reveal their needs and desires. Users can also use…
Overview
• Contextualize interactions by breaking down barriers between data silos
• Enhance personalization for every individual customer by basing your content strategy on a full understanding of engagement habits over time
• Populate your email with context-sensitive content at the exact time it is opened
• Create and deploy real-time messages in campaigns using smart triggers
• Use a single screen to get a complete view of everything that happens in your marketing platform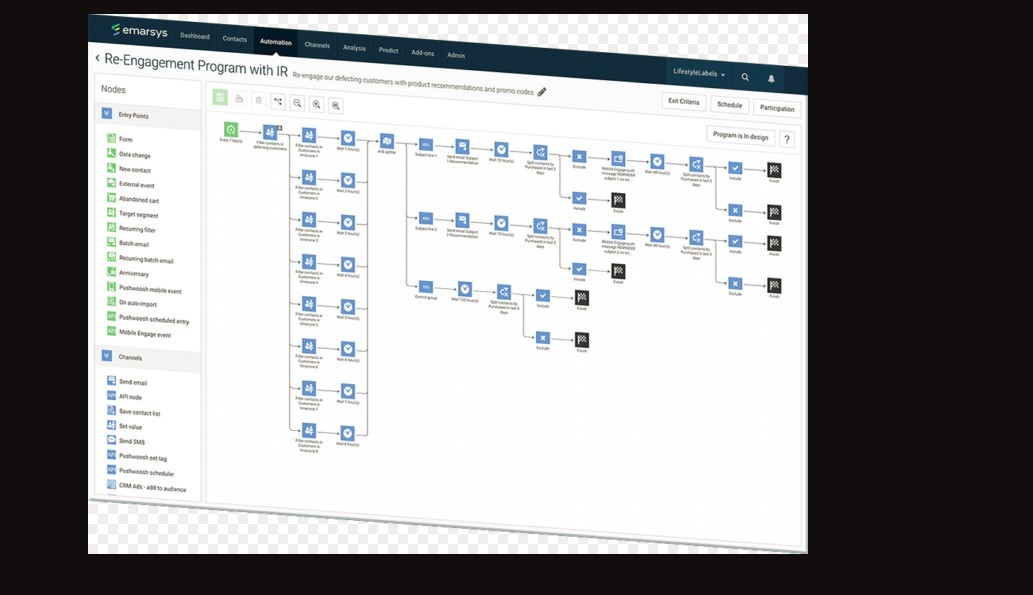 11
ActiveCampaign
ActiveCampaign is an integrated marketing automation, email marketing, and automated sales CRM platform. ActiveCampaign automate your marketing channels using personal and behavioral data about your contacts. ActiveCampaign provides options for what you can automate within each of your automations, update data, initiate campaigns, add branches, add conditions, wait for certain things to happen. It also start or nurture sales processes, track page visits and custom events you define, providing real-time behavioral analysis, easily create segments of your contacts using basic or advanced logic, check against your contacts' data behaviors, interactions, location, history, and much more. You may like to read:…
Overview
• Email marketing
• Marketing automation
• Sales and CRM
• Messaging
• Platinum: 99 $/month
• Diamond: 49 $/month
• Gold: 17 $/month
• Enterprise: 149 $/month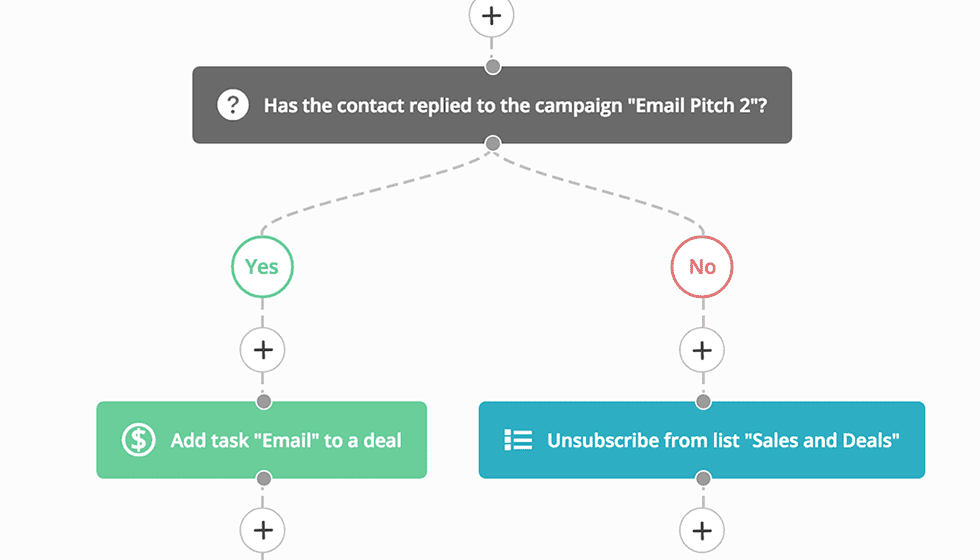 12
Selligent
Selligent increases conversions and enhances engagement for mid-market to enterprise B2C marketers, helping companies to create a powerful, contextual feedback loop with their consumers. Featuring enterprise-strength performance, Selligent's natively integrated technology bridges the gap between insight and engagement with industry-leading solutions for data management, campaign orchestration, and audience analytics. Selligent is a software solution for marketers. Some of the main products of Selligent are open architecture integration, campaign management, behavioral retargeting, universal consumer profile, contextual personalization and optimize and measure. The Selligent platform is an omnichannel engagement platform that enables marketing professionals to create, launch, test and optimize cross-channel campaigns.…
Overview
• Universal consumer profile
• Contextual personalization
• Behavioral targeting
• Campaign management
• Optimize and measure
• Open architecture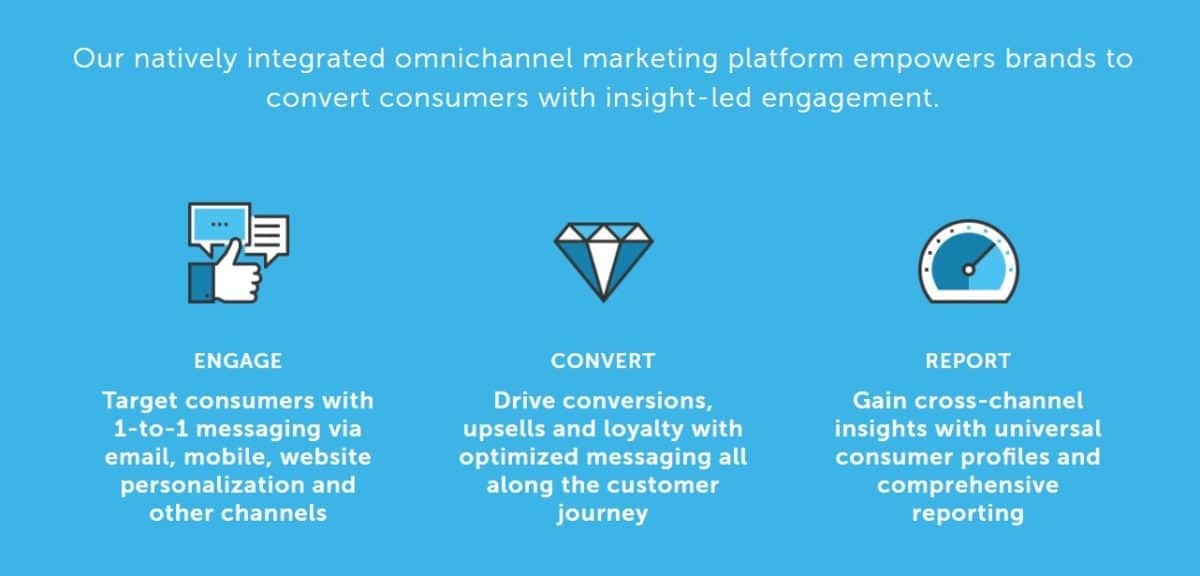 13
SharpSpring
SharpSpring tracks customers even before you know their name and connect the dots and give you where they've been and helps to build powerful automation rules to send them dynamic content or targeted emails based on their interests. SharpSpring build, customize and reorder fields effortlessly with the sleek drag-and-drop editor. SharpSpring dynamic forms autocomplete fields for known visitors to improve conversion and look great on any site with custom CSS. SharpSpring workflows to engage leads at critical points in their unique buying process, and receive a list of the day's hottest leads right in your inbox, and act at just…
Overview
• In-built and 3rd party CRM
• Increase & optimize your marketing efforts
• Behavioral-Based Email Automation
• Dynamic Forms Built for Conversion
• Engage Leads at Critical Points
• VisitorID Identifies More Leads
• Built-in and 3rd-Party CRM
• Platinum: 800 $
• Diamond: 600 $
• Gold: 400 $
• Enterprise: Enterprise pricing
• Silver: Agency plan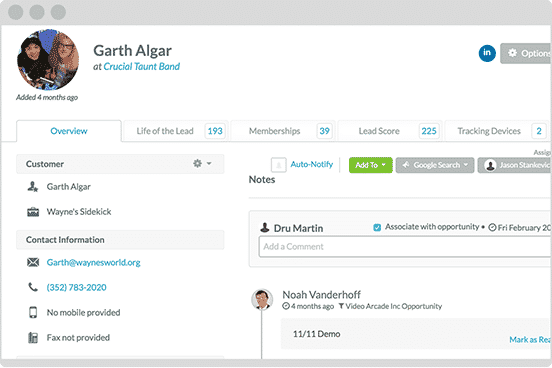 14
Driftrock
Driftrock's Technology helps users acquire more leads, reduce cost per lead and increase downstream conversion. Driftrock offers features such as deploy, sync, security, personalized, connections, retarget, support, advice and consultancy. Driftrock connects with all the social ads platforms, and syncs leads to users' Marketing Automation or CRM platform in real time such that it deploys Facebook lead ads effortlessly for personalized, local or national campaigns, it syncs leads from Facebook, and LinkedIn securely with a real-time sync and it offers enterprise-grade uptime, security and backup syncs. Driftrock automatically nurture leads with users' dynamic rules engine. Driftrock offers transformation & mapping…
Overview
• Generate leads that convert from Facebook, Instagram and LinkedIn lead forms.
• Increase conversion of leads with our lifecycle marketing technology.
• Learn strategic advice and support from our world-class ad solutions team
• Effortlessly generate hundreds of local, personalised campaigns for every store
• Out-the-box connections with social audiences, to remove the need for manual uploads.
• Retarget drop-offs with automatic Engagement Audience campaign creation.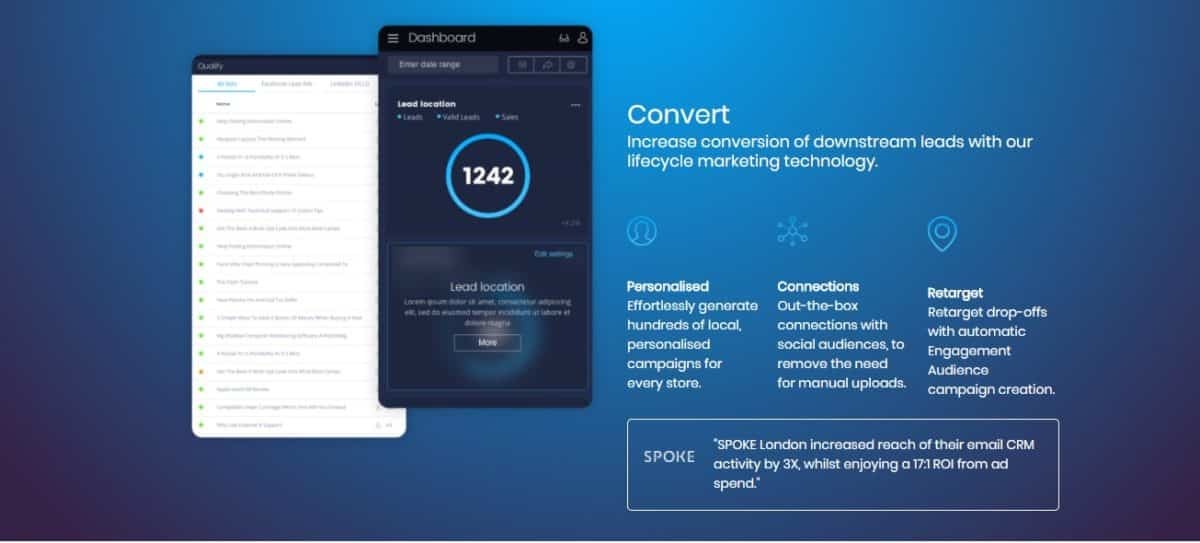 15
Resulticks
Resulticks is a real-time conversation marketing cloud that changes the marketing solutions landscape for customer experience, acquisition of customer, and brand loyalty. Resulticks uses the power of big data to make high impact decisions that optimize spend on marketing, and validation of business results. Resulticks uses omnichannel delivery to provide an excellent platform for precise targeting customers segments and connecting with each customer personally with easy to use deployment capabilities. Resulticks provides measurable top-line benefits along with strategies for customer-connect that can function in tandem with the based pricing model. Resulticks uses smart link technology that provides an excellent platform…
Overview
• Audience data management
• GDPR Compliance
• Audience segmentation
• Omnichannel marketing automation
• Dynamic offer management
• Marketing analytics
• Email marketing
• SMS marketing
• Push notifications
• Social media marketing
• Paid media
• QR code marketing
• Extended channels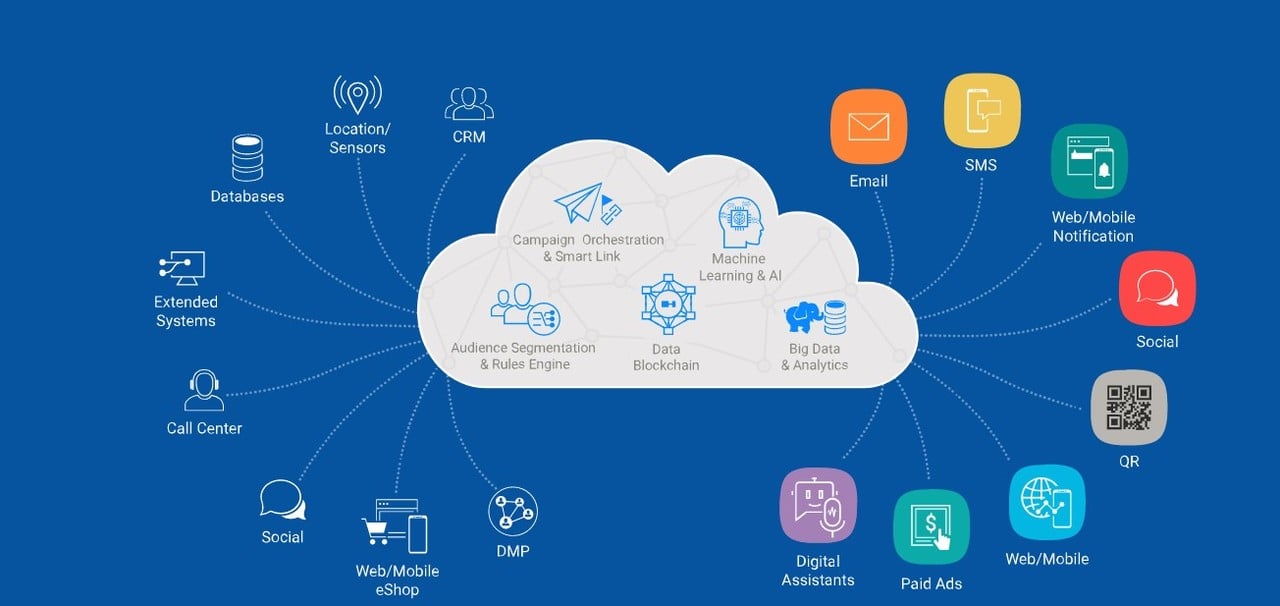 16
Sailthru
Sailthru Customer Retention Cloud helps modern marketers acquire, grow, and retain customers. Sailthru's powerful suite of connected capabilities – including high-performance email, onsite personalization, mobile marketing automation, and unique integrations powering new customer acquisition – drives higher revenue, improves customer lifetime value and reduces churn. Sailthru is a cross-platform marketing company and leading provider of personalized marketing technology. It gives personalized solutions to the customers through mobile apps, data collection, and SMS. Sailthru can help marketers to expand their online retail marketing and to build long lasting relationships with the customers. Sailthru designs or arranges customer experiences according to the…
Overview
Use behavioral data, customer purchase data, it has lifetime view of customer data, it has advanced analytics and marketing strategy support.
Individual pricing plans are provided on request. Subscription pricing model. Free trial available.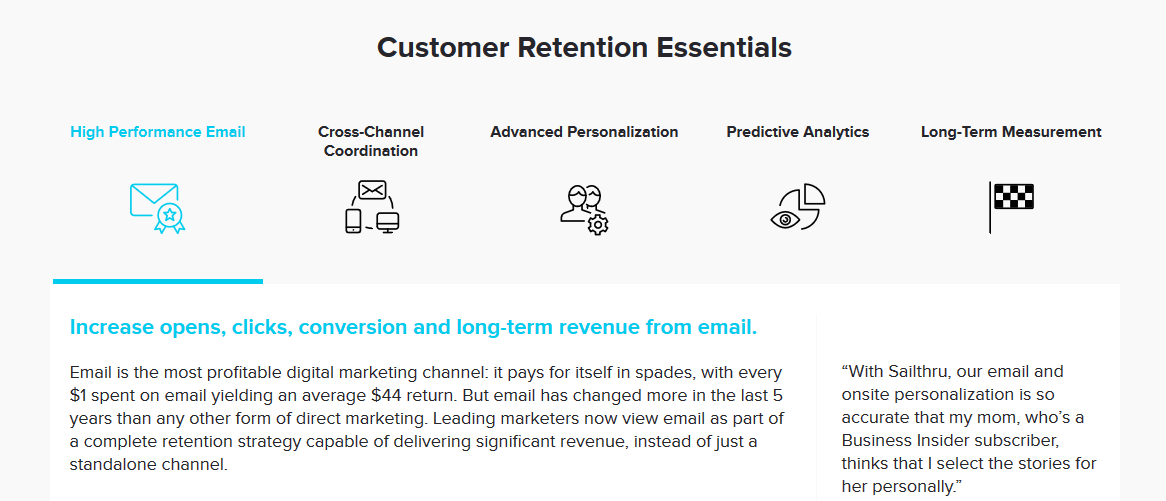 17
Distribution Engine
Distribution engine is a native Salesforce app that makes lead routing easy. It has many features such as: round robin, weighting and capping, working hours, monitoring and analytics, easy setup, salesforce lead routing, native, alerts and assign any object. Round robin is a feature which helps users and sales teams to stay motivated and successful. It hands out leads in a circle so everyone knows about lead allocation. Next feature weighting and capping allows users the lead volumes assigned with the team to be adjusted and capping allows setting limits on how many leads are assigned. There are two types…
Overview
•Helps users and sales teams to stay motivated and successful
•Controls availability of team members
•Provides visibility of made assignments
•Provides security
•30 day free trial
•Premier support 20% extra - 25 USD user / month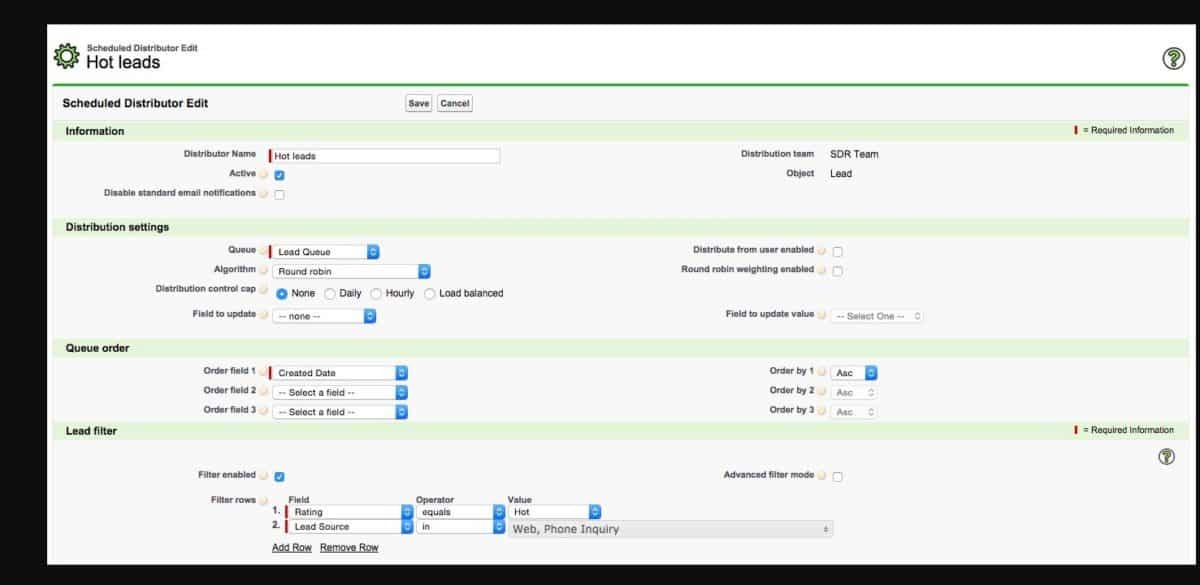 18
Zeta Global
Zeta Global is an intelligent marketing platform that combines individual level data, marketing automation, and artificial intelligence to engage and identify the right clients with personalized experiences that are inspiring, valuable, and relevant. Zeta Global uses their data cloud that contains multiple signals and profiles that seamlessly integrate with their patented artificial intelligence to help marketers retain, acquire, and grow customer relationships. The experience cloud feature provides an excellent platform for content creators like brands and publishers to extend the customer conversation, deepen customer engagement, and increase lifetime value. The three key features provided by Zeta Global are data cloud,…
Overview
• Build a single view of the customer
• Capture signals and generate AI models
• Predict and automate the selection of ideal audiences
• Optimize campaign creative based on real time behavior
• Listen and respond, real-time
• Connect experience across channels and campaigns
• Build customer knowledge through behavioral and 3rd party data
• Measure performance against goals
• Predict optimal timing, channel, and message, and user
• Manage the 360 degree view of each customer
• Create feedback loop for input
19
RedPoint Global
RedPoint Global is the technology company that helps organizations optimize customer engagement by delivering on their brand promise with highly contextual relevance in real time across all touchpoints. RedPoint Global offers features such as Data Quality and Integration, Identity Resolution or Golden Record, Loyalty and Retention, Omnichannel Marketing, Open vs Walled Garden, Optimization Using Machine Learning, Personalization, Real-Time Interaction Management and Single Customer View. RedPoint has the automated processes to access, match, and clean the users' data regardless of format or location. RedPoint lets users resolve the different ways customers appear in various engagement systems and build a continuously updating…
Overview
• Create a complete 360-degree view of each customer's behaviors, preferences, and purchase history.
• Engage customers consistently with hyper-personalized, highly relevant customer interactions.
• Intelligently orchestrate messages, offers, and actions in real time across all channels and touchpoints.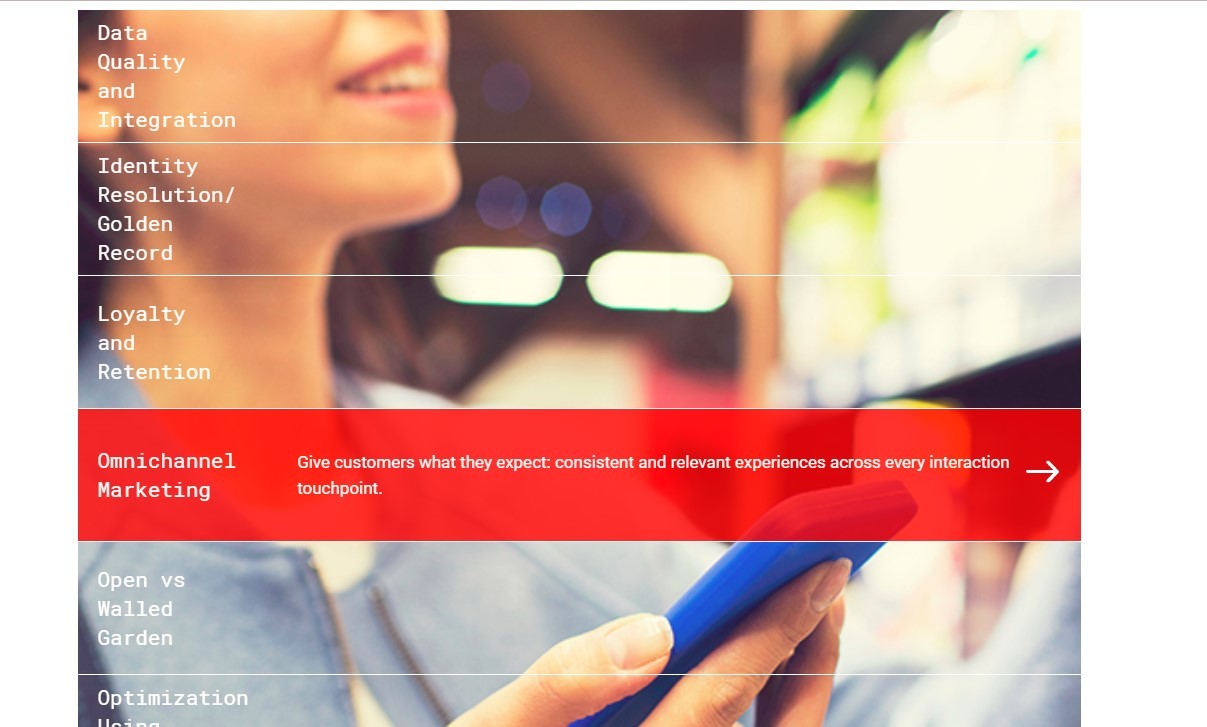 20
Salesfusion
Salesfusion enables online companies to get an access to email and marketing automation solutions. The software collects data about visitors who visit the website. The software identifies their browsing history and patterns. The software points out when big potential customers browse through the website. Web tracking information is integrated with CRM systems. In this way the software sends signals to sales personnel about web tracking and every single visitors who visits the website. The software can be integrated with a social platform known as Oktopost. The software allows post to posted and shared within and outside business hours. The software…
Overview
•Attracts and keep a track of online traffic
•Create marketing campaigns
•Creates reports on data
•Manage leads
Starts from $500 per month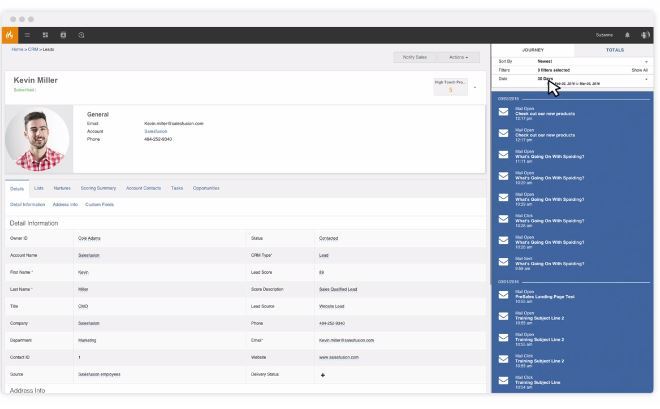 21
Mapp
Mapp is purposefully designed to meet your most demanding digital marketing needs; engaging with your customers on a truly personal level. The customer engagement platform enables you to leverage all your data sources to understand your customers behavior like never before. Orchestrate customer engagement over email, mobile, social and web marketing with one simple dashboard and set of services to take you the extra mile and start establishing a lasting relationship with your customers and improve your marketing results. The Customer Engagement Platform has a single, intuitive interface to help you leverage your customer data effectively to drive personalized campaigns…
Overview
•Omni-Channel marketing
•Digital marketing
•Data management platform and services.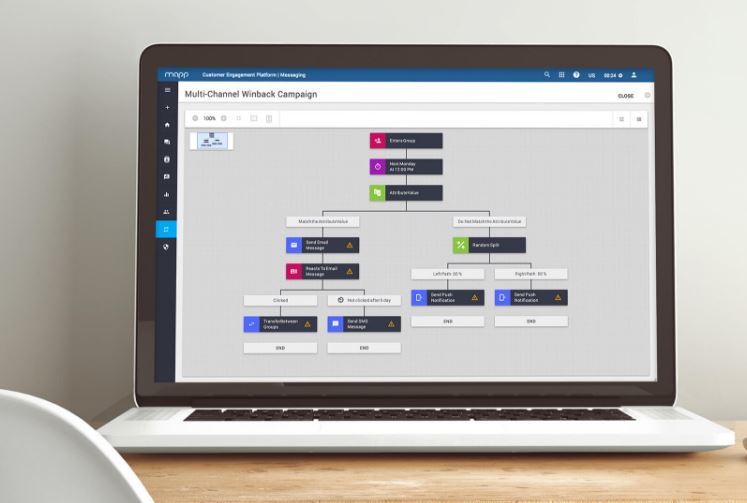 22
Valgen
Valgen helps users to turn data science into complete advantage for customer success. It works with data and analytics. Valgen approaches to data through five-step analytic process: standardize fields and values to make data ready; apply multi-step matching to eliminate duplicates; retain relevant records, purge the rest; prepare data for analytics and apps; maintain data integrity over the long term. Valgen can help unlocking business value through enchasing contact information, maintaining company hierarchy and overlaying demographics. Sales productivity can be accelerated with data.com in order to deliver high quality leads within Salesforce so users sales team is selling. Data.com is…
Overview
•Turning data science into complete advantage for customer success
•Helps unlocking business value through enchasing contact information, maintaining company hierarchy
•Helps preparing data, predicting patterns etc
•Getting measurable indicators of pipeline team progress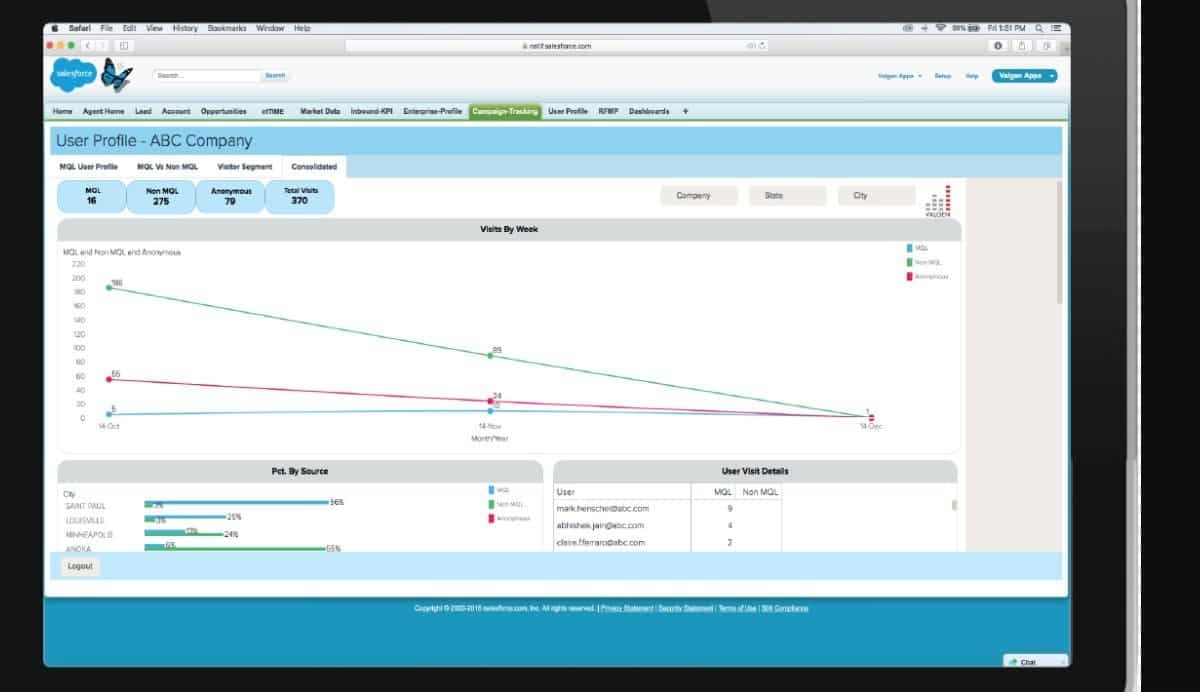 23
Hatchbuck
Hatchbuck is an All-In-One Small Business CRM and Marketing Software which is the simple alternative to expensive, bloated sales software where users can add contacts on the fly, see activity in real time, and trigger hot lead alerts when a prospect is ready to buy. Hatchbuck offers features such as Marketing strategy overview, 3 Hour of Training with users' Dedicated Hatchbuck Consultant, 1 Branded Newsletter Template, 3 Pre-Built Email Campaigns and Customized Sales and Marketing Process Mapping in quickstart pro. Hatchbuck provides a dashboard which gives users real time insights at a glance, prompting users to pull the right levers…
Overview
• Manage Contacts
• Automate Follow-Up
• Track Your Success
• Small Biz - $ 99 per mo. paid semi-annual
• Team - $ 199 per mo. paid semi-annual
• Professional - $ 299 per mo. paid semi-annual
• Enterprise - $ 399 per mo. paid semi-annual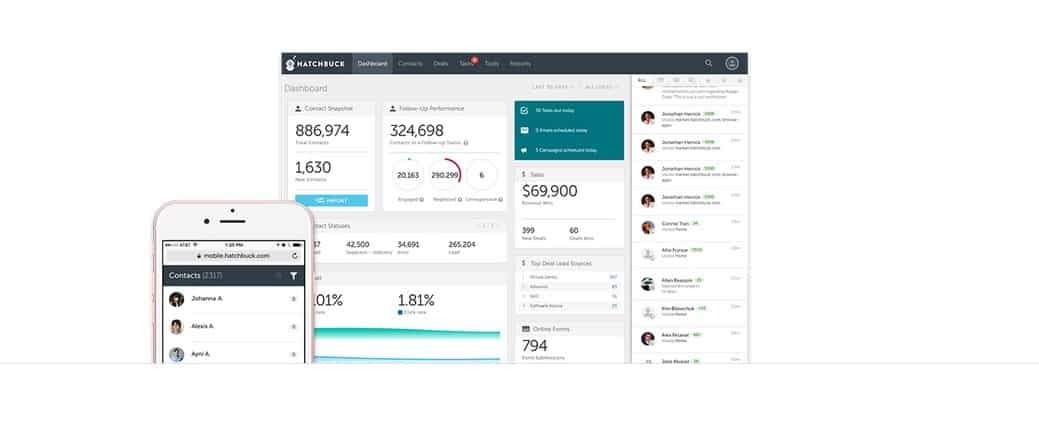 24
Listrak
Listrak is a marketing automation platform that uses predictive analysis and artificial intelligence that enables marketers to expand their campaigns through all kind of sources such as purchasing and browsing, online and offline, and mobile and desktop. Listrak also provides an excellent platform for marketers to expand their campaigns across social, mobile, display, and web channels. Listrak also integrates marketing automation with customer relationship management solutions to interpret, personalize, and unify data in order to engage clients across devices and channels. Listrak uses the unified 360 degree profile to provide an excellent platform for understanding and speaking to clients as…
Overview
• Unified 360 degrees profile
• Cross-device identification
• Anonymous user tracking
• Customer response and behavior tracking
• Industry-specific data schemes
• Subscriber acquisition
• Predictive send-time optimization
• Predictive product recommendations
• Predictive content
• Abandonment messaging suite
• Customer journey orchestration
• Responsive email designer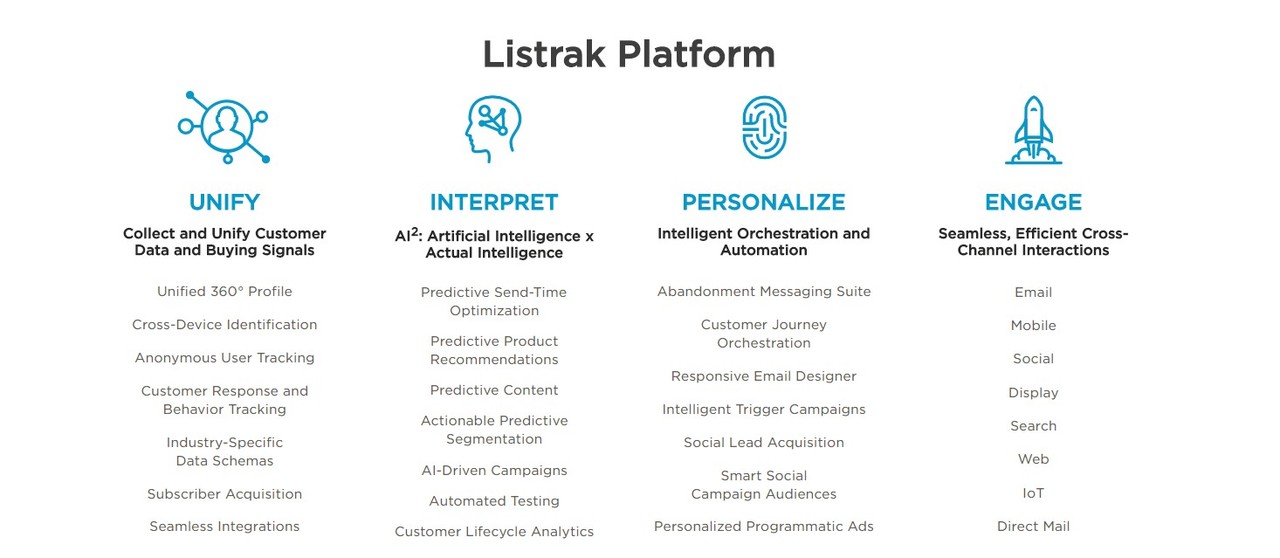 25
EpiServer Marketing
EpiServer Marketing is a platform that connects digital marketing and digital commerce to provide companies and organizations with an excellent platform for creating unique interactions for their clients using vital results from the business. EpiServer Marketing enables combination of commerce, content, predictive analytics, and multi-channel marketing in a single platform. EpiServer Marketing uses lead generation, intelligent optimization, repeat business, and conversion to deliver unprecedented ease of use. EpiServer Marketing provides organizations with the experience cloud feature that enables automatic optimization and personalization of the digital experience. EpiServer Marketing provides built-in connectors used for leading marketing apps to enable organizations minimize…
Overview
• Episerver CMS
• Episerver Commerce
• Episerver personalization
• Cloud platform
• Order Episerver Find
• Episerver add-on partners
• Marketing automation
• Automatic landing pages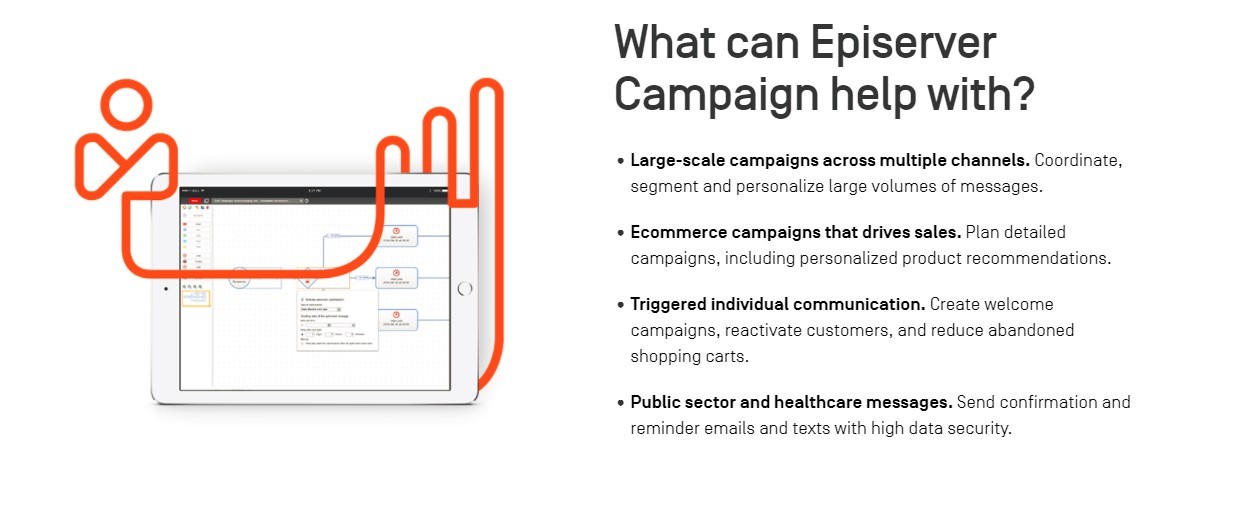 26
Thalamus
Thalamus is a relational marketing automation platform. Thalamus enables you to integrate, execute, and analyze in real-time when engaging with many customers and customers through multiple touchpoints and communication channels. Thalamus offers unique solutions that provides companies and organizations with an excellent platform for analyzing and engaging their audiences in real-time. The key features provided by Thalamus include; engagement with consumers, trade engagement, and distributors engagement. The trade engagement feature enables companies to run trade engagement programs with their retailers, shops, customers, and supermarkets. The sales objectives provided in the trade engagement platform facilitates establishment of segmented volume objectives for…
Overview
• Integration
• Consumer engagement
• Trade engagement
• Distributors engagement
• Analysis
• Business intelligence consultancy
• Engagement consultancy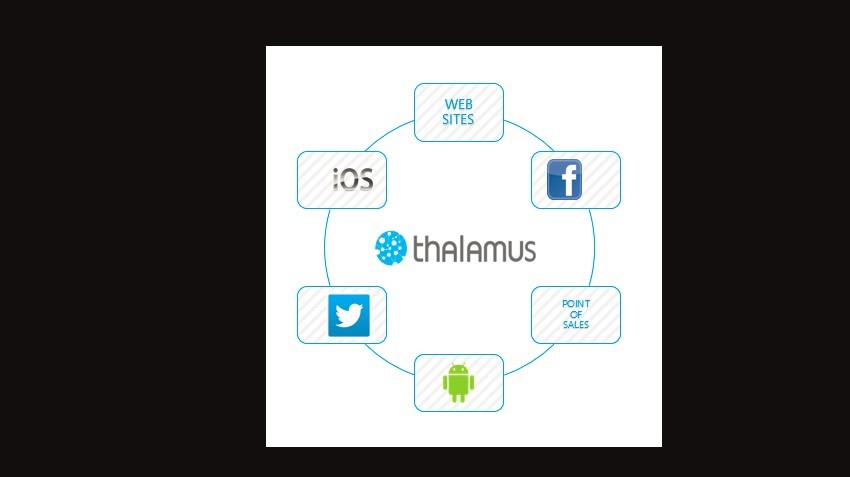 27
Sizmek
Sizmek is an independent buy-side advertising platform that creates inspiring expressions. Through the inspiring expressions, Sizmek enables building of long lasting and meaningful impressions that inspire relationships with your clients. Sizmek provides integrated and powerful solutions that enable creative, data, and media to work together to achieve optimal campaign performance throughout the customer journey. Sizmek uses artificial intelligence that provides an excellent platform for identifying robust and scalable insights within data across the key dimensions of predictive marketing that includes; creative, context, campaigns, cost, and consumers. The three key features provided by Sizmek include; data enablement, media execution, and creative…
Overview
• Data enablement
• Creative optimization
• Media execution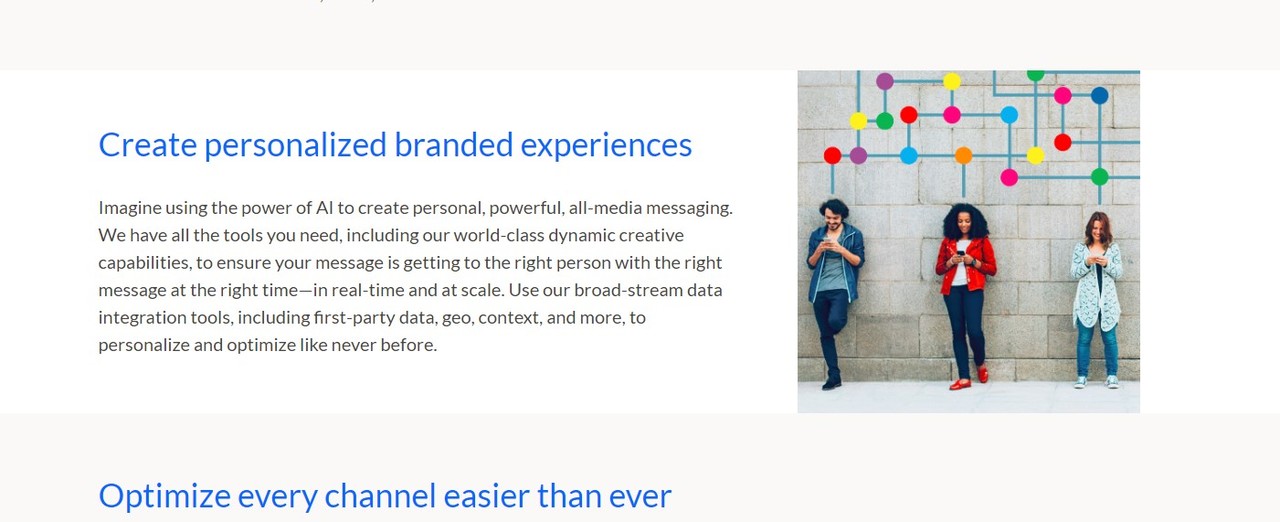 28
Maropost
Maropost is a B2C cloud-based revenue optimization suite that gives companies the ability to increase cross-channel customer engagement to maximize revenue. Maropost offers Marketing Cloud and Sales Cloud. Maropost Marketing Cloud provides the foundation B2C businesses need to easily create complex customer journeys, resulting in increased revenue across email, web, mobile, and social channels. Maropost Marketing Cloud offers features such as Data Analytics, Personalization, Cross-Channel Marketing and Artificial Intelligence. Maropost Marketing Cloud is the art and science of marketing elevation coupled with in-depth analytics to track every part of the user's marketing process. Maropost Marketing Cloud's event driven workflows integrate…
Overview
• Integrate seamlessly with product and revenue data, email and social interactions
• Generate, schedule, and export custom reports and SQL queries based on your unique campaigns
• Boost engagement and revenue across all platforms
• Collect and manage all of your sales data, from new leads to deals won
• Quickly and easily set up beautiful web storefronts on our commerce platform
• Sales Cloud Pricing
• CRM & Commerce - $75 Per user per month billed annually
• Support & Service - $19 Per user per month billed annually
• Sales Automation - $49 Per user per month billed annually
• Referral Manager - $659 Per month billed annually