Review
Selligent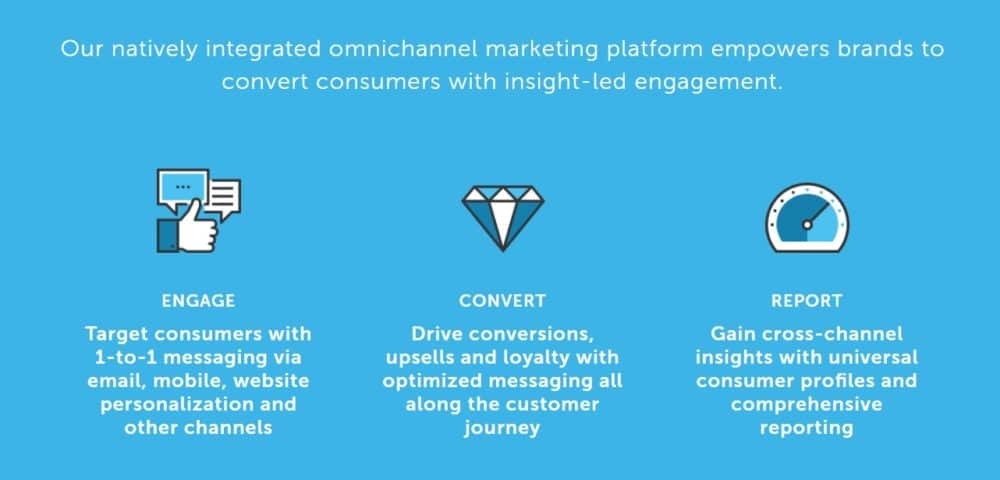 Overview
Selligent omnichannel engagement platform blurs the line between insight and engagement to meet a consumer's needs moment by moment.
Customer Intelligence Platform
• Universal consumer profile
• Contextual personalization
• Behavioral targeting
• Campaign management
• Optimize and measure
• Open architecture
Small (<50 employees), Medium (50 to 1000 Enterprise (>1001 employees)
What is best?
• Universal consumer profile
• Contextual personalization
• Behavioral targeting
• Campaign management
• Optimize and measure
Selligent increases conversions and enhances engagement for mid-market to enterprise B2C marketers, helping companies to create a powerful, contextual feedback loop with their consumers. Featuring enterprise-strength performance, Selligent's natively integrated technology bridges the gap between insight and engagement with industry-leading solutions for data management, campaign orchestration, and audience analytics.
Selligent is a software solution for marketers. Some of the main products of Selligent are open architecture integration, campaign management, behavioral retargeting, universal consumer profile, contextual personalization and optimize and measure. The Selligent platform is an omnichannel engagement platform that enables marketing professionals to create, launch, test and optimize cross-channel campaigns.
Selligent platform offers a one solution and a unified consistent relationship with your consumer. Designing and optimizing complex consumer dialogs across mobile, email, website among others are made easy through Selligent platform. Selligent focuses on your customer by getting more clarity through a single universal profile. Organizations also get streamlined process so as to increase productivity and uncover internal synergies. Selligent platform also identifies new prospects for your organization.
Through your ROI organizations are able to reach untapped audiences and understand their needs. Selligent facilitates 100% customer engagement by providing a 1 on 1 messaging via website, mobile and email. With Selligent, organizations are able to have optimized messaging. This drives loyalty of the customer to the organization. Selligent boosts organizations email marketing enabling organizations reach their customers in real time. Selligent also offers the best email campaigns through email advertising and marketing integration solution.
This enables organizations reach their digital points with ease. Selligent throws away the traditional campaign management solutions and brings new marketing software (cross channel marketing software) that has better execution capabilities. Segment customer groups are also improved through Selligent's omnichannel engagement platform. The platform also shows the need of having a 1 on 1 approach to relationship marketing. The native integrated omnichannel will certainly empower organizations to convert consumers to get the most out of the businesses.
You may like to read: Top Customer Intelligence Platforms