How to Select the Best Marketing Automation Software for Your Business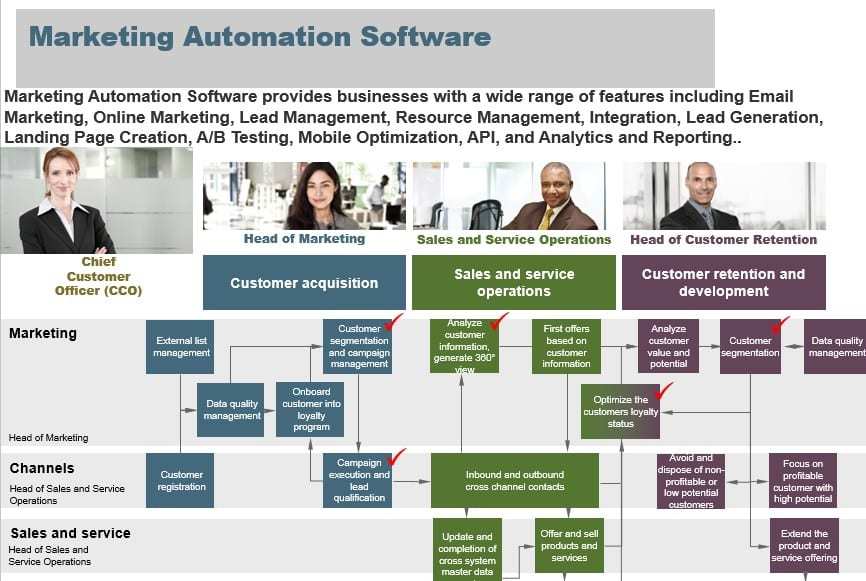 Marketing Automation Software offers a multitude of automated applications and analytics tools that facilitate businesses' marketing efforts. The software is designed to help businesses prioritize marketing tasks and workflows in a more streamlined and efficient manner. The incorporation of the software frees up employees from performing mundane, time consuming daily operations and shifts their focus to more strategic marketing activities. Marketing Automation Software also helps businesses achieve a competitive edge from increased customer engagement.
Through these functions, Marketing Automation Software positively impacts businesses' ability to drive traffic to their websites, which ultimately results in increased conversion rates. The applications can assist businesses with proper planning, coordination and management of marketing campaigns, both online and offline. Marketing Automation Software is flexible and can be easily customizable to meet businesses' specific needs and desired outcomes.
Businesses use Marketing Automation Software to increase operational efficiency. By so doing, businesses can experience huge reductions in administrative costs and human error. Businesses also incorporate the software to increase their marketing return on investment (ROI). Another reason for using Marketing Automation Software in business is to improve the management of marketing campaigns.
The software simplifies, automates, and eliminates the need for repetitive marketing activities such as email campaigns, social media postings, and lead scoring. Businesses may also opt for Marketing Automation Software to improve the quality and reliability of their customer database.
Customer information is usually more accurate and easier to retrieve. Having the ability to get more customers is also a major objective of any business and this can be achieved with the implementation of Marketing Automation Software. Businesses also incorporate the software to retrieve and analyze reports which will help in measuring overall performance. Finally, Marketing Automation Software can also be used to ascertain how well-aligned a business' marketing strategies are with actual sales.
You may like to read: Top Free, Premium & Open Source Marketing Automation Software
What are the Features of Marketing Automation Software

Marketing Automation Software provides businesses with a wide range of features including Email Marketing, Online Marketing, Lead Management, Resource Management, Integration, Lead Generation, Landing Page Creation, A/B Testing, Mobile Optimization, API, and Analytics and Reporting.
Email Marketing: Allows businesses to create a comprehensive customer database with customer contact information, which will be used to send personalized emails, welcome new customers, and share updates on company news and promotions.
Online Marketing: Facilitates the development, launch and review of automated marketing strategies that will allow businesses to promote products and services across various channels.
Lead Management: Enables businesses to generate, track and manage prospective customers. Some software can also help business anticipate lead generation and gauge the impact of marketing automation strategies on return of investment (ROI).
Resource Management: Facilitates the management of marketing resources to help businesses make more prudent marketing decisions.
Integration: Easily integrates with third-party applications like social media, CRM, and email which track potential and existing customers' behavior toward a business' product or service.
Lead Generation: Facilitates the scheduling and allocation of resources for lead generation tactics such as effective landing pages, content and SEO, email marketing to attract new customers.
Landing Page Creation: Offers businesses a variety of customizable and appealing landing pages that will help attract new customers and retain existing ones.
A/B Testing: Enables businesses to compare user's reactions to two versions of a user interface, and to evaluate the impact of various marketing strategies that have been customized to meet the needs of different customer groups.
Mobile Optimization: Helps departments to easily communicate and coordinate operational activities, facilitates the distribution of marketing campaigns, and allows users to maximize their experience on the website from any mobile device.
Application Programming Interface (API): Built-in codes allow businesses to easily integrate the Marketing Automation Software with supporting applications such as customer relationship management (CRM) and email to enhance the overall performance of the new automated solution.
Analytics and Reporting: Generates engagement analytics and comprehensive, accurate reports that businesses can use to evaluate the effectiveness of marketing strategies, and to help prioritize tasks.
What are the Types of Marketing Automation Software

On-premise: This type, which is hosted in-house on the business' server, is the most expensive since setup is usually more complex and installation may require the purchase of supporting hardware.
Software-as-a-service (SaaS): This web-based type of software is hosted offsite by a third-party provider and made available to users via the internet from any mobile device.
Based on licensing model:
Open Source Marketing Automation Software: These are Open Source Software where the source code is available.
Free Proprietary Marketing Automation Software : These are limited versions of a fully functional propriety Marketing Automation Software Software.
Proprietary Marketing Automation Software : Full paid version of Marketing Automation Software which is available either in cloud or standalone client server architecture.
You may like to read: Top Free, Premium & Open Source Marketing Automation Software
What are the Key Performance Indicators (KPI's) of Marketing Automation Software

Website conversion rate: Measures the ability of the business' website to convert visitors to leads or customers.
Number of leads: Measures the number of visitors to the website who express an interest in or enquire about a product or service.
Awareness Level: Measures how up-to-date users are with the latest business news, product promotions, and other information.
Number of Purchases: Measures the number of items that are purchased within a specified period of time.
Product Performance: Evaluates how well various products or services are doing in terms of interest, sales, and customer feedback.
User Satisfaction: Measures how satisfied users are with website access, content and performance through the execution of surveys.
Operational costs: Measures the amount of expenses incurred by businesses to operate and maintain the website and for marketing activities.
Return on Investment (ROI): Measures the difference between revenue from sales and investment costs incurred for operations, marketing campaigns, etc.
What are the Benefits of Marketing Automation Software
Consistent Marketing Strategies: Generates automated communications to prospective and existing customers which ensures a consistent online presence for a business.
Personalized Customer Relationships: Maintains a personal relationship with each customer and promotes content relevant to their needs.
Optimized Resources: Ensures all applications are fully operational - effectively providing useful and relevant content and interacting with all potential and existing customers.
Time-effective: Allows businesses to develop and publish content in advance using automated schedules that will ensure timely communication with customers.
Cost-effective: Facilitates proper planning, effective budgeting and improved management of the allocation of resources.
Improved Reporting: Provides businesses with detailed statistical reports that will be useful for tracking marketing campaigns, identifying conversion rates, and evaluating overall business performance.
You may like to read: Top Free, Premium & Open Source Marketing Automation Software
What are the Latest trends in Marketing Automation Software

Marketing through Social Media:Businesses are using this strategy to promote products and services by posting special offers, coupons, and advertisements through integrated social channels. The integration allows businesses to reach a larger market in a shorter time frame.
Two-dimensional barcodes: 2D barcodes are becoming more popular and can be seen on print advertisements and bill boards, allowing customers to access information on products or services by reading the barcode from their smart phones.
 How to choose the right Marketing Automation Software

In order to choose the best Marketing Automation Software, businesses should first understand the functionalities that exist across options and determine how relevant the features are to their operations. Key functional areas include Campaign Management, Lead Management, Multi-Channel Marketing, Email Marketing, Analytics and Reporting, Tracking and Monitoring, and Integration.
Based on the features and functionality required: Identify the primary features required such as Campaign Management, Lead Management, Multi-Channel Marketing, Email Marketing, and Analytics and Reporting.
Ease of Use : The tool should easy to use for the end-users.
Self Service Capability :  Provides Self Service capability for business users to perform queries and generate reports on their own, with nominal IT support. Simple to use tools with basic analytic capabilities.
Anywhere, Anytime : Available in all devices from anywhere.
Inbuilt connectors for integration : Provide a wide variety of pre built connectors to integrate with different systems.
Total Cost : Total Cost of Implementation
Top Marketing Automation Software Open Source
You may like to read: Top Free, Premium & Open Source Marketing Automation Software
Top Marketing Automation Software Open Source
PAT Index™
Top Free & Premium Marketing Automation Software
You may like to read: Top Free, Premium & Open Source Marketing Automation Software
Top Free & Premium Marketing Automation Software
PAT Index™
You may like to read: Top Free, Premium & Open Source Marketing Automation Software