Review
Exponea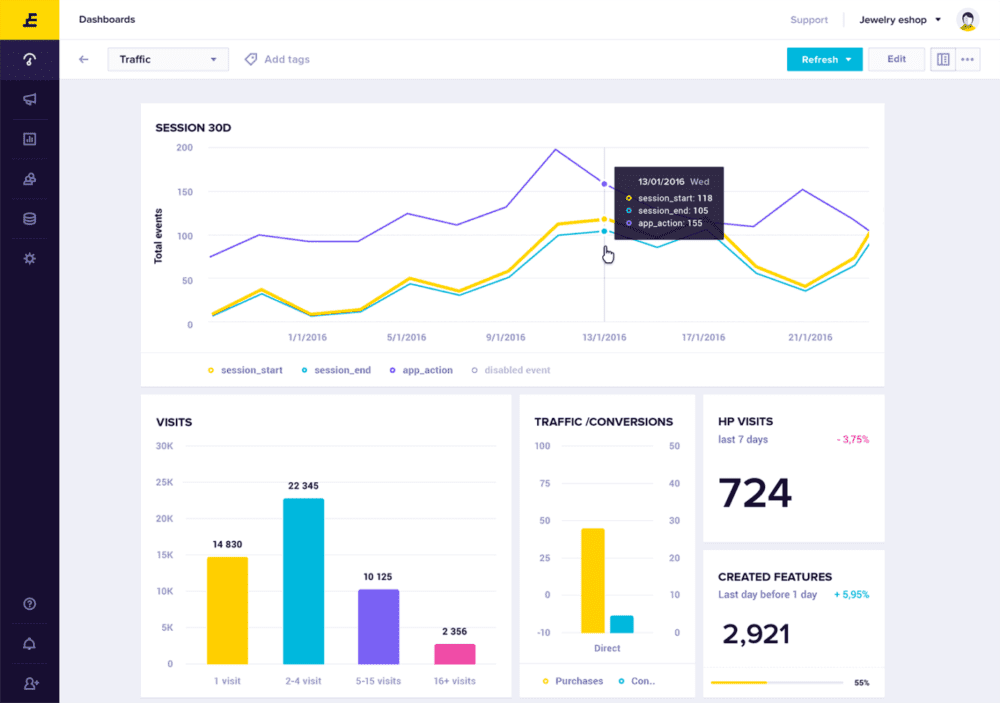 Overview
Exponea helps companies get business value from data much faster. The real-time analytics module, which enables our clients to find insights in unlimited amounts of data, through advanced funnels and segmentations.
Business Intelligence Software
Dashboards and profiles, Customer profile , Behavior history , Analytics, Marketing automation.
100M events, the "speeding up" package for 4,700€ per month, 300M events, the "flourishing" package for 7,700€ per month , more than 300M events are required then "touching the stars" package is selected and a consultant directly gets in contact with the customer.
Small (<50 employees), Medium (50 to 1000 Enterprise (>1001 employees)
Exponea is the ultimate analytics and engagement automation ecosystem. It provides the easiest solution to the biggest of problems. One can find all the answers to questions through one software and its incredible features enable to process like a pro right from the start.Dashboards and profiles: all the dashboards with important information, metrics and performance indicators are in one place.
Customer profile shows all user attributes that need to be decided to collect or calculate. Behavior history tracks the actions of the users. Analytics: distinct features such as funnels, segmentations, retentions, reports and predictions are provided for processing of data.Marketing automation: campaigns that run emails and SMS for marketing purposes.
Site personalization, web layer, pop-up surveys and recommendations are all a part of connecting with the customers and getting the feedback. Infrastructure: integrations to connect to backened or 3rd party API via custom webhooks, system built on MapR converged data platform and storage type of customaer's preference.
By getting access to Exponea one can integrate Exponea, collect data, analyze data, get value, learn Exponea and then handle everything for a lifetime.Exponea combines analytics with engagement automation for faster processing and results. It has a whole team of consultants that are there to answer any question that might arise and help their customers with anything they need to know.
You may like to read: Top Free, Premium & Open Source Marketing Automation Software and How to Select the Best Marketing Automation Software for Your Business