36 Free,Top & Open Source Marketing Automation Software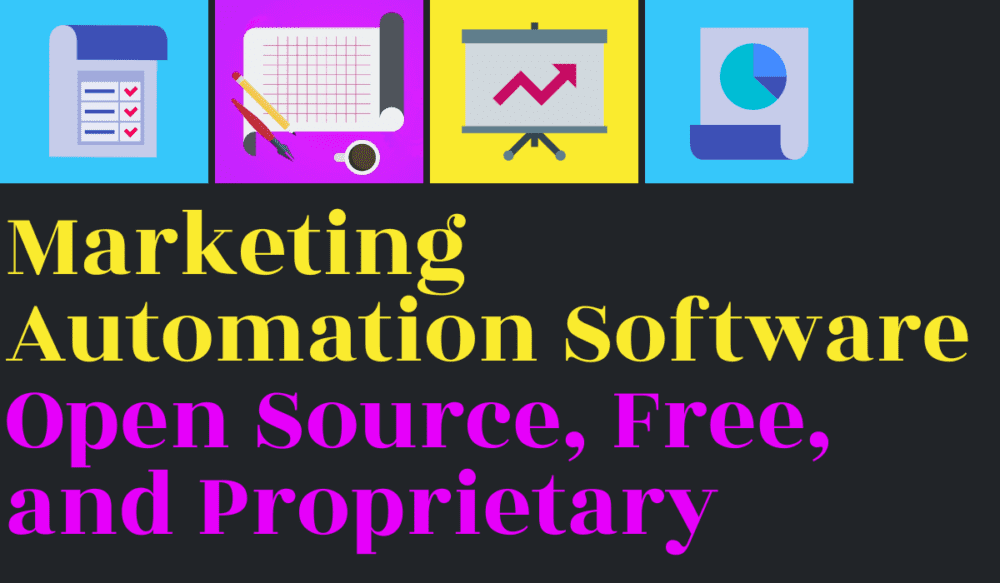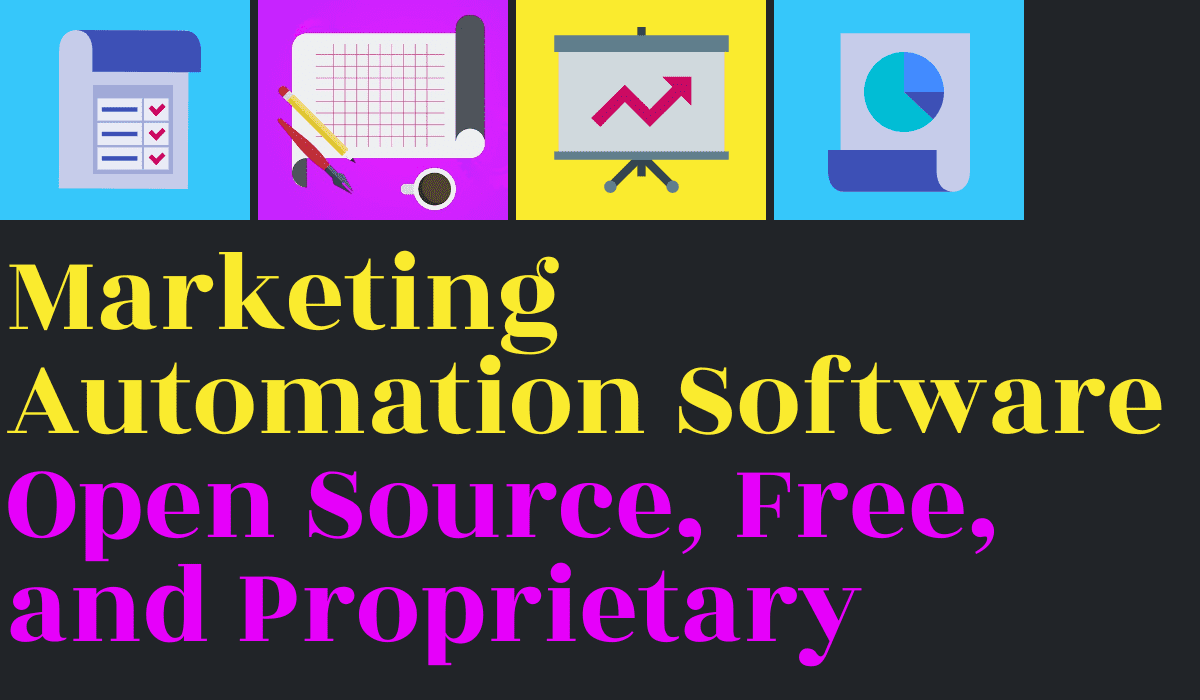 The goal of every entrepreneur is to expand his business. When a business begins to move in that direction, there will be a corresponding expansion in all the departments of such a business. The marketing department of such business setup has to deal with some tasks that will be repeated very often. Examples of such tasks are interaction with the social media; the sending of emails on a daily basis (in some cases as frequent as two hourly basis) and numerous other website functions that are carried out on the website to guarantee effective flow in the business.
When we look at all the processes put together and the increasing frequency at which they are repeated, there is the need for them to be automated to save time. That is exactly the principle upon which the Marketing Automation Software is built. The above tasks are made easier with the involvement of this software in the business.
Examples of Marketing Automation Software Open Source: Mautic, Leadsius, OpenEMM, SalesAutopilot are some of the Top Marketing Automation Software Open Source.
Examples of Top Marketing Automation Software Free: Drip Free, Hubspot Marketing Hub Free are some of the Top Marketing Automation Software Free.
Examples of Free & Premimum Marketing Automation Software: IBM Unica Marketing Automation, Marketo Engagement Marketing Platform, Act-On, Aprimo, Treasure Data, Exponea, Oracle Eloqua, Beckon  , HubSpot Marketing Hub, InsightSquared, Growlabs, Pardot Marketing Automation, ActiveCampaign, SharpSpring, TapClicks, Watson Campaign Automation, IKO System, Teamgate, Musqot, Message Cloud, Sailthru, BySide, Drip, Radius, Jumplead, ActiveDEMAND, Infusionsoft Marketing Automation, Leadfeeder, eTrigue, Soffront, SAP Hybris Marketing, Net-Results, Vabout, Vbout are some of the Top Free & Premimum Marketing Automation Software.
You may like to read: How to Select the Best Marketing Automation Software for Your Business
What are Marketing Automation Software?
Marketing Automation Software provides marketing departments and organizations tools to effectively market on multiple channels online such as email, social media, websites and automate the repetitive tasks. Marketing automation refers to a broad range of automation and analytic tools for marketing especially inbound marketing. Marketing Automation platforms are used as a hosted or web-based solution.
The use of a marketing automation platform is to streamline sales and marketing organizations by replacing high-touch, repetitive manual processes with automated solutions. This is primarily focused on email marketing automation, that focuses on the definition, segmentation, scheduling and tracking of marketing campaigns.
The process of selling is very important if a business is to remain competitive. It is no longer the exclusives of the sales team alone. The marketing department is now involved because the competition makes the involvement of this department desirable for more effectiveness. The days of managing customers by individuals are gone for good because of the digital means of doing business today. For effectively coordination and automation of repeated tasks, the marketing automation software is a necessity for the business of today.
This software will enable brands to detect and focus on would be prospects for their business. This focus will turn such people into opportunities. Every business should adopt this software in the early stages of their business to have a solid take off.
The Lead : The lead is very important for any business and it must be taken care of. Just as the gardener nurses the flowers in his garden, the lead of every business needs to be nurtured in a way that they will be turned into prospects. Good marketing software must possess lead nurturing.
Credible Marketing campaign : A credible marketing campaign will capture the info on every lead that has been generated. This software will help businesses keep tabs on the profile of such leads. Useful info about them relating to the business can be gathered through the profile created for each lead.
Instant Alerts : Time is very important to business as well as to every individual. This software has the capacity to send instant alerts to the marketing team when there is the demand to take immediate actions on a workflow. The importance of this can be drawn from a situation where the marketing team gets a lead and wants the sales team to take prompt actions.
It Triggers Responses : The customer of today has many options to fall to. So when they make an inquiry, they expect an auto response from the service provider. This software will do exactly that. This way, the loyalty of the customer can be sustained.
You may like to read: How to Select the Best Marketing Automation Software for Your Business
Top Marketing Automation Software Open Source
Mautic, Leadsius, OpenEMM, SalesAutopilot are some of the Top Marketing Automation Software Open Source.
Top Marketing Automation Software Open Source
PAT Index™
1
Mautic
Mautic is an open source marketing automation platform. It operates like a basic CRM. It's a cloud based marketing automation software. It has a social media marketing feature that allows organizations to listen to their target audience and also interact directly with them on their social media platform. Organizations are then able to build their lead lists from social mentions, hashtags, keywords etc. Here active social network marketing is built into their campaigns. The contact management feature effortlessly tracks both known and unknown contacts. Mautic does this by providing in-depth and detailed tracking which includes page views, time spent on…
Overview
• Social media marketing where an organizations leads are engaged through powerful social media marketing.
• Contact management where contacts that are both anonymous and known are tracked.
• Email marketing which allows sending of personalized emails to leads.
• Forms that provide valuable forms for campaigns to collect information, build segments and content.
• Campaign management that defines the actions and events contacts will follow.
• Detailed feedback of campaign reports that allows improvement and perfection of marketing.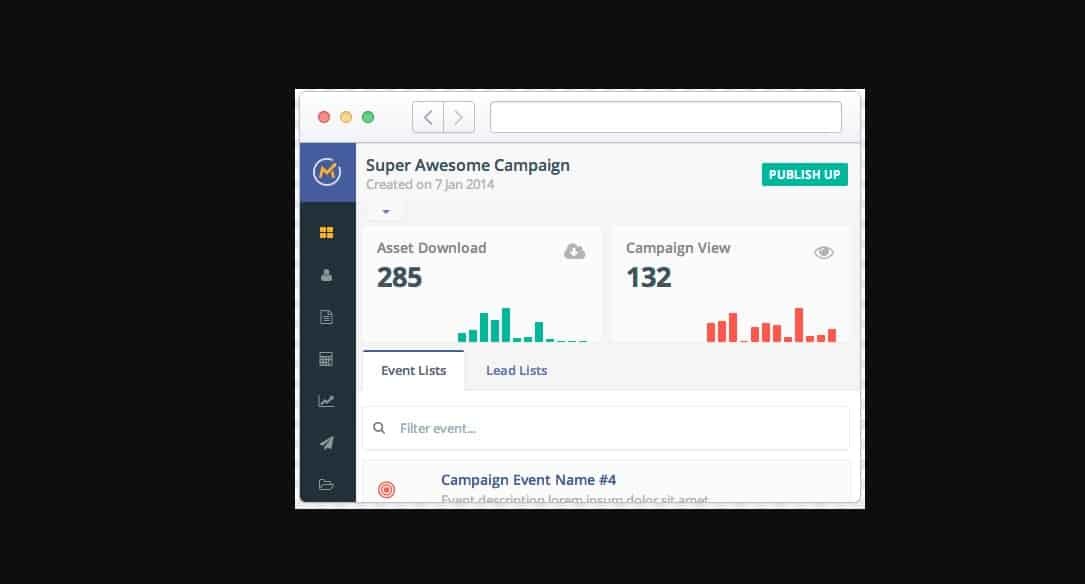 2
Leadsius
Leadsius helps businesses to develop deeper, more meaningful relationships with everyday people which ends up helping businesses to generate more revenue. It has an email marketing feature that helps businesses to design beautiful emails that drive engagement & nurture its leads. This feature provides the freedom to design emails that resonate with a business's unique audience segments. It has an intuitive drag and drop email editor that helps save an organizations time and money. It also offers free file hosting that enables organizations to upload images and documents without any fear of limitation. For an organization to build stronger relationships…
Overview
• Email marketing that allows designing of emails that boost engagement and nurturing of leads.
• Market automation that brings a business's marketing to life with behavioral-based triggers.
• Web forms that allow one to drag and drop towards capturing more interest.
• Highly effective landing pages that boost conversion rates.
• Lean analysis & reporting that gives valuable insights that lead to meaningful conversations.
• Marketing dashboard that provides an interactive command center for digital marketers.
• Website tracking that tracks a leads digital footprints on an individual level.
• Wordpress plugin that quickly infuses marketing automation into a website.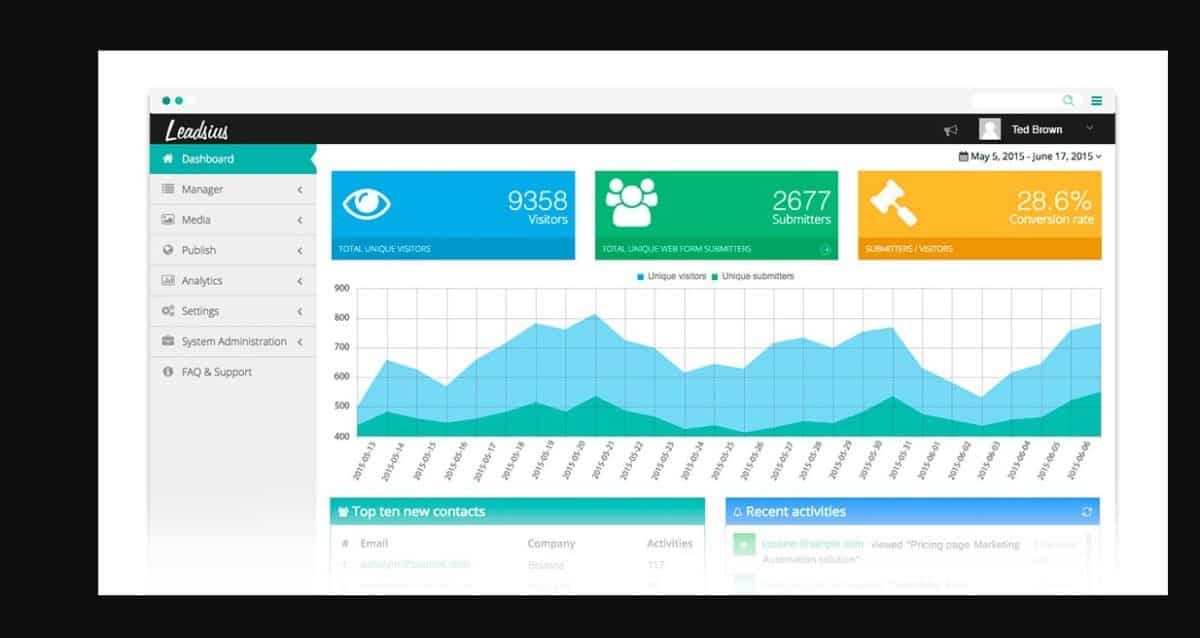 3
OpenEMM
OpenEMM is an Open Source web-based enterprise application for e-mail and marketing automation. The tool enables you to create and send e-mail newsletter and service e-mails (like transaction e-mails and event or date triggered e-mails). Furthermore you can of course control and organize your lead management. It has an easy to use web interface that is available in English, French, German, Italian, Portuguese, Spanish and Chinese. The tool is able to manage HTML mail templates, module types and HTML content modules by using its content management extension that it comes bundled with. When it comes to important tasks like importing data, creating…
Overview
• Has a great user interface.
• Has template-based HTML mailings.
• Automatic bounce management.
• Mail opening and link tracking.
• A lot of graphical real-time statistics.
• It has a content management system.
• Self-defined and behavior-based target groups.
• Multiqueue mail backend for maximum sending performance
• Time-driven automated data import and export
• Extensive set of web services
• Plugin interface to easily extend the core functionality.
• Scripting feature to enhance the functionality of OpenEMM with triggerable customized actions.
• Audit –proof user activity log.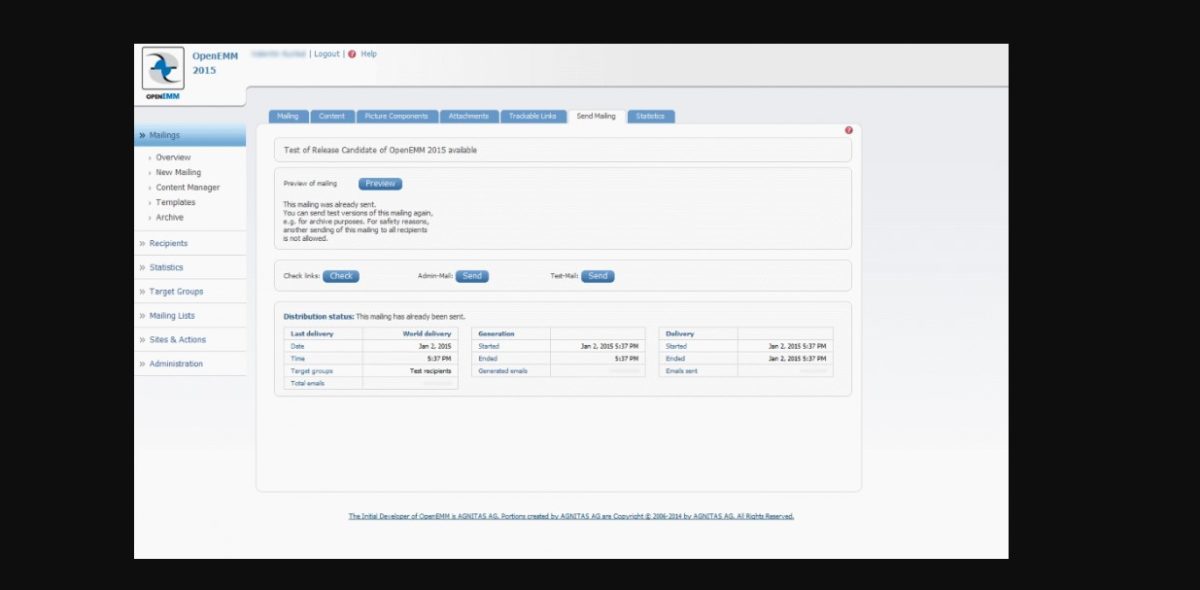 4
SalesAutopilot
SalesAutoPilot is a software that automates your marketing and business processes on a single platform with no coding. It helps marketers automate everything. It easily integrates with any website with no coding involved. This gets an organizations leads, signups and orders from its site right into SalesAutoPilot. It has its own landing page editor that has many templates that can be used. It has Leadpages which is one of the most popular landing page platforms. SalesAutoPilot also allows businesses to put social buttons in emails or landing pages as well as Facebook modules. If an organization chooses, they can have…
Overview
• Email marketing: Sales and marketing acceleration module.
• New school marketing, email and CRM automation.
• Multi-channel communication for maximum reach.
• Rich e-Commerce features
• SalesAutopilot's sales CRM system.
• Built-in affiliate marketing system.
• SalesAutopilot support suite.
• MailMaster email marketing - $41/month
• Automation - $59/month
• eCommerce and CRM - $77/month
• All in - $95/ month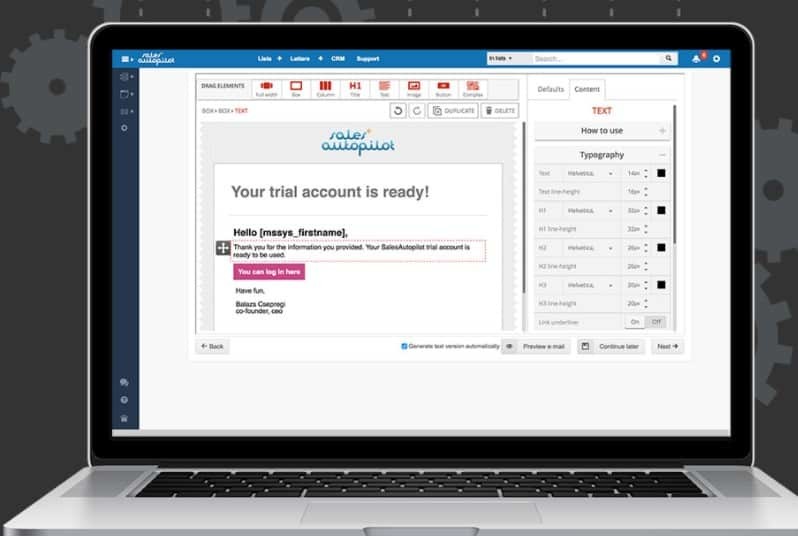 Top Marketing Automation Software Free
Drip Free, Hubspot Marketing Hub Free are some of the Top Marketing Automation Software Free.
1
Drip Free
Drip is a full-featured email service provider and is designed to handle all email marketing and marketing automation needs, from gathering emails via an opt-in form on your website, sending marketing sequences and one-off broadcasts, sending emails to trial / demo users, and paying customers. Drip also has advanced automation features like tags, custom events, and custom fields / attributes. Drip focuses on the email and analytics portion of marketing automation, and takes it one step further by interacting with trial users and customers as well. Drip is rapidly becoming the de facto email marketing automation choice for digital marketers,…
Overview
• Opt-in widgets for email
• Mobile networking helps to stay in touch with leads
• Product review-triggered emails ask customers to submit a review of that product or experience
• Trustworthy and actionable usage analytics
• Campaigns allow users to keep content organized and specific
• List contains all active, unsubscribed, and undeliverable subscribers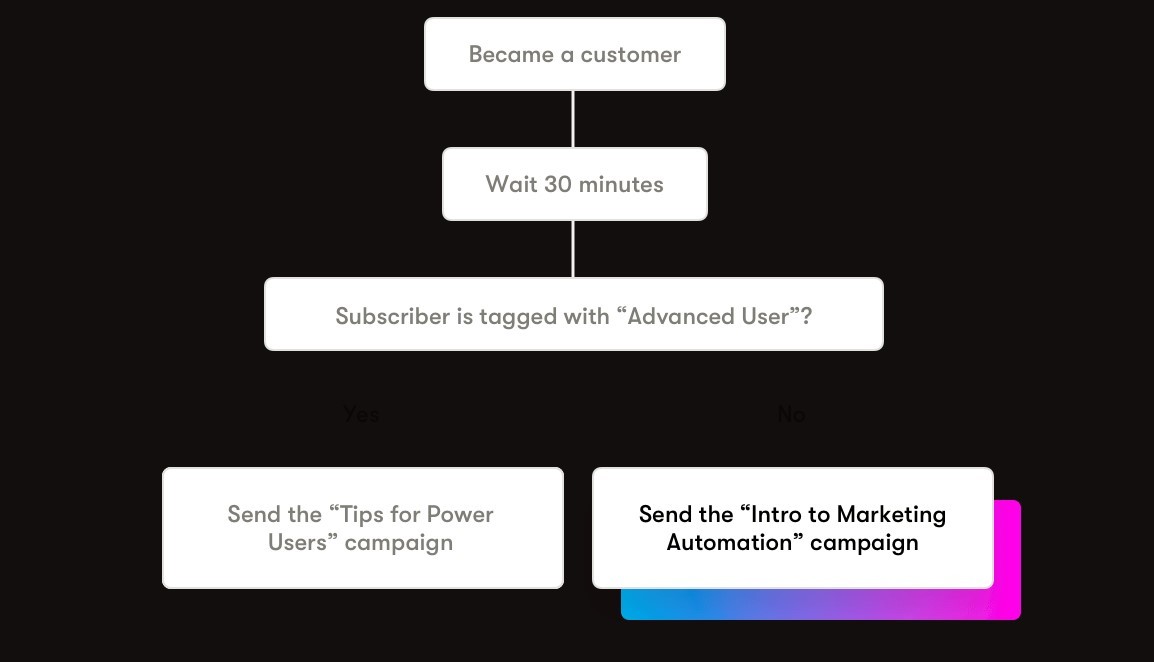 2
Hubspot Marketing Hub Free
Hubspot Marketing is an all in one marketing automation software that offers businesses everything they need to launch effective marketing campaigns that make people interested in their companies. Hubspot Marketing enables companies to grow their traffic, convert leads, and prove ROI. With Hubspot Marketing, companies have an excellent platform to build and modify their website without IT, get content in front of the right people, drive more traffic to key landing pages, convert more visitors into qualified leads, turn leads into customers with less effort, and track customers and report the impact on the bottom line. Hubspot Marketing allows designing…
Overview
•Forms
•Contact management
•Contact insights & activity
•Facebook & Instagram lead ads
•Live chat
•Traffic and conversion analytics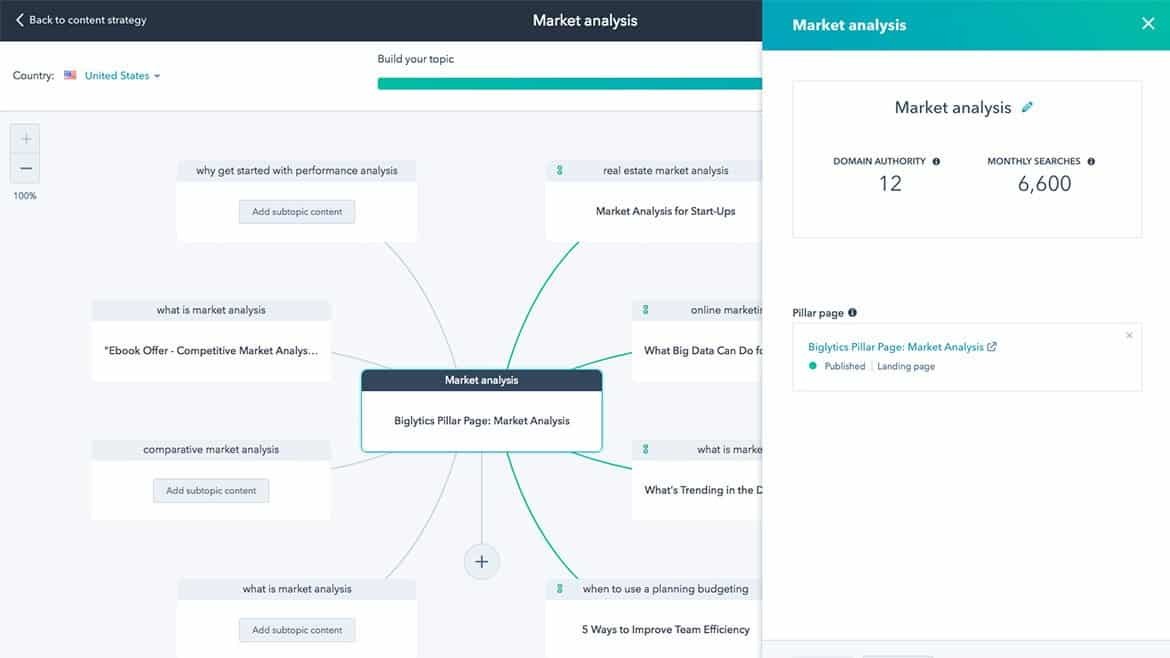 Top Marketing Automation Software
IBM Unica Marketing Automation, Marketo Engagement Marketing Platform, Act-On, Aprimo, Treasure Data, Exponea, Oracle Eloqua, Beckon  , HubSpot Marketing Hub, InsightSquared, Growlabs, Pardot Marketing Automation, ActiveCampaign, SharpSpring, TapClicks, Watson Campaign Automation, IKO System, Teamgate, Musqot, Message Cloud, Sailthru, BySide, Drip, Radius, Jumplead, ActiveDEMAND, Infusionsoft Marketing Automation, Leadfeeder, eTrigue, Soffront, SAP Hybris Marketing, Net-Results, Vabout, Vbout are some of the Top Marketing Automation Software.
Top Premium Marketing Automation Software
PAT Index™
1
IBM Unica Marketing Automation
IBM Unica products enable marketers to deliver exceptional customer experiences through coordinated, personalized interactions across multiple channels to increase loyalty and drive revenue growth. IBM Campaign provide sophisticated campaign management to automate marketing programs across channels. IBM Interact deliver the optimal personalized messages in real-time across marketing channels. IBM Contact Optimization determine the optimal contact strategy for individual customers. IBM Marketing Operations roll out marketing campaigns faster by tracking processes, budgets and expenses with one collaborative tool. IBM Opportunity Detect apply sophisticated event and pattern detection to better understand customer behavior over time. IBM Distributed Marketing enable field marketing teams…
IBM Unica Marketing Automation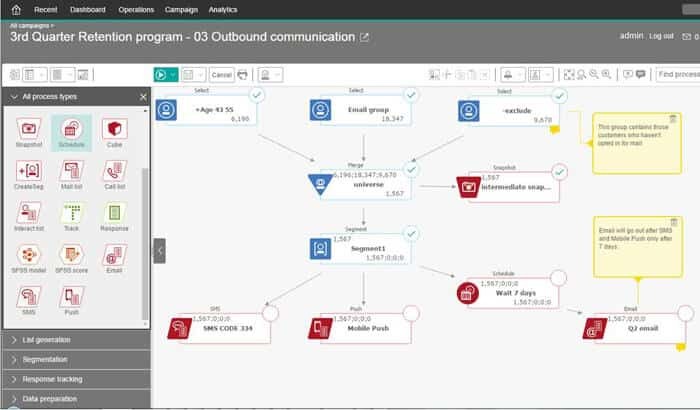 2
Marketo Engagement Marketing Platform
Marketo Engagement Marketing Platform help marketers to master the art and science of digital marketing. Marketo deliver software that helps marketing understand its target audience, engage them as individuals on their terms, measure the impact of their marketing efforts, and manage the team for success. Marketo Mobile Engagement allows marketers to drive lasting customer engagement by listening for customer behavior across web, social, email and advertising channels and communicating directly within the mobile environment. In addition, Marketo Mobile Engagement triggers communications across all other digital channels based on behaviors it detects in the mobile environment, creating a consistent conversation every…
Overview
• Customer Engagement Engine
• Social Marketing, Events, and Webinars
• CRM Integration
• Program and Campaign Analysis
• Success Path Analyzer
• Email and Landing Page Creator
• Mobile Responsive Template Library
• Campaign Dashboards and Reports
• Email Marketing
• Web Personalization
• Cross-Channel Marketing
• Revenue Analytics
• User Segmentation
• User Behavior Tracking
• Real-Time Behavioral Triggers
• Mobile Performance Dashboards
Marketo Engagement Marketing Platform

3
Act-On
Act-On integrated approach to marketing automation gives you all the functionality you want in an accessible, simple-to-use workspace. The user-friendly platform puts powerful marketing tools at your fingertips, making campaigns and programs easier and faster. Modern marketing scope spans outbound and inbound tactics, lead generation and nurturing strategies, and customer lifecycle optimization and advocacy programs. Act-On is a software-as-a-service, cloud-based marketing automation solution. Its platform is purpose-built to give small and medium-sized marketing teams all the value of marketing automation without the complexity big enterprise systems impose. Using the Act-On platform, marketers can easily manage and optimize all the stages…
Overview
• Measure, optimize, and see marketing's impact on business results with out-of-the-box reports
• Apps and connectors
• Reports and analytics, drive product adoption, upsell and cross-sell opportunities
• Inbound
• Outbound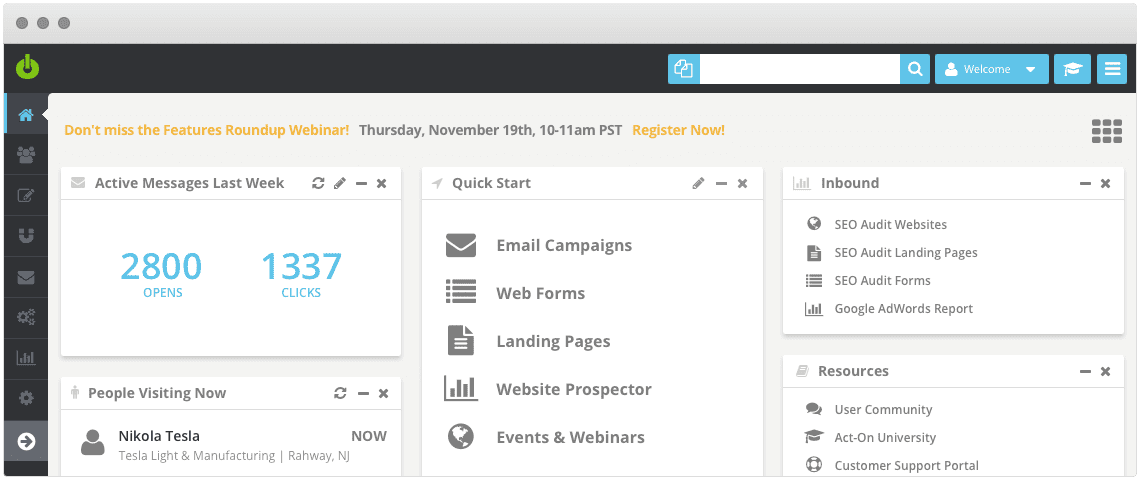 4
Aprimo
Aprimo helps marketers do what they do best: create great marketing. Aprimo is a category-leading provider of marketing operations solutions that enables marketers to manage the five essentials of marketing: planning, spending, creation, distribution, and performance. Aprimo's comprehensive suite maximizes the effectiveness, accountability, and overall value of a company's marketing investment. Marketing Operations can help you manage budgets and resources for marketing campaigns and special marketing projects, so you can achieve marketing agility. Marketing Operations, which includes Planning & Spend Management, Workflow & Collaboration Management and Marketing Asset Management, integrate into a centralized marketing hub to help you coordinate workflows,…
Overview
• Plan and spend
• Marketing productivity
• Campaign
• Distributed marketing
• Digital asset management
• Technology
5
Treasure Data
Treasure Data is a cloud data management platform where everyone can unify, explore, and automate the analytics that drive their business. Treasure Data provides managed analytics infrastructure as a service, which simplifies data management. Treasure Data provides cloud service for the entire data pipeline, including collection, storage and analysis.Customers have full visibility of their data, data sources, jobs, destinations, users and usage information. They can manage and administer everything from a unified console. Treasure Data allows consolidating data between all users'r SaaS tools automatically, without CSVs; pulling data from all their apps into a single cloud with simple connectors (300+…
Overview
•Precise KPI Calculation
•Funnel Analysis
•Cohort Analysis
•Predictive Maintenance
•Driver Classification
•Car Condition
•Sales Analysis
•Basket Analysis
•RFM Analysis
•Test Visualization
•Test Reporting
•Predictive Maintenance
•Usage Monitoring
•Electricity Savings
•CV/non-CV Path Comparison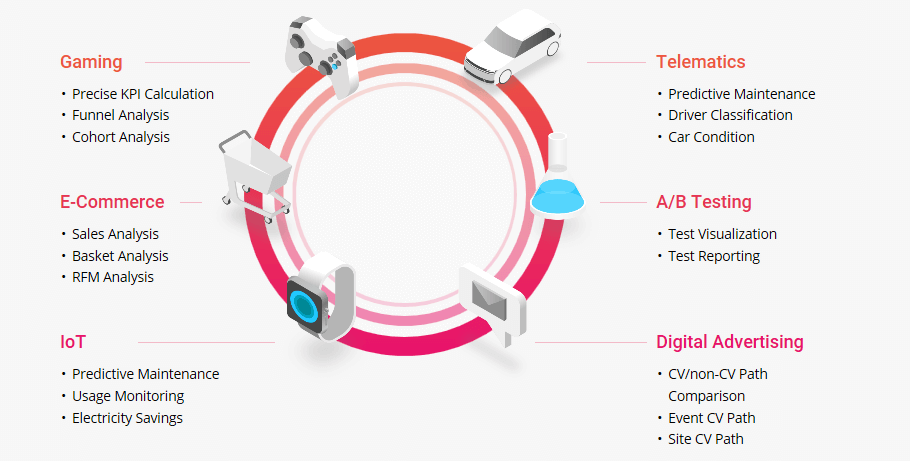 6
Exponea
Exponea is the ultimate analytics and engagement automation ecosystem. It provides the easiest solution to the biggest of problems. One can find all the answers to questions through one software and its incredible features enable to process like a pro right from the start.Dashboards and profiles: all the dashboards with important information, metrics and performance indicators are in one place. Customer profile shows all user attributes that need to be decided to collect or calculate. Behavior history tracks the actions of the users. Analytics: distinct features such as funnels, segmentations, retentions, reports and predictions are provided for processing of data.Marketing…
Overview
Dashboards and profiles, Customer profile , Behavior history , Analytics, Marketing automation.
100M events, the "speeding up" package for 4,700€ per month, 300M events, the "flourishing" package for 7,700€ per month , more than 300M events are required then "touching the stars" package is selected and a consultant directly gets in contact with the customer.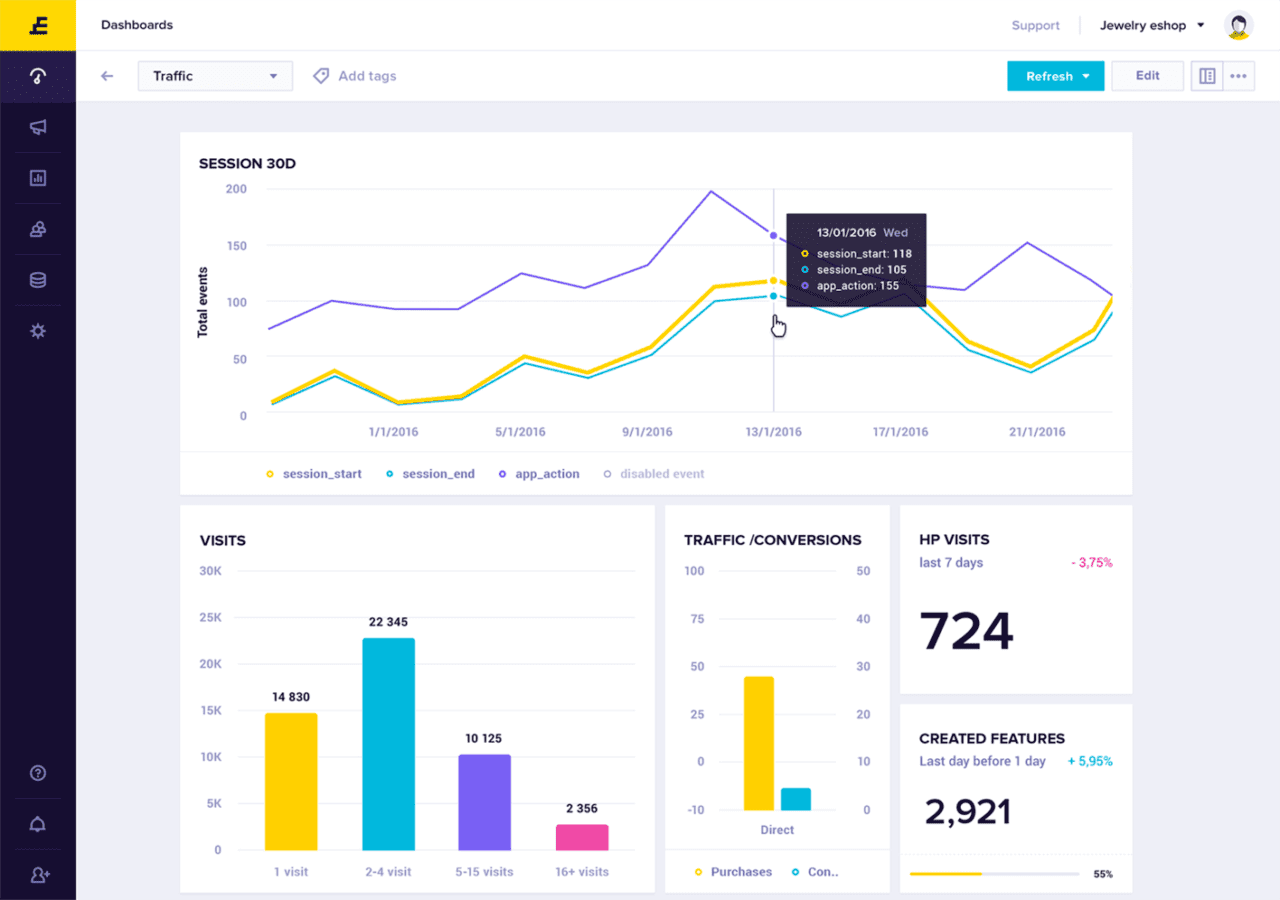 7
Oracle Eloqua
Oracle Eloqua enables marketers to plan and execute campaigns while delivering a personalized customer experience for their prospects. Campaigns greatly scale for audiences across channels including email, display search, video, and mobile. With integrated lead management and easy campaign creation, our solution helps marketers engage the right audience at the right time in their buyer's journey. Sales teams can close more deals at a faster rate, increasing marketing ROI through real-time insight. Oracle Marketing Cloud gives you a clear picture of who your customers and prospects are so you can more effectively target and segment your campaigns with highly personalized…
Overview
• Marketing automation
• Cross channel orchestration
• Data management platform
• Testing and optimization
• Content marketing
• Social marketing
• Industry solutions
• B2B marketing
• Tools
• Enterprise: Contact sales/ 10K contacts
• Standard: 4000 $
• Basic: 2000 $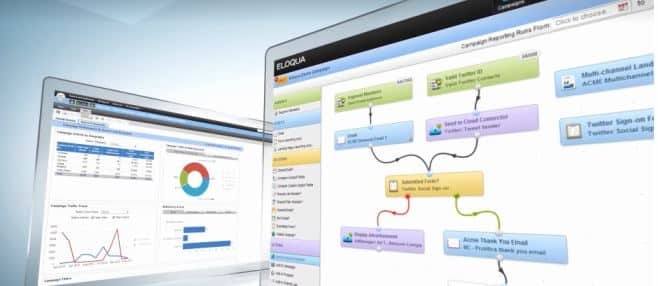 8
Beckon
Beckon enterprise software delivers clean, trusted data and real-time marketing intelligence for agile decisions at the speed and scale of modern marketing. The platform combine data best practices with marketing best practices, Beckon provides automated data management, total visibility into cross-channel marketing performance, integrated campaign planning, omnichannel analytics, real-time dashboards and scorecards, and marketing KPIs right out of the box for fast time to value. Beckon develops spontaneous enterprise software which enables the marketer to unlock their data in order to achieve growth. The clean, integrated, normalized performance dataset of marketing and resulting reports of performances, scorecards and analytics of…
Overview
•Connect
•Data
•Analytics
•Answers
•Dashboard
•Scorecard
•Calendar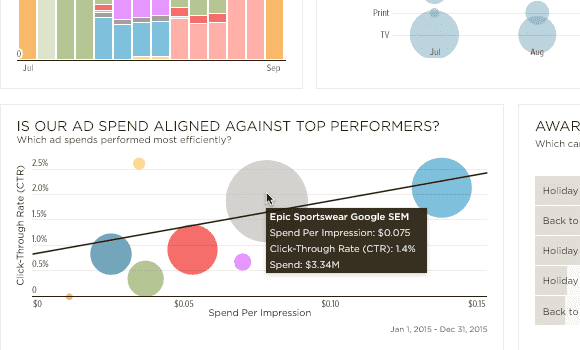 9
HubSpot Marketing Hub
HubSpot is an inbound marketing software platform that helps companies attract visitors, convert leads, and close customers. From attracting visitors to closing customers, HubSpot brings your entire marketing funnel together. Create content, optimize it for search engines and share it on social media, engage your prospects with landing pages, calls to action, personalized email and a personalized website. Create blog posts, ebooks, videos, and other content that answers questions your prospects are asking. Optimize it for search engines and share it on social media. Turn traffic into leads with powerful offers. Use landing pages to promote valuable material. Engage serious…
Overview
•Forms
•Contact activity
•Contact management
•Contact & company insights
•Ad management
•Conversations inbox
•Team email
•Live chat
•Conversational bots
•Reporting dashboards
•HubSpot branding removed
•Email marketing
•Lists
•Mobile optimization
•Blog & content creation tools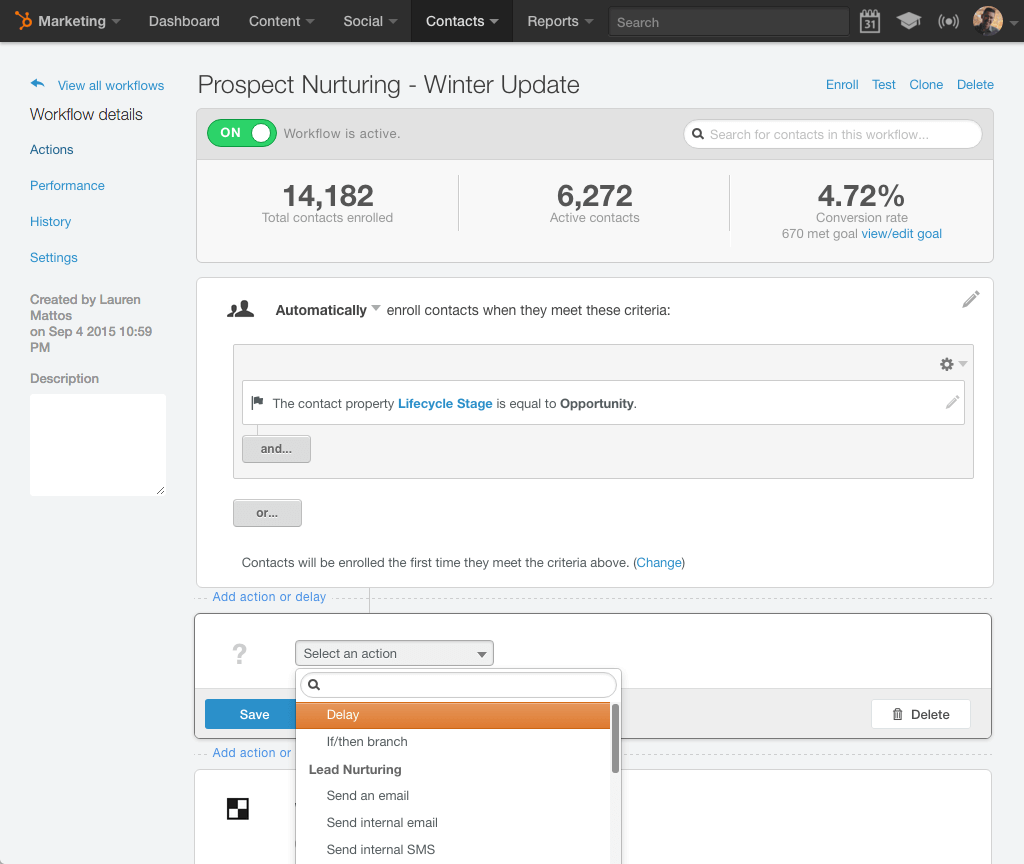 10
InsightSquared
InsightSquared is a sales performance analytics solution that quickly delivers pre-built reports on every major sales metric. Unlike spreadsheets, InsightSquared's visual, maintenance-free reports and dashboards provide a custom lens into real-time sales results. Use InsightSquared to establish better relationships with the whole team as well as the setting goals for maximum revenue. InsightSquared uses Accurate Sales Forecasting models that can predict deals that are also accurate and dependable. Every person that is part of the sales team will be able to accessdata to better understand and achieve numbers, with InsightSquared; it will provide the necessary information to ensure accurate forecasts…
Overview
•Custom Configuration
•Simple Report Builder
•Multiple Data Connectors
•Unlimited Logins
•Custom Alternative Values
•Historical trending

11
Growlabs
Growlabs is a complete suite of marketing and sales automation platform that provides teams with an excellent platform for identifying, engaging, and converting lead faster. Growlabs is vital for B2B companies by enabling them to automatically locate leads that match their ideal client profiles from the proprietary database. Growlabs makes use of machine learning algorithm that helps in optimizing who has to receive the campaigns and when to follow up. Growlabs also provides an excellent platform for enabling customers to reach prospects by using their native language. The key features provided by Growlabs include; generation of leads, automation of email,…
Overview
• Lead generation
• Email automation
• Smart inbox filters
• Multi-channel
• Actionable insights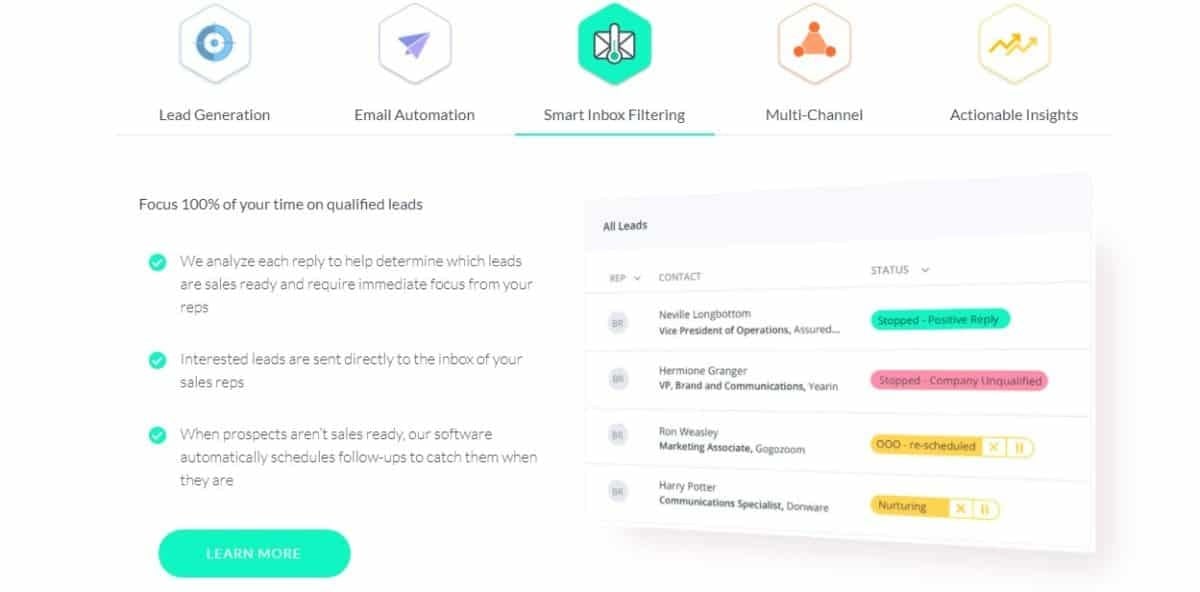 12
Pardot Marketing Automation
Pardot B2B Marketing Automation for Marketers provides a one central canvas to power smarter marketing programs. Pardot provides a full suite of tools that help marketers create meaningful connections, generate more pipeline, and empower sales to close more deals. Pardot generate more leads and move them quickly through the pipeline, engage buyers on their terms with dynamic, personalized campaigns and understand each step from click to close, capturing true marketing ROI. Pardot build intelligent, data-driven programs that generate new leads and speed up your sales cycle all while allowing customers to forge their own path to purchase and visually map…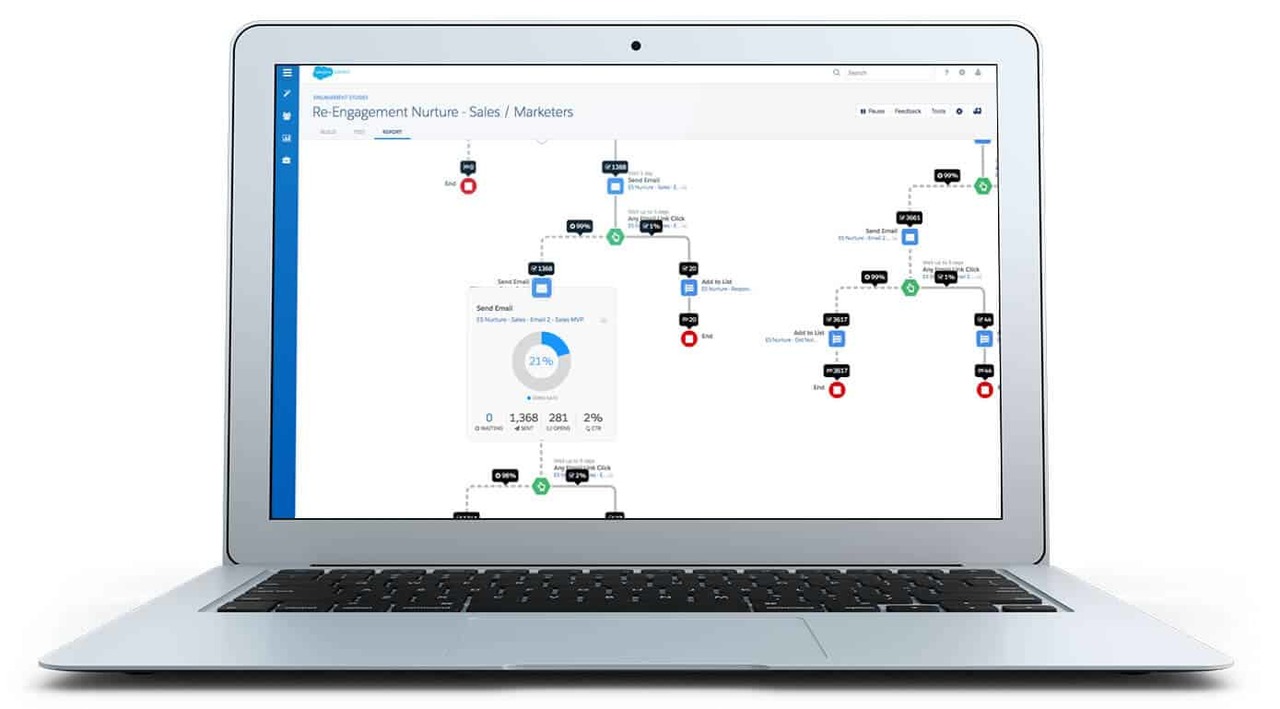 13
ActiveCampaign
ActiveCampaign is an integrated marketing automation, email marketing, and automated sales CRM platform. ActiveCampaign automate your marketing channels using personal and behavioral data about your contacts. ActiveCampaign provides options for what you can automate within each of your automations, update data, initiate campaigns, add branches, add conditions, wait for certain things to happen. It also start or nurture sales processes, track page visits and custom events you define, providing real-time behavioral analysis, easily create segments of your contacts using basic or advanced logic, check against your contacts' data behaviors, interactions, location, history, and much more. You may like to read:…
Overview
• Email marketing
• Marketing automation
• Sales and CRM
• Messaging
• Platinum: 99 $/month
• Diamond: 49 $/month
• Gold: 17 $/month
• Enterprise: 149 $/month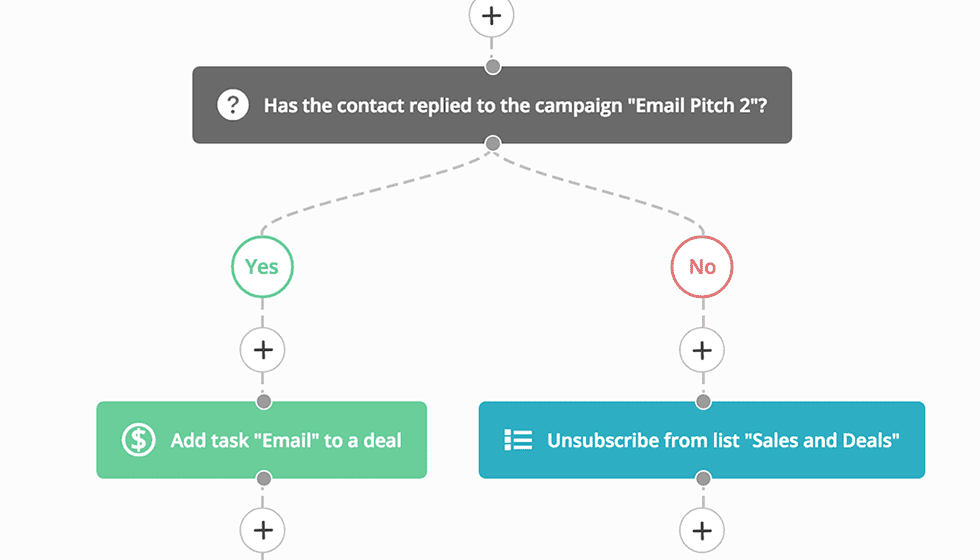 14
SharpSpring
SharpSpring tracks customers even before you know their name and connect the dots and give you where they've been and helps to build powerful automation rules to send them dynamic content or targeted emails based on their interests. SharpSpring build, customize and reorder fields effortlessly with the sleek drag-and-drop editor. SharpSpring dynamic forms autocomplete fields for known visitors to improve conversion and look great on any site with custom CSS. SharpSpring workflows to engage leads at critical points in their unique buying process, and receive a list of the day's hottest leads right in your inbox, and act at just…
Overview
• In-built and 3rd party CRM
• Increase & optimize your marketing efforts
• Behavioral-Based Email Automation
• Dynamic Forms Built for Conversion
• Engage Leads at Critical Points
• VisitorID Identifies More Leads
• Built-in and 3rd-Party CRM
• Platinum: 800 $
• Diamond: 600 $
• Gold: 400 $
• Enterprise: Enterprise pricing
• Silver: Agency plan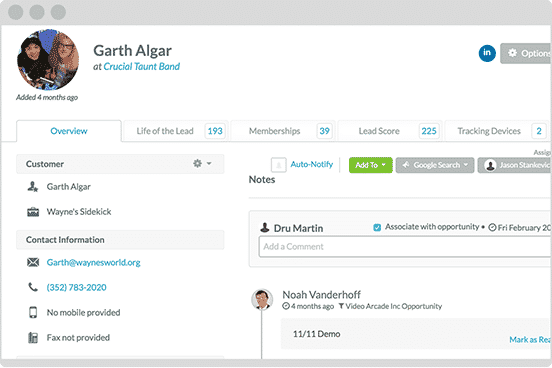 15
TapClicks
TapClicks, is a leading marketing technology company for agencies, media companies, brands, and enterprises. Its integrated Marketing Operations Platform includes sales enablement, workflow and order management, analytics, and automated reporting -- all within a single intuitive user interface available on demand in the cloud. The TapClicks platform leverages over 150 native API integrations with leading marketing and advertising platforms and rounds out its solution with ImportWizard, which enables the platform to use data from virtually any source. Tapcliks offers Marketing Reporting Dashboard and Operations Platform Unified, scalable, end-to-end solution for marketing analytics and reporting, now complete with workflow and order…
Overview
•Dashboard
•Reports
•Analytics
•Orders
•Workflow
•Marketing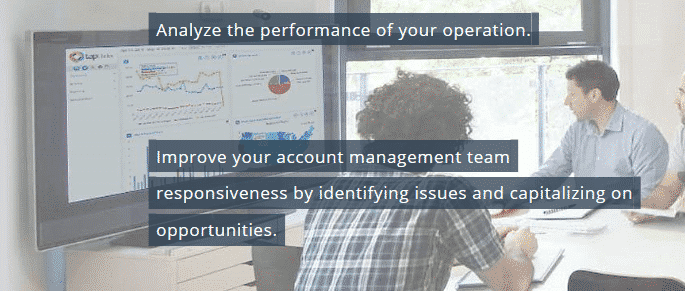 16
Watson Campaign Automation
IBM Marketing Automation formerly Silverpop allows you to effectively manage and nurture your leads, maximizing your marketing budget. Understanding prospect behavior and scoring on that behavior ensures that quality leads make it to your sales team at the right time. Users have access to a visual campaign tool that makes it easy to create marketing programs ranging from simple drip campaigns to those with complex, multiple touch points. Easy to use drag and drop builder makes it very convenient for marketers to build sophisticated campaigns. Marketers can now use Send Time Optimization in their Programs to send messages at the…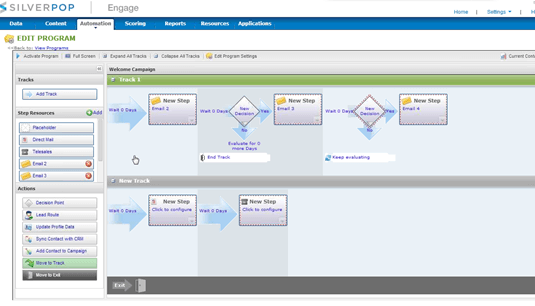 17
IKO System
IKO System's engagement predictive lead features enable full time user engagement with leads that is, emails, phones and social activities etc. Lead advanced insights, dynamic prospecting territory, premium sources of information on leads, work by named accounts, advanced lead/account search and couple of other features all fall under the lead generation dataset features category. Predictive lead scoring technology is also present which allows buying signals; lead scoring on 30m contacts and automatic prospecting list (lead scoring). Integration with CRM/Marketing automation includes export qualified leads, efficient salesforce and Marketo/Hubspot/Pardot alternatives. Customer success is also showcased which represents customer success statistics, advanced…
Overview
•Engage with leads (email/phone/social). Lead advanced insights.
•Dynamic prospecting territory. Premium sources of information on leads.
•Work by named accounts. Advanced lead/account search.
•Buying signals. Lead scoring on 30m contacts.
•Automatic prospecting list (lead scoring). Customer success.
•Advanced project management. Enterprise reporting.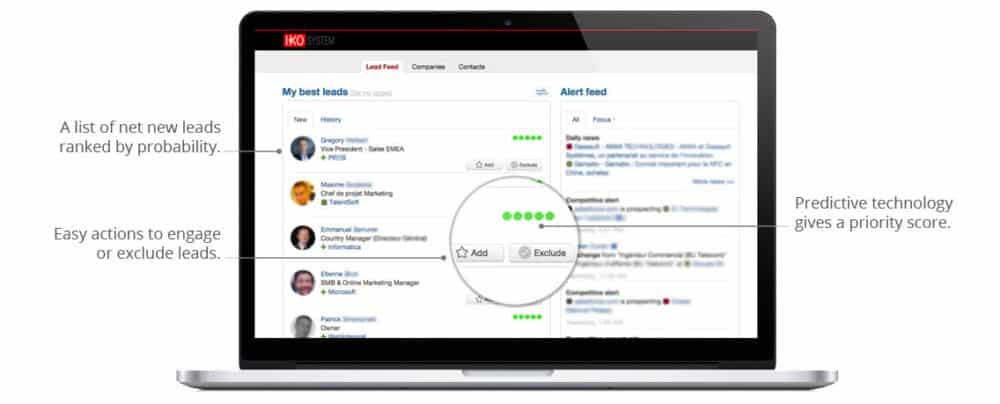 18
Teamgate
Teamgate is Cloud based intelligent Sales Stack platform for small and mid-size teams with power to explode sales. With its simple yet playful interface, Teamgate is a great tool for every salesman. Intelligent aspect of the system gives a salesman most relevant reports and insights. Teamgate contains all necessary tools that might be needed, from lead capturing to sophisticated reporting and forecasting system. Teamgate helps reconcile business, deep analysis & product development skills to create strong product designed to turn its clients companies into businesses with strong sales numbers. Teamgate and Transportation & Logistics provide Google maps integration which target…
Overview
•Sales Management
•Sales CRM
•Sales Forecasting
•Pipeline Management
•Lead Tracking
•Sales Activities
•Intelligent Advice
•Sales Productivity
•Reports and Analytics
•Email Automation
•Customer Management
•Sales Pipeline
•STARTER $9per user/month billed annually
•PROFESSIONAL $22per user/month billed annually
•ENTERPRISE $39per user/month billed annually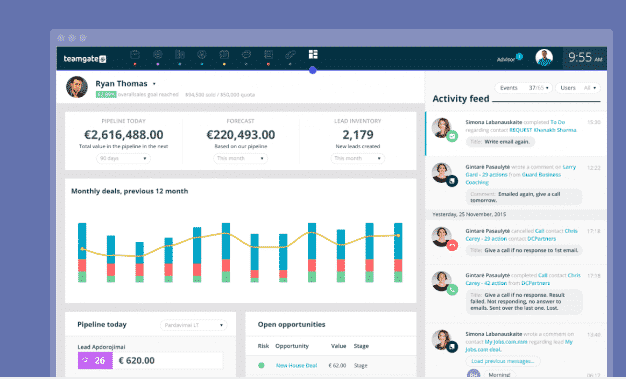 19
Musqot
Marketing Performance Management (MPM) is the analysis and improvement of the efficiency and effectiveness of marketing. This is accomplished by focus on the alignment of marketing activities, strategies, and metrics with business goals. It involves measuring, managing, and analyzing marketing performance to maximize effectiveness and optimize the return of investment (ROI) of marketing. To effectively apply a Marketing Performance Management approach, organizations need some sort of IT solution to support them. The collection and analysis of relevant data is a crucial part of Marketing Performance Management. By thoroughly analyzing the data, organizations can gather actionable business insights to improve the…
Overview
•Superior holistic overview
•Drag & Drop functionality
•Smart filtering
•Multi-format export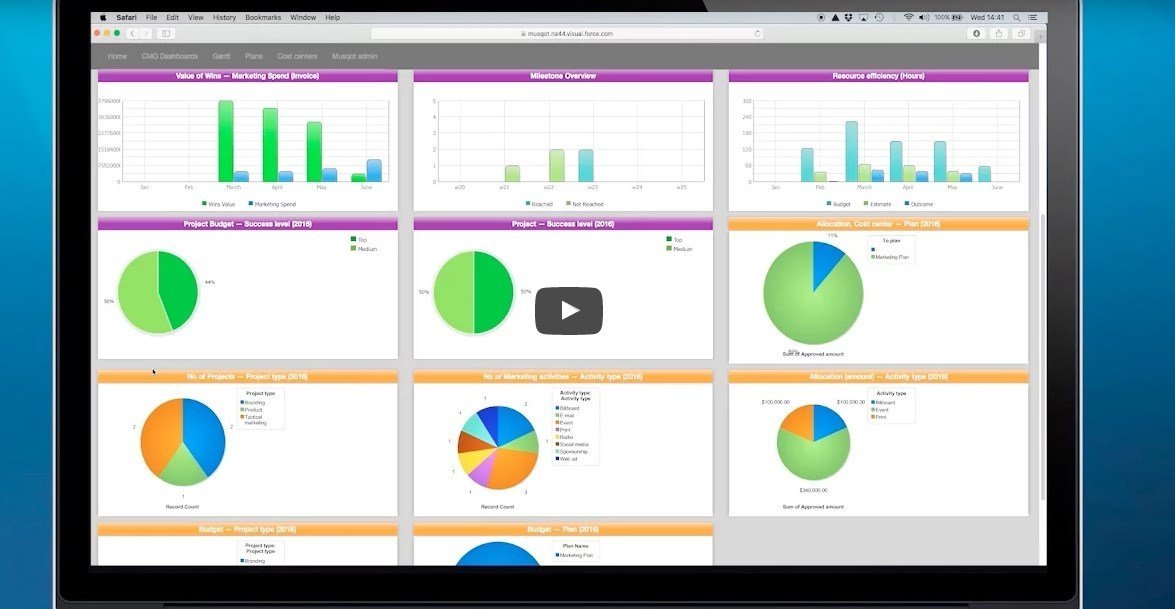 20
Message Cloud
The Message Cloud encompasses everything marketers desire with their digital strategies – enabling them to own every customer moment, with a decisioning engine that creates contextualized messages triggered by customer behavior, not by the marketer's guess. It allows businesses to eradicate conversion kerbing obstacles, through smart and crowd insights, email, personalization and push messaging across any device – all on one powerful platform. SmartFocus empowers businesses to influence their valuable customer journeys, connecting and engaging with them at every treasured touch point. SmartFocus provides actionable customer insights that help businesses quickly recognize different customer segments which would enhance sales and…
Overview
Smart personalization email
Smart personalization web
Smart personalization mobile & instore
Smart insight
Smart content
Channels; email, push, SMS
Free Trial, Subscription Available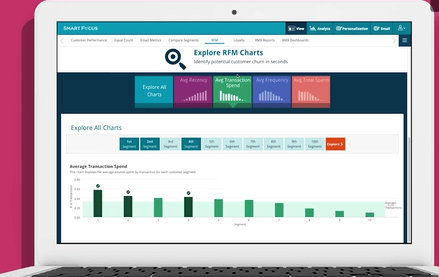 21
Sailthru
Sailthru Customer Retention Cloud helps modern marketers acquire, grow, and retain customers. Sailthru's powerful suite of connected capabilities – including high-performance email, onsite personalization, mobile marketing automation, and unique integrations powering new customer acquisition – drives higher revenue, improves customer lifetime value and reduces churn. Sailthru is a cross-platform marketing company and leading provider of personalized marketing technology. It gives personalized solutions to the customers through mobile apps, data collection, and SMS. Sailthru can help marketers to expand their online retail marketing and to build long lasting relationships with the customers. Sailthru designs or arranges customer experiences according to the…
Overview
Use behavioral data, customer purchase data, it has lifetime view of customer data, it has advanced analytics and marketing strategy support.
Individual pricing plans are provided on request. Subscription pricing model. Free trial available.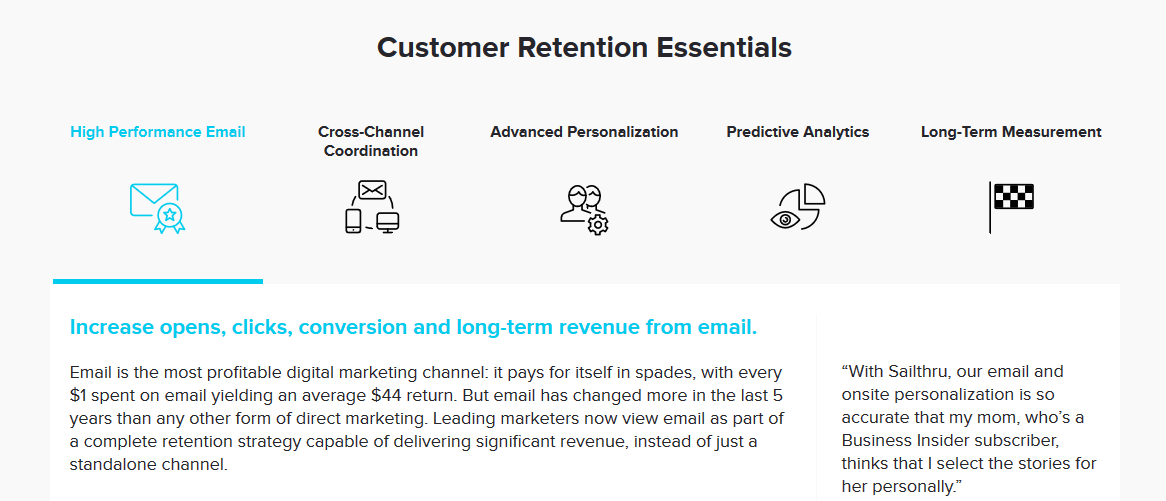 22
BySide
BySide enables businesses to efficiently increase sales, reduce costs and make their customers happy by driving more personalised and relevant engagement. BySide is a unique combination of a real-time Customer Data Management (CDM) and Lead Engagement Platform. It dynamically combines information on customer behaviour throughout online and offline channels and existing in-house customer data (aka CRM, Service platforms and billing systems),creating powerful profiles in real time. Business Analytics - With BySide, all records is real-time and actionable, regardless of its supply: records on visit beginning, frequency and place-based totally accrued immediately by means of BySide, statistics given by means of…
Overview
Business Analytics
Marketing Automation
Customer Engagement
One2One Personalisation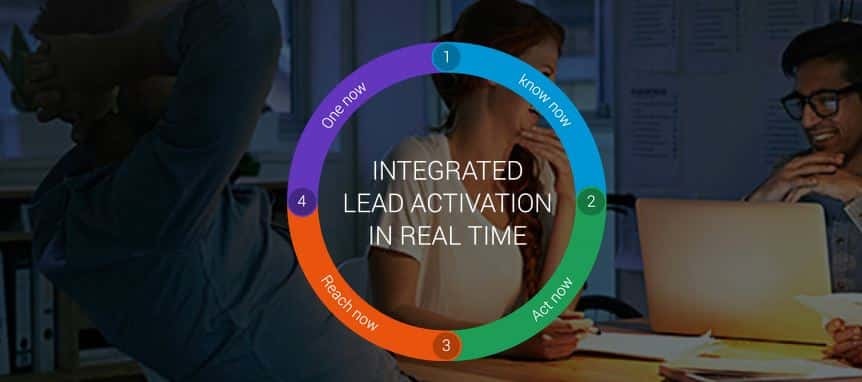 23
Drip
Drip is world-class email marketing automation software. Drip includes email blueprints with entire sets of emails to reach out to new people, share tips through a week-long onboarding, thank people for their order and more. The visual campaign builder has dozens of triggers, actions, and integrations to create automated campaigns with the world's most intuitive workflow builder triggered by behavior so users always send the right message at the right time. Drip's visual workflows are high-converting pre-made automations built for your business. Choose how subscribers enter a workflow, then customize it to adapt to their every action. Drip's main focus…
Overview
• Robust visual automations builder
• Advanced reporting dashboards and data filtering
• Auto resend unopens broadcasts
• Visual Workflows: Have sophisticated branching logic, with actions triggered by delays or events
• Liquid templating
• Tags, custom fields and events: Learn more about subscribers and website visitors
• Basic - $41 / month
• Pro - $83 / month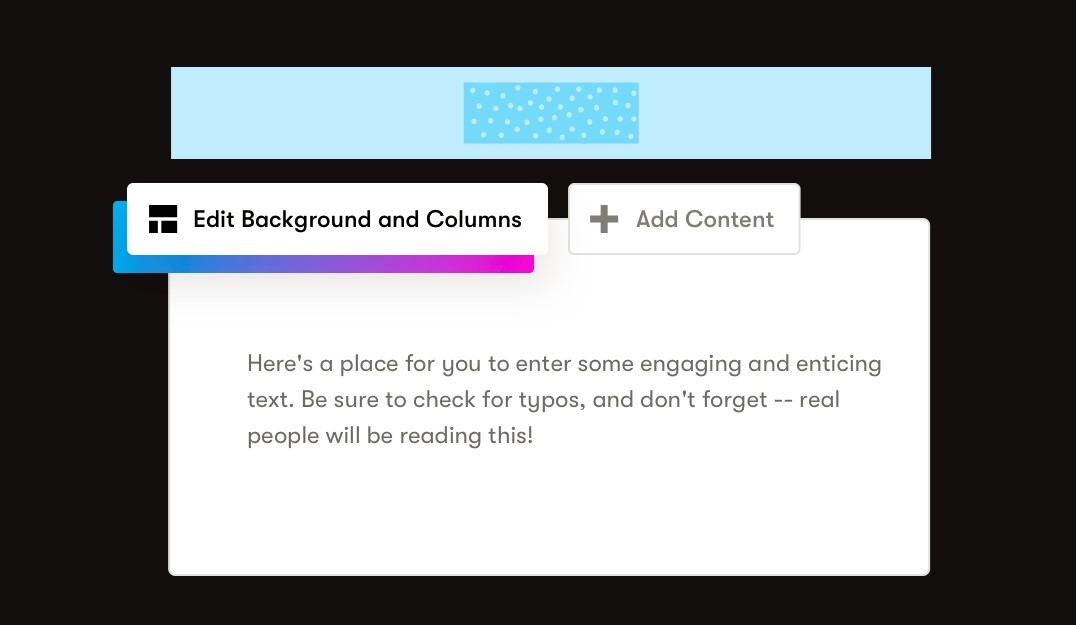 24
Radius
Radius is built for the kind of action that leads directly to results: increased revenue, deepened understanding of who a business's best customers are and how to find more of them, and the kind of real-time, accurate information that keeps an entire organization at the front of the pack. The Radius Business Graph, an external data cloud of over 50 billion dynamic signals on more than 18 million U.S. businesses, makes data increasingly valuable while Radius shows its users how to interpret and refine their CRMs. Moreover, the software integrates seamlessly into existing systems, amplifying what users have without disrupting…
Overview
•Data Science Delivered
•Data Enhancements
•Seamless Integrations
•Intuitive Interface
•Advanced Security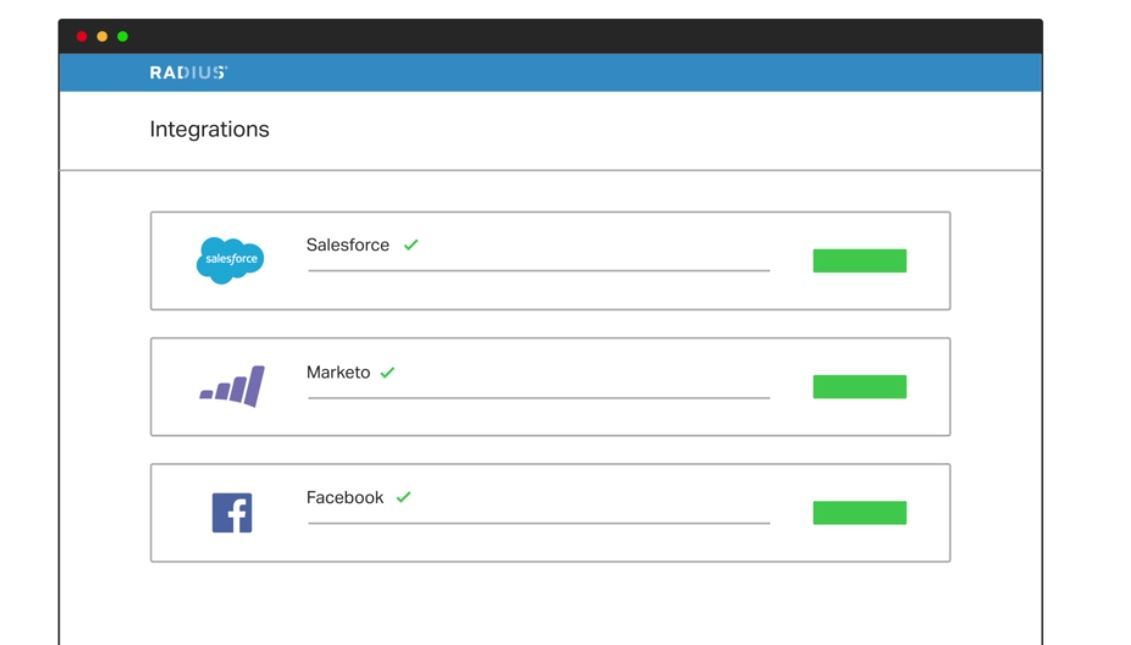 25
Jumplead
Jumplead is a B2B marketing automation software platform designed to combine landing pages, email marketing and CRM into one easy to use and affordable service. Jumplead is a web-based marketing automation solution that assists marketers in email marketing, creating landing pages. It's designed for small to medium sized businesses to target inbound marketing leads. Its main focus is on email marketing which is triggered by website analytics, live chat creates CRM contacts, real-time sales intelligence triggered by contact activity, and landing pages that trigger drip campaigns. On a user's website, Jumplead works to identify and connect with prospects while they…
Overview
• Live chat and messaging
• Visitor identification
• Landing pages
• Email marketing
• Contact management
• Marketing automation
• Marketing analytics
• Pro - $199/month
• Starter - $99/month
• Solo - $49/month
• Explore - $0/month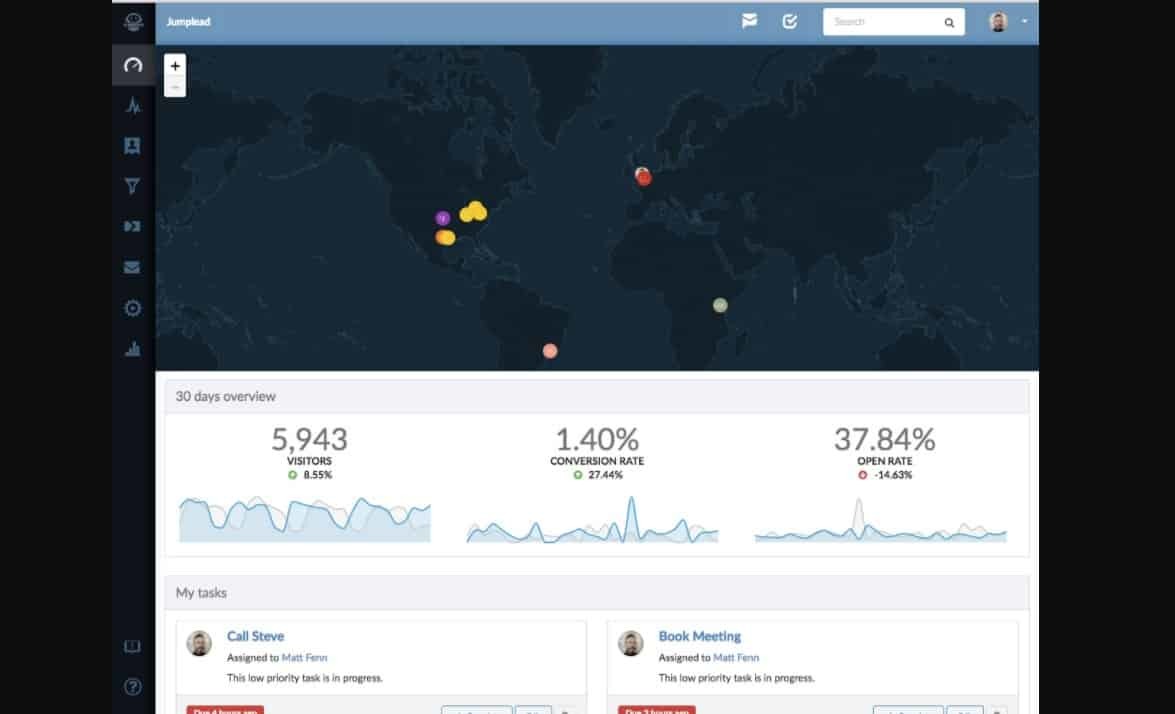 26
ActiveDEMAND
ActiveDEMAND is an integrated marketing platform which enables marketers, agencies and businesses to supercharge their marketing efforts through streamlined campaign management, campaign recipes and attribution reporting while integrating with many other business, sales and marketing applications. ActiveDEMAND offers features such as A.I. Driven Predictive Email Send Times, A/B Testing, Advanced Goal Setting for Campaigns, Anonymous Visitor Tracking, Appointment Scheduling, Automated (Robo) Calling, Automated DNI Pool Analysis, Automated Phone Conversation Analysis, Behavioral Segmentation, Brand Designer, Call Recording, Call Tracking, and Campaign & Keyword Level Call Tracking. ActiveDEMAND's set of capabilities, features, options and tools make it the most versatile integrated marketing…
Overview
• ActiveDEMAND Predictive Send takes the guesswork out of email delivery times and automatically optimizes the process for the best results
• Track whether your marketing campaigns are succeeding in attracting prospects and generating leads
• ActiveDEMAND CallForensics™ analyzes conversations that happen on the call.
• ActiveDEMAND fully-customizable campaign variables personalize one-to-one customer conversation
• ActiveDEMAND's integration with Clearbit Enrichment allows you to update any ActiveDEMAND email contact with over 85 additional actionable data points
• Call Tracking - No Minimum starting price; None Contract Length
• Email Marketing - $15 / month; Monthly or Annually
• Small Business Marketing Automation - $69 / month; Monthly or Annually
• Corporate Marketing Automation - $199 / month; Monthly or Annually

27
Infusionsoft Marketing Automation
Infusionsoft Marketing automation maximize engagement, minimize and workload. With small business marketing automation, you can build relationships and engage your audience with personalized, automated follow-up that helps you market smarter, not harder. Streamline the way you market to new customers by automating lead capture and follow up. Trigger personalized communications based on email sends, opens, clicks, form submissions, and payment history and send timely messages relevant to customers' needs. The Campaign Builder gives you the power to create entire marketing campaigns through a simple drag-and-drop interface, then execute them over and over again without having to repeat the process every…
Infusionsoft Marketing Automation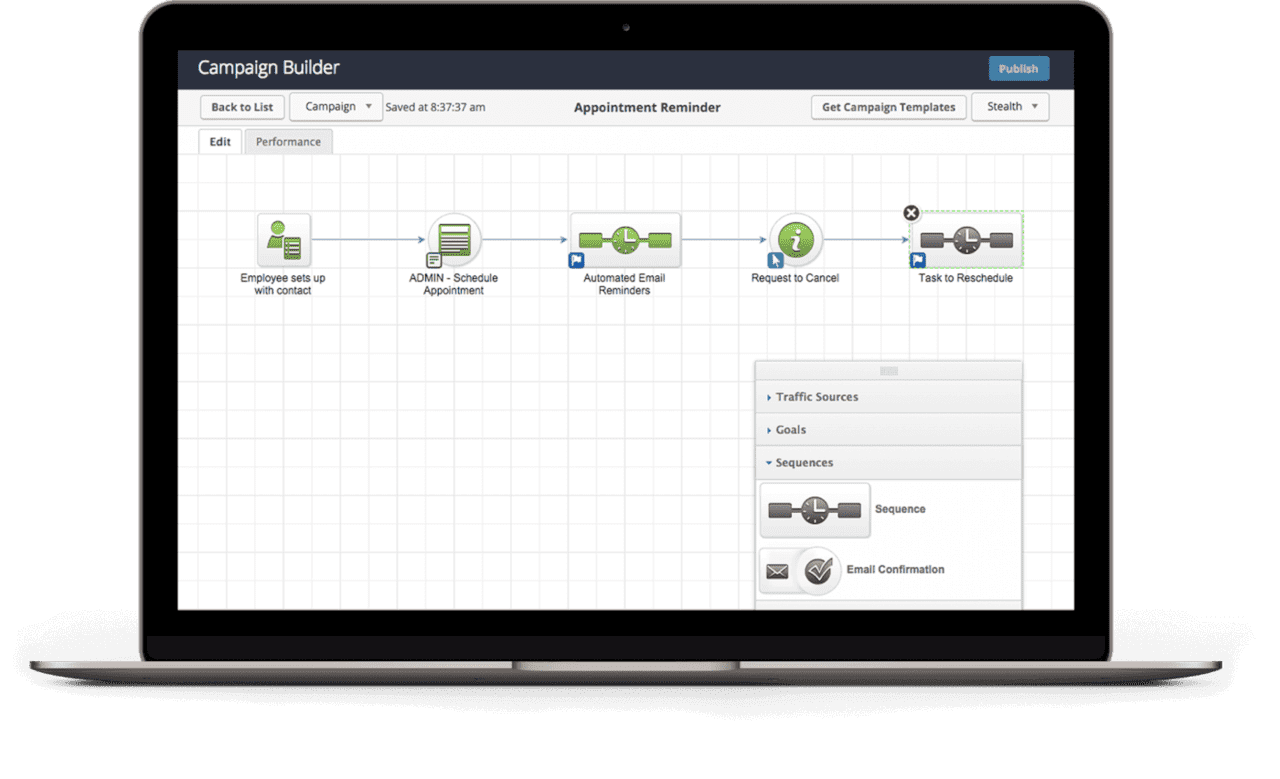 28
Leadfeeder
Leadfeeder is a sales and marketing tool which uses the users' Google Analytics data to show real companies visiting the users' website and also integrates to the users' CRM and email marketing tools to increase sales intelligence. Leadfeeder offers features such as LinkedIn connection, automatic lead scoring, MailChimp integration, Personal email alerts, Leads to your CRM, Free users, Powerful search and versatile filtering. Leadfeeder will send the users' sales leads' visit data to the users' CRM and email inbox so users have the data where users need it. Leadfeeder helps users share B2B marketing and sales data between the users'…
Overview
• Your hottest leads are automatically placed at the top of your lead list so you know where to focus your attention next.
• After sending an email you can monitor what recipients do on your website, then steer conversations using this behavioral intelligence.
• When specific companies visits your website you will be alerted by email which means you can follow up with perfect timing.
• Once you've connected Leadfeeder to your CRM sit back as we automatically send new visits to your sales pipeline.
• Create and save all kinds of powerful feeds like companies from a certain country, an AdWords campaign or to a certain web page.
• 200 Unique companies - $53 per month
• 400 Unique companies - $89 per month
• 1000 Unique companies - $152 per month
• 3000 Unique companies - $269 per month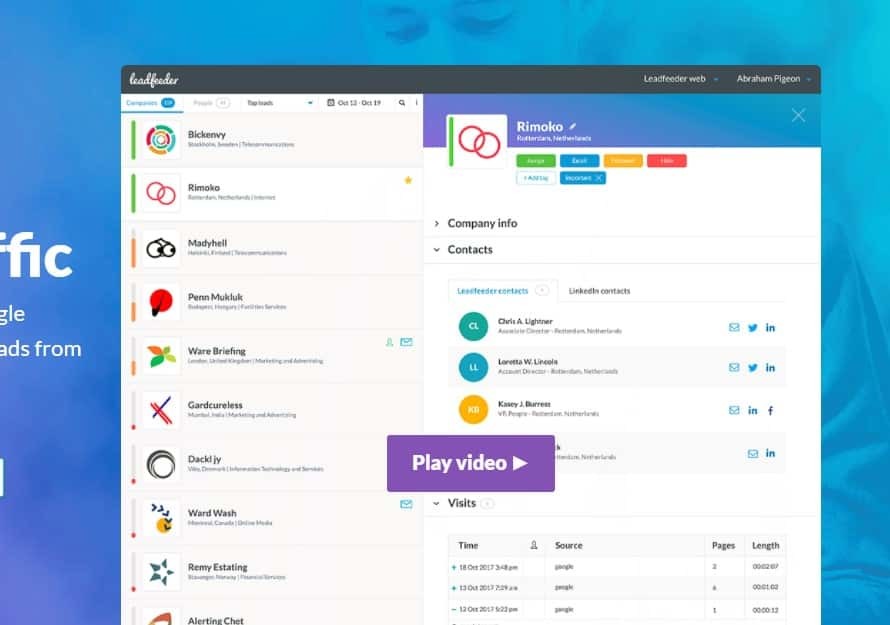 29
eTrigue
eTrigue DemandCenter is a Marketing Automation which makes it easy to create inbound and outbound campaigns, build email and landing pages, track prospect interest and generate higher quality leads, even if the users have little time or resources. eTrigue DemandCenter offers features such as Email Marketing, Google AdWords Integration, Real-Time Lead Alerts, Campaigns, Drag and Drop Campaign Builder, Campaign Statistics, Analytics and Reporting, Webinar Integration, Anonymous Visitor Tracking, Form Builders, and Dynamic Progressive Forms. Managing the users' email lists is easy with eTrigue DemandCenter. Users can segment prospects, build personas and account-based lists for use in campaigns and in alerting.…
Overview
• See the effectiveness of your Google AdWords campaigns with identified visitors
• Forget big forms; present visitors one, or a few questions each time they download
• Send personalized emails directly from the system with smart substitution tags
• Visualize how email will render across devices with Litmus integration
• Automatically respond to form fills immediately, or during business hours
• Starting from $600/mo (1000 database size) to $8,000/mo (1000000 database size)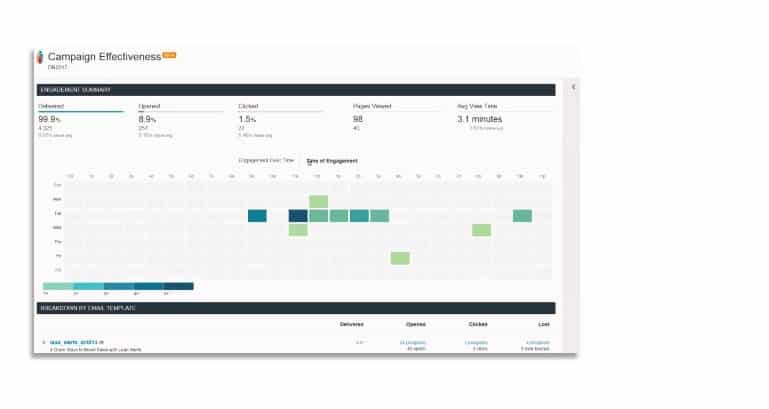 30
Soffront
Soffront offers a Marketing Automation Software which capture leads from everywhere, nurture leads with smart campaigns and automate email marketing with if-then rules. Soffront's Marketing Automation Software offers features such as landing pages to CRM, automated campaigns, drag-and-drop online marketing automation designer, score and rank, email newsletters, real time alerts, A/B test, Scheduled posting to social media and timely, fact-based insights. Soffront's Marketing Automation Software enables users to visually design both click-through and squeeze pages from users' web browser using a drag-and-drop page builder without any programming knowledge. Soffront's marketing automation software includes hundreds of pre-built templates where users can…
Overview
• Create beautiful landing pages to turn visitors into email subscribers or leads.
• Nurture your leads automatically by sending a sequence of educational emails to new and existing leads over a period of time.
• Use a drag-and-drop online marketing automation designer and define "If-Then" rules to take actions based on how your contacts interact with your campaigns.
• Automatically score and rank your leads based on how they interact with your marketing activities.
• Send email newsletters to targeted prospects and customers.
• Basic - $100/month
• Professional - $200/month
• Advanced - $700/month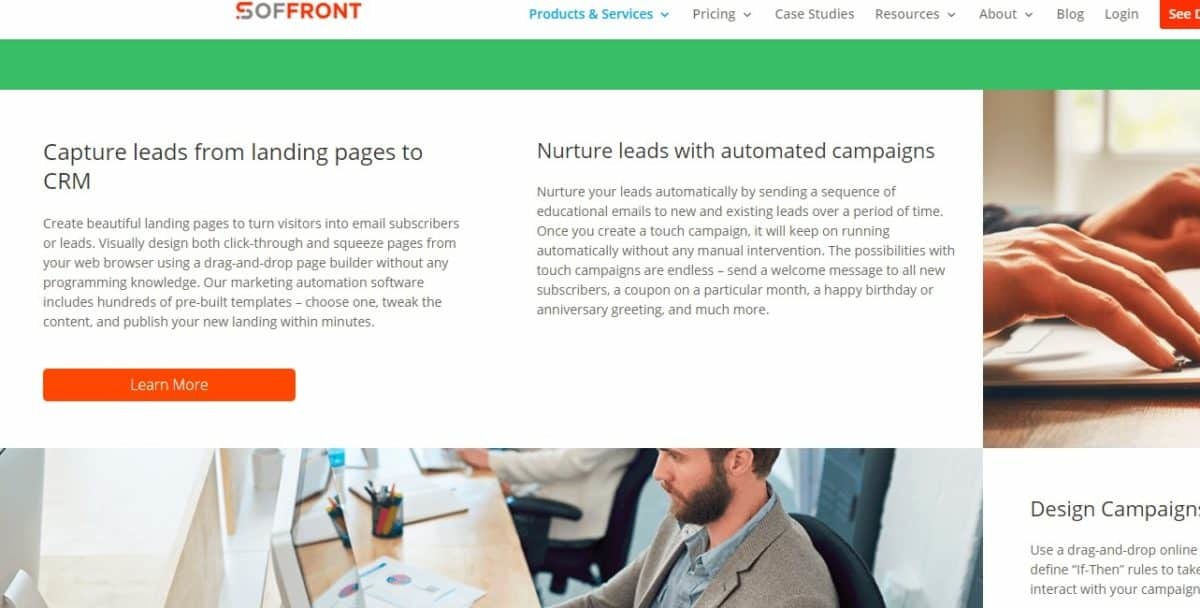 31
SAP Hybris Marketing
SAP Hybris Marketing enables businesses to create a full 360-degree view of their customers' interactions and allow scoring the customers based on their explicit and implicit behaviour across all their platforms. SAP Hybris Marketing enables dynamic capturing and enriching of customer profiles across all the sources into a single master view. Through this, businesses can leverage implicit customer signals to help them to gain insights into customer's real-time intents. Therefore, SAP Hybris Marketing facilitates quick customer engagement and seizing of sales and marketing opportunities quickly. SAP Hybris Marketing enables anticipating of customer behaviours. This is through allowing businesses to discover…
Overview
• Dynamic consumer and customer profiling
• Segmentation and campaign management
• Commerce marketing
• Building loyalty and advocacy
• Marketing planning and performance
• Impactful marketing analytics
• Marketing lead management
• Customer attribution
• Architecture and technology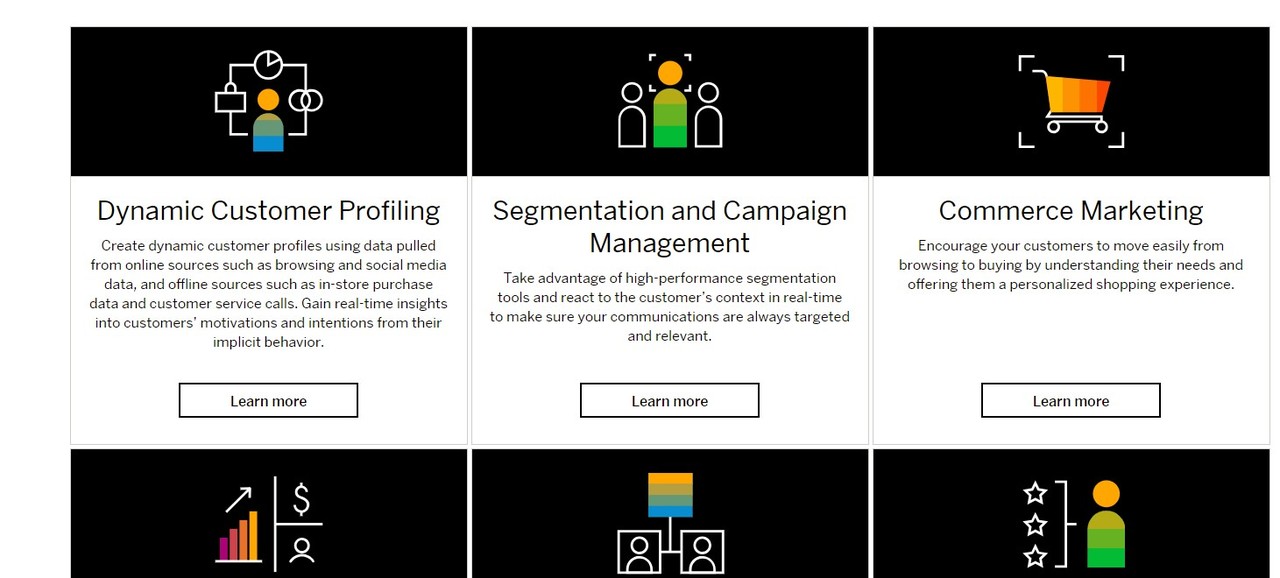 32
Net-Results
Net-Results is a marketing automation software that provides flexible and scalable features on an intuitive interface. Net-Results provides you with features such as lead generation, management of social media, lead nurturing, automation of sales, email marketing, and integration of customer relationship management. The lead generation feature provides an excellent platform for easy building of forms and landing pages by using the intuitive drag and drop builders. The lead generation feature also eliminates the need of having CSS or HTML knowledge. The social media management feature facilitates tracking and scheduling of social media posts directly from Net-Results. The social media management…
Overview
• Automate marketing workflows
• Advanced lead scoring
• Zapier integration
• Marketing dashboards and automated reporting
• File and image asset hosting
• Unlimited custom fields
• Progressive profiling
• Drag and drop email builder
• Drag and drop landing page builder
Annual Billing
• ˃10,000 - $800/month
• 25,000 - $1200/month
• 50,000 - $1600/month
• 75,000 - $2000/month
• 100,000 - $2500/month
• 150,000 - $3000/month
• 200,000 - $3500/month
• 300,000 - $4000/month
• 400,00 - $4500/month
• 500,000 - $5000/month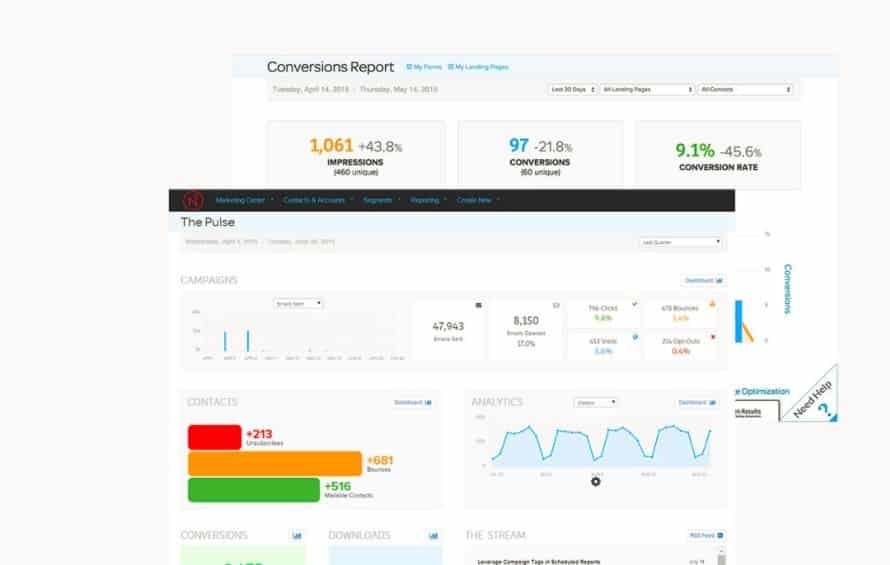 33
Vabout
Vbout is a smart automation platform for any business. The platform allows easy access to powerful email tools, lead intelligence and social media utilities. Create a complete sales funnel to convert your visitors into leads and nurture these leads through intelligent automation. Vbout is built with an array of features that save time, increase efficiency and boost conversions. These include features such as spam check, an online photo editor, one-click social share, pre-headers, public campaign links, personalization, one-click campaign duplicate, and more. Launch perfectly designed email campaigns by simply dragging and dropping templates in Vbout's email builder. The templates are…
Overview
• Built-in A/B testing: Simply test subject lines, sender name/email, templates, copy arrangements, CTAs, or other factors at the click of the button
• White label options: Put logo and branding on the platform, to make it appear proprietary
• Customizable & All-in-one Dashboard
• Ready-made guides help user get started by providing insights and examples of how to lead customers down the funnel
• Smart webhooks include exit and entry pop-ups, sticky messages, poll questions
• Real-time metrics: Reach conversion goals at an accelerated pace
• Basic - $49.95 / month
• Lite - $99.95 / month
• Pro - $299.95 / month
• Ultimate - $499.95 / month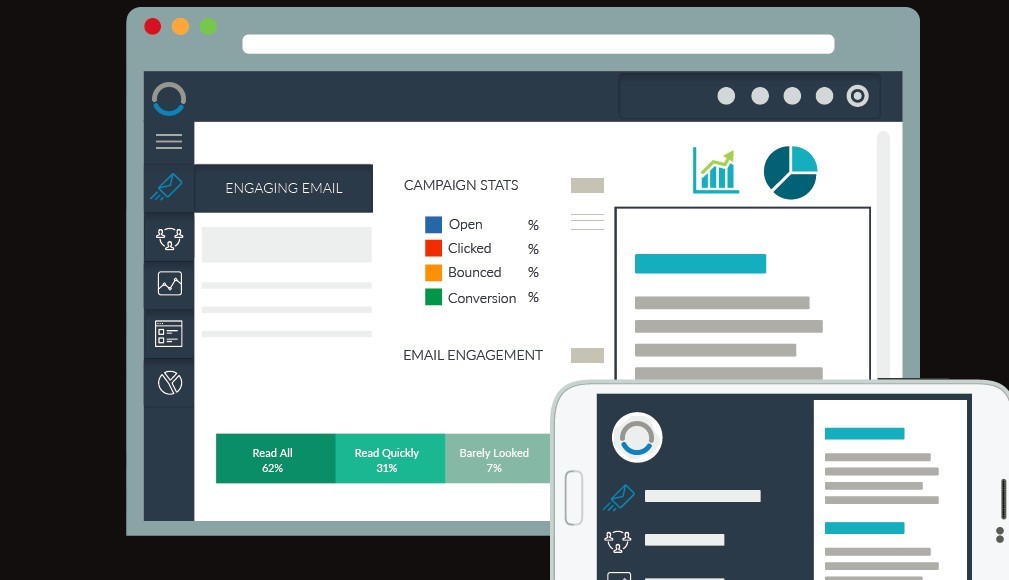 34
Vbout
Vbout is an all in one, powerful and affordable marketing automation software that has built advanced marketing technology tools for marketers to succeed. Vbout offers cutting-edge technology for marketers that allow them to generate and nurture leads. With Vbout, marketers have an excellent platform to create personalized email marketing campaigns for their audience effortlessly, launch perfectly designed email campaigns, manage multiple profiles, analytics, and engagement, and publish and schedule posts on their favorite social media sites. The key features offered by Vbout include email marketing, landing pages, social media, customer journey, and analytics. The contact lists management in the email…
Overview
• Optimize the email performance by understanding what the audience responds to best with A/B testing
• Save time and hassle by integrating the lists into the same system that organizes them, collect analytics, and launches the campaigns
• Create successful sales funnel that is completely automated and helps the conversion rate to skyrocket with drip campaigns
• Respond and monitor multiple profiles
• Increase the email open and read rates with targeted messages for different audiences using Vbout's smart list builder
• Access to an array of modern designs of templates used to launch email campaigns
• Basic - $49.95/mo
• Lite - $99.95/mo
• Pro - $299.95/mo
• Ultimate - $499.95/mo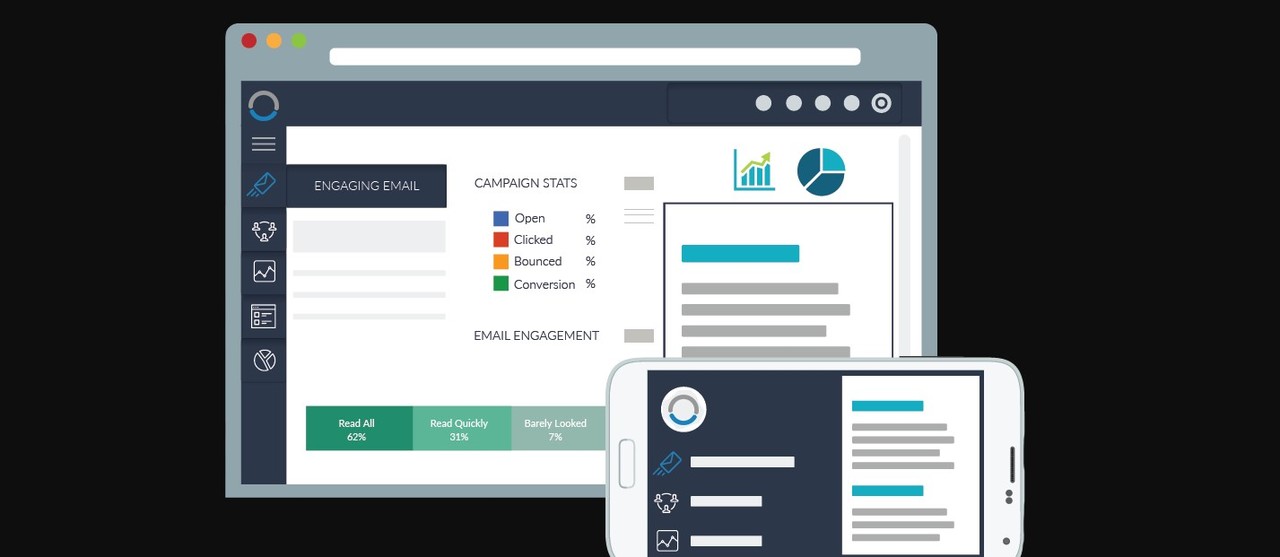 You may like to read: How to Select the Best Marketing Automation Software for Your Business
What are Marketing Automation Software?
Marketing Automation Software provides marketing departments and organizations tools to effectively market on multiple channels online such as email, social media, websites and automate the repetitive tasks. Marketing automation refers to a broad range of automation and analytic tools for marketing especially inbound marketing. Marketing Automation platforms are used as a hosted or web-based solution.
What are the Top Marketing Automation Software?
IBM Unica Marketing Automation, Marketo Engagement Marketing Platform, Act-On, Aprimo, Treasure Data, Exponea, Oracle Eloqua, Beckon , HubSpot Marketing Hub, InsightSquared, Growlabs, Pardot Marketing Automation, ActiveCampaign, SharpSpring, TapClicks, Watson Campaign Automation, IKO System, Teamgate, Musqot, Message Cloud, Sailthru, BySide, Drip, Radius, Jumplead, ActiveDEMAND, Infusionsoft Marketing Automation, Leadfeeder, eTrigue, Soffront, SAP Hybris Marketing, Net-Results, Vabout, Vbout are some of the Top Free & Premimum Marketing Automation Software.
What are the Top Free Marketing Automation Software?
Drip Free, Hubspot Marketing Hub Free are some of the Top Marketing Automation Software Free.
What are the Top Open Source Marketing Automation Software?
Mautic, Leadsius, OpenEMM, SalesAutopilot are some of the Top Marketing Automation Software Open Source.