Specsavers Achieves Clearer View of Financial Planning with Adaptive Insights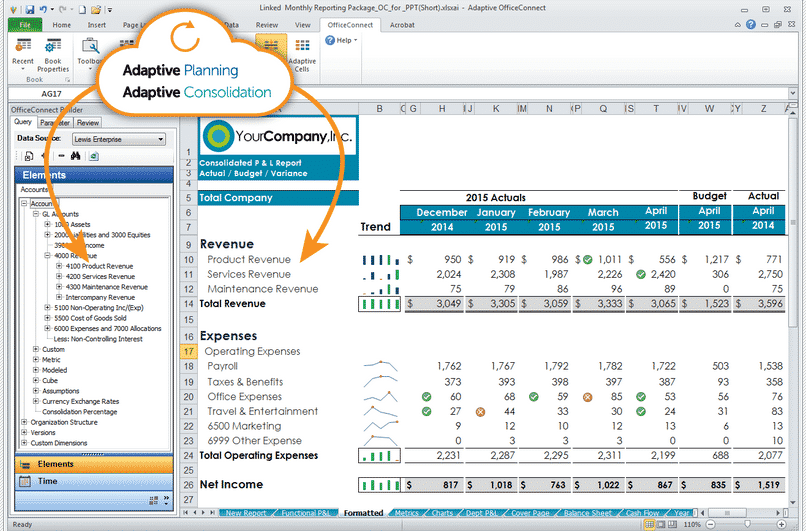 Specsavers Achieves Clearer View of Financial Planning with Adaptive Insights : UK eye care service brand, Specsavers, has achieved success by abandoning Excel spreadsheets and instead adopting Adaptive Insights' flagship Adaptive Planning product. With faster and more reliable budgeting, planning and analytics, the company has made more informed business decisions and created company growth opportunities.
Adaptive Insights has allowed Specsavers increased visibility and accuracy of its overall finances in order to allocate budget far more simply and efficiently; reducing any unnecessary costs, minimizing errors and decreasing the hours spent correlating data from different cost centers. Planning has accelerated by 50 percent, thanks to automated aggregation and pre-population of planning sheets with data from the company's general ledger and ERP systems. Specsavers has also been able to generate monthly tailored reports and model complex 'what-if' scenarios for decisions on hiring and making new investments in business.
"Adaptive Planning offers Specsavers visibility into all of our key performance metrics, all through a single pane of glass. We can rest assured that this information is both accurate and up-to-date, which is vital when we're planning and making predictions," said Matt Buckley, Group Planning and Reporting Lead for Finance at Specsavers. "Adaptive has uniquely allowed us to drive discussions based on a single view of the entire business, giving us the historic picture that allows us to look forward based on real trends, proving that the entire business can now benefit from a more collaborative, better informed and empowered finance team."
Specsavers is the largest and most trusted optician chain in the UK and Ireland, and has a partnership of almost 2,000 locally-run businesses across the world. Previously, the company used Excel spreadsheets to manage its company-wide budgeting and business planning. The process was time-consuming, prone to human error, and did not lend itself to collaboration across different management teams, resulting in difficulty in consolidating its data into a single overall budget. Adopting Adaptive Insights has enabled Specsavers to manage all of its financial data within one robust application instead of across multiple spreadsheets.
"Specsavers' use of Adaptive shows the significant gains that can be achieved with more consolidated, accurate and automated financial planning," said Ian Preston, VP Sales, UK & Ireland for Adaptive Insights. "These gains go far beyond the time savings achieved during the planning process. Specsavers' finance team now has the tools and the information to fundamentally influence the company's business and decision making."
Specsavers is a partnership of almost 2,000 locally-run businesses throughout the UK, Ireland, the Netherlands, Sweden, Norway, Finland, Denmark, Spain, Australia and New Zealand, all committed to delivering high quality, affordable optical and hearing care in the communities they serve. Each store is part-owned and managed by its own joint venture partners who are supported by key specialists in support offices that provide a range of services including marketing, accounting, recruitment, IT and wholesaling, among others.
Adaptive Insights is the worldwide leader in cloud corporate performance management (CPM) and business intelligence (BI). Via its software as a service (SaaS) platform, the company offers capabilities for budgeting, reporting, consolidation, dashboards, and business intelligence that empower finance, sales, and other business leaders with insight to drive true competitive advantage.