How to Select the Best Marketing Analytics Software for Your Business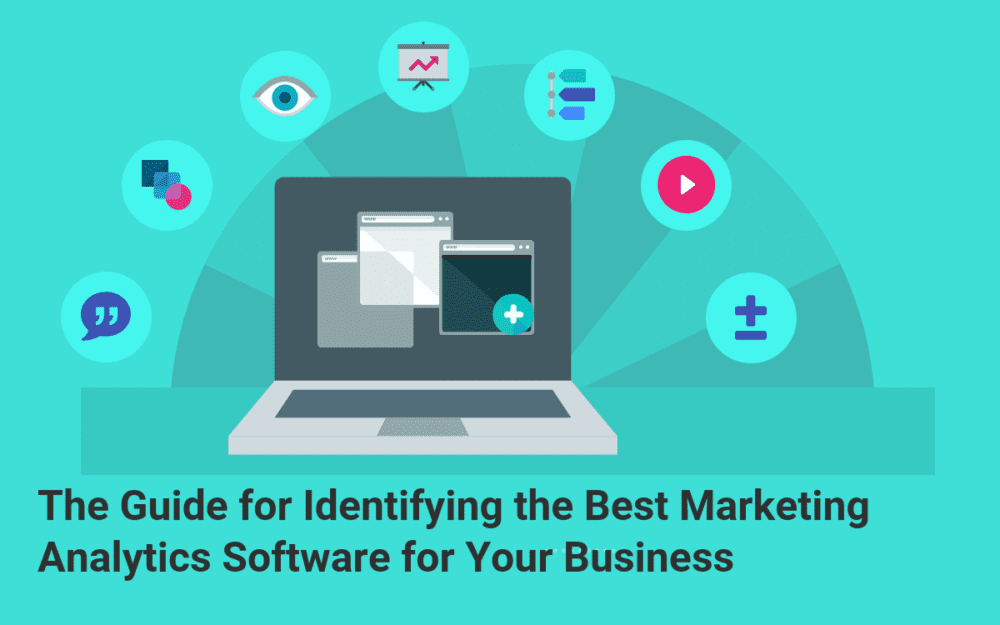 Marketing Analytics Software comprises of tools and processes, which enable an organization to manage, control, measure, analyze, and leverage its marketing efforts by measuring marketing performance.  The software usually merges data collected from various marketing channels in one place, making it easy to compare and analyze the results of your different campaigns.
Marketing Analytics Software gives marketers a holistic view of their marketing programs, which then helps them optimize their marketing campaigns and budgets. Marketing Analytics Software answers your specific questions quickly and efficiently, offering you the most important data at a glance in an interactive dashboard and reports with no programming involved. They also provide higher insights about customers to convert more sales leads.
Businesses can increase their return on investment (ROI) as the software allows enterprises to identify effective marketing methods. Marketing analytics tools not only report on the past marketing campaigns but also have the ability to perform a real-time and predictive analysis.
Other crucial features include the ability to track the entire customer lifecycle, to design visual reports using drag-and-drop functionality, to create comprehensive reports on every marketing channel you use, and to identify trends and suggest the next best action.
Thus, companies deploy Marketing Analytics Software to decide their marketing strategy and elevate their customer interaction method. The right software for you depends on the size, budget, and needs of your organization.
You may like to read: Top Marketing Analytics Software
What are Marketing Analytics Software
Marketing Analytics Software combines all of your marketing data from AdWords, YouTube, Google Analytics, and DoubleClick in one view for holistic analysis.
It helps to discover where your leads come from, what it costs to get them, and how they interact with your website before contacting you. Marketing Analytics Software provides an understandable, unified platform to bring all your marketing data together.
It helps to track your ROI for each marketing avenue you utilise, and optimise your entire marketing stream with effective budgets and strategies. Marketing Analytics Software predicts and recommends effective changes that you could make to improve your ROI. Modelling helps you understand the results of the changes you're planning on making.
What are the Features of Marketing Analytics Software

When you're looking for Marketing Analytics Software, it is essential to have an in-depth understanding of your requirements. The purpose of using the software must be clear to you because this will allow you to identify the exact features you need. Below, we'll take a look at some of the top features you need to look for in marketing analytic software.
You may like to read: Top Marketing Analytics Software
Data Import: Importing functionality allows more easily migration of records or data from similar software you have used in the past.
Data Export: Exporting feature can be used to streamline the movement of data sets and information across systems applications or platforms.
Multi-User: Supports more than just one user account and allows collaboration with colleagues.
Marketing Automation: Automate marketing processes, like outreach emails, chat replies, customer engagement, and others.
Keyword Tracking: Track keywords for Search Engine Marketing (SEM), Search Engine Optimization (SEO) or item tagging purposes.
Lead Management: Manage business leads to enhance sales outreach processes or stay on the peak of prospect inquiries.
Lead Scoring: Automatically or manually assign quality scores to segment sales outreach efforts/business leads to target.
External Integrations: Integrations with other software products or platforms to improve compatibility and efficiency across systems.
Audience Targeting: Allows for audience segmentation, generally tailoring marketing or advertising messages to target specific user groups.
Brand Management: Tracking and promotion features for one or more brands of products.
Conversion Tracking: Track purchases, signups or user actions to measure the effectiveness of advertising or marketing campaigns.
You may like to read: Top Marketing Analytics Software
What are the Key Performance Indicators (KPI's) of Marketing Analytics Software
Key Performance Indicators in marketing are measurable values that indicate how efficiently a company is achieving its key business goals. Businesses use KPIs to assess their success at reaching set targets. Several KPIs need to be tracked to conduct a successful marketing campaign. The following are the top marketing KPIs that your company should be monitoring.
Sales Growth: The best way to judge your marketing's success at the end of the day is by measuring your sales revenue, this will help you know the marketing that does drive sales once you start measuring your sales growth.
Leads: The reasons for having an online presence and marketing strategy is for lead generation, the more leads you get, the more sales opportunities you have and the better are your chances of sales growth.
Lifetime Value of a Customer (LTV): The LTV is a great way to gauge your company's ROI, it helps in determining just how much your customers are worth to you by figuring out all sales your customer have initiated over the course of your relationship.
Cost of Customer Acquisition (COCA): The COCA is the cost associated in influencing a prospective customer to buy your product or service, and once this price is figured out, you can set goals for how many customers you want to acquire yearly and then allocate your marketing budget appropriately.
Website Traffic: The KPIs helps you to know those visiting your site, where they're from and what they did once they visit your site, knowing this helps you anticipate your potential customer's needs.
Email Marketing Performance: Every email marketing campaign should be analyzed, as they are primarily your lifelines to your customer, aside from social media so analyzing your email strategy is multifaceted.
Social Media Reach/Influence: The advent of social media can be a rabbit hole for marketers because it allows you to interact with your current and potential customers, the KPI can measure things such as the number of likes, retweets, shares, etc.
What are the Benefits of Marketing Analytics Software

Marketing Analytics Software is a useful tool in optimizing your performance and allow you to understand how well your businesses are performing, regardless of the industry. The benefits of this software are boundless but the major essential include:
Sharpen social media strategies: Organizations get a balanced external perspective with the added benefits of using social media.
Become more proactive and efficient: This software can help businesses anticipate customer and market behavior and react proactively.
Treat data as a strategic asset: This software helps to balance data access for analytics and privacy and governance to safeguard the interests of both the organization and the customers.
Visualize success across the enterprise: Data visualization delivers analytics within reach of marketers and therefore enables collaboration, sharing, and decision-making to become more efficient and effective.
Mobile-first design: Analytics tools allow functionality across mobile devices enable users to perform work-related duties, analyze and act upon critical data at any time, from anywhere in the world.
You may like to read: Top Marketing Analytics Software
What are the Latest trends in Marketing Analytics Software

Marketing is about strategic selling, getting your things to people who need it or who will need it. This software taps into the right sentiment of the target audience and further help marketing reach the right people at the right time.  So, where is this software going to land the marketing boat? Let's take a look at some of the latest trends in Marketing Analytics Software.
Real-Time analytics to gain more ground: Real-time analytics would expand immensely with geo-targeted promotional and real-time recommendations; individualized marketing people are getting used to real-time more every day.
Use of AI for marketing analytics: Artificial intelligence is collecting more information directly from customers than any survey ever can with advanced machine learning and Marketing Analytics Software gaining a lot more insights.
Focus on customer experience: How many channels you have, seamless customer experience is the key to success in today's competitive market no matter what you are trying to sell and the use of analytics to understand your customer interactions and to increase the effectiveness of customer touch points will keep on growing with time.
Selling with social media analytics: People now use social media for selling rather than marketing utilizing the information displaying an advertisement that will require the customer to go to another browser and open a new webpage.
Growth customer data analytics: The application of customer data analytics to a growing number of information channels will continue to be a trend for a long time to come as the marketers' job of getting to know the customers is becoming easier with this software.
You may like to read: Top Marketing Analytics Software
 How to choose the right Marketing Analytics Software

Marketing Analytics Software is becoming more and more prevalent in many businesses, and more companies are thinking of taking the plunge and investing. However, picking the right Marketing Analytics Software platform can feel overwhelming so when shopping for new analytical tools to strengthen your marketing initiatives, consider:
User-friendliness: Try to get a sense of which one will be easiest to use before making a purchase, read reviews of different platforms to get an idea of how easy will it be for existing and new employees to use.
Scalability: Scalable means the dashboard can expand as your data projects grow and become more resource-intensive, the software should feature a rich platform that offers flexible APIs for out-of-the-box compatibility and custom integration with essential systems.
Pricing: Consider how much you're willing to spend on this software as most analytics platforms are subscription-based and priced according to business size.
Easily customizable: A marketing software dashboard should display your business priorities and role in all departments while some specific higher-level data should be a limited to executives or managers using role-based access controls.
Functionality: Check if the modules available in the software meet your business requirements, the feature or modules you should be looking for include: Insight and analysis, extract and filter data, segmentation, and modeling, automation, forecasting strategy and results visualization, etc.
Security: Security of your data is an essential aspect, business data and any sensitive information you hold must be stored securely and protect from loss or theft.
Here are the trending and the top rated Marketing Analytics Software for you to consider in your selection process:
You may like to read: Top Marketing Analytics Software
Top Marketing Analytics Software
PAT Index™