Review
NinjaCat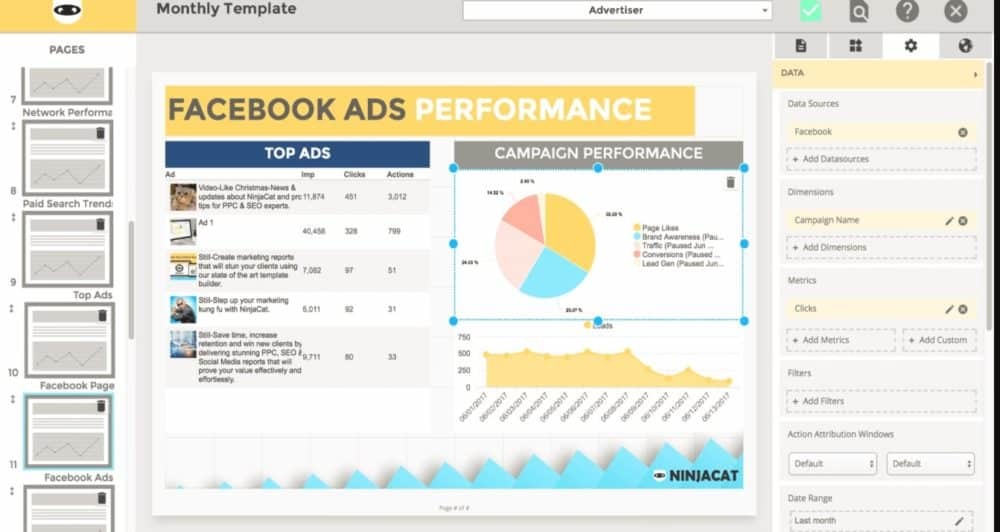 Overview
NinjaCat is an all-in-one reporting platform which provides the user with the capability to deliver PPC, SEO, social and call tracking reports to the user's clients in one user-friendly PDF or dashboard
Marketing Analytics Software
• Connect over 750 data sources
• Report your PPC progress to your clients
• Showing and communicating the progress of your SEO efforts
• Monitoring the budget spends for all your clients
• Get all the credit for the calls your efforts generate
Small (<50 employees), Medium (50 to 1000 Enterprise (>1001 employees)
What is best?
• Report your PPC progress to your clients
• Showing and communicating the progress of your SEO efforts
• Monitoring the budget spends for all your clients
• Get all the credit for the calls your efforts generate
What are the benefits?
• Automate Your Client Reporting
• Track Phone Leads
• Monitor Budgets & Campaigns
• Win & Retain Clients
• World Class Support & Reviews
NinjaCat is an all-in-one reporting platform which provides the user with the capability to deliver PPC, SEO, social and call tracking reports to the user's clients in one user-friendly PDF or dashboard.
NinjaCat offers features such as integrations, PPC Reporting, SEO reporting, budget monitoring, call tracking, dashboards and campaign monitoring. NinjaCat can help save the user hundreds of hours by automating the user's reporting cycle, increasing retention and winning new clients by delivering stunning, effective PPC, SEO & Social Media reports that will tell the story of success to the user's clients.
NinjaCat also integrates with most 3rd party call tracking providers such as CallRail, CallTrackingMetrics, Tru Measure and Marchex so the user can get credit for all the calls the user is generating with NinjaCat's built-in call tracking service designed specifically for agencies. NinjaCat helps digital marketing agencies automate PPC strategy type of reports and create stunning, eye catching PDF's.
NinjaCat helps leading digital agencies produce incredibly effective, stunning SEO reports in less time. NinjaCat brings all the user's client's budgets centralized where the user could immediately see who was in danger of overspending and see which clients are hitting set KPI's into one easy to understand dashboard.
NinjaCat allows the user to monitor changes to current pacing as well as compare performance of different periods, allowing the user to identify when a campaign needs attention or when to share good news with the user's clients. Users can also make NinjaCat "their own" platform by adding the user's logo & colors to the user's reports and dashboards.