How to Select the Best Flowchart Software for Your Business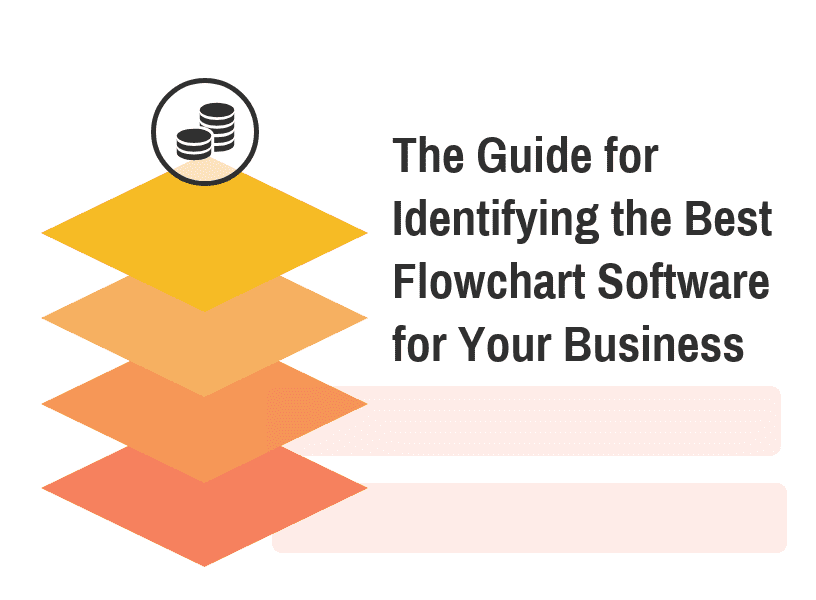 Business spend a lot of time in developing business processes and creating presentations. In an organization, you may be required to design and regularly update network diagrams, organization charts, wireframes or the process-flow diagrams which may also consume much of your time. A flowchart is a pictorial representation depicting the flow of steps in a program, people in an organization,or pages in a presentation.
Flowcharts provide a bird's-eye view of the structure and sequence of a lesson. Elements are represented by simple icons (circles, rectangles, diamonds, or other shapes), with lines and arrows representing connections between events and the direction or order in which they occur.Flowchart helps to anticipate a problem, analyze the problem, plan the solution, and solve the problem.
With a Flowchart Software, you have the necessary tools that you require to efficiently design professional diagrams that visually communicate complex ideas and processes to your team members, in-house staff, and remote staff. The Flowchart Software also gives you the tools that you need when sharing charts and presenting your diagrams to your external clients who are interested in purchasing your product or service.
What are Flowchart Software?
Flowchart Software is a program used to draw diagrams in a type of a flowchart which is made up of boxes and arrows. The Flowchart Software is also used to design and document simple processes as well as visualizing the process and helping users to better understand a process. You can also use the Flowchart Software to find flaws and bottlenecks in a process.
A Flowchart Software provides four types of flowcharts they include document flowcharts, data flowcharts, system flowcharts, and program flowcharts.
The document flowcharts show the controls over a document-flow through a system. The data flowchart shows controls over a data flow in a system. The system flowcharts show controls at a physical or resource level while the program flowcharts show the controls in a program within a system. Flowcharts are used to visually represent and organize the steps used to write the program.
It is typically a diagram showing the flow of the process. Flowcharts are commonly used by programmers. The flowcharts help them to give robots instructions when writing a code that is both sequential and specific. The flowcharts produced by a Flowchart Software uses symbols, text, pictures, or a combination of these elements to visually portray the steps in a process. When creating a flowchart using a Flowchart Software, it uses some set of standard graphic symbols. The symbols represent a sequence of coded instructions fed to a computer to enable it to perform specified arithmetical and logical operations.
You may want to review Free, Open Source and Top Flowchart Software
What are the types of Flowchart Software?
The types of a Flowchart Software arise from the perspective of different user groups that is system analysts, managers, and clerks. All these types of Flowchart Software focus on a certain kind of control rather than on the entire flow. The types of Flowchart Software include;
Basic Flowchart Software: Used for mapping out new projects. It is useful for a new project that will involve a sequence of steps that involves decisions.
Swimlane Flowchart Software: It provides the internal and external requirements for documentation of a process in a business. It is also useful for standard reporting. Some of the process documentation the swimlane Flowchart Software helps in are; BPM automation, ERP, company sales, and compliance with legislation and regulatory bodies.
Event-driven Process Chain (EPC) Diagram: It has a unique library of symbols that cover a wide range of activities. The EPC diagram helps in modeling simple or a complex set of tasks to ensure a predictable and consistent outcome
Workflow Diagram: It focuses on human task orientation, process integration or both. The goal of the workflow diagram is to design a consistent and quality output on the basis of a standardized set of procedures.
Process Map: It is a detailed flowchart used for auditing processes such as process improvements, breaking down of processes into smaller steps, and examining the processes closely.
Data Flow Diagram: It provides an efficient way of bridging the communication gap between the developers of a system and its users. It relatively uses few symbols and connectors.
What are the features of Flowchart Software?
Flowchart Software enables you to see the big picture by allowing you to translate your business process into easily understood pictures. The features offered by a Flowchart Software help you to map out the required sequences and provide you with the ability to isolate each activity. These activities include assessing, refining, and updating the steps without having to update the cross-functional flow diagram.
A flowchart wizard: It enables you to pre-layout a flowchart content on a spreadsheet and converts into a flowchart. The flowchart wizard also allows you to format the shapes, apply multiple styles, and automatically route the connector lines. The feature can also insert a link to a URL or an external document as well as detect hyperlinks.
Shape and connector panels: The feature allows to add shapes and lines as well as editing a flowchart. The feature provides a convenient way of adding formatted lines and shapes.
Template generator: It allows you to create a re-usable Excel template containing symbols and a title block. It also lets you select title headers and footers.
Symbol key generator: It provides you with an excellent platform for designing a symbol key after creating a flowchart. The symbol key enables you to identify the meanings of each of the flowchart symbols used in your process diagram.
Split connectors: They offer you with an ideal way for splitting a line into two lines ending in labeled nodes. The feature is useful for lines that start from one part of a flowchart to another.
Flowchart editor: The feature allows you to load all the shapes you are going to use on a sheet into an editor form. The editor form allows you to edit the text font, edit the individual shape types, and edit the styles. Once you apply the necessary changes, the flowchart editor resizes the shapes used to a required size.
Selection tool: The feature acts as a filter. It enables you to filter your selection of shapes by shape, type or select the shapes individually.
Automatic capitalization: It enables you to have a faster entry of data by automatically applying sentence capitalization to the added texts.
You may want to review Free, Open Source and Top Flowchart Software
What are the benefits of Flowchart Software?
The purpose of a Flowchart Software is to provide flowcharts that offer people with an excellent platform for having a reference point or a common language when dealing with a process. Each flowchart created by a Flowchart Software is useful to one particular process and typically makes it easy to communicate a process without any technical jargon.
Instant communication: Teams in an organization can use the flowcharts provided by a Flowchart Software to simplify clarification of progress. Managers can also use the software to help their team members to instantly understand what they should do in every step.
Visual clarity: It helps stakeholders in a company to easily understand any implemented workflow while finding out which steps should be improved and the ones that are unnecessary.
Effective coordination: Resource schedulers also benefit from the software as it offers them with the ability to sequence events and reduce the chances of overburdening their team members. It also helps them to eliminate the unnecessary steps to enable them to save time and resources.
Effective analysis: With a Flowchart Software it is easy to analyze problems more effectively. It is because a Flowchart Software identifies the type of action required in each step of the process. It also makes it easy to analyze process since it uses symbols that are easy to understand. Some of these symbols even show the type of media in which the data is stored. For instance, a rectangle with a curved bottom shows a paper document in a process while a cylinder symbolizes a computer hard drive.
What are the latest trends of Flowchart Software?
The Flowchart Software has been around for a while as they helped people to visually communicate things that are not easily communicated by words. As technology is improving, so is the Flowchart Software. There are three latest transformational trends in the Flowchart Software that continue to make it easy for people to ensure quality and speed when delivering a graphic design to other people. These latest transformational trends include;
IT automation: This process will allow the Flowchart Software to be linked to other software. By linking, it makes the Flowchart Software to be self-acting and be able to operate automatically.
Cognitive technology: It is a development in the Flowchart Software based on artificial intelligence disciplines. The Flowchart Software will have the ability to imitate how the human brain works and operates. By this technology, it would make the Flowchart Software more intuitive and easy to use even without the knowledge of flowchart designing.
Application modernization: The Flowchart Software is modernizing its applications by streamlining some of the back-end and front-end processes using the latest technologies. It is a trend that will continue to grow and gain popularity by many Flowchart Software providers. The use of cutting-edge tools and technologies will also optimize the value of businesses.
How to Select the Best Flowchart Software for Your Business
The Flowchart Software provides an effective and efficient way of showing the steps in a process. However, the flowcharts generated can sometimes be confusing and even misleading if not properly prepared. The essential thing for you to consider when designing a flowchart is that it should be easy to understand. A good Flowchart Software would certainly help you to achieve this. The following are the factors to consider when selecting and buying a Flowchart Software.
You may want to review Free, Open Source and Top Flowchart Software
Reduce Time Taken: Your ideal Flowchart Software should make it easy for flowcharting while only consuming little time. In saving time, the Flowchart Software should allow you to create flowcharts by just typing and enable you to assign keywords that generate specific flowchart symbols, therefore, eliminating the need of drawing the entire flowchart symbol.
Customization: The Flowchart Software that you select should have the ability to span multiple pages in a single flowchart canvas and allows you to customize the list of your favorite symbols.
Friendly flowcharting environment: The purpose of a Flowchart Software is to make a process easily understandable by other people. Therefore, it should provide you with a friendly flowcharting environment that eliminates most of the frag and drop steps. It should also allow you to generate a flowchart on the fly by simply copying the process steps from a word document.
Automates most of the flowcharting steps: When some of the steps are automatically completed, it makes it quicker for you to design a flowchart. Some of the steps that can be automated can be creating a decision symbol by typing a '?', creating an off-page connector reference by typing numbers, creating an on-page connector reference by typing all caps, and inserting a flow line connector by typing 'FL'.
Ease of editing a flowchart: The software should allow you to easily edit a flowchart without having to change the entire flowchart. In editing flowcharts easily, the Flowchart Software should allow you to insert or delete columns or rows for fast-repositioning, move symbols with the keyboard arrow keys, toggle between shapes by using the tab key and keeping the connectors attached when you move the shapes.
Here are the trending and the top rated Free Flowchart Software for you to consider in your selection process:
Free Flowchart Software
PAT Index™
Here are the trending and the top rated Flowchart Software for you to consider in your selection process:
Flowchart Software
PAT Index™