How to Select the Best Healthcare Analytics for Your Business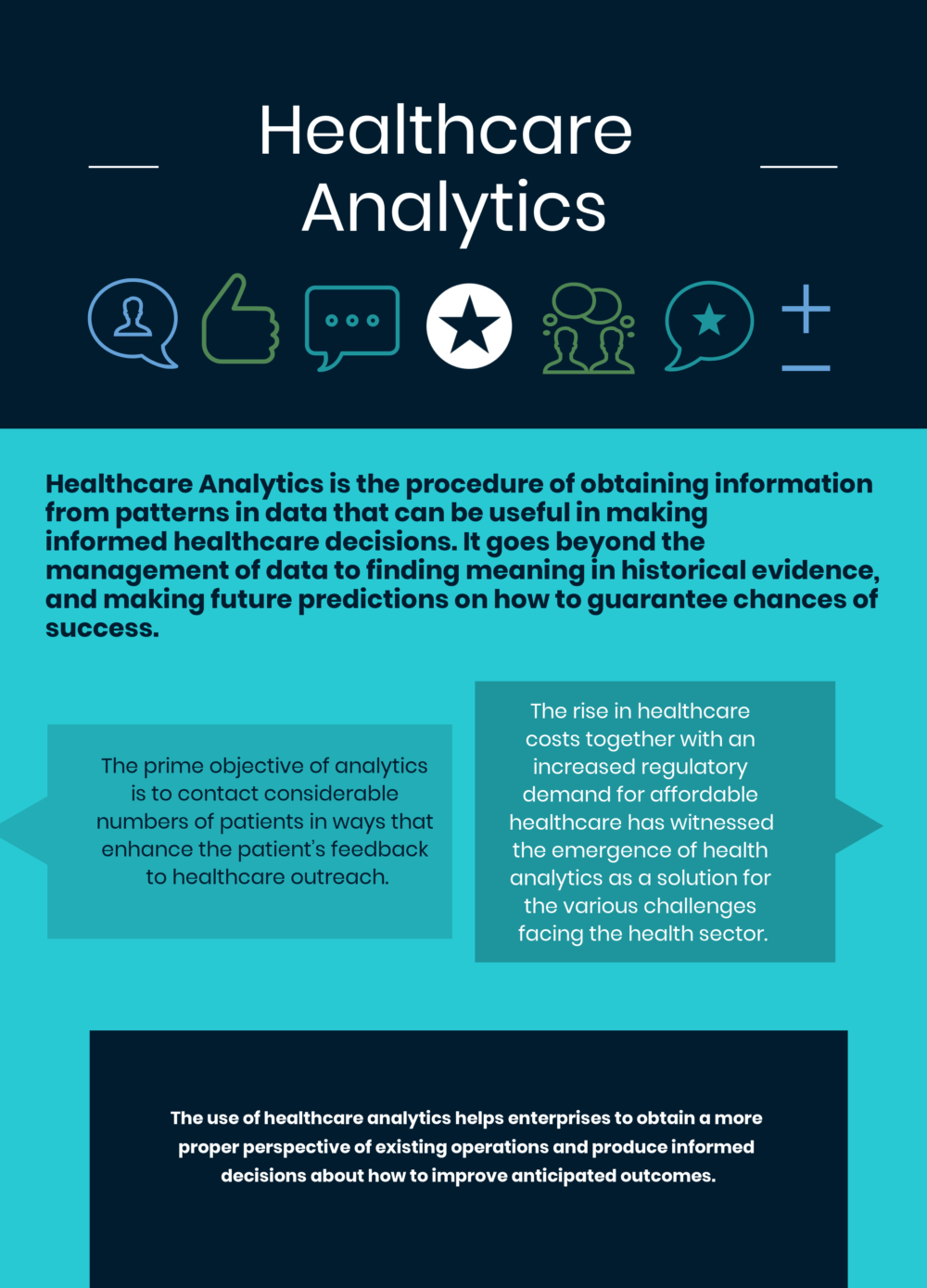 Healthcare Analytics is the procedure of obtaining information from patterns in data that can be useful in making informed healthcare decisions. It goes beyond the management of data to finding meaning in historical evidence, and making future predictions on how to guarantee chances of success. Health systems can be useful in gaining insights into various issues specifics to healthcare like revenue, population health initiatives, patient and healthcare provider engagement and risks.
Healthcare Analytics is the use of data, statistical algorithms, and machine learning techniques to extract meaningful insights and knowledge from data in the healthcare domain. The goal of healthcare analytics is to improve the quality of patient care, reduce costs, and support evidence-based decision-making. Healthcare analytics can be applied to various areas such as population health management, clinical decision support, resource utilization, financial performance, patient outcomes, and more.
The process involves collecting and integrating data from various sources such as electronic health records, claims data, and patient-generated data. Then, the data is analyzed using techniques such as descriptive, predictive, and prescriptive analytics to uncover insights and inform decision-making. Healthcare analytics enables healthcare organizations to identify patterns, trends, and relationships in data, leading to better patient outcomes, improved operational efficiency, and reduced costs. By leveraging the power of healthcare analytics, organizations can create a data-driven culture, supporting evidence-based decision-making and continuous improvement.
The use of healthcare analytics helps enterprises to obtain a more proper perspective of existing operations and produce informed decisions about how to improve anticipated outcomes. It is however shocking to note that most of the data collected remains unused therefore denying healthcare providers; the opportunity to produce actionable clinical data that can improve the efficiency and quality in healthcare.
To completely make use of this data, healthcare providers need to strive to establish a culture that places a premium on informed planning and decision making. Data-based insights from different sources can be useful in providing vital feedback to healthcare providers.
The rise in healthcare costs together with an increased regulatory demand for affordable healthcare has witnessed the emergence of health analytics as a solution for the various challenges facing the health sector. The prime objective of analytics is to contact considerable numbers of patients in ways that enhance the patient's feedback to healthcare outreach.
You may like to read: Biggest Challenges facing Healthcare and how to resolve them, All About Healthcare Industry: Key Segments, Value Chain, Needs and Competitive Advantage, Selecting the Best Healthcare Business Intelligence Software
How Healthcare Analytics can help Your Business?
Technologies and Innovation: Technology and innovation have for the past century been applied in provision of healthcare. These have led to improvements in the life expectancy and quality, improved diagnostics and efficiency of healthcare systems. Innovations in healthcare are majorly concentrated on provision of modern services, new technologies and improved service delivery.
Genomics and new biotechnologies continue to be the dominant components of healthcare innovation. All these advances will ultimately contribute to improvements in the quality of life and a reduction in healthcare costs.
Globalization and Economic Decline: The growth of the global service sector and globalization results into increased completion, economic difficulties and adoption of austerity measures such as restructuring and downsizing of healthcare professionals. The increase in costs of care as well as austerity measures strain the ability of the health system to provide high-quality services.
Hospitals are also forced to close due to difficult economic times, these results in fewer hospitals being available close to the patients. Reduction in staff also strains the existing workers therefore resulting in provision of substandard services.
Improving Outcomes: Globally, the healthcare industry is moving away from volume to value, this scenario therefore places premium on clinical outcomes. Estimates show that healthcare related data is increasing at 35% per annum. Advance analytics can aid healthcare provides to access data to improve health outcomes. Evidence-based approaches to collecting data can be deployed to enable appropriate intervention for the medic at the point of care.
Preventive Care: The global trends require health providers to analyze all the information they access. This information is significant in mapping the population, identifying patients at risk and carrying an analysis of the gaps in the provision of healthcare. Educating patients on their health conditions helps in the establishment of preventive care initiatives.
Empowering Patients: Healthcare consumers need being made responsible for their own health through the provision of timely evidence driven insights. The objective of empowering patients is to enable them develop self-care and awareness by helping them understand they are major stakeholders in their healthcare decisions. Patient empowerment deals with placing the patient at the center of health services in order to derive maximum benefits of the services. Patients are therefore involved in the journey of improving healthcare.
You many want to review the Top Open Source, Free and Top Dashboard Software
Examples of Healthcare Analytics
Health care analytics is a term used to describe the healthcare analysis activities that can be undertaken as a result of data collected from four areas within healthcare such as claims and cost data, pharmaceutical and research and development data, clinical, and patient behavior and sentiment data .Health care analytics allows for the examination of patterns in various healthcare data in order to determine how clinical care can be improved while limiting excessive spending. Here are some of examples of Healthcare Analytics for new applications that were realized by customers in healthcare sector.
You may like to read: Biggest Challenges facing Healthcare and how to resolve them, All About Healthcare Industry: Key Segments, Value Chain, Needs and Competitive Advantage, Selecting the Best Healthcare Business Intelligence Software
Patient Segmentation: Patient Segmentation enables healthcare payer to determine and analyze their patient's population to uncover potential candidates to enroll for a disease management study, a good example is diabetes prevention program. Health Insurance and healthcare payers are usually the potential customers of patient segmentation use case.
Health Plan Analytics: To analyze and find the effectiveness of any health program by healthcare payers, health plan analytics will come in handy. This can help decide performance analysis of disease management under morbidity clustering. Health insurance and healthcare payers could be potential clients.
Acceleration of Patient Management transactions: Acceleration of Patient Management transactions will reduce the complaints from the users about the performance. The transaction is important as it gives an overview and crucial data relating all patients in a specified ward. Just like clinical workstation. Multiple users use the refresh functions which in turns develops more system loads as they work with it. You can open it up to multiple providers to give access to patient records of the health information network.
Clinical Research Support for cancer patients: Clinical Research Support for cancer patients provide several healthcare advantages as it provides up-to-date medical and clinical research processes to physicians and medical researchers. It helps to analyze unstructured and structured clinical data and provide real-time access of relevant data across the organization. This applies to normal and specialties patients identify quickly trial matching and create clinical trials for groups of patients.
Multi-Resource Planning: Healthcare providers can quickly give inpatient surgery based on certain incidents e.g., unavailable doctors or determine schedules of outpatients. Healthcare providers are the potential clients of multi-resource planning.
Treatment Outcome Analysis: This is an analysis performed to determine the outcome and cost of patient treatment considering DRG codes, diagnosis, stay length claims, revenues and service performed by healthcare providers. Treatment Outcome Analysis enables supports hospitals on contract negotiation process with payers as well as support in real information on actual costs for a particular patient cohort. Healthcare providers are prospective clients of Treatment Outcome Analysis.
Evidence-based medicine (EBM): Evidence-based medicine (EBM) goal is to gained best evidence available from scientific procedure to decision-making in clinical. This uses patient previous treatments to find from it medical guidance. Just like the others healthcare providers are their major customers.
Drug Recall: Drug Recall is used to quickly recall patients who have earlier been administered a certain drug efficiently and fast by providing their contact details and location. Healthcare providers are customers of this.
Tracking and tracing of medical products: This solution offers healthcare providers an opportunity to monitor the logistical chain of medical and pharmaceutical products from the processing of raw material to the point of consumption by the patient. This solution offers a strong counterfeit prevention mechanism thus ensuring that high standards are maintained throughout the medical value chain.
Fraud and abuse prevention: Fraudulent claims result in excessive billing amounts, exorbitant per patient costs and excessive per doctor patients. This excessive billing can be identified and prevented by use of health analytics tools such as auditing of accounts which can reveal providers and policy holders who engage in unethical practices. Fraudulent healthcare claims result in an increase in the health burden shouldered by the society. The detection of healthcare fraud is therefore a central pillar in the provision of affordable and quality healthcare.
Determination of copayment rates: This solution offers an insured patient the opportunity to find out quickly the amount he would be required to pay for a specific treatment. A copayment is a fixed amount that an insurance policy holder must pay for services such as consulting a caregiver. This service can be provided through a portal or a mobile phone to the policy owner.
Real-time patient monitoring: This feature helps to monitor patients in real-time by triggering interventions based on incoming data. Health analytics can incorporate a patient health monitoring system to monitor the patient's health through a sensors-based network. This system detects patient's condition by processing sensors data and relaying the same information to the doctor. This system saves the doctor's time as they are able to remotely monitor the progress of their patients.
Prevention of claims rejection: This solution makes it known to healthcare providers that a certain claim might be subjected to a payer investigation due to mismatch between healthcare medical claims and other features such as age and duration of stay.
Conclusion
Healthcare Analytics is a rapidly evolving field that is transforming the way healthcare organizations make decisions and deliver care. By leveraging data, statistical algorithms, and machine learning techniques, healthcare analytics enables organizations to extract meaningful insights and knowledge from data, leading to improved patient outcomes, reduced costs, and evidence-based decision-making.
The use of healthcare analytics is not only improving the quality of patient care but also driving innovation in the healthcare sector. Healthcare analytics is becoming increasingly important as the healthcare industry faces growing pressures to deliver better care at lower costs. Organizations that embrace healthcare analytics will be well positioned to meet the challenges of the future, providing better care, improving patient outcomes, and reducing costs.
Ultimately, healthcare analytics has the potential to transform the healthcare industry, enabling organizations to provide better care at lower costs and making healthcare more accessible and affordable for all.Healthcare analytics aids in examining patterns in healthcare statistics to determine the nature of improvements to be undertaken in clinical care while capping spending. The consumption of analytics will enable healthcare providers and patients to gain access to the right data and improve their capacity to make improvements and attain greater efficiency in offering services to clients.
Here are the trending and the top rated Top Business Intelligence Software for you to consider in your selection process:
You many want to review the Top Open Source, Free and Top Dashboard Software
Top Business Intelligence Software
PAT Index™
You may like to read: Biggest Challenges facing Healthcare and how to resolve them, All About Healthcare Industry: Key Segments, Value Chain, Needs and Competitive Advantage, Selecting the Best Healthcare Business Intelligence Software