Review
VisiRule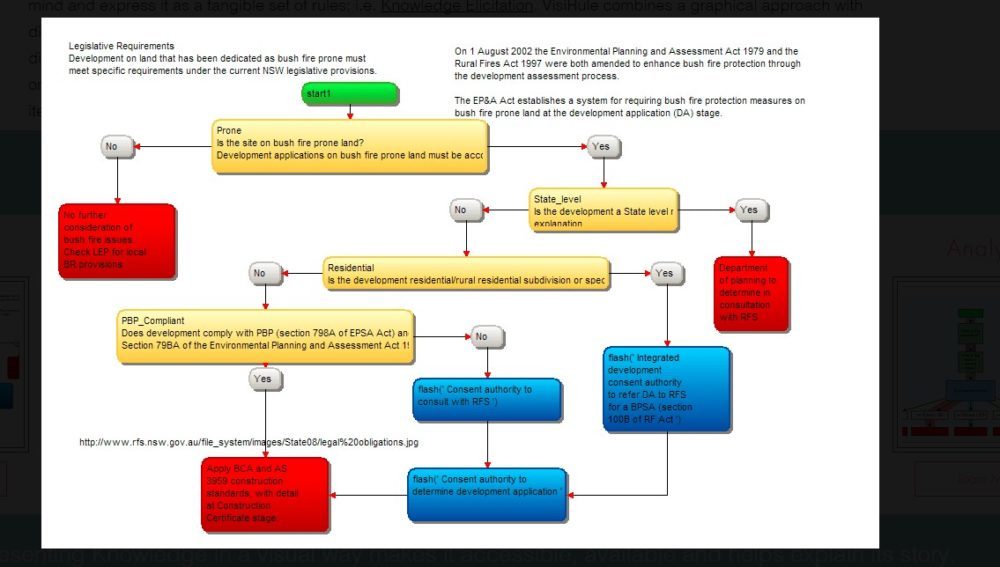 Overview
VisiRule is an intuitive graphical software package which lets business professionals design and deliver interactive expert systems simply by drawing their own 'know-how'.
ntelligent Drawing and Design Tool
Automatic Layout Support
Configurable Viewing Options
Shareable Charts
In-Situ Execution and Code Generation
Rich Set of Question Types
Code Boxes
Statement Boxes
Integration with IDE
64-bit Arithmetic
Multiple Document Interface
Dynamic Link Libraries
Direct Windows API interface
Automatic Configuration
Language Interfaces
Small Memory Requirements
Free trial available. Contact for more pricing details.
Small (<50 employees), Medium (50 to 1000 Enterprise (>1001 employees)
VisiRule provides a simple, joined-up and stripped back way to organize and share knowledge. Each chart generates a user questionnaire and a detailed map to guide the user on their journey. The chart diagram also acts as a canvass to visualize visiting patterns and help find ways to understand and improve the chart's performance using analytics. Use Artificial Intelligence (AI) to Win New Customers and Secure Existing Business. VisiRule is an AI-enhanced tool which enables business professionals to capture, explore and execute expert knowledge.
AI provides advanced knowledge representation and sophisticated algorithms such as fuzzy logic and natural language processing. Use AI to build innovative, intelligent applications and attract new business and support existing clients. The challenge is for organizations to rethink, reinvent and reposition themselves in light of this huge disruption and take advantage of what technology has to offer.
VisiRule can help unravel and unlock the invaluable know-how of experts and exploit it in a consistent and trusted way. VisiRule offers different levels of functionality to model and solve problems:​ Basic solutions consist mainly of single-choice questions and simple comparison tests; Intermediate solutions use compound logic, multiple choice questions, text and numeric input and calculations; Advanced solutions include code snippets for application specific algorithms. Unlike most all other application development systems, VisiRule Author is a dedicated diagramming tool rather than a programming tool. Like Visio and MindMap, you just draw your understanding of the problem.
VisiRule helps you create structured diagrams. This process itself helps you organize and refine your own thoughts. The diagrams created are directly and immediately executable. They can be shared using standard picture formats and exported as XML to be used by other applications and processes.
You may like to read: Free, Open Source and Top Flowchart Software and How to Select the Best Flowchart Software for Your Business