How to Select the Best Executive Dashboard for Your Business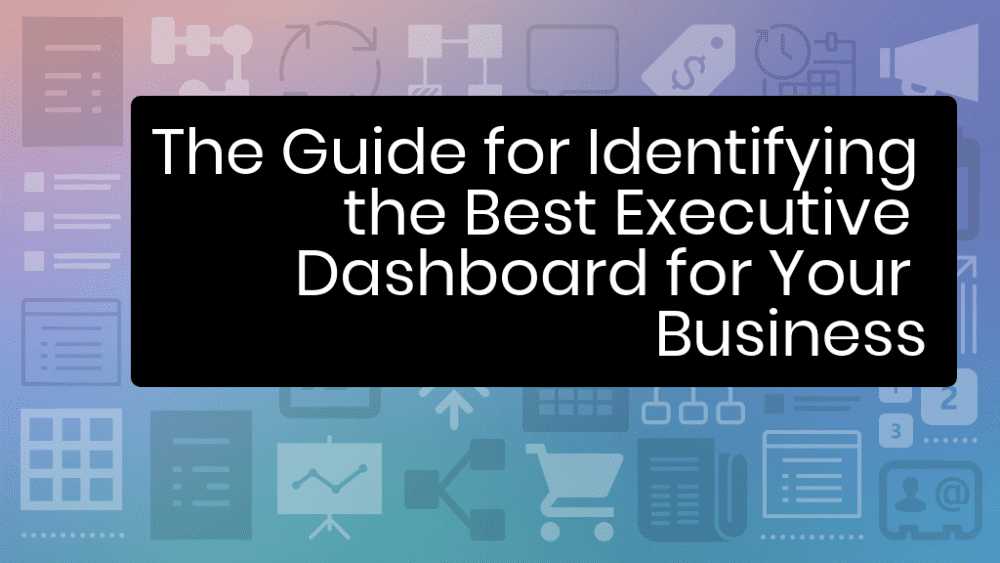 Business intelligence executive dashboards have become a vital solution to businesses due to their in-depth data analysis. In businesses, the amount of data continues to multiply, and the pace of business continues to increase. Therefore there is the need for manipulating and analyzing data by using an easy to use tool.
The most common features used by businesses include data visualization, data analysis, ad hoc query tools, performance metrics, and KPIs. These features are highly important to the growth of any business, and this is where the executive dashboards come in handy.
Executive dashboards come in different types with different benefits. For instance, a sales performance dashboard will quickly summarizing the sales performance for executives.
Executive dashboards are a powerful tool for managers and admins in a business as they have the functionalities for summarizing complex information and present it in an easily digestible way to the other members of the company. The purpose of development of executive dashboards was to offer guidance as to what types of key performance indicators and metrics should be monitored to achieve maximum profit in a company.
The ability of connecting multiple data sources to one platform showcases the flexibility of executive dashboards. Executive dashboards also allow the managers and admins to integrate other systems such as CRMs and ERPs. The key performance indicators of any business are solemnly defined by the executive dashboards. It is because they provide a clear view to the KPIs.
They also eliminate the need of dealing with the semantics of the source system that handles the detailed data of a business; the KPI dashboard comes in handy in such a scenario. In relation to the key performance indicators and metrics, a KPI dashboard will also enable the executives to focus on revenue per unit, customer lifetime value, and customer acquisition cost.
To stay informed in a hectic business environment, managers and admins should have well-designed executive dashboards. There are many advances made in executive dashboards to enable executives to have a deep understanding of their progress. The modern executive dashboard software also incorporates principles of good visual design to save executives time.
The executive dashboards also come with various features that are highly important to the success of any business. It is now easier to monitor the performance of the employees in any business. It is because the executive dashboards have the ability of tracking the performance of each employee and provide you with accurate results. It, therefore, sets the pace for improving the performance of the employees.
What are Executive Dashboards?
An executive dashboard is a visual software tool that enables managers and admins to handle the daily affairs of their companies. In general, executive dashboards visually represent data that is in use. Managers and admins can customize the executive dashboards to fit the requirements of their typical business executive. The core goals of an executive dashboard are visibility, controlling the inventory, enhancing customer relations, and management of time. They function by aggregating data often from diverse sources then present it in actionable ways.
Executive dashboards provide results-oriented from a particular goal, for instance, the numbers of sales and its growth in a given period. With the ability to present data in a specific way, executive dashboards help busy managers and admins to view the progress of their business
The right executive dashboards collect data from all the aspects of a company to generate reports and metrics that enable executives to keep their fingers on the pulse and performance of their company. Executives can now measure the performance of all aspects starting from simple production statistics to complex ROI calculations. They also save executives countless hours consumed by running reports, logging into systems, and scanning of reports that provide substantial insights to help in setting business strategies.
Top-notch dashboards are quick to set up and intuitive to use. Well-designed dashboards allow executives to monitor the critical concerns that have an impact on the performance and profitability of different departments in a business.
You many want to review the Top Open Source, Free and Top Dashboard Software
What are the Benefits of Executive Dashboards?
Executive Dashboards should help to define strategy, drive profitability, and develop a performance-oriented culture throughout an organization. It is much more than a reporting tool. With the integration with CRM, ERPs and other notification systems make executive dashboards an essential tool for executives.
Save money. With an executive dashboard, a company is set to save money. It is because the executive dashboards help the managers and admins to highlight any unnecessary operational costs
Excellent flexibility. They provide managers and admins with an excellent platform for connecting multiple data sources such as data warehouse and web servers.
Real-time instants. The insights provided by executive dashboards help managers and admins to keep tabs on the performance of each department in their business.
Governance of data. Executive dashboards help executives to assign permissions for identical data sets to specific employees.
Provision of business-oriented insights. An executive dashboard provides insights that enable executives to use graphs, custom-real-time insights, and reports effectively. The insights also help in overseeing machinery, personnel, and production processes in an organization.
Continuous improvement. Businesses follow one simple principle which is if you cannot measure it then you cannot manage it. The executive dashboards help managers to track the data trends from one location. They also have an excellent platform for identifying the moment a process reaches a critical state. Through this knowledge, management staff is empowered to make informed decisions.
Excellent visibility: An executive dashboard provides executives with a clear view of what is going on in all aspects of the business. With the superb clarity, managers can manage their business better.
Time-saving: Executives usually spend countless hours accessing the business systems as well as running reports. Conversely, a well-designed dashboard will always display the latest results from each generated reports. With this, managers can save precious hours each month.
Judge performance against the plan: A lot of time is consumed creating business plans to be followed by employees in an organization. Designing a business plan is the first part as executives also require to make sure that their company is performing according to set expectations. An executive can do both of these parts and automatically show the goals from the solid business plans. It occurs is in real-time.
Employee performance improvements: Once employees know that their performance is being tracked in an executive dashboard and be able to view their results, they will immediately start to improve on performance. With this, the business is set to grow.
Evaluation of progress: Executive dashboards enable managers to take little time evaluating the new process in real-time and measuring the results of the implemented method.
Instant insights for instant value. Executive dashboards enable you to see your ROI in a short period. With subscription-based pricing, it is easy to connect your data to help get up running to deliver fast results with significant value.
What are the Types of Executive Dashboards?
There are several types of executive dashboards. Every kind of an executive dashboard performs specific purposes. The types of executive dashboard include;
Executive Reporting Dashboards. They consolidate the performance of each department in a company to enable executives to stay on top of any changes. The dashboard provides metrics that enable managers to visualize data easily to help them understand the progress of the business in the present as well as look back at the past. The relevant metrics provided by an executive reporting dashboard include finance metrics, accounting and MRR growth, marketing metrics, human resources metrics, user experience metrics, services and support metrics, sales metrics, and product metrics
Accounting Dashboard. The show key accounting key performance indicators such as income and expenses, accounts receivable and payable, vendor expenses, and top customers by income. Accounting dashboard aggregates all the financing and accounting metrics in one place. With the accounting dashboard, executives have excellent visibility into the key accounting metrics and data. The dashboard also processes multiple financial reports quickly. The central concept behind the  accounting dashboard is to provide executives with an excellent platform for knowing the progress of their business at all time. Other relevant metrics and KPIs provided by the  accounting dashboard include revenue, sales by product, and expenses.
A KPI Dashboard. It is the most recent type of executive dashboard. A KPI dashboard displays the key performance indicators to enable executives to have a comfortable granular view of their business. The relevant metrics and KPIs displayed by a KPI dashboard include the net profit margin, return on equity, gross profit margin, and debt to equity ratio. Generally, with a KPI dashboard, executives have a place to glance at their most essential key performance indicators.
Sales Performance Dashboard. The objective of this dashboard is quickly summarizing the sales performance for executives so that they can get the crucial parts of their business at a glance. The concept behind the sales performance dashboard is to offer a scannable view of the performance of each department that could apply to any department such as accounting or marketing. The sales performance dashboard saves executives the time spent going through the pages of reports to have a clear view of how their business is performing. The relevant metrics and KPIs provided by a sales performance dashboard include sales bookings, sales opportunities, and product performance. A sales performance dashboard provides a quick summary of the sales performance.
Status Dashboard. It provides executives with an excellent platform for having an excellent overview of the performance of each department. A status dashboard also provides executives with a quick assessment of each department in the business. For instance, if the marketing department is performing poorly, the status dashboard will promptly alert the executives to investigate further on the issue. The relevant metrics and KPIs provided by a status dashboard include supply chain metrics and KPIs, sales metrics and KPIs, marketing metrics and KPIs, call center metrics and KPIs, support desk metrics and KPIs, and financial ratios and KPIs.
Financial Performance Dashboard. It displays financial key performance indicators such as short-term assets, quick ratio, and current revenue. A financial performance dashboard also provides executives with a concise view of the performance of the business so that executives can access the information they require to drive the business forward. The relevant metrics and key performance indicators provided by a financial performance dashboard include current ratio, the sales revenue growth, the working capital, and the acid test or quick ratio.
Investor Dashboard. The type of dashboard analyses acquisitions, investments, and start-ups all in real-time. The investor dashboard enables executives to make the smartest investments possible.
Profit Margin Analysis Dashboard (CFO dashboard). It measures the effectiveness of a business in generating profit on each fund of revenue you bring to the business. The profit margin analysis dashboard also measures the profitability of the business and allow executives to make long and short-term financial decisions.
Operational Dashboards. These types of dashboards display data that is essential in the operational side of any business. A good example of where the operational dashboards can be applied is, in businesses with websites. For such businesses, the operational dashboards ensures the website is up and running to allow the executives to monitor utilization and server up-time. Operational dashboards are also ideal for businesses with an inside sales function as they display the number of appointments booked and number of calls made. Simply, the operational dashboards monitor the nerve center of a business's operation. They often require real-time data
Strategic Dashboards. They typically provide the key performance indicators that the executives track in a given period. Strategic dashboards also provide the managers and admins a high-level overview of the current state of the business along with the opportunities the business faces. The data provided by strategic dashboards include sales pipelines, headcount by department, costs, and periodic revenue.
Analytical Dashboards. These types of dashboards have the ability of displaying strategic data or operational data. Analytical dashboards also provide drill-down functionalities that allow the executives to explore more of the data to get different insights.
How to Select the Best Executive Dashboard for Your Business
Choosing the right dashboard for your business entirely depends on the overall objectives of your analytics and data monitoring practices. The three types of dashboards which are operational, strategic and executive can be deployed across the organization. However, it is an unrealistic scenario. Executives can base their selection of dashboards based on business reporting requirements and technical reporting requirements.
Selection based on business reporting requirements
What is the business problem to be solved? The implication of the dashboard selected in this case should help in identifying what the driving need and the scope of the project is. In this case, operational dashboards provide data awareness and time-sensitive data, strategic dashboards provides top-line KPIs, and analytical dashboards offer trends or deeper insights.
Who will use the dashboards? The requirements, in this case, will be the design features and required training. The operational dashboards will provide a line of business managers and business users. The strategic dashboards will support the executive directors. The analytical dashboards will support business analysts and data analysts' executives.
Selection based on technical reporting requirements
What is the state of the data infrastructure? In this case, the operational dashboards provide databases, Web APIs, and spreadsheet data. The strategic dashboards and analytical dashboards provide a data warehouse.
What are the data latency requirements? It defines the currency of the required information. Operational dashboards provide low latency, strategic dashboards incremental updates, and analytical dashboards provide high latency.
Selection based on data management
In this case, there are many variables to consider. The dashboard that you will choose should enable you to access multiple data points such as internal databases, data warehouses, and data marts. The dashboard cleanse and transform the data for appropriate use within its system based on the disparate sources you are using
Selection based on data visualization
Executives will want tools that provide configurable and incorporate dynamic and real-time information. Therefore, the selected dashboard should give interactivity and multiple graphical options such as drill-down capabilities. It is also ideal to look for flexibility in the presentation options and engaging graphic visualization capabilities.
Selection based on access and security
It is a non-negotiable factor for any executive dashboard. The executive dashboard should provide a mobile-friendly design and full functionality required by users. The executive dashboard should also offer accessibility and portability across all necessary devices. Security features should be available. Your executives should also be able to set permissions relevant for flexibly protecting sensitive or proprietary information.
Here are the trending and the top rated Dashboard Software for you to consider in your selection process:
Top Dashboard Software
PAT Index™