How to Select the Best Cloud Business Intelligence Software for Your Business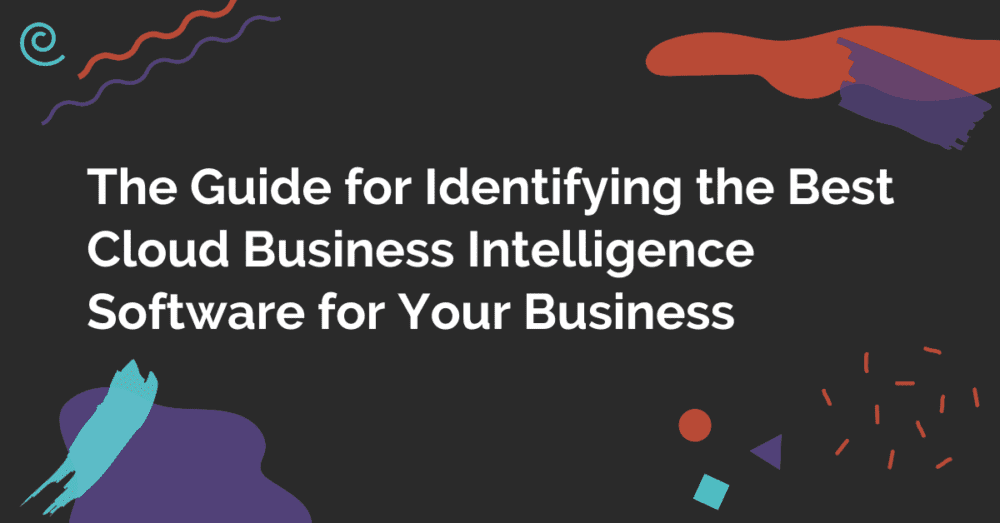 Business intelligence refers to all strategies used by firms in analyzing data to gain business information which helps in making good decisions. The business decisions supported by business intelligence ranges from strategic to operational decisions. Business intelligence has experienced advancement over the years and now relies on real-time data for operations.
Applications regarded as business intelligence systems are used in retrieving, transforming, analyzing and reporting data for company's business intelligence. The data read by business intelligence software are often those store previously in data mart or data warehouse.
In a bid to elevate the way business intelligence is carried out to a whole new level, cloud computing was merged with business intelligence to give rise to cloud business intelligence, which is otherwise known as business intelligence in the clouds. Cloud business intelligence software provides valuable benefits to businesses with the intention of increasing productivity, boosting efficiency of operations and cost reduction.
What is Cloud based Business Intelligence Software?
Cloud business intelligence changes the game of digital business. Both small and large companies are adopting business intelligence software that are cloud based to increase performance of business intelligence.
Cloud business intelligence also levels the playing field as small and medium business are embracing cloud based software applications in making highly competitive marketing strategies. It is a kind software-as-a-service which means application-level functionalities are performed as a service.
Cloud business intelligence makes integration with back-end possible both in the user company and in  the cloud. Cloud business intelligence software is quite different from the traditional business intelligence software in a number of ways.
Cloud based business intelligence software is executed off-site, remotely delivered, and is used, kept and implemented through the cloud. Another distinguishing factor is cost. Cloud based business intelligence  applications are not as expensive to run as other business intelligence software applications and it removes time consuming responsibilities associated with them. Cloud business intelligence software is faster in conducting data analysis and presents data in a simple manner.
You may like to review Cloud BI – SaaS BI– OnDemand BI Top Business Intelligence Software
Identifying Which Type of Cloud Business Intelligence Software is right for your business

Cloud Business Intelligence represents a way for reporting and analysis solutions to be developed, installed, and consumed more easily due to its lower cost and easier deployment. A cloud-based business intelligence platform makes use of infrastructure-as-a-service (IaaS), complements and extends today's platform-as-a-service (PAAS), utilizes an on-demand, virtualized, elastic software and hardware environment, and delivers software-as-a-service.
Reporting and Querying Software: This type of Cloud Business Intelligence Software provides everything you need to create reports easily, with minimum IT involvement and helps you run regular reports, create organized listings, and perform cross-tabular reporting and querying. These are applications are used in acquiring, arranging, summarizing and presenting data.
Online Analytical Processing: Cloud Business Intelligence Software applications under this category enables a user to easily and selectively extract and view data from different points of view through multi-dimensional analytical queries.
Dashboards: Dashboards consolidate and arrange numbers, metrics and sometimes performance scorecards on a single screen and can be cloud business intelligence software or stand-alone applications. They give an at-a-glance view of key performance indicators that are relevant to a specific objective or process.
Data Mining: These type of applications help in the discovery of large data sets patterns using machine learning, database system and statistics.
Business Activity Monitoring: This type of cloud business intelligence software applications helps with business activities monitoring, risk monitoring and operational expectation and other computer systems monitoring.
Data Cleansing and Data Preparation: This type of cloud business intelligence applications detect and remove or correct records that are inaccurate from a data base or set of records.
15 Essential Cloud Business Intelligence Software Features
There are a number of features to complement the traditional BI feature in Cloud which would make cloud business intelligence software useful to companies which include executive dashboards, location intelligence, "what-if" analysis, interactive reports, meta data layer, data warehousing, data refinement, and data visualization.
Self Service: Enable Self Service to get people across the organization started with little to no training and scale seamlessly as adoption increases. This will help to load your own data and analyze it from any angle to uncover problems and new opportunities.
Analytics Platform: Enable business leaders to securely access and explore data with a centralized model for your data and metrics for a comprehensive representation of the business.
Advanced Analytics: Provide advanced analytics features that go beyond the traditional analytics to discover deeper insights, make predictions, or generate recommendations.
Mobile: Create mobile analytical apps with rich, interactive visualizations, view, analyze, and act on data in the cloud or on-premises.
Data Visualization: Communicate information clearly and efficiently via statistical graphics, plots and information graphics. Effective visualization helps users analyze and reason about data and evidence. It makes complex data more accessible, understandable and usable.
Dashboards: Personalized dashboards provide real-time, relevant and easy to understand data that enables better and faster decision making, whilst it lowers time taken to respond to informal and external events.
"What-if" analysis: Enables businesses examine the potential effects of certain key business decisions before making them, which helps with strategy formulation to avoid "hit and miss" situations.
Data Connectivity: Pre-built dedicated data connectors to cloud applications, from Big Data to cloud data stores. flat files, web feeds, databases, cloud storage services and online or offline applications.
Multi-language: Provides native multi-language support
Data blending: Blend and merge data from across different sources to create meaningful business reports.
Location Intelligence: Deriving meaningful insight from geospatial data relationships to solve a particular problem. This makes companies capable of making and visualizing data in a geospatial format and allows for the exploration of data based on elements that are spatial, and gives new perspective to business operations.
Interactive reports: Helps companies transform data into knowledge by making the analysis in reports and data such reports are built on more understandable for a better decision making process.
Meta Data Layer: Allows companies access information in a plain business language by eliminating the need for structure query language(SQL) and coding.
Data Warehousing: Feature uses analytical techniques in electronically storing large amounts of business information, and provides better insight into company's performance by conducting multiple source data comparison.
Data Refinement: Enhances the understanding of data, eliminates variability of data and data redundancy, and creates an integrated business data resource by transforming disparate data into a more implementable form.
You may like to review Cloud BI – SaaS BI– OnDemand BI Top Business Intelligence Software
10 Benefits of Cloud Business Intelligence Software
Utilizing SaaS solutions in Business Intelligence a re an effective way to minimize costs and maximize performance. There are many noteworthy benefit s of using a BI reporting and analytics tool in Cloud. Instead of implementing expensive and complex software on-site, the BI software runs in the Cloud has many cost advantages and is accessible via any web browser in a software-as-a-service model. There is no need to install software, or to buy any hardware and when you are ready to grow, the system will scale out.
Minimal internal IT: Cloud based software applications reduces IT involvement and is therefore easy for companies to set up and operate in running their business intelligence.
Deployment: Fast, easy and inexpensive deployment: Lack of infrastructure set up means a faster Return On Investment
Elastic Infrastructure and

Scalability

: Cloud Business Software platforms can scale up as they experience growth to accommodate storage, users and features to meet their needs.
Access anywhere anytime: Cloud Business Intelligence software applications are very much mobile and can be accessed at anytime and from anywhere via the internet with the use of mobile devices.

Low costs: Using cloud business intelligence software removes capital expenses meant for infrastructure, storage and service inclusive, which makes it an avenue for companies to make more investment.
Better security: As data has security become a priority for all companies, businesses use cloud business intelligence software, which stays current with industry latest standards and certification of compliance, to avoid the devastating effects of data breach.
Reliability: Cloud business intelligence software is ideal for business continuity, and disaster recovery and uses a number of redundant sites in providing secure and reliable locations to store data.
Pay for what you use: Being a software-as-a-service, cloud business intelligence ensures you pay what you use alone, reducing cost of ongoing software and eliminating waste.
Improved data sharing: Using cloud business intelligence software, companies can easily share data across locations and control data access as they are deployed through the internet and out the firewall of a company.
Free automated software upgrades and maintenance: The service provider owns and hosts the software, and so users can benefit from ongoing upgrades and maintenance without the associated costs, time constraints and drain on IT resources
4 Latest trends in Cloud Business Intelligence Software
Business Intelligence is expensive to implement and maintain for many organizations and also requires powerful infrastructure and in contrast Cloud Business Intelligence is infinite computing resources available on demand .
Predictive and Prescriptive Analytics: Use of Predictive and Prescriptive analytics  to quantify the effect of future decisions in order to advise on possible outcomes before the decisions are actually made.
Data Governance: Overall management of the availability, usability, integrity and security of data used in an enterprise.
Self-service Business Intelligence: Encourages the use of cloud business intelligence software in analyzing business data, building precise and customized visual report without the help of IT specialists.
Mobile Business Intelligence: Critical information are needed by decision makers in real-time, anywhere and at anytime and this is made possible by cloud business intelligence software.
Is a Free Cloud Business Intelligence Software Worthwhile?
Cloud Business Intelligence Software has many features and can do a lot to help your business, but it can be expensive. There are plenty of free Cloud Business Intelligence Software available, where you need to spend time to set it up and running and these software comes with limitations.
A free proprietary limited version of Cloud Business Intelligence Software is a good way to see if it will be useful to your business before making a big investment. If you do want to go the Free Cloud Business Intelligence Software route, there are two options : you can look for either an open source free cloud business intelligence software or go for a free limited version from a proprietary product company. A free limited version from a proprietary product company will make it easier to upgrade in the long run and also help you determine if that company's solution is what you want.
There are also drawbacks to free cloud software. These options do not have nearly as many features available in a fully functional paid version, and there are limits such as storage limits, number of reports, limited data integration options, and also on the number of users you can have. The free versions also have limited support options.
You may like to review Cloud BI – SaaS BI– OnDemand BI Top Business Intelligence Software
Top Free Cloud Business Intelligence Software
PAT Index™
Choosing the Best Cloud Business Intelligence Software
Business Intelligence in the cloud has been developed in order to enhance the efficiency and productivity of business intelligence and increase the performance of BI software.
There are many benefits from using the cloud computing for business intelligence. It influences the way business intelligence software projects are managed as it provide a virtually unlimited pool of computing power, storage space and memory for the business intelligence infrastructure, that help in shortening BI implementation windows, reduction of cost for BI programs, enabling to add environments for testing, proof of concepts and upgrades.
Scalability: Every business has intends to grow, and so it is therefore necessary to choose a cloud business intelligence software that has a flexible pricing plan to accommodate your growth needs.
Security: It is important that you get a very secure cloud business intelligence software as you would not want to suffer the consequences of having company sensitive information available to the public.
Real time Integration: A good cloud business intelligence system should provide integration features through connectors to external systems in real-time so as to rapidly boost business performance and allow you stay up to date with business happenings without having to run delta jobs to synchronize the data.
Analytical features: Every company has key business metrics, governed by certain business rules, that guide it and a good cloud business intelligence software should be able to provide analytical capabilities needed to calculate these business metrics.
Role based Access: A good cloud business intelligence software should deliver a pre defined security matrix on access and permissions, so that it doesn't need to invested from scratch
Responsive Interface: Most business activities are increasingly becoming mobile and a good cloud business intelligence software application has to be very responsive for analyst to conduct data analysis on their mobile devices.
Industry specific: It is also important to look out for a cloud business intelligence software that would analyses data in a way that is relevant to your business and industry
Here are the trending and the top rated Cloud based Business Intelligence Software for you to consider in your selection process:
Top Cloud Business Intelligence Software
PAT Index™