How to Select the Best Workflow Automation Software for Your Business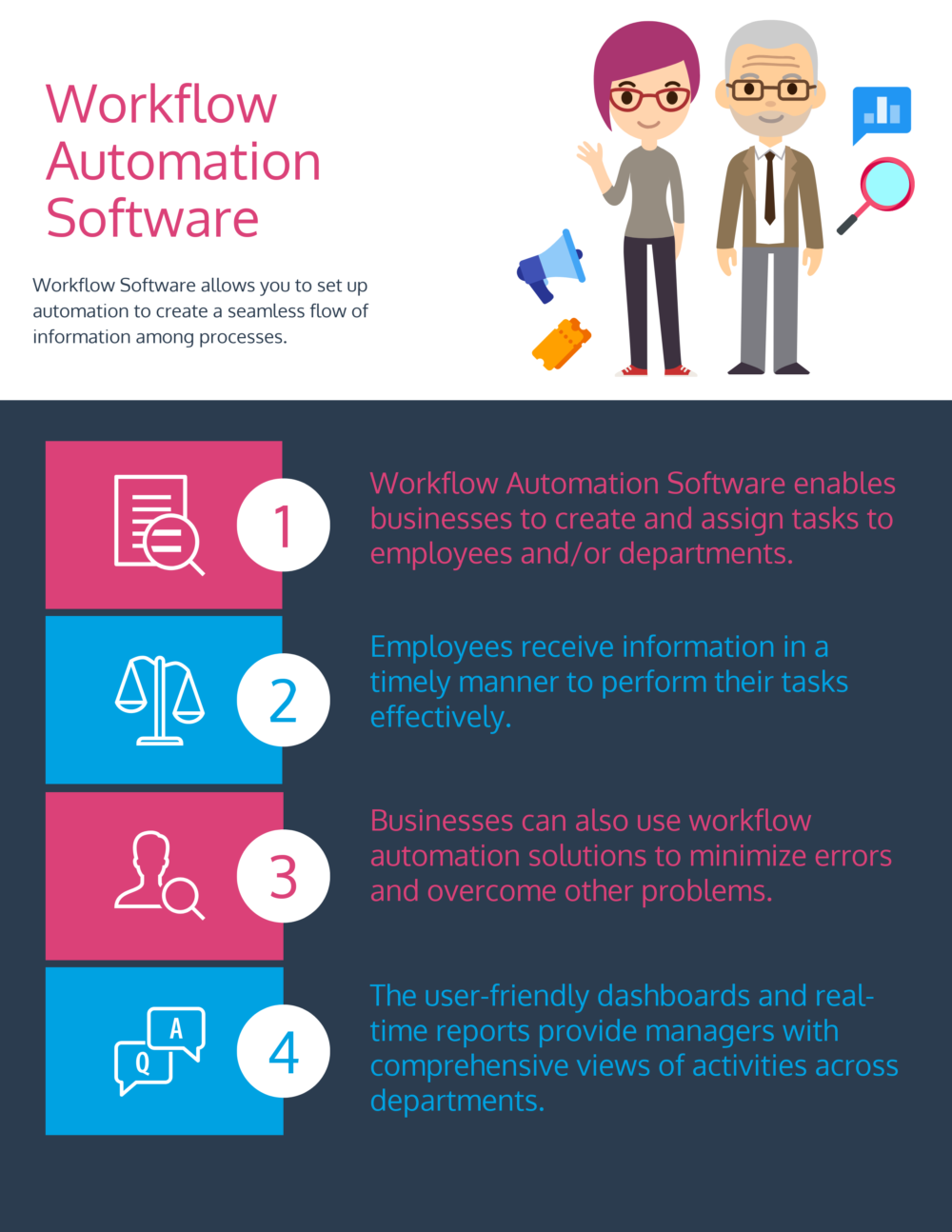 Businesses are always seeking ways to improve their daily operations. Gone are the days of manual processes that were mundane and time consuming. In an effort to streamline recurring processes, automation solutions were developed. Workflow automation software is a consolidation of several business processes, making it easier for users to manage.
Businesses tend to use the software in their accounts and human resources departments before implementing across the board. The activities performed within these departments are usually time sensitive and require a high level of accuracy. The software offers businesses a practical solution to eliminate paper-based processes such as form filling and replaces them with electronic forms that can be filled and signed digitally. Businesses can also digitally store important documents to reduce the possibility of any files being misplaced or incorrectly filed.
Workflow Automation Software enables businesses to create and assign tasks to employees and/or departments. Employees receive information in a timely manner to perform their tasks effectively. This ensures proper tracking of incomplete tasks. Businesses can also use workflow automation solutions to minimize errors and overcome other problems. Automatic notifications allow businesses to send status updates to employees. These notifications can be customized and sent to specific employees or groups simultaneously. Businesses can also use workforce automation software to evaluate employee performance.
The user-friendly dashboards and real-time reports provide managers with comprehensive views of activities across departments. Managers can use the reports to analyze processes and make required improvements. Performance metrics provide businesses with pertinent details on each activity and help managers to monitor and measure individual and overall performance.
Greater visibility contributes to better management and accountability and enables managers to make quicker, more informed decisions. Developers offer customized workforce automation software to match businesses' unique needs. The solution usually integrates easily into a business' existing applications to ensure overall efficiency which then leads to reduced expenses.
You may like to read: Top Free, Premium & Open Source Workflow Automation Software
What are the Features of Workflow Automation Software?

Workflow Software allows you to set up automations to create a seamless flow of information among processes. Features for Workflow software include an extensive toolbox which provides the ability to easily create digital forms and map out fully functioning workflows. The software is completely web based and accessed via any web browser, making it simple to manage and coordinate workflows throughout an entire organization. Smart graphical modeling is one of the most important features workflow management software have.
With a graphical model, the user can see process and activity definitions, resources, roles of individuals and departments, and expected outputs from all the steps in the process. Workflow Software solutions allow to approve multiple requests in seconds, organize requests based on process data, create custom views and save them on the users companies dashboard. Workflow Software can assist organizations of any size with designing, automating and deploying business processes or workflows of various kinds.
Workflow automation software offers a wide array of features. The more complex the software, the more features are included. The most common features are as follows: Graphical User Interface, Role-based Access Control, Form Designer, Task Assignment, SLA Status Indicators, Automatic Notifications, Reporting, and Mobile Access.
Graphical user interface: Enables non-technical users to create workflows using a drag-and-drop tool instead of typing commands. This approach is saves time, is easy to use and requires minimal training.
Role-based access control: Enables businesses to define the roles and responsibilities of users and to customize users' viewing and editing access
WYSIWYG Form designer: The "what you see is what you get" form designer enables users to create digital forms using a built-in form designer. This user-friendly tool doesn't require any technical expertise and allows the designer to see the front-end view of the form. This therefore gives the designer an opportunity to make changes if necessary.
Task assignment: Allows users to assign and reassign tasks simultaneously to other users. It also enables users to make changes to deadlines, if necessary.
SLA status indicators:  The software uses color codes to keep users updated on the status of tasks. These codes indicate which tasks are on track and which ones need urgent attention.
Automatic notifications: Enables businesses to notify users of the status of tasks. The notifications provide information such as when the task was assigned, to whom it was assigned, and when it was completed. Users can also get notifications of any changes made to a task.
Reporting: Provides real time visibility into a business' processes and ensures users can obtain accurate information within no delays.
Mobile access: Allows multiple employees to access workflows easily and simultaneously via a device with internet access, with some systems offering apps for offline workflow
What are the Types of Workflow Automation Software
Feature-based model: This incremental software option includes workflow apps that run from basic to more advanced, complex solutions. Businesses can customize their software to match their operational needs.
Integration-based model: This type focuses on the implementation or integration of the workflow application within other platforms
Technology model: This option takes into consideration the technology services that are available to create workflow solutions.
You may like to read: Top Free, Premium & Open Source Workflow Automation Software
What are the Key Performance Indicators (KPI's) of Workflow Automation Software
Percentage of completed processes: Measures the number of processes that were completed within a specific time frame. It can found using the following formula: (Number of completed processes/Total number of processes) x 100
Average process completion time: Measures the average time taken from the start of a workflow to completion (Total time taken/number of workflows)
Average task completion time: Measures the average time taken to complete a specific task. This is useful for managers to evaluate employee or team performance.
Error rate: Measures the effectiveness of the software to reduce errors within a specified period
What are the Benefits of Workflow Automation Software

Reduced errors: Decreases the probability of error as manual data entry is eliminated. There is also less chance of documents getting lost or routed to the wrong person. The overall effect is a reduction in costs associated with employee errors.
Increased efficiency: Eliminates delays in assignment of tasks. Workload can be automatically distributed across the business and doesn't require managers to approve every allocation.
Empowered employees: Permits employees to make informed decisions with custom reports and charts, reduces approval cycles and improves policy compliance adherence
Reduced paperwork:  Facilitates conversion of multiple paper forms into electronic documents to which workflows can be added to ensure the completion of all steps and attainment of required approvals. Virtual forms also reduce the risk of misplacing important documents.
Improved reporting: Provides daily updates and timely resolution of concerns resulting in increased productivity and improved margins. It creates customized reports to evaluate jobs and associated expenses, enabling managers to make informed decisions.
Improved visibility: Facilitates the sharing and accessing of information across departments. This eliminates the need for re-entering data and avoids delays in communication. The overall benefit is increased productivity.
What are the Latest trends in Workflow Automation Software
Convenience in one solution: Workflow automation software is becoming more popular among businesses within various industries. It is very effective in helping businesses consolidate various technology options into one robust platform. The software helps businesses to use methods and processes that can be easy created and modified when necessary. The software also facilitates regular updates and can be easily managed without the need for technical expertise.
Increased cooperation: More businesses are using workflow automation software to increase cooperation among team members and between departments. The software has built-in tools to allow users to develop and share information with one another. This collaboration helps businesses to experience an increase in productivity.
Self-sufficient Workforce: The cloud-based applications provide users with regular access to technical support. Their user interfaces are very simple to understand even for non-technical users. This means businesses won't have to depend heavily on IT personnel, thereby allowing them to address more critical needs. More businesses prefer this approach since employees can troubleshoot simpler issues on their own. This also results in shorter delays and faster decision making.
You may like to read: Top Free, Premium & Open Source Workflow Automation Software
 How to choose the right Workflow Automation Software
Workflow automation software packages offer basic to more complex solutions. Business should therefore have a clear understanding of their needs and choose a package based on their requirements. There are also free trials that businesses can use to evaluate the packages before deciding on the most suitable one. The major factors businesses should consider when choosing workflow automation software include Integration capabilities, Customized workflows, Cloud-based delivery, Usability, and Scalability.
Integration capabilities: Businesses should choose a solution that can easily integrate with their existing software so that critical data can be transferred without any hiccups.
Customized workflows: The ability to create workflows that are unique to a particular business is essential since not all businesses operate the same way.
Cloud-based delivery: A cloud-based application is usually the most practical option for small and midsize businesses (SMBs).SMBs will need to choose an option that is cost-effective and would not require a large initial investment. The flip side to this is a desktop version which will require the purchase and installation of hardware, which may be too costly for SMBs. A cloud-based application is also a more viable option since managers and other key users will have access anywhere and at anytime. This reduces downtime and delays in decision making.
Usability: Businesses are interested in applications that are simple to use since training can be time consuming and expensive. In choosing the right software, businesses should look for one that requires very few technical skills and allows users to focus on more critical activities.
Scalability: When a business expands, there will be need for a solution that can increase in capacity. The preferred software should have the capability to handle the increases in demands.
Top Free Workflow Automation Software
You may like to read: Top Free, Premium & Open Source Workflow Automation Software
Top Free Workflow Automation Software
PAT Index™
Top Workflow Automation Software
You may like to read: Top Free, Premium & Open Source Workflow Automation Software
Top Workflow Automation Software
PAT Index™