Review
RAPTOR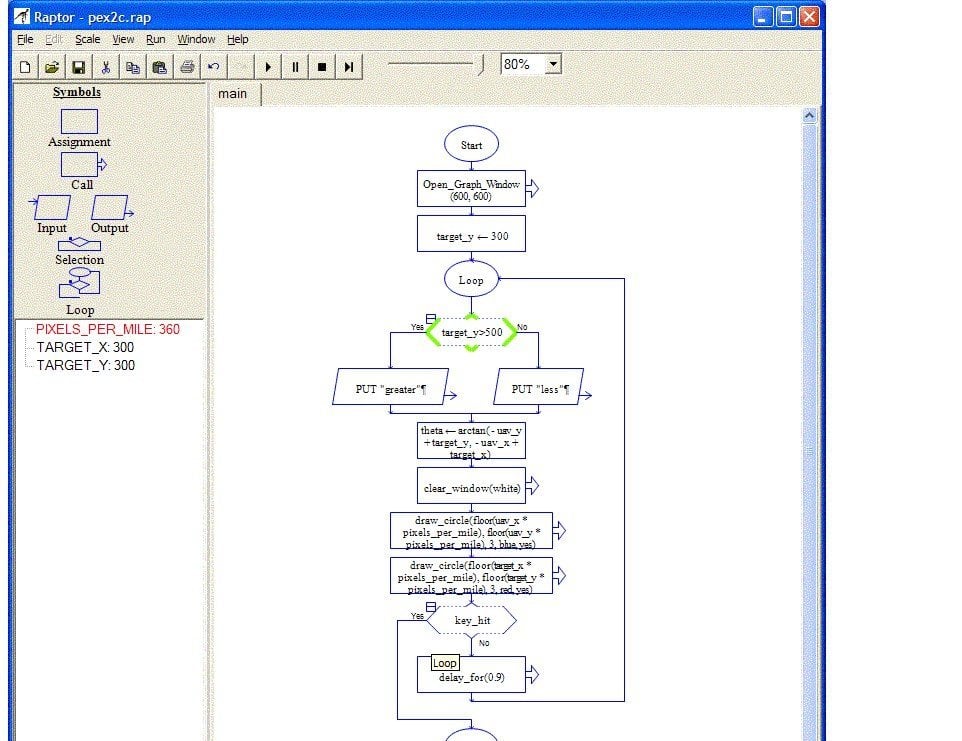 Overview
RAPTOR is a flowchart-based programming environment, designed specifically to help students visualize their algorithms and avoid syntactic baggage.
Plugin methods that return String.
All prompts/outputs are expressions.
Set_Precision(digits) allows you to specify how many digits of precision will be in an output.
Redirect_Output_Append allows you to redirect output to a file, appending the data on the end.
New time functions
Small (<50 employees), Medium (50 to 1000 Enterprise (>1001 employees)
RAPTOR is a flowchart-based programming environment, designed specifically to help students visualize algorithms and avoid syntactic baggage. RAPTOR programs are created visually and executed visually by tracing the execution through the flowchart.
Required syntax is kept to a minimum. Students prefer using flowcharts to express algorithms, and are more successful creating algorithms using RAPTOR than using a traditional language or writing flowcharts without RAPTOR. RAPTOR is written in a combination of Ada, C# and C++, and runs in the .NET Framework. RAPTOR begins by opening a blank workspace with a start and end symbol.
The user can then add flowchart symbols corresponding to loops, selections, procedure calls, assignments, inputs and outputs by selecting from the palette and inserting at an appropriate point in the flowchart. The flowcharts are forced to be structured. Selections and loops must be properly nested, and each loop has a single exit point. Loops, however, allow the exit condition to be tested at any point inside the loop body. The syntax used within a flowchart symbol is designed to be flexible. Elements have been borrowed from both C and Pascal-style languages.
RAPTOR enforces syntax checking on each flowchart symbol as it is edited. Therefore, it is impossible to create a syntactically invalid flowchart. Commenting is done by right-clicking on a flowchart symbol and selecting "comment". The comment appears as a "talking bubble" next to the flowchart symbol. The comments can be clicked and dragged to improve the aesthetic of the flowchart. RAPTOR has over 40 built-in functions and procedures which allow the student to generate random numbers, perform trigonometric computations, draw graphics (including circles, boxes, lines, etc.), and interface with pointing devices.
You may like to read: Free, Open Source and Top Flowchart Software and How to Select the Best Flowchart Software for Your Business