Top 39 A/B Testing Tools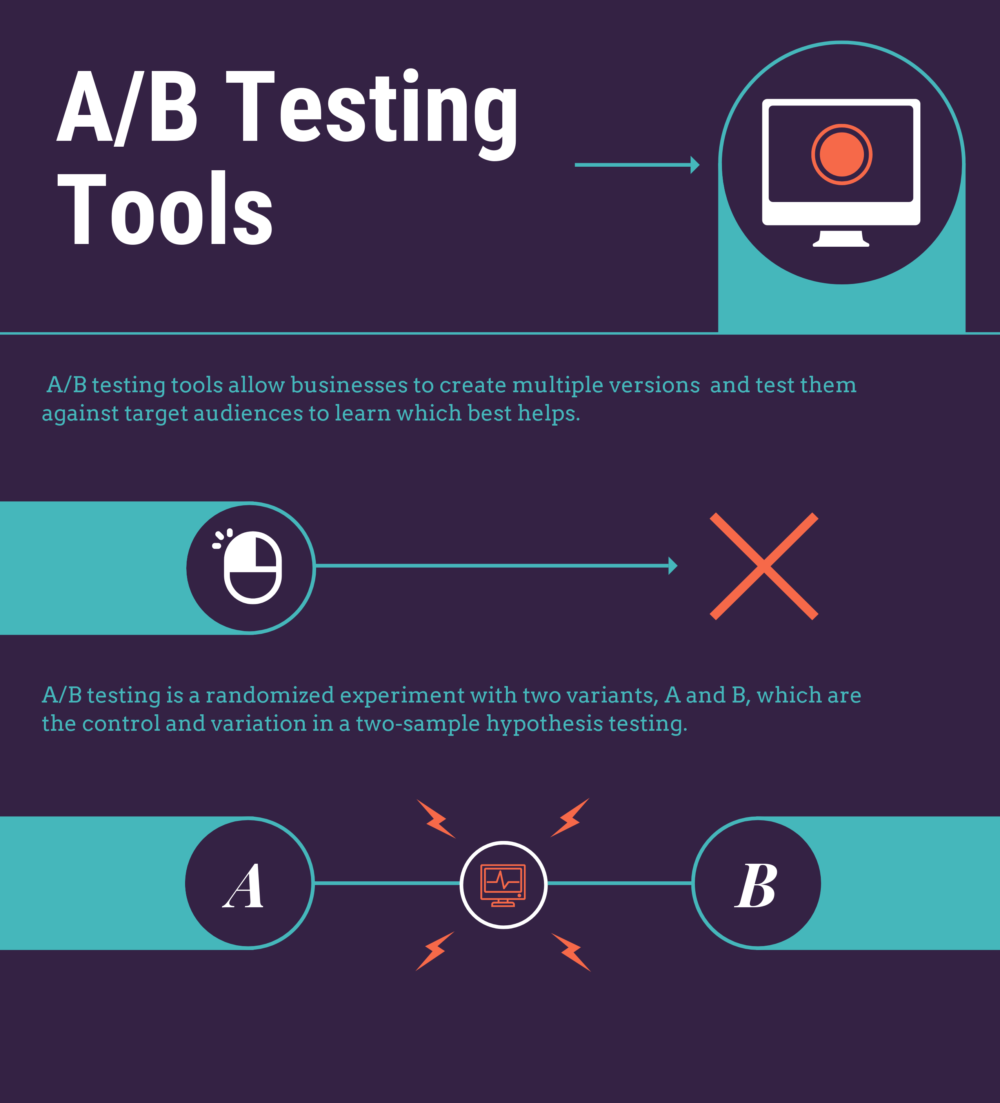 Software are used in generating payment, ordering and many other things. One needs to plan on how to use the software when it starts operating. One of the main reason for using the software is to simplify work; therefore, all areas need testing before using it as part of the business.
A/B testing being a scientific method of experimenting things, one needs to ask themselves what the problem is and how it help to overcome it. Does the software help to be ahead of the competition or will it drag them behind. Research on the effectiveness of the software is also necessary and afterwards, a proposition on how to implement the software.
A test calculation to determine if the theory will work, if it works then reports made will lead to implementation. Having the correct information on your site determines how long your followers will stay, if the information is not correct or not detailed, then they might look for another alternative. Doing a close check on each visitor eliminates chances of losing other followers. Usability test helps one understand how a visitor was able to navigate in your site and if there was a go-slow where it happened.
What are the Best A/B Testing Tools Proprietary: Freshmarketer, Adobe Target, Unbounce, Dynamic Yield, Leanplum, AB Tasty, Splitly, Maxymiser, Mixpanel, Taplytics, Usabilityhub, Optimizely, Monetate, Zarget, ChangeAgain, Kameleoon, Vwo, Visual Website Optimizer, Apptimize, A/Bingo, Maxymizely, SiteSpect, Clickthroo, Kissmetrics, Webtrends Infinity, Fusion, PlanOut, Campaigner, Perti, Marketizator, Convert are some of the Top a/b testing tools.
What are the Best Free A/B Testing Tools: Google Content Experiments, Sixpack, Proctor, Vanity, Mocking Fish Startup Plan, UsabilityHub Free Version, Abba, AB, Scenario, labrats, Cohorts are some of the Free Top a/b testing tools.
What are A/B Testing Tools?
A/B testing is a randomized experiment with two variants, A and B, which are the control and variation in a two-sample hypothesis testing. A/B testing is a way to compare two versions of a single variable typically by testing a subject's response to variable A against variable B, and determining which of the two variables is more effective. It is also known as bucket tests and split-run testing.
The standard tests used are Z-tests, Student's t-tests, Welch's t test, Fisher's exact test, E-test and Chi-squared test. Z-tests are used for comparing means in strict conditions regarding normality and a known standard deviation. Student's t-tests are used for comparing means under relaxed conditions. Welch's t test assumes the least and is commonly used where the mean of a metric is to be optimized.
For the comparison of two binomial distributions such as a click-through rate Fisher's exact test is used. For Poisson distribution such as Average Transactions Per Paying User E-test are used and for Multinomial distribution such as number of each product Purchased Chi-squared test are used.
Tracking of micro conversions is essential in business especially when testing, one can quickly identify which site or page was visited more than the other, if the visitors' rate increase, then there is a possibility of a purchase, if it's stagnant, then there will be no purchase. When one can identify such things during the test period, highlighting areas that need to be improved is necessary and later implementation made after testing.
The behavior of each visitor is critical; it determines the general performance of the site and how long it will last, most visitors tend to rate the services received which can either lower the rates of the website or business or increase its ratings. Do not end the A/B testing fast, take time to see which area is better than the other and have a particular number of conversions you will use in the testing and how many need to after trial.
The most testing applies to highly ranked pages but it does not mean that other organization cannot use it, anyone can use it especially if they have more than one hundred visitors. Make sure before you end the testing you have at least ninety five percent of customer satisfaction and statistical numbers. However don't rely so much on the experiment, do your statistics to be sure of what you are doing, through this, sales will increase and traffic also, make sure you work closely with your visitors to give them what they want.
Client Side Testing : Capabilities include in A/B Testing, Split Testing, Multivariate Testing, Funnel Testing, WYSIWYG Editor, Responsive Editor and Behavioural Targeting.
Server Side Testing : Capabilities for testing API and Mobile App testing.
Personalization Capabilities : The personalization capabilities in the A/B Testing software optimizes the experiences.
Top A/B Testing Tools Proprietary
Freshmarketer, Adobe Target, Unbounce, Dynamic Yield, Leanplum, AB Tasty, Splitly, Maxymiser, Mixpanel, Taplytics, Usabilityhub, Optimizely, Monetate, Zarget, ChangeAgain, Kameleoon, Vwo, Visual Website Optimizer, Apptimize, A/Bingo, Maxymizely, SiteSpect, Clickthroo, Kissmetrics, Webtrends Infinity, Fusion, PlanOut, Campaigner, Perti, Marketizator, Convert are some of the Top a/b testing tools .
Top A/B Testing Tools Proprietary
PAT Index™
1
Freshmarketer
Freshmarketer is a Conversion Rate Optimization (CRO) tool. In Freshmarketer visitors are counted based on the information stored in cookies. Until the cookie expires, Freshmarketer doesn't count the returning visitors. Freshmarketer creates cookies for every new and unique visitors to record their information and to spot out returning visitors from the already existing information. Freshmarketer collects data instantly and provides variation(s) based data as and when visitors visit the website. Integrating Freshmarketer with Universal Analytics (UA) allows users to view web metrics tracked by UA for each variation in an experiment (running on Freshmarketer), view reports in UA by filtering…
Overview
• Hesitation time report: Identify form fields where visitors are hesitant to fill in
• Freshmarketer's form refill report helps to identify the erroneous and ambiguous form fields
• Net Promoter Score
• Field level analytics: Get conversion critical information of every form field by just providing URL of the form page
• Session replay: Provide detailed information based on customer interactions
• WYSIWYG visual editor: Make changes to your page with a wide array of editing options to choose from
2
Adobe Target
Adobe Marketing Cloud gives customers a complete set of analytics, social, advertising, targeting and web experience management solutions and a real-time dashboard that brings together everything that users need to know about their marketing campaigns. Adobe Target is a complete optimization solution that allows data-driven marketers to experiment and create high-converting personalized experiences. Adobe Target is a personalization solution that makes it easy to identify users' best content through tests that are easy to execute. Therefore, they can deliver the right experience to the right customer. With a simple interface and access to best practices, they can quickly create A/B…
Overview
A/B testing
Automated personalization
Mobile optimization
Targeted recommendations
Profiles and audiences
Multivariate testing
Search-driven merchandising
Marketer-driven targeting
Analytics-enhanced reporting
Adobe Target services
Marketing Cloud for teams
Single App plan: US$29.99/mo per license
All Apps plan: US$69.99/mo per license
3
Unbounce
Unbounce lets marketers build, publish and test landing pages without IT or software. With Unbounce marketers can create fully customized landing pages for their campaigns and publish them to their existing sites. It enables developers to test and experiment with landing page design and content variations. A/B testing and lead gen make it a powerful marketing tool. The Unbounce landing page platform includes: drag and drop page editor, 85+ mobile responsive templates, real time statistics, customizable forms and more. Script Manager saves time by allowing embedding scripts like Google Analytics to multiple pages at once. All Unbounce landing pages are…
Overview
Drag & Drop Builder
Match Your Branding
Publish to Any Domain
Works With WordPress
Easily Add Any Script
100% Mobile Responsive
Improve UX With Lightboxes
Enable Custom Form Actions
Dynamic Text Replacement
Parallax Scrolling
Use Fullscreen Backgrounds
Video Widgets & Backgrounds
Enterprise
FROM $499/moSave $499
Agencies & Marketing Teams
$199/moSave $199
Consultants & Small Businesses
$99/moSave $99
New Businesses & Entrepreneurs
$49/moSave $49
4
Dynamic Yield
Dynamic Yield SaaS solution empowers marketers, retailers, and publishers to test, manage and transform the complete customer journey, and drive immediate engagement and revenue without ever having to rely on IT. Dynamic Yield's unified customer engagement platform helps marketers increase revenue by automatically personalizing each customer interaction across the web, mobile web, mobile apps and email. The company's advanced customer segmentation engine uses machine learning to build actionable customer segments in real time, enabling marketers to take instant action via personalization, product/content recommendations, automatic optimization & real-time messaging. Dynamic Yield's SaaS 'ad server' for content helps marketers create the highest…
Overview
ENGAGE HIGH-VALUE SEGMENTS USING ADVANCED TARGETING.
Experience Personalization
SERVE 1:1 PERSONALIZED EXPERIENCES IN REAL-TIME.
DELIVER PERSONALIZED PRODUCT OR CONTENT RECOMMENDATIONS.
RESTRUCTURE ANY ELEMENT OR LAYOUT
Real-Time Omnichannel Personalization
Predictive A/B Testing
Campaign Optimization
Recommendation Engines
Audience Segmentation
5
Leanplum
Leanplum is a complete platform where in users has the advantage on establishing a more personalized relationship to their customers by just using one simple system. Leanplum understands the increasing opportunity from customers using different mobile devices and taking this as a great tool to enhance connections and keep them coming back for more. Leanplum is based on A/B testing and Analytics that are both proven to be effective when it comes to providing the best possible information when dealing with customers, as a result, users will be able to plan and execute the right decisions at the right time…
Overview
Messaging: Push Notifications, Email, In-App Messages
Automation: Mobile Marketing Automation
Mobile A/B Testing Without Limits
Visual UI Editor
Extensive Segmentation
6
AB Tasty
AB Tasty is an all in one platform that optimizes online conversions on websites, mobile sites, and applications. Improve the customer experience by determining the most effective strategy through testing and experimentation. Not only does this enhance the customer relationship, but it also improves profitability for the business. AB Tasty gives the control back to marketers by simplifying the implementation of marketing tests and the process for making updates on website pages. AB Tasty does not require its users to have programming skills. With simple codes used to enhance pages, users will have full control over how the website or…
Overview
•Visual editor for creating variations
•Advanced HTML, CSS and JavaScript editor
•Tests by redirection with existing page as variation
•Preview variations in multiple browsers
•Standard test targeting options
7
Splitly
Splitly is an Amazon Split Testing Software that helps businesses maximize profit when dealing with FBA or fulfillment by Amazon. Be ahead of most competitors when it comes to being more competitive and getting more chances of maximizing profits. Using Splitly isolates the greater chance of having same product labels and layouts when it comes to presenting products on applications as well as how customers view particular products on the web. Splitly develops tests that can dramatically improve on products viewed by consumers on Amazon. Specifically working on the Main Feature Image which can drive more customers to the company's…
Overview
Maximize profit by finding the ideal price for your product and niche.
Test how pricing affects your rankings and conversions.
Track total revenue increases due to split tests.
Upload multiple images, titles and descriptions and run automated tests.
Generate more sales and revenue for your business.
Optimize your product listing to appeal to your most profitable customers.
Basic $27/month
Starter $47/month
Growth $97/month
Enterprise $497/month
8
Maxymiser
Oracle Maxymiser, website optimization is as easy as a single line of code, which bring all your customer data into focus, run simple A/B testing and super-complex multivariate testing, track and analyze customer behavior across all channels. Get better online marketing strategies planned using Maxymiser's leading testing and optimization solutions. Manage customer's information using reports, create tailored and engaging customer experience and maximize business opportunities for a profitable outcome. Organize customer data in one single platform with Maxymiser, provide best solutions the moment they land on the page until transactions are completed. Take advantage of Maxymiser's intelligent and accurate segmentation…
Overview
Testing and Targeting At Your Fingertips
Ingest All Your Data and Test the Entire Customer Experience
Increase ROI by Enhancing Your Personalization Campaigns
Engineered Statisticians
Real-Time, Dynamic Product Recommendations
Execute Consistent, Cross Channel Optimization
Pricing
Contact sales department
9
Mixpanel
Mixpanel lets the users understand how customers use their apps through advanced mobile and web analytics. With different metrics that can be used to measure visitor's engagement, page views are definitely not the only criteria that have to be monitored. With Mixpanel, what people are doing on the web as well as mobile apps that runs on iOS and Android are the crucial information that can establish better relationship with the customers. With Mixpanel, measure how people patronize the app by knowing how often they go back and use it for transactions. Send them notifications to remind them that they…
Overview
Simple In-Browser Editor
Powerful Mobile A/B Testing
Add New Metrics Without Relying On a Developer.
Codeless Mobile Analytics
Autotrack for Web
Startup $150/month
Business $350/month
Growth $600/month
Premium $1000/month
Commercial $2000/month
High volume (contact Mixpanel)
10
Taplytics
Taplytics is a mobile optimization platform, helping apps with things like mobile growth, engagement, and retention. It doing this with suite of tools - dynamic A/B testing, smart push notifications, and custom analytics. Taplytics is a fully integrated mobile A/B testing, push notification, and analytics platform providing the needed tools to optimize users' mobile app. Taplytics's A/B testing also lets user create feature flags for different functional elements of his product. Javascript SDK let users test for the web too.This means instant, live control from a web interface while your app is in the wild. Visual tests let create simple…
Overview
A/B Testing
Push
Analytics
Taplytics BigQuery
Basic
1 project
Free up to 25,000 MAUs
2 team members
Enterprise
Unlimited projects
Up to billions of users
Unlimited team members
Contact us
11
Usabilityhub
Usability Hub is a platform where developers/designers can create simple usability tests and design surveys. The developers/designers can choose to recruit their own testers or use testers who have signed up with Usability Hub. Tests are available in a wide variety of languages, which users can choose after signing up. Each test taken on Usability Hub awards tester with 1 credit which is equivalent to $0.10. The tests usually take less than a minute each, sometimes much less depending on the type of test. Five-second tests can be used to test home page designs, landing pages, logos, brochures and marketing…
Overview
Collect demographic information
Team accounts
Post-test redirection
Sequential test sets
Variation split testing
Test customisation
12
Optimizely
Optimizely presents it users the ability to optimize their website and mobile app pages by using a single platform that can manage it all. Be updated with customer's behavior and preferences by using Optimizely's reports and analytics that can deliver better opportunities for the business. Optimizely Testing features enables the users to experiment, learn, and create optimized digital experiences on both desktop and mobile devices used by people. This definitely increases not only the company's engagement with customers but also in revenue. Optimizely provides robust, easy to use A/B testing, multivariate and multi-page testing for any stage of the customer…
Overview
Multivariate testing
Out of the box analytics and heatmap integrations
Advanced audience targeting
Custom results segmentation
IP address targeting
Unlimited collaborators
Enhanced security controls
Standard
Professional
Premium
13
Monetate
Monetate makes it easier for users to create and deploy super-relevant, multi-channel experiences for unlimited segments. Understand customer's behavior when buying in every channel, demographics, where they are located, first party data and third party data. With all these information at hand, users will be able to create a personalized customer experience in real time accurately. Delegate tasks to the team to ensure more personalized experiences are made as they need arise. With Monetate, be able to identify the most important segments and deliver them across all channels. Personalize the customer's shopping experience by applying relevant updates when it comes…
Overview
Personalize across channels
Integrates with 3rd-party data
Mobile Apps powered by Taplytics
Target badges based on weather or location
Dynamic product recommendations
Open-time email personalization
Deliver consistent experiences across web, email, and mobile apps
14
Zarget
Zarget provides Heatmaps & Clickmaps with very powerful visual maps which tell where your visitors have been clicking on your website.A/B testing your web pages will let you to find out what pages are working well for you and why.Split URL testing is used to contrast the user reactions to two different versions of the same site. Funnel Analysis test a series of pages that serve as a conversion path to see where your visitors drop off from the funnel. Comes with integrated heatmap and A/B testing modules. Heatmaps are graphical representations of web page click data. Whenever a user…
Overview
Heatmaps
Click maps
Scroll Maps
Reporting
Form Analytics
Polls & Feedback
Free 30-day trial
Standard package is $15 per month
Professional package is $25 per month
15
ChangeAgain
ChangeAgain is an A/B testing that includes full Google Analytics Integration in just 1 click. ChangeAgain does not require special skills from the users to be able to launch new tests and navigate ChangeAgain in making necessary edits. Test results are fully compatible with Changeagain and Google Analytics. ChangeAgain provides no limits in testing traffics to which the user can take advantage if dealing with only one test for free.The A/B testing provided maximum advantage to users to make sure that the only the best is used and that it works perfectly for customers as well. Get unique opportunities as…
Overview
Unlimited Impressions
A/B tests/ Split tests
Google Analytics Integration
All Devices Testing
Unlimited Targeting
Unlimited Online experiments
Start Up $14/month
Starter $49/month
Professional $149/month
Enterprise (Contact ChangeAgain)
16
Kameleoon
Kameleoon is a Web Personalization and A/B Testing for Marketers who wanted to ensure that customers get a personalized approach whenever they visit the web. With its simple interface on both desktop and mobile devices, visitors will only have the best experience and shop with ease.Analyze the customer behavior to determine their needs and wants and make the business act on these opportunities. By using Kameleoon's A/B testing, the business will be able to optimize each step of the customer's experience. take advantage of Kameleoon's statistic engines and be able to increase the conversions. Kameleoon's simple yet smart editor provides…
Overview
Unique Tag for All Tests
Unlimited Number of domains
Unlimited Number of Modifications
HTML, Javascript, CSS editor
Activity Backlog
Unlimited Users
Starter Plan
Enterprise Plan
17
Vwo
Visual Website Optimizer (VWO) is a market leading optimization tool that allows product managers, marketers and analysts to create A/B tests and geo – behavioural targeting campaigns. With VWO users can create many different versions of their websites using a point-and-click editor and then find out which version gets them the maximum sales or conversion rate. With VWO's user interface, users can modify their websites without having any sort of technical or IT knowledge. Validate results through statistical methods and alerts when any version is statistically better than the other is. VWO's in-built heatmap tool tracks visitor,s click behavior and…
Overview
Testing & Experimentation
VisualEditor
Analysis & Reporting
Heatmaps & Clickmaps
Platforms & Integrations
Easy Setup
Targeting &Personalization
Research &User Feedback
24/7 Support
STARTUP
$49 / mo
BILLED ANNUALLY
OR $59 month-to-month
BUSINESS
$129 / month
BILLED ANNUALLY
OR $155 month-to-month
ENTERPRISE PLAN
STARTS FROM$999 / month
BILLED ANNUALLY
18
Visual Website Optimizer
VWO is an A/B testing and conversion optimization platform that enables businesses to research their visitors' behavior and optimize their websites to improve key business goals. VWO is an easy to use A/B testing tool that allows marketing professionals to create different versions of their websites and landing pages using a point-and-click editor (no HTML knowledge needed!) and then see which version produces maximum conversion rate or sales.Visual website Optimizer has the ability to conduct A/B testing. The software allow users to conduct their various tests so as to optimize their website performance. Users can see through the tests performed,…
Overview
Perform testing to optimize revenues, conversion rates and sales
Visualize visitor behaviors
Create campaigns
Perform multivariate test to optimize website performances
Standard plan startup =$49/month for 10,000 monthly visitors Business =$129 per month for 30,000 visitors per month Enterprise plan Starts for $999/month Request a demo
19
Apptimize
Apptimize provides mobile A/B testing to drive user behaviors in native iOS and Android applications with statistical certainty. It is a Software Development Kit or SDK which help creators build a better view of the website and make necessary edits to make it more appealing to the customers. Enhance app layouts with the ability to change images, copy, edit colors, calls to action as well as the whole layout. This minimizes the usual burdens that most developers have or even the need for one as it is simply easy to make changes. Apptimize also makes it possible for the app…
Overview
Fast Mobile A/B Testing
Improve Onboarding
Optimize Flows
A/B Test Anything You Can Code
Integrated Results
Tagless 5 Minute Installation
Growth 30 Day Free Trial
Enterprise Custom
20
A/Bingo
A/Bingo is a Ruby on Rails A/B testing framework written as a plugin. It is an extraction from Bingo Card Creator, where it is used in production. A/Bingo works for most recent versions of both Rails 2.3 and 3.0.Users can print custom bingo cards for an entire classroom on desktop computer and printer in mere minutes and in 3 EASY STEPS. The computer will make sure every card is scrambled and unique. Customers can use the over 1025 premade (totally customizable) activities included with an account. Every created custom list is automatically saved for the customer. A subscription to Bingo…
Overview
Display or behavioral differences
Measure any event
Eliminate guesswork
Blazingly fast
Written by programmers, for programmers
Bingo Card Creator
$34.95
21
Maxymizely
Maxymizely is an innovative discovery-oriented platform for mobile & web applications that combines big data analytics with predictive modeling. With Maxymizely, you will be able to improve ROI for your app, increase user engagement and lifetime value, identify the most successful targeting segments for your marketing campaigns, and decrease inefficiencies of your app. There are over 40 amazing analytical reports that can disclose you crucial trends among your app users. Maxymizely 3D analytics is a brand new idea of user evaluation. Using user attributes and past user behavior as the key pieces, Maxymizely's algorithms can "score" the user and show…
Overview
Preview changes with sandbox testing
Create an unlimited number of testing campaigns
Use a highly customized visitor segmentation
Benefit from NO site/domain restrictions
Discover various funnels and conversion types
Check the activity in segments in details
Understand their payment activity
Study user behavior and event analytics
Identify warnings, errors, & crashes
See the sequences of actions that cause errors
See how your user reacted on the error
Study the segments of users that faced errors
Manually set quality parameters
Define high-quality segments
Investigate changes to quality over time
Monthly Active Users
Less 25K
free
Less 50K
$ 25/мо
Less 100K
$ 50/мо
Less 250K
$ 100/мо
Less 500K
$ 200/мо
Less 1M
$ 300/мо
More 1M
contact us
22
SiteSpect
SiteSpect is leading the advancement of testing, targeting and personalization software that empowers the world's most successful digital businesses to drive revenue growth, deepen customer engagements, and sharpen their competitive edge. The software enables users to perform A/B testing in order to optimize digital performance. SiteSpect digital optimization solution enables customers to test the entire user experience, from the front-end "look and feel" to the back-end functionality, and centrally manage those tests across channels, product lines, and business units. The software provides various multivariate testing tools to optimize revenues and sales. The software helps in improving customer experiences. The software…
Overview
Perform A/B test
Perform multivariate testing
Enable personalization
Enable connection with third party data
Identify ongoing trends
23
Clickthroo
Clickthroo does not only provide web and app management system but is actually an enterprise level landing page software platform with full consultancy included. Perform editing, publishing, split testing, segmenting and optimizing on the page with no need for professional editor or any third party software to be downloaded in addition. Clickthroo's design is made for users with no coding skills but can still easily create and deploy high converting web and mobile app pages to ensure better profitability. It also provides templates and designs that could be used for particular pages that a user may desire or find attractive.…
Overview
Easy Campaign Set-Up
A/B Testing & Auto-optimization
Visitor Segmentation
Live View
Tracking & Reporting
Unlimited Phone/Email Support
Unlimited Number Of Campaigns
Self Service 25 $95/month
Self Service 50 $195/month
Self Service 100 $395/month
Enterprise 100 $695/month
Enterprise 250 $1195/month
24
Kissmetrics
Kissmetrics tracks individual and group visitor behavior from their first anonymous visit, through each conversion, to their lifetime value. The reports give metrics to fully analyze and improve user's business. Kissmetricks gives the tools to fix blind spots, maintain a 360-degree view, and strengthen marketing impact through 7 key reports.There are areas throughout websites where visitors do not complete the step that users want them to take. Segments the traffic to see who converts best and grow that ideal audience. Users can even export lists to contact specific segments with a tailored message. Kissmetricks allows seeing how marketing activities influence…
Overview
Funnel Report
People Report
Path Report
Metrics
Cohort Report
Revenue Report
A/B Testing
Power Report
STARTUP
from $220/mo (up to 300k events) to $920/mo (for 10m events)
GROWTH
from $500/mo (up to 300k events) to $1200/mo (for 10m events)
POWER
from $700/mo (up to 300k events) to $1400/mo (for 10m events)
25
Webtrends Infinity
Web trends infinity platform has been developed to harness the power of big data to create the most impactful, integrated analytics and optimization solutions. Utilizing technologies such as Hadoop, Spark and Kafka users can ensure that customer data is set up for success. This platform generates about 13 billion events which Infinity ingests, processes and makes available to clients within about 40 milliseconds. It stores all data at the visitor level and does not lose a single event. Because of unlimited data accessibility and exploration it provides insights that users can trust. Infinity platform revolves six principles such as: real…
Overview
•Generates about 13 billion events
•Making all data available within minutes
•Integrate digital customer data into the marketing ecosystem through customizable APIs
•Protected from end-to-end with leading privacy and security practices and technology
26
Fusion
Fusion helps it users by providing professional help when it comes to managing its offers to the right people at the right time. By using score models, Fusion is able to enhance huge amount of data and gather actionable insights that are timely and beneficial to the business. Basing the information from customers from their shopping experiences, Fusion will be able to create deep customer segmentation model that will be used to better understand their behavior as well as patterns that could help the business generate more sales and establish better connections with the consumers. In every customer segment, there…
Overview
Test Implementation
A/B Testing
Reporting
Multivariate Testing
Test Planning & Strategy
Segmentation
Multi-Channel
27
PlanOut
PlanOut is a framework for online field experiments. It can be used by professionals, business organizations and even students to run tests or experiments. It is designed for an easy use that even users with no background on technical and editing skills will be able to manage their pages. PlanOut's open source implementation shares many of the key design decisions of Facebook's experimentation stack, which is used to conduct experiments with hundreds of millions of people.PlanOut works by hashing input data into numbers; these numbers are then used to generate pseudo-random numbers to pick values of parameters. On the other…
Overview
Pseudo-random assignment through hashing
Focus on parameters
Automatic logging
Domain-specific language
Iterative experimentation
28
Campaigner
Campaigner is an email marketing service which offers easy email automation with workflows, superior list segmentation and reporting, robust autoresponders and drip marketing, API integration into users' existing data systems, Industry-leading A/B split testing, etc. It allows reaching email contacts and delivering message using static and dynamic segmentation. Industry-leading A/B Split Testing helps users better understand subscriber preferences, gain insight into campaign success, and effectively track campaigns over time. With Campaigner users can track campaign success with robust reporting on deliverability, bounce rate, social sharing, clicks, spam, and other relevant statistics. Automatically schedules and send emails based on specific dates…
Overview
Segmentation
A/B Split Testing
Email Reporting
Autoresponders
Email Workflows
SMTP Relay
Campaigner API
Advanced Features
Contact Lists
Email Templates
Purchase Behavior
Up t 100,000
549.95/mo
Up to 50,000
299.95/mo
Up to 25,000
149.95/mo
Up to 15,000
99.95/mo
Up to 10,000
79.95/mo
Up to 5,000
49.95/mo
Up to 3,500
29.95/mo
Up to 1,000
19.95/mo
29
Perti
Perti is Wix's holistic experiment system, it covers the lifecycle of product experimenting including A/B tests and feature toggles. Petri is used at large scale at Wix, supporting dozens of daily changes (instantly affecting production, no deployment needed). Main features include create and gradually open A/B tests to affect your user's experience. This feature helps our Product Managers collect data on user behavior before making decisions. Create Feature Toggles to control inner implementation details. This feature helps our developers gradually roll out features. Define filters to determine what users will be included in your defined experiments. Our filters include language,…
30
Marketizator
Marketizator is a leading provider for generating more sales by taking advantage of their CRO or Conversion Rate Optimization platform. By using their four main features that are Surveys, A/B Testing, Personalization and Segmentation; users will be able to maximize their potentials in getting generating more profit and give them the advantage against competitors. Marketizator's Survey features work on knowing the important factors that may affect the customer's buying decision. This will help the business when presenting their products and getting better conversions when utilized properly. Schedule surveys that may have specific day or time. Provide 8 possible answers that…
Overview
Test multiple pages at once
Advanced segmentation
CRM data usage (name, revenue, purchase history, etc.)
A/B test between different creatives
Editable lead capturing forms
Geotargeting (city, area, country)
GTM data layer
Only Platform Access
Dozens $59/month
Hundreds $279/month
Millions $1399/month
PLATFORM ACCESS & MANAGED SERVICES
$1899/monthly
31
Convert
Convert offers an A/B testing tool that can be used to set up A/B tests to improve the conversion rate of a user's website. Supports easy HTML and a visual WYSIWYG (What You See Is What You Get) website editor showing user experiment content as well as easy style sheet editing for dynamic content experiments. This allows marketers and business owners to create tests without help from a technical team. Convert offers a simple testing wizard to walk users through setting up tests.Convert also allows getting and pushing data from Google Analytics without adding a line of code.Users get full…
Overview
Unlimited Personalization Traffic
Unlimited Subdomains
Unlimited Clients
Advanced Targeting
Email Support (priority)
Chat Support
Phone Support
DMP Profiling
Account Manager
Enterprise
Starting at $7,999/month
Pro Team
Starting at $699/month
Lite
Starting at $499/month
Top A/B Testing Tools Free
Google Content Experiments, Sixpack, Proctor, Vanity, Mocking Fish Startup Plan, UsabilityHub Free Version, Abba, AB, Scenario, labrats, Cohorts are some of the Free Top a/b testing tools.
Top A/B Testing Tools Free
PAT Index™
1
Google Content Experiments
Google Content Experiments, let to test which version of a landing page results in the greatest improvement in conversions (i.e. completed activities that you measure as goals) or metric value. You can test up to 10 variations of a landing page. Content Experiments uses a somewhat different approach than standard A/B and multivariate testing. Content Experiments uses an A/B/N model. You're not testing just two versions of a page as in A/B testing, and you're not testing various combinations of components on a single page as in multivariate testing. Instead, you are testing up to 10 full versions of a…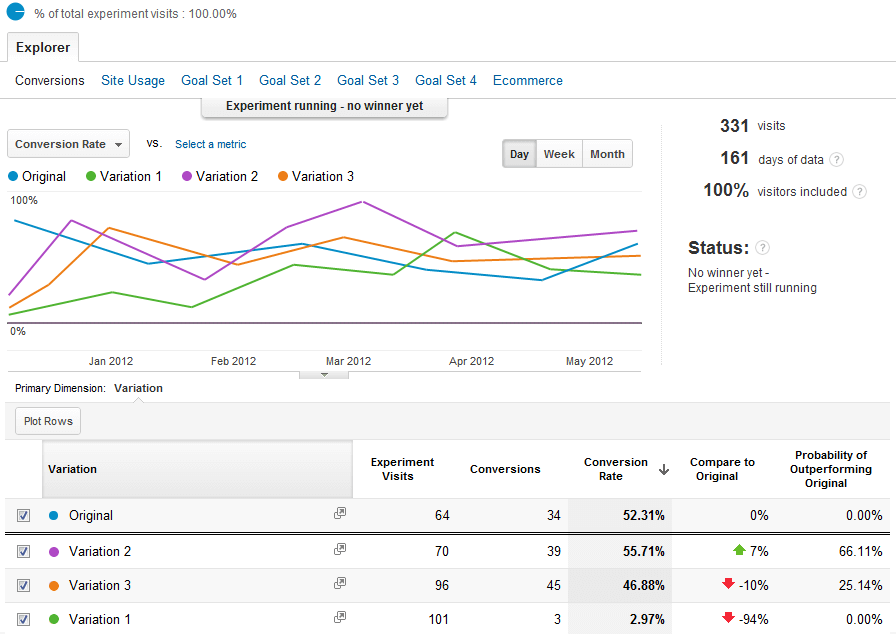 2
Sixpack
Sixpack makes it easy to run A/B tests across multiple web services written in different languages. It includes a beautiful dashboard for viewing test results and choosing winners. Sixpack is a language-agnostic ab testing framework which helps to toggle a test variation in Javascript, track conversions in Ruby, and record a KPI in a Python service along the way. Sixpack can initiate a test with a few lines from your client library(ies) of choice. Once a user enters a test it will automatically show up in the web UI. Sixpack has a simple, elegant web UI that presents all experiments…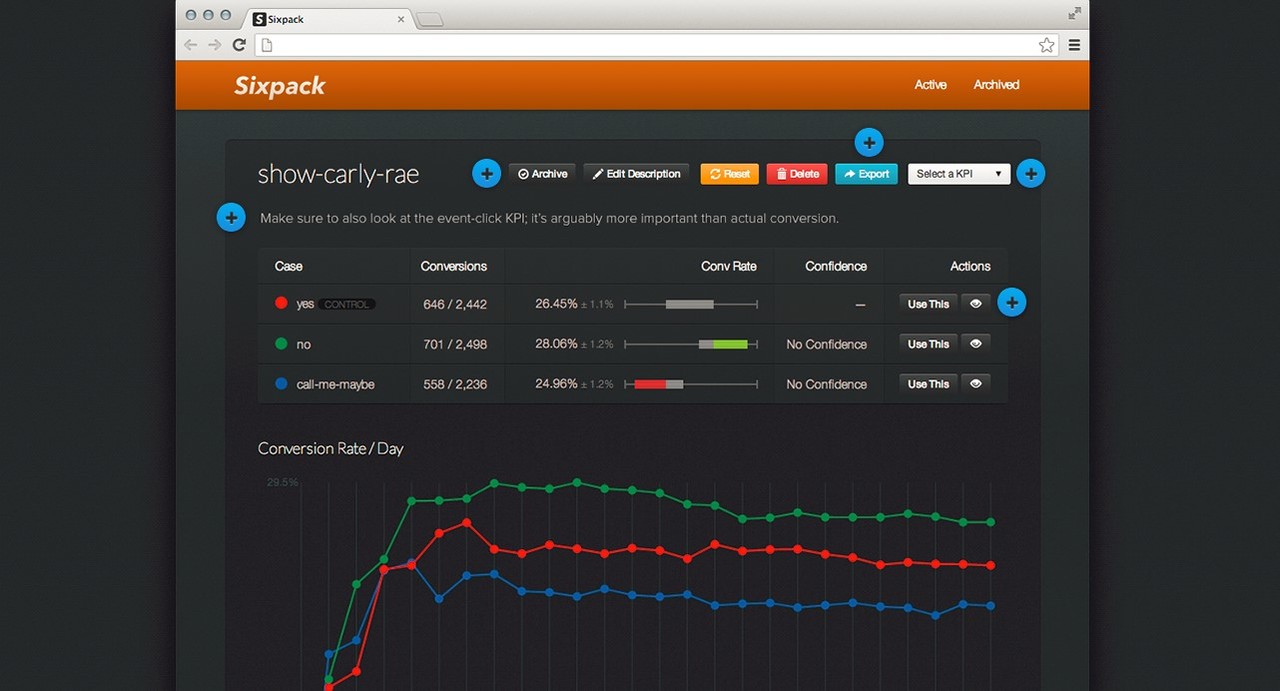 3
Proctor
Proctor is an A/B testing framework that provides a standard JSON representation of test definitions and allows adjustments to those definitions to be deployed independently of code. Proctor is written in Java that enables data-driven product design and consists of data model, client satisfaction, matrix builder, and Java and JavaScript code generators. Proctor includes a builder that combine a set of test definition files into a single text matrix file, while also ensuring that the definitions are internally consistent, and do not refer to undefined bucket values. The builder used by Proctor can be invoked directly from Java or via…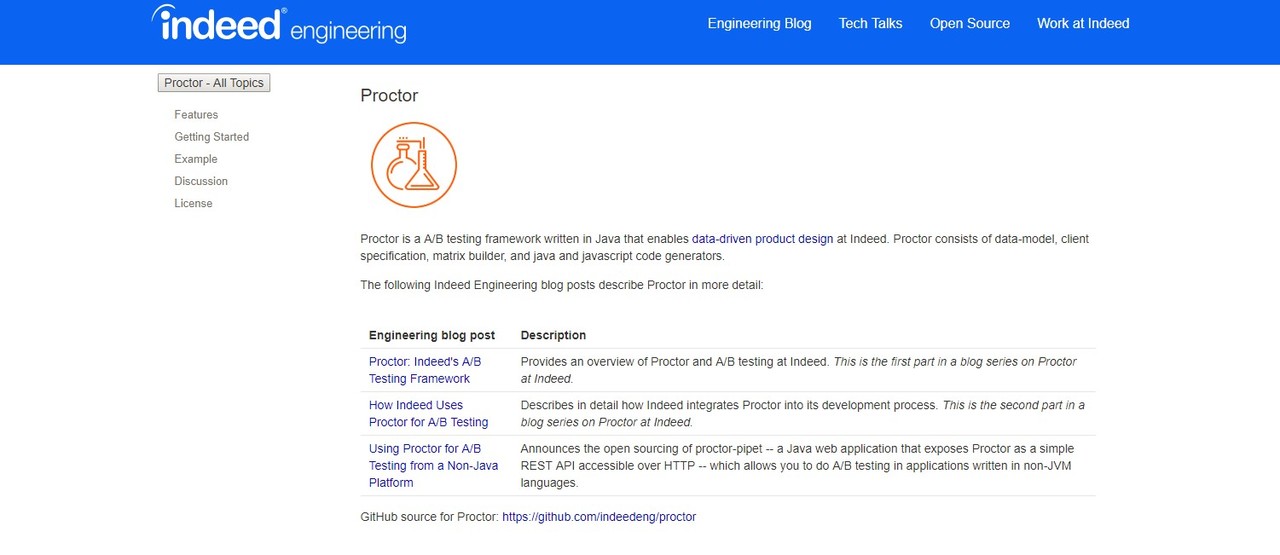 4
Vanity
Vanity is an A/B testing framework that offers a classic example of using A/B testing to compare two versions of a landing page. Through this, it helps to find out which alternatives lead to more registration. Vanity allows using A/B tests to gauge interests in a new feature, in response to a feature change, and improving the site's design and copy. Vanity offers components such as true or false, interpretation of results, multiple alternatives, A/B testing and code testing, and Let the Experiment Design. The true or false feature is typically a metric provided by Vanity that helps in monitoring,…

5
Mocking Fish Startup Plan
Mocking Fish is an A/B testing framework that offers services that users can use to test whether their CTA buttons, images, link, opt-in forms, headlines, and other site elements are performing adequately or not. Mocking Fish uses reports that are based on real-time analytics of the user's site traffic and thus helps to improve the website productivity and user experience to a great extent. Mocking Fish provides exceptional web testing services for optimizing the performance, usability, and conversion rates of a website due to its reliability and simple implementation. Mocking Fish also offers multi-variate testing that allows users to make…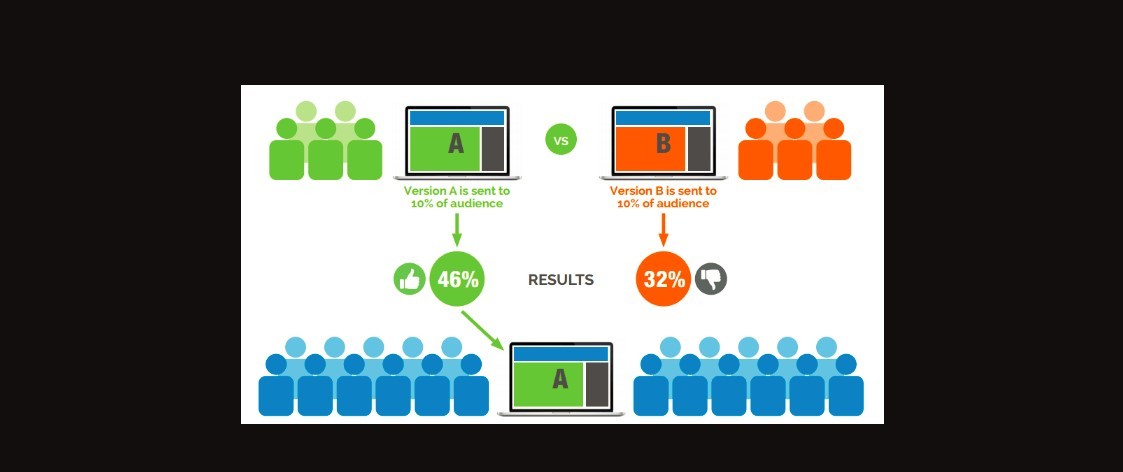 6
UsabilityHub Free Version
UsabilityHub is an A/B testing framework that uses five-second tests, click tests, question tests, navigation tests, and preference tests. UsabilityHub also settles design debates with data and offers remote user testing to help in making confident design decisions when testing. The five-second tests help in measuring the clarity of the user's design on the tests. The five seconds tests can be used to test homepage designs, landing pages, logos, brochures, and marketing material. The five-second tests are ideal in scenarios where first impressions count. UsabilityHub goes ahead and lists all the responses from the five seconds tests in full and…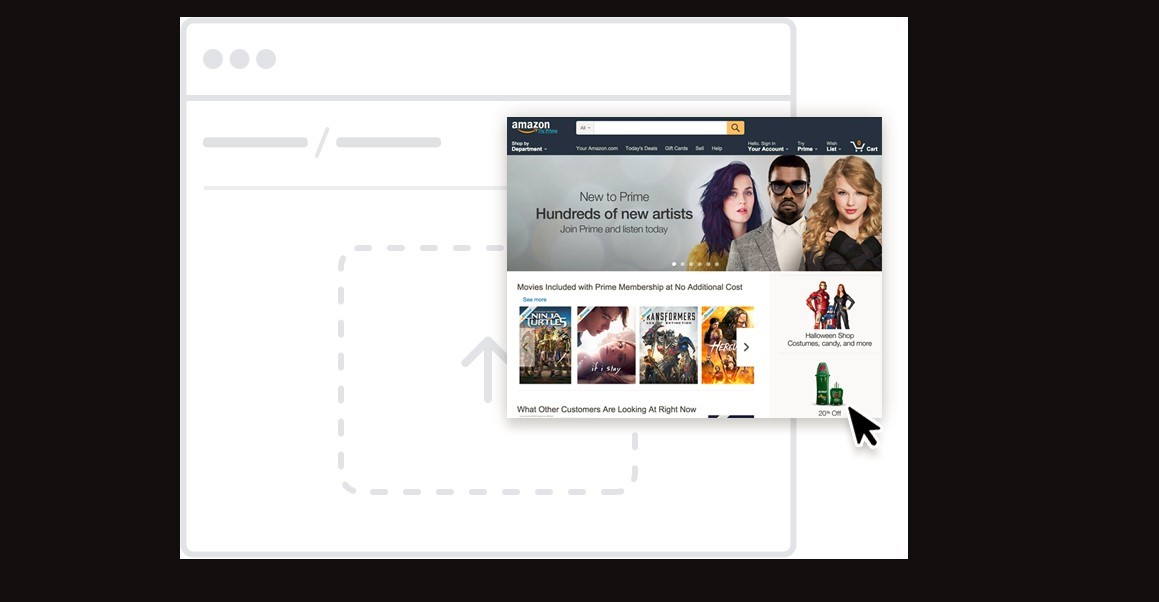 7.Abba
Abba is a simple a/b testing self-hosted framework built to help improve conversion rates on your site. Features include Simple JavaScript API, Multi variant support and Filter results by date and browser.
8.AB
AB is a javascript a/b testing library.
9.Scenario
Scenario is a lightweight A/B Testing library for use with MixPanel.
10.labrats
labrats is a client-side multivariate testing (A/B tests) plugin for jQuery. This lab-rats project provides a jQuery plugin for doing multi-variate testing (A/B Tests) on the client's browser,in other words, treating your customers like lab rats in order to engineer the best web application.
11.Cohorts
Cohorts is a simple, purely javascript, multivariate testing framework.It allows you to easily run split tests for visitors on your site, showing them different designs, layouts, or whatever you want. Cohorts also allows you to track interesting events that occur for each of the cohorts. By default, it uses Google Analytics event tracking to store data, but you can customize it to use your own or another.
What are A/B Testing Tools?

A/B testing is a randomized experiment with two variants, A and B, which are the control and variation in a two-sample hypothesis testing. A/B testing is a way to compare two versions of a single variable typically by testing a subject's response to variable A against variable B, and determining which of the two variables is more effective. It is also known as bucket tests and split-run testing.

What are the Best Free A/B Testing Tools?

Google Content Experiments, Sixpack, Proctor, Vanity, Mocking Fish Startup Plan, UsabilityHub Free Version, Abba, AB, Scenario, labrats, Cohorts are some of the Free Top a/b testing tools.

What are the Best A/B Testing Tools Proprietary?

Freshmarketer, Adobe Target, Unbounce, Dynamic Yield, Leanplum, AB Tasty, Splitly, Maxymiser, Mixpanel, Taplytics, Usabilityhub, Optimizely, Monetate, Zarget, ChangeAgain, Kameleoon, Vwo, Visual Website Optimizer, Apptimize, A/Bingo, Maxymizely, SiteSpect, Clickthroo, Kissmetrics, Webtrends Infinity, Fusion, PlanOut, Campaigner, Perti, Marketizator, Convert are some of the Top a/b testing tools.