Review
ChangeAgain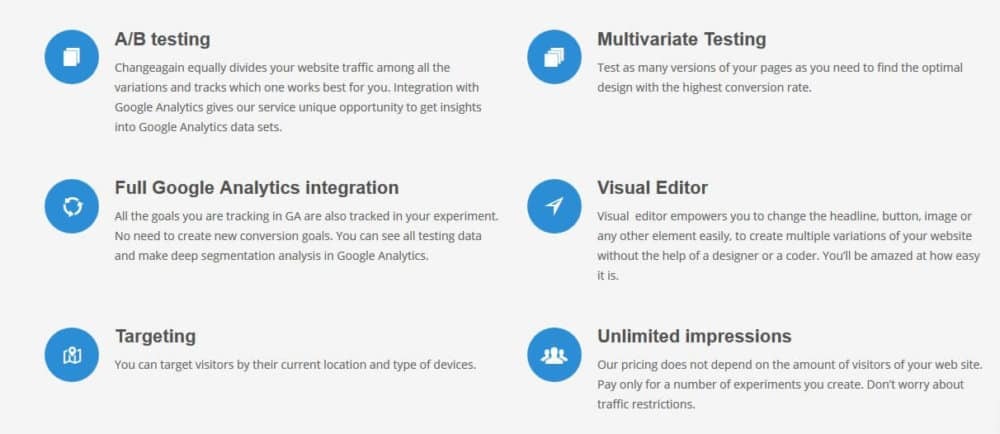 Overview
Changeagain equally divides your website traffic among all the variations and tracks which one works best for you. Integration with Google Analytics gives our service unique opportunity to get insights into Google Analytics data sets.
Unlimited Impressions
A/B tests/ Split tests
Google Analytics Integration
All Devices Testing
Unlimited Targeting
Unlimited Online experiments
Start Up $14/month
Starter $49/month
Professional $149/month
Enterprise (Contact ChangeAgain)
Small (<50 employees), Medium (50 to 1000 Enterprise (>1001 employees)
ChangeAgain is an A/B testing that includes full Google Analytics Integration in just 1 click. ChangeAgain does not require special skills from the users to be able to launch new tests and navigate ChangeAgain in making necessary edits. Test results are fully compatible with Changeagain and Google Analytics.
ChangeAgain provides no limits in testing traffics to which the user can take advantage if dealing with only one test for free.The A/B testing provided maximum advantage to users to make sure that the only the best is used and that it works perfectly for customers as well.
Get unique opportunities as well when it comes to insights using Google Analytics. This provides a better picture on all testing data and makes deep segmentation with full Google Analytics integration. Target consumers based on their current location as well as the type of devices used.
ChangeAgain lets the user test multiple versions of pages to get the best design to ensure maximum conversion rate. The visual editor makes it possible to edit important sections of the app such as headlines, buttons, images or any other elements easily with no need to hire professional designer at all.
This enables users to make changes that are necessary to ensure profit for the business. With Unlimited impressions, users are not billed according to the number of visitors but for the number of experiments created. All plans of ChangeAgain are eligible for a 30 days free trial period and provides professional email support group to answer most queries.