Review
Apptimize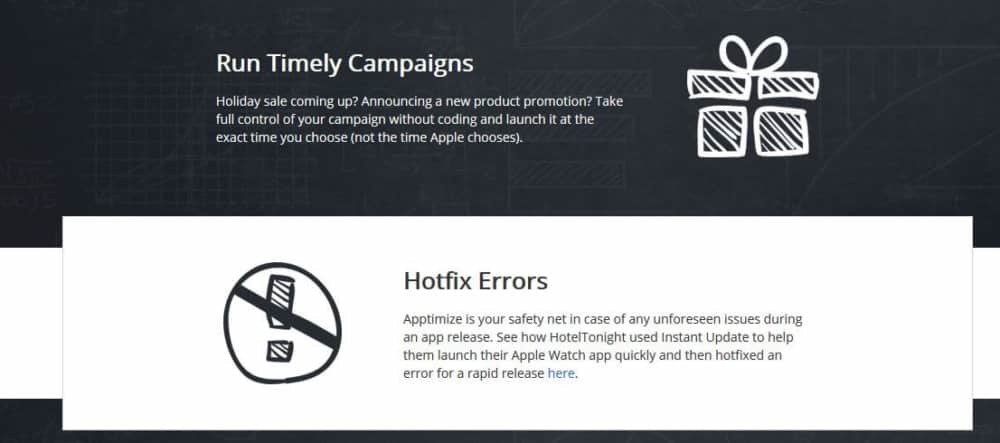 Overview
Apptimize let's you instantly change images, copy, calls to action, and more, all without needing to use valuable developer time or wait around on app store approvals.
Fast Mobile A/B Testing
Improve Onboarding
Optimize Flows
A/B Test Anything You Can Code
Integrated Results
Tagless 5 Minute Installation
Growth 30 Day Free Trial
Enterprise Custom
Small (<50 employees), Medium (50 to 1000 Enterprise (>1001 employees)
Apptimize provides mobile A/B testing to drive user behaviors in native iOS and Android applications with statistical certainty. It is a Software Development Kit or SDK which help creators build a better view of the website and make necessary edits to make it more appealing to the customers.
Enhance app layouts with the ability to change images, copy, edit colors, calls to action as well as the whole layout. This minimizes the usual burdens that most developers have or even the need for one as it is simply easy to make changes.
Apptimize also makes it possible for the app changes to be updated right away as there is no wait time for the App and Play Store's approval.
Apptimize robust A/B testing feature delivers better sales for the company by running tests on particular app as well as products to make it more appealing for the customers. The A/B testing feature works best on both native iOS and Android app platforms.View apps and experiment on new layouts as well as flows.
Give customers better view and easier navigation by updating the app according to your wants. Segment and target specific users and find out what works well with clear, actionable analytics.
Apptimize Staged Rollout feature makes the app available to a certain percentage of users and increase gradually. Turn on or off marketing campaigns when needed and not just follow when Apple or Google approves of the latest build. Apptimize's easy to install feature of drag and drop SDK could take about 5 minutes and with just one line of code which makes it really simple to use.