Review
A/Bingo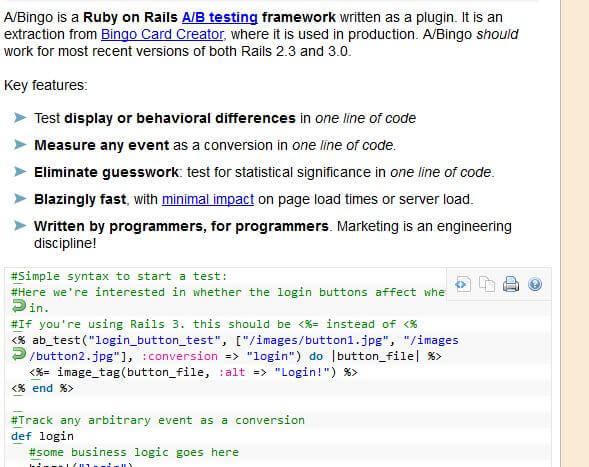 Overview
A/Bingo is a Ruby on Rails A/B testing framework written as a plugin. It is an extraction from Bingo Card Creator, where it is used in production
Display or behavioral differences
Measure any event
Eliminate guesswork
Blazingly fast
Written by programmers, for programmers
Bingo Card Creator
$34.95
Small (<50 employees), Medium (50 to 1000 Enterprise (>1001 employees)
A/Bingo is a Ruby on Rails A/B testing framework written as a plugin. It is an extraction from Bingo Card Creator, where it is used in production.
A/Bingo works for most recent versions of both Rails 2.3 and 3.0.Users can print custom bingo cards for an entire classroom on desktop computer and printer in mere minutes and in 3 EASY STEPS. The computer will make sure every card is scrambled and unique.
Customers can use the over 1025 premade (totally customizable) activities included with an account. Every created custom list is automatically saved for the customer.
A subscription to Bingo Card Creator is unlimited and lifetime. With a paid subscription to Bingo Card Creator, user can make an unlimited number of customized bingo cards.
As long as the customers have internet access, they have Bingo Card Creator. And, since their cards are auto-saved, they can access them from anywhere there is an internet and a printer.In 3 easy steps, users can put on a bingo card: vocabulary lists, letters, numbers, math facts, social studies facts, student names , cards for National Donut Day and many more.
Keep your students interested in learning! Children and adults of all ages love playing bingo. A/Bingo has a variety of ideas on how users can use cards to teach, assess, and motivate.Bingo Card Creator works for Windows PCs and Macs. Customers can use it both at their homes and at school, and it saves the cards in one place.