Review
Splitly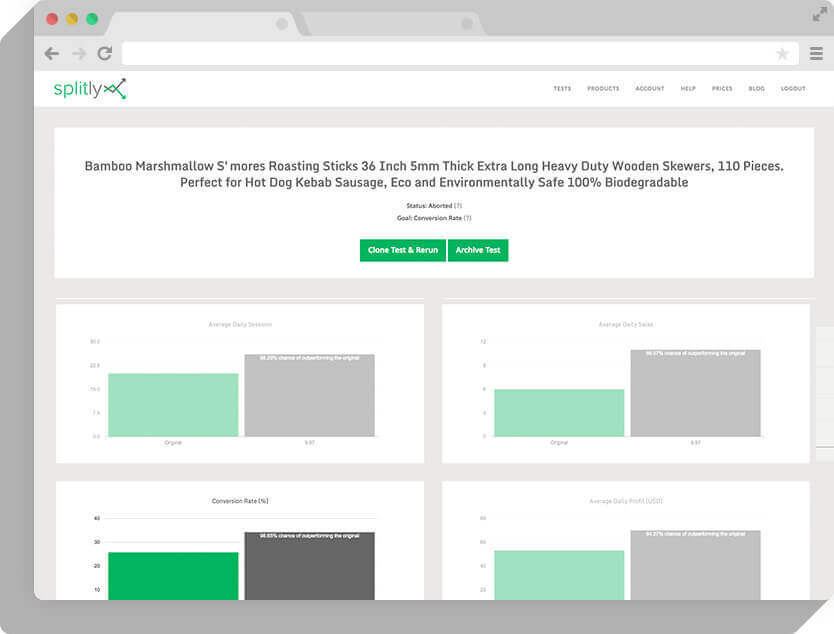 Overview
Splitly is a split testing tool made for Amazon sellers. Splitly is a simple and powerful solution to automate A/B tests on Amazon, test key listing features, and improve profits.
Maximize profit by finding the ideal price for your product and niche.
Test how pricing affects your rankings and conversions.
Track total revenue increases due to split tests.
Upload multiple images, titles and descriptions and run automated tests.
Generate more sales and revenue for your business.
Optimize your product listing to appeal to your most profitable customers.
Basic $27/month
Starter $47/month
Growth $97/month
Enterprise $497/month
Small (<50 employees), Medium (50 to 1000 Enterprise (>1001 employees)
Splitly is an Amazon Split Testing Software that helps businesses maximize profit when dealing with FBA or fulfillment by Amazon. Be ahead of most competitors when it comes to being more competitive and getting more chances of maximizing profits.
Using Splitly isolates the greater chance of having same product labels and layouts when it comes to presenting products on applications as well as how customers view particular products on the web.
Splitly develops tests that can dramatically improve on products viewed by consumers on Amazon. Specifically working on the Main Feature Image which can drive more customers to the company's website as this is the first image that customers are presented.
Splitly also runs tests on the pricing aspect and helps establish the right amount for the products to get more profit. Depending on the products costing niche, Splitly will be able to suggest lowering the amount for low cost products and increase the number of sales convert. On the other hand, high cost products may have a higher price suggestion to imply better quality which could generate more sales as well.
Product features are very important when it comes to deciding what to get and why the customer should buy it. Splitly communicates better with customers, making them more tailor-fit for them by informing consumers of the best features as well as the benefits of a particular product. Product Title and Product Description are just as important as the others.
Splitly tests the length of the product title and help the product get better ranking position for different organic words. Splitly have been working with different companies and is able to provide better sales and make products appear more in organic search results.