Review
Clickthroo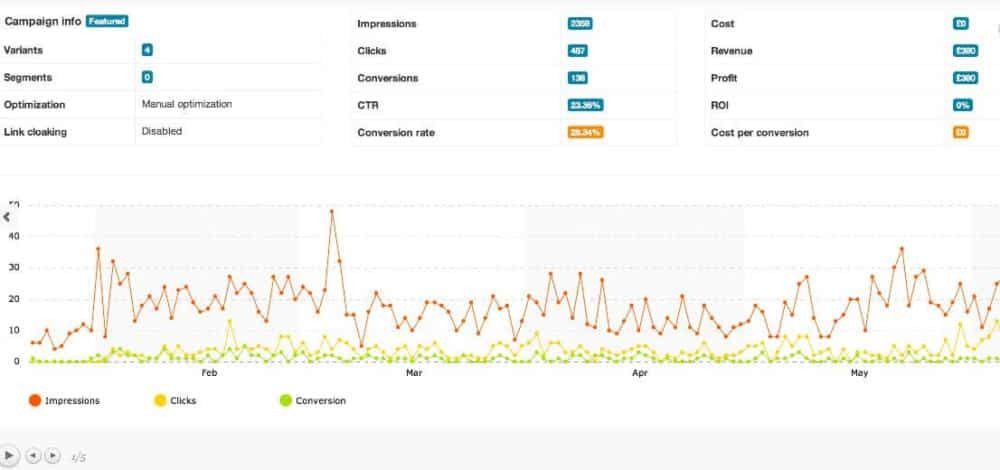 Overview
Clickthroo is an enterprise level landing page software platform with full consultancy included. Build, publish, split-test, segment, personalize, and optimize your landing page marketing campaigns without the need for hosting or third-party software.
Easy Campaign Set-Up
A/B Testing & Auto-optimization
Visitor Segmentation
Live View
Tracking & Reporting
Unlimited Phone/Email Support
Unlimited Number Of Campaigns
Self Service 25 $95/month
Self Service 50 $195/month
Self Service 100 $395/month
Enterprise 100 $695/month
Enterprise 250 $1195/month
Small (<50 employees), Medium (50 to 1000 Enterprise (>1001 employees)
Clickthroo does not only provide web and app management system but is actually an enterprise level landing page software platform with full consultancy included. Perform editing, publishing, split testing, segmenting and optimizing on the page with no need for professional editor or any third party software to be downloaded in addition.
Clickthroo's design is made for users with no coding skills but can still easily create and deploy high converting web and mobile app pages to ensure better profitability. It also provides templates and designs that could be used for particular pages that a user may desire or find attractive.
Clickthroo's simple campaign feature lets the user select their campaign preferences, reporting currencies, fraud detection settings, traffic sources and prices as well as domain name settings. Segment page visitors by their location, device used, traffic source, keywords, referring URLs, operating system and more. All these information are made available through reports to increase visitors and manage page.
Get real time reports on visitor's behavior to where they come from, how they landed on the page as well as the keywords and devices they are using. Tracking this information helps the business ensure that they are aware on their customer's preferences and take action on how to better improve services and relationship. Get unlimited variants to test and perform tracking and testing on multiple links on the same page.
Clickthroo provides extensive page management system to boost web and mobile app pages that will help the business have better presentation for its customers, giving it only great advantage in maximizing profits.