Top 54 Enterprise Resource Planning (ERP) Software for Small Medium Business (SMB)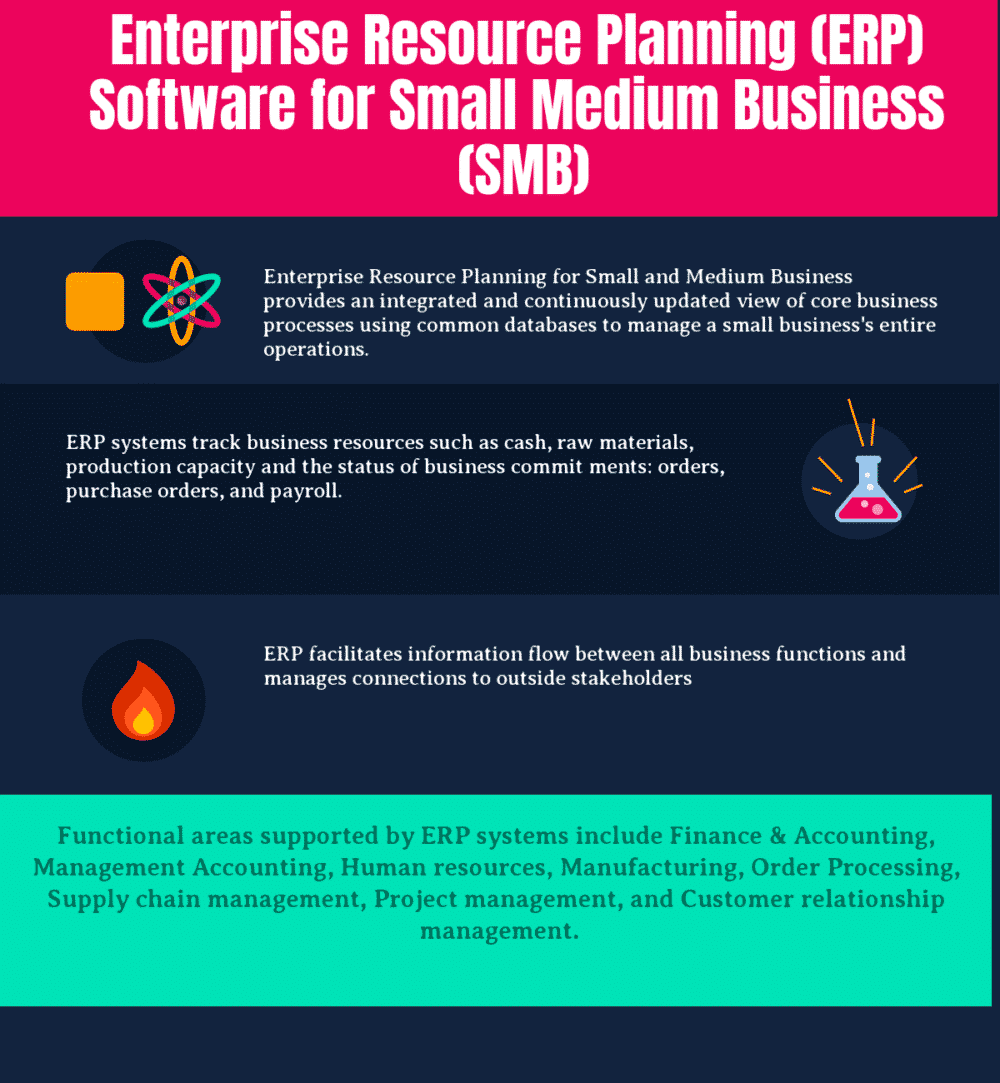 Small and medium-sized enterprises (SMEs) are in constant pursuit of efficiency and streamlined operations in the running of their business. It can help them gain a competitive edge over their competitors and also cut business costs, save time and increase the profitability of their business.
The SME owners need to track the various business resources such as the raw materials, cash, production capacity, as well as the status of the business orders, and payroll to ensure that the business is running efficiently. It's crucial for enterprises to make accurate and realistic projections and forecasts to deliver practical results and outcomes in their operations.
Enterprise managers need to ensure that there are continuous collaboration and communication flow of business information and data between all their business functions such as manufacturing, sales, purchases as well as communication with other business stakeholders.
SME Enterprises must ensure that their business processes and applications integrate and run seamlessly together. Businesses owners find all these tasks overwhelming and so there is a need for an ERP program to help automate all their business operations.
Enterprise Resource Planning for Small and Medium Business provides an integrated and continuously updated view of core business processes using common databases to manage a small business's entire operations.
ERP systems track business resources such as cash, raw materials, production capacity and the status of business commit ments: orders, purchase orders, and payroll. The applications that make up the system share data across various departments such as manufacturing, purchasing, sales, accounting that provide the data.
ERP facilitates information flow between all business functions and manages connections to outside stakeholders. Functional areas supported by ERP systems include Finance & Accounting, Management Accounting, Human resources, Manufacturing, Order Processing, Supply chain management, Project management, and Customer relationship management.
Examples of SMB ERP Software: SAP Business One, Sage 500 ERP, Brightpearl, NetSuite ERP, Jeeves ERP, Deacom ERP, ECount ERP, MRPEasy, Ignition, Munis ERP, JustFood ERP, SAP Business ByDesign, Plex Manufacturing, IFS ERP, Sage 100c, Apprise ERP, Microsoft Dynamics AX, Dynamics GP, abas ERP, BlueCherry ERP, Kenandy, Sage 300c, Sage X3, FinancialForce ERP, OnCloudERP, Bitrix24 ERP, Expand ERP, Acumatica Cloud ERP, Comarch ERP, NetSuite Global ERP, Rootstock, MIE Trak Pro, SigmaMRP, Deltek Vision, Clearview InFocus, IQMS, BatchMaster ERP, VISIBILITY.net ERP, Traverse, Novosales, Dynamics NAV, ERPinCloud, Compass Suite, Streamline ERP, In4Suite, Dynamics SL, CGram Enterprise, SalesBabu ERP, Relevant ERP are some of the best examples of ERP Software for Small Medium Business (SMB).
You may like to read: Top Cloud ERP Software, Free and Open Source ERP Software, and ERP Software for Large Business.
What are ERP Software for Small Medium Business (SMB)
Enterprise Resource Planning software for small and medium-sized enterprises is an application suite that helps automate, streamline and manage all the core business operations including CRM, purchasing, sales, human resource, inventory, customer support, and accounting. ERP software assists businesses gather, store, interpret and manage data from various business units and departments as well as from other external stakeholders. It also streamlines and automates the back-office activities and cross-departmental workflows.
Financial management component: ERP Program helps the small and medium enterprises manage the capital inflow and outflows, perform the standard accounting & finance transactions like expenditures, general ledger, balance sheet, bank reconciliation, payments, and tax management. It generates the financial statements and reports for different business units and departments.
CRM (Customer Relationship Management): CRM element to help SMEs boost customer service; manage leads, opportunities & customer issues. The ERP program offer an overall profile of the business customers through data consolidation including data from their social media activities, historical and past purchases, interactions with support representatives among others. CRM is integrated with sales component to push conversions.
Sales & Marketing: Sales and marketing tools in an ERP suite handles the workflows of sales, for example, sales quotations, inquiries, orders, and invoices. If more advanced, it can feature taxation rules and a shipping tracker. It works together to quicken the sales cycle and bring more profits to the company.
HRM (Human Resources Management):The HRMS tools such as the time tracker, timesheet, employee records database, job profiles, and skills matrix. It may also include a payroll system and performance reviews. The payroll suite is integrated with the financial management tool to help manage wages, reimbursements, travel expenses. Some also feature training or LMS function.
Manufacturing : Helps to make manufacturing efficient in specific fields, such as materials sourcing, product planning, daily production is monitoring and product forecasting. It also features the Bill of Material, Shop Floor Control, Master Production Schedule, and Sales & Distribution Plan. It is integrated with a solution and Inventory modules especially product planning and inventory control.
Supply Chain Management (SCM) : SCM help manage the flow of products from production to the consumer and, time to time, returns or recalls and vice-versa. It helps in automation processes and streamlines the entire supply chain to make it adaptive to the dynamic market movements.
Inventory: The inventory which is also known as material management component and helps measure stock targets, make replenishments standard and help in other inventory goals. It uses the serial numbers of the products to track and trace items in the organization. It is integrated with the Purchase element.
Purchasing: Helps with the business processes involved in the procurement of raw materials including supplier listings, purchase orders, goods receipt notes, stock updates, and quotation requests &analysis. It must integrate tightly with SCM or Inventory elements.
Customization: ERP match the critical business workflows and departments and have customizable tools, localized dashboards as well as configurable workflows to allow units and departments to define their specific goals and set the ERP according to their parameters.
Reporting and dashboards: It help to generate financial statements that are compliant to a particular region. ERP allows in-system query and smart filters put together with real-time data. It must help generate quick and ad-hoc reports that adjust to the ever-evolving business needs and changes. Have standard dashboards that can allow the user to mash up quantitative vs. qualitative data at user, role and department levels, displaying KPIs with drag-down links.
Integration: ERP work with all the existing business applications seamlessly. It enables the user to integrate system-to-system that is, ERP to the existing CRM or HRMS, module-to-system that is, ERP payroll to the existing HRMS and file transfer competencies that are, exporting or importing PDF, DOC, JPG, CSV files.
Industry-specific: ERP system possesses industry-specific features such as retail, government, healthcare, and nonprofit and more.
Small and medium scale enterprises should digitize their business operations with the ERP for SMEs to help reduce cost and operations inefficiencies and to boost the productivity of their enterprise.
Top ERP Software for Small Medium Business (SMB)
SAP Business One, Sage 500 ERP, Brightpearl, NetSuite ERP, Jeeves ERP, Deacom ERP, ECount ERP, MRPEasy, Ignition, Munis ERP, JustFood ERP, SAP Business ByDesign, Plex Manufacturing, IFS ERP, Sage 100c, Apprise ERP, Microsoft Dynamics AX, Dynamics GP, abas ERP, BlueCherry ERP, Kenandy, Sage 300c, Sage X3, FinancialForce ERP, OnCloudERP, Bitrix24 ERP, Expand ERP, Acumatica Cloud ERP, Comarch ERP, NetSuite Global ERP, Rootstock, MIE Trak Pro, SigmaMRP, Deltek Vision, Clearview InFocus, IQMS, BatchMaster ERP, VISIBILITY.net ERP, Traverse, Novosales, Dynamics NAV, ERPinCloud, Compass Suite, Streamline ERP, In4Suite, Dynamics SL, CGram Enterprise, SalesBabu ERP, Relevant ERP are some of the Top ERP Software for Small Medium Business (SMB).
How to Select the Best ERP Software for Your Small Medium Business
How to Select the Best Enterprise Resource Planning (ERP) Software for Your Business
Top ERP Software for Small Medium Business ( SMB)
PAT Index™
1
SAP Business One
SAP Business One Cloud is cloud-based ERP at its best – making it easier and more affordable to manage all your critical business processes. SAP Business One, version for SAP HANA delivers the integrated financial, CRM, and supply chain features you'd expect in an ERP application – supercharged with in-memory technology. SAP Business One analytics powered by SAP HANA helps you drive informed decision making across your company with affordable analytics fueled by our market-leading in-memory platform, SAP HANA. The ERP software offer solutions ranging from accounting to customer relations management. The key features of SAP Business One are accounting…
2
Sage 500 ERP
Sage 500 ERP is a web-based enterprise resource planning suite and enterprise management solution which combines robust and customizable business applications with Business Intelligence and reporting and helps progressive companies in streamlining operations to bring about growth and save in cost. Sage 500 ERP offers features such as general ledger, accounts payable, accounts receivable, cash management, purchase order, multi-currency management, allocations, active planner, depreciation accounts for tangible assets like business equipment like laptops, copiers and production machines, fixed asset inventory with sophisticated bar-code system to track physical location of assets using handheld radio frequency device, inventory management, inventory replenishment, purchase…
3
Brightpearl
Brightpearl is a platform to manage inventory, accounting, customers, suppliers and fulfillment across your omnichannel business. Paired with real-time reports on inventory, cash flow, profitability across products, channels, customers and much more. The purpose of this software is to help with inventory management, account management, CRM, POS, purchasing and so on. Bright pearl software major features is in full management of inventory, and real-time inventory updates, which helps to prevent double selling, reduces errors and also save team time. it also helps in retail accounting in which the financial position of your business is understood and you can make better…
4
NetSuite ERP
Netsuite is engineered to scale with businesses as they grow and to streamline mission critical processes. It helps in advanced financials, supply chain management, billing and so on. Netsuite ERP gives companies the tools they need to accelerate growth and drive innovation. It features help with financial management through the built-in business intelligence to drive smarterand quicker decision making. It also help in billing management in which there is acciracy, elimination of bill errors, strengthing revenue recognition process and driving fulfillment accuracy and efficiency. Netsuite ERP revenue recognition management helps with accounting standardization, and report financial results in a timely…
5
Jeeves ERP
Jeeves is an enterprise resource planning (ERP) system and a software developer in Sweden which integrates seamlessly across multiple manufacturing styles to facilitate planning, decision-making, execution and measuring. Jeeves ERP offers features such as tab views, form design, search, integration with QlikView, user-defined portals, field service, inventory management, project management, purchasing, sales management, supply chain management, warehouse management, financial management, accounting management, CRM, dashboard and distribution management. The Jeeves Universal product is suited to engineered-to-order, made-to-order, job shop and repetitive manufacturers, among other production environments where work order tracking and labor reporting are essential requirements. Jeeves ERP offers an innovative…
6
Deacom ERP
Deacom ERP is a full-function ERP solution that supports all core functional areas of the manufacturing industry. Deacom's solutions use a single set of business rules, written with one set of code, and avoids the typical customizations inherent with traditional ERP model. Deacom's strategy is to provide drive consistency and usability throughout the software. Deacom ERP is delivered as a web-based solution and can be accessed anywhere, anytime, and on any device. Deacom's single-system ERP software is capable of scaling with your business as requirements change and evolve using the rapid development cycle and Kaizen methodology enabling a strong process…
7
ECount ERP
Ecount ERP is a cloud based enterprise resource planning system that enables users to manage their accounting, purchasing, sales and so on from a single platform. It is the only cutting -edge, fully cloud based system that is accessible from anytime and anywhere. It is 100% cloud-based ERP and it has unlimited users in which you can create user IDs for your entire team at no additional cost. ECount ERP helps you become efficient and seamless. It services include, system upgrade, data security, data backup, implementation, free support and online user manual. ECount ERP extensive features include, Accounting, Manufacturing, purchasing,…
8
MRPEasy
MRPEasy is simple and powerful manufacturing software for small and medium sized manufactures. Its main features are production, planning, inventory control, SCM (procurement) and CRM. With Mrp you can know when the job will get done and how much it will cost. It has unlimited number of users, and supports ticket system. It has dynamic and specific functions which are dependent on the prices allocated. Starter which is the cheapest at $39 has fewer functions compared to professional, enterprise and unlimited. The MRP system contradicts the idea that to install and operate Mrp systems is complex and expensive instead it…
9
Ignition
Ignition is a set of tools which is used to create inventory systems, point of sale applications and other kinds of applications such as SCADA. Ignition offers features such as client or server architecture, web-based server management, web-deployed client applications, quick to install and use, database-centric and database-agnostic, cross-platform, runs on Windows, Linux and OS X, licensing for unlimited tags and unlimited clients, mobile solution for mobile devices, Java based. Provides Python scripting support, closed-source, software development kit available for expanding the tool set and capabilities of ignition by third-parties, marketplace available for sale and distribution of tools and capabilities…
10
Munis ERP
Tyler's Munis financial solution is designed to encompass a wide range of public sector needs, this completely integrated ERP system manages all of your core functions, including financials, human resources and citizen services and revenues. This software helps with managing all of your core functions like financials, human resources and citizen services, and revenues. It main functionality is to deliver incomparable, flexibility and robust help to streamline most essential works. Munis has some key features which made it exceptional. These features are Munis Central Programs which helps with simplifying report process. It was also featured to help minimize the number…
11
JustFood ERP
JustFood ERP software is an enterprise resource planning program for the food and beverage industry which are used to automate various back office functions of companies and is created to address the specific needs of firms in the food and beverage industry including accounting, MRP, CRM, product lifecycle management and reporting. JustFood ERP offers features such as industry-specific modules, CRM, every transaction with them can be recorded and monitored to help in the marketing and sales, accounting modules, inventory modules, costing, customer management, import or export management, inventory management, lot tracking, order management, picking and routing, purchasing, quotes or estimates,…
12
SAP Business ByDesign
SAP Business ByDesign is a comprehensive ERP solution that's cloud-based and ideally suited for mid-market companies, local public-sector institutions and subsidiaries of large corporations. It supports financials, human resources, sales, procurement, customer service, supply chain management, and more in your company. In simpler words, it's for small and midsize enterprises that while continually optimizing their operations, want to grow profitably. If your small business or midsize enterprise is looking for a comprehensive cloud solution at an affordable price then you should consider SAP Business ByDesign. It generally combines your important business areas in one comprehensive and standardized environment. With this…
13
Plex Manufacturing
Plex is an ERP cloud built from the plant floor up which captures information at the place where things are made, monitor and control processes and communicate it all in real time across every functional area of the user's business. Plex offers features such as CRM, financial management, manufacturing, supplier and purchase order management, warehouse management, sales and distribution, business process modeling (BPM), inventory control, work order management, accounting management, financial accounting, distribution management, budgeting, document management, inventory management, project management, time tracking, quality management, business intelligence (BI), field service management, invoicing, dashboard, purchase management, sales management, increased productivity, reduced…
14
IFS ERP
IFS ERP is a component-based ERP software for Agile Business which provides solutions for enterprise asset management, maintenance/repair/overhaul, field service management, manufacturing operations, project and project portfolio management, and supply chain management and is built around the idea that the users need to anticipate changes in technology, economic climate, and within the business. IFS ERP offers features such as comprehensive enterprise resource planning (ERP) solutions, fully integrated and scalable to increase business agility, manufacturing ERP for multi-mode environments, supply chain management for demanding environments, business intelligence (BI) built-in or built-on, enterprise asset management (EAM), Asset lifecycle management (ALM), Enterprise project…
15
Sage 100c
Sage 100c helps your growing company with accounting, manufacturing, distribution, inventory management and more. It's an easy, affordable and customizable business management solution for growing manufacturers, distributors, and retailers. It help with accounting, business management, retail processes from end to end, distribution, inventory management and lots more. It is easy, affordable and customizable business management solution for growing manufacturers, distributors and retailers. Features include; Business financials that is, there is cash flow meet needs of your business and it avoid stressful shortfalls. Supply chain helps to pull together data from across your business and make informed decisions. Sage 100c is…
16
Apprise ERP
Apprise is a leading global provider of enterprise resource planning (ERP) and supply chain management (SCM) software and services designed specifically for consumer goods wholesalers. Through fully integrated solutions, the company helps consumer goods distributors, importers and manufacturers streamline their business wide operations, achieve greater operational visibility, and improve supply chain compliance - ultimately reducing costs and enhancing profitability. Apprise ERP is an Enterprises Resource Planning software built for consumer goods industry. This software helps in making supply chain more efficiently thereby bringing more profit to the business. It helps in streamlining the entire supply chain. Fully integrated in Apprise…
17
Microsoft Dynamics AX
Microsoft Dynamics AX is an Enterprise Resource Planning software used by entreprises for financial management, operations management and human resource management. This ERP enables decision making and brings key stakeholders like suppliers and customers on board. Microsoft Dynamics AX adapts to industry specifications and adds value to the business by widening its usage. The software is fitted with business applications and Technological infrastructures to fasten the adoption. It is owned by Microsoft, the vendor. Major features of Microsoft Dynamics AX are; warehouse and transport management, budgeting, Point of Sale, forecasting, human resource management and social media among others. Microsoft Dynamics…
18
Dynamics GP
Microsoft Dynamics GP is a financial accounting system for small to midsize businesses which has all the standard accounting processes delivered in a logical navigational architecture with links to micro functions and allows to cut IT infrastructure costs without compromising the accounting power of the software. Microsoft Dynamics GP offers features such as general ledger, payables, receivables, cash flow management, fixed asset management, intercompany, national accounts, multicurrency management, analytical accounting, revenue/expense deferrals, bank reconciliation, electronic banking suite, safe pay, cashbook bank management, electronic bank management, electronic reconciliation management, customer/vendor consolidation, lockbox processing, refund checks, grant management, encumbrance management, account level…
19
abas ERP
abas ERP is a modern and customizable ERP software for mid-size manufacturing companies which offers implementations in industries like custom manufacturing, industrial machinery, fabrication assembly, electronics, and auto and supply and also offers a cloud and on-premise hosting solutions, with reporting, workflow and mobile ERP for the user's entire organization, including management, finance, purchasing, sales, service, accounting, production and warehousing. abas ERP offers features such as order processing, order capture, pipeline management, serial number tracking, inventory management, sales and inventory histories, sales forecasting, multi-location stock tracking, group accounting, accounts receivable, general ledger, request and purchase order creation, expense tracking, activity…
20
BlueCherry ERP
BlueCherry Enterprise Resource Planning (ERP) is a best-in-class solution that provides a comprehensive set of tools to power your fundamental business processes and manage all of your critical business transactions, including everything from customer orders to deliveries, planning to production, raw materials to finished products and everything in between. Consumer lifestyle products manufacturers, wholesalers and retailers benefit from end-to-end transparency, visibility and control required across the entire enterprise and supply chain. BlueCherry ERP connects and strengthens core business functions through an integrated platform for seamless omnichannel operations in today's highly competitive marketplace. Blue Cherry is an end - to -…
21
Kenandy
Kenandy's cloud ERP empowers business innovation. Built on the Salesforce platform, Kenandy has redefined enterprise resource planning by allowing customers to map to their existing business processes. Kenandy is dedicated to companies the freedom to innovate products, services, operations and relationships with cloud ERP that is flexible and ready for growth. Unlike traditional ERP systems, Kenandy provides an end-to-end cloud ERP 150 Business Ready Objects, not thousands of tables. Kenandy Cloud ERP is an ERP software that was designed yo assist employer business innovation. Kenandy helps customers to map to their existing business processes. This unique architecture fives companies flexibility…
22
Sage 300c
Sage 300c takes the complexity out of managing your business finances across borders, in multiple currencies and locations. Sage 300c is is an ERP system which helps in managing finances, inventory and operations of an entity. Sage 300c has the capability of handling multiple languages as well as currencies. This can be done cost effectively that other traditional ERP software. The main features of Sage 300c are the simplification of financials especially in retail and distribution. Sage 300c enables easy set-up of multiple companies and produce consolidated account reports. Sage 300c eliminates international business complexity by maintaining an unlimited number…
23
Sage X3
Sage X3 is changing how midsize enterprises compete and grow by offering simpler, faster, and more flexible business management capabilities at a fraction of the cost and complexity of typical enterprise systems. Sage X3 is an ERP system that helps in the management of business with flexibility and at a lesser cost. Sage X3 is well applicable in almost all departments in an organization resulting to overall smooth operations. It's major features include management of the supply chain right from procurement to customer service. The specific features in this are management of financials, purchasing, warehousing, sales and customer service. Sage…
24
FinancialForce ERP
Founded in 2009, FinancialForce is the leading Cloud ERP vendor with apps built entirely on the Salesforce Platform. FinancialForce framework combines your front and back office applications on one cloud. This enables you to administer users in one place instead of many, master one set of security procedures, and eliminate unnecessary and costly integrations. With FinancialForce ClickLink you can configure, customize, and integrate data with minimal technical skills. Fiancialforce cloud platform enables you to deploy your apps quickly and Leverage thousands of applications on the AppExchange. FinancialForce lets you leverage one platform with one set of workflow, reporting and dashboard…
25
OnCloudERP
OnCloudERP is a cloud-based platform ERP software designed specifically to cater to small to midsize businesses in the following sectors: manufacturing, retail, and trading. OnCloudERP features a simple platform that allows you to synchronize all your business processes as well as provide awesome user experience with easy navigations. Since it is offered on the cloud it doesn't require any server or IT infrastructure to set up. It can be implemented with little online support and minimal technical expertise. OnCloudERP can be accessed from anywhere, and on any device. OnCloudERP's core functionalities allow users to effectively handle the all the business…
26
Bitrix24 ERP
Bitrix24 is a free online ERP project management tool designed for companies. It has different features like; CRM, Project management, time management, document management, and tasking in a social style environment that include content sharing, instant messaging, commenting, liking and user profiles. Botrix24 makes communications simpler with it social features such as comments, and liking, and automated processes like notifications, assisted reporting and subscriptions to groups or discussions. Bitrix24 is a free collaborative tools that is available for up to twelve users. It is also free for iOD and Android apps users. It offers a collaboration and communication platform for…
27
Expand ERP
Expand ERP is a platform that integrates elements of enterprise resource planning (ERP), customer relationship management (CRM), and e-Commerce into a single cloud-based solution. Expand ERP is a complete and integrated solution that lets customers find value in big data, gain insight into every aspect of their business, plan ahead, and act with confidence - anytime, anywhere, on any device. Expand ERP is available as on-cloud, or on-premises. The on-cloud option can completely eliminate the need for system engineers and administrators to manage servers, security or data backup. Expand ERP CRM will help you record all your customers' information, based…
28
Acumatica Cloud ERP
Acumatica is a cloud ERP system for the SMB market which includes functionality for financial management, customer management, project accounting, distribution management, manufacturing management, field service management, and multi-channel order management. Acumatica cloud ERP offers features such as auditing, distribution management, financial management, multi-currency, sales orders, wiki, switch between SAAS and on premise, work anywhere you have an internet connection, no client software to maintain, integrated ecommerce and traditional sales orders, user defined dashboards, included report writers for customized bi, advanced accounting - multi-currency, consolidation ledgers, advanced distribution - inventory, sales, purchasing and advanced CRM - convert prospects to accounts…
29
Comarch ERP
Comarch ERP offers multiple ERP solutions that cover a range of business environments. The different ERP solutions are Comarch ERP Enterprise, Comarch ERP Altum, and Comarch ERP XT. Comarch ERP Enterprise is designed for companies that want to expand their market position by streamlining their business activities. Comarch Enterprise offers great performance and scalability as well as easy mapping of complex company structures. It is completely cloud-ready and can be accessed anywhere, and from any device. It can be deployed quickly with reduced costs for training and implementation. Comarch ERP Enterprise can be used for Inventory logistics and location control,…
30
NetSuite Global ERP
Netsuite Global is a complete ERP designed to run businesses. It comprises of global ERP, global BI, global SRP, international capabilities and global ecommerce. Global ERP helps with solving the finamcial management in businesses. It is flexible enough to accommodate dynamically changing business needs. It also enables organizations to manage IT coats, optimize accounting efficiency, streamline order management and procumemt processes, eliminate manually a intensive spreadsheet-based reporting, and improve employee productivity. It major features include, Indirect tax compliance, which offers transparency, automation, control and simplicity, Financial and Accounting regulations which is used in more that 110 countries and comprises of…
31
Rootstock
Rootstock Software is a proven provider of powerful manufacturing and supply chain solutions built on the Force.com cloud computing platform. The Rootstock solution enables real-time management of manufacturing and supply chain operations from front to back, anytime and anywhere. Root Stock is a cloud ERP manufacturing software designed and architectures by software experts for mid-market to large manufacturers, distributors and supply chains. It is packed with the extensive features you need to grow your business. This software gives the breath and depth of solutions that today's manufacturers and distributors need for their business to grow and operate effectively. This software…
32
MIE Trak Pro
MIE Trak Pro is a state of the art ERP system ideal for manufacturing businesses. It has modules designed to accommodate most production cycles and optimizes the capabilities of receptive, custom, quick-turn and mixed mode operations. It offers both on premise and cloud solutions. It the most ideal software for sheet metal fabricators, precision engineers and manufacturers. MIE Trak Pro can be used to incorporate and offer solution any manufacturing process when required. Trak Pro support services offered are training on-site and online, full product support via phone, on-site consultancy services and custom development work. It is a lead provider…
33
SigmaMRP
SigmaMRP is a platform which further re-unites and brings integration to your shop. It enables you to quickly evaluate accurate and competitive quotes for potential jobs. Deliver quotes to your customers and get the purchase order. SigmaMRP is developed for specific requirements of the fabrication industry to manage transactions and communication with customer and suppliers, inventory of goods and raw materials, along with departmental and outsourced processes. It is also Engineered with optimal flexibility to grow to meet manufacturer's requirements and beyond, SigmaMRP is the number one business management software package in the industry. SigmaMRP makes sure you are never…
34
Deltek Vision
Deltek Vision provides full project management, budgeting, and scheduling to help execute projects on time and under budget. It provides you with tools that allow real-time monitoring of project status and staff utilization. It gives you one integrated system to track all financial, project, and resource planning data. Deltek has partnered with Amazon Web Services (AWS), to host Vision platform in the cloud. The partnership with AWS brings with it advanced expertise and physical security that is unmatched by any individual vendor's data center. Running on a cloud-based platform lets you avoid the technical burden of setting up and maintenance…
35
Clearview InFocus
InFocus by Clearview Software is a cloud based ERP solution for Architects and Engineers. InFocus Analytics Dashboards bring business intelligence closer by letting you visualize your firm's most vital information. It allows you to visually drill-down and pivot data, compare performance of PICs or PMs across all their projects, and know which projects are most profitable and which are losing money. InFocus comes with hundreds of reports that are built in Microsoft's Report Definition Language (RDL) but that can be configured to meet your needs. With InFocus ReportBuilder, you can design your own reports easily and quickly. It allows data…
36
IQMS
IQMS is a Manufacturing ERP which offers an integrated ERP and manufacturing solution and provides full control over all aspects of the manufacturing operation, from supply chain management to manufacturing processes, as well as accounting, payroll, and scheduling. IQMS Manufacturing ERP offers features such as accounting management, automated scheduling, cost analysis, CRM integration, employee portal, inventory forecasting, maintenance scheduling, performance support, process analysis, process control, quotation management and supply chain planning. IQMS Manufacturing ERP offers a single, unified user interface from which a variety of manufacturing functions can be controlled provides cost analysis tools to help manufacturers drive ROI across…
37
BatchMaster ERP
BatchMaster ERP is a standalone enterprise resource planning (ERP) program which supports the nuanced processes, procedures, and workflows, and compliance needs of process manufacturing. BatchMaster ERP offers features such as version controlling, automatic formula sizing, multiple units of weight, volume for ingredients, virtually consolidates batch information, increases efficiency and reduces the gap between software and actual operations, enables the user to manage the record of pass/fail statistics depending upon unlimited user defined specifications and assists the user to accept or reject the product based on inspection result It eases production scheduling substantially by monitoring and analyzing the production floor inventory…
38
VISIBILITY.net ERP
The VISIBILITY.net ERP system is web-based Enterprise Resource Planning software developed specifically to meet the unique needs of manufacturers of complex products. Visibility ERP enables organizations to optimize operational management strategies to enhance business performance. Visibility ERP features integrated modules that enable effective management of customer relationships, business performance, material and resource planning, projects, finance, and product engineering and manufacturing. Visibility.net adds insight and flexibility needed to increase productivity and achieve business goals. VISIBILITY.net is delivered over the web as Software-as-a-Service (SaaS) and supports Oracle® and Microsoft® SQL Server™ databases. The VISIBILITY.net CRM suite leverages on its integrated approach to…
39
Traverse
Traverse is a multi-featured ERP/Business Management Software that organizes and automates information and workflows on varied business functions in the business and supply chain including accounting, distribution, manufacturing, point of sale and warehouse management. It's Accounting feature covers accounting functions including General Ledger, Account Payable, Accounts Receivable, Payroll, Banking and Bank Reconciliation and Fixed Assets. It is able to import/export accounting data, financial statements and transactions for more efficient reporting. Its functions on reporting and archiving data allow easier building of budgets as well as help users compare and analyze between budget plans easily. It can also cover multiple years…
40
Novosales
Novsales is an ERP software provider that empowers customers globally by providing them with efficient on-cloud ERP systems for running business smoothly and efficiently.It also has on premise and also for hybrid systems deployment. It is highly functional, flexible, innovative and has a user friendly interface. The product fulfils customer requirements and the latest industry trends. It helps in business growth by precisely managing its machinery, human resource and logistics. It offers a futuristic and adaptive Saas solutions with latest tools and technologies very useful for running business. Novsales emphasizes on customer satisfaction through efficient products to become their trusted…
41
Dynamics NAV
Microsoft Dynamics NAV is a unique combination of business solution which delivers comprehensive business management functionality for small and midsize businesses and provides collaboration and communication tools to connects the many moving parts of the user's organization, giving them better visibility into and control over what's going on in their business. Microsoft Dynamics NAV offers features such as financial management, manufacturing, business intelligence and reporting, supply chain management, sales and marketing, human resource management, project management and service management. Microsoft Dynamics NAV offers specialized functionality for manufacturing, distribution, government, retail, and other industries. Microsoft Dynamics NAV has a strong multi-language…
42
ERPinCloud
Cloud ERP by ERPinCloud is a cloud based ERP solution that gives business a centralized tool to effectively manage their businesses. It provides the perfect ERP solution for various companies operating specifically in manufacturing, e-Commerce, professional services, trading and distribution. Cloud ERP integrates seamlessly with a number of business systems and applications in shipping (UPS, FedEx), e-Commerce (Magento, eBay, Amazon), fulfillment, payment (PayPal, Authorize.net), taxes, and cloud services. These integrations enable users to improve the productivity of their teams as processes become more efficient and streamlined. It lets users make product listings, update order status, relist products, revise products, and…
43
Compass Suite
Compass Suite is a dual language (English-Arabic), Oracle based Enterprise Resource Planning system, designed to support, automate, manage, control, and monitor business process and functions within an enterprise by using different integrated modules representing all departments of the organization. Compass financial helps you integrate financial processes seamlessly with other modules including human resources, manufacturing, sales, warehousing etc. It also allows for flexible reporting mechanism that allows organizations to plan ahead. Compass Assets Management helps to control all fixed assets, through tools such as auto generation of assets codes & barcodes enabling both a qualitative and quantitative overview your assets. Compass…
44
Streamline ERP
Streamline shipping is a full- featured, inter-continental shipping ERP application. Streamline Shipment management module enables you to track and manage shipments by Air, Rail, Container, Roll on/Roll off (RORO) and others, all in a single platform. On this module you can specify ship dates/time, arrival dates/time, shipping instructions and any necessary documents. Streamline runs on a complete intermodal system and an extensive database fully integrated with AESDirect to give you full access to each shipment/cargo from point of origin to its final destination. Streamline Container management comes with standard industry containers preloaded- dimensions and weights included. This simplifies container handling…
45
In4Suite
In4Suite is a customer relationship management system, specifically designed for the construction industry, and fuses a group of integrated modules designed to deliver a comprehensive and complete ERP solution. In4Suite can be used as a single package or integrated with other components or modules which can be added on as a plug-and-play architecture. In4Suite business development module allows users to effectively capture the starting point of construction process. This includes creating property information, capturing land details, integrating Google Maps to determine land marks, handle land payment details, and tenant management issues. In4Suite legal module helps legal teams to manage and…
46
Dynamics SL
Microsoft Dynamics SL is a web based and mobile friendly enterprise resource planning (ERP) system for project-based small and medium-sized businesses which offers industry-specific capabilities for professional services, government contractors, distribution, construction management, and other vertical markets, helps users easily manage complex project accounting and enables users complete control over their project management and estimate from their office and on the go. Microsoft Dynamics SL offers features such as accounting, integration with Microsoft project server, business intelligence and reporting, project management, services management, financial management, sales, service and management, business intelligence and reporting, contract management, billing and receipts, construction estimating,…
47
CGram Enterprise
CGram Enterprise is a full ERP system which provides solutions spanning across all business processes. The Sales module provides you with a comprehensive platform that allows you to track, view and effectively manage all customer information including, buying history, quotations, orders, invoices, and sales ledger. It also enables you to generate accurate quotations and invoices automatically. The CRM module is an inclusive multi-channel contact management solution that helps you to track, view and manage all your interactions with both customers and suppliers. CGram's accounts and Financial management module provides you with accounting and financial tools that enable you to measure,…
48
SalesBabu ERP
SalesBabu ERP lets users monitor, plan, analyze and execute. SalesBabu ERP has features such as synchronize inventory levels, maintain stocks, less time consuming, centralize management, visibility of status, streamline warehouse operations, save time to reconcile data, easy access of information from anywhere, real time stock update, easy inventory report to analysis, integrated order management, easy access to centralized information, reduce duplicate records, increased profitability, more informed decisions, improved sales strategies, ensure deliveries on time, reduce support time, efficient customer service, operational excellence, evaluate inventory consumption, set stock alarm on present inventory, plan future purchases on time, reduce purchase cost, improve…
49
Relevant ERP
Relevant is a directly-delivered enterprise resource planning (ERP) software, services and support solution for companies that design, engineer, manufacture, and repair complex, high-value products in industries such as aerospace and defense; contract manufacturing; and maintenance, repair and overhaul (MRO). Relevant ensures that every project is completed on time, on budget, and with top quality and reliability for the companies which must tightly manage numerous projects, each with a unique set of materials, designs, and milestones. Unlike generic ERP solutions, Relevant ERP is a comprehensive solution focused specifically on the needs of complex, high-value product manufacturers. Relevant ERP is built by…
You may like to read: Top Cloud ERP Software, Free and Open Source ERP Software, and ERP Software for Large Business.