How to Select the Best Enterprise Resource Planning (ERP) Software for Your Business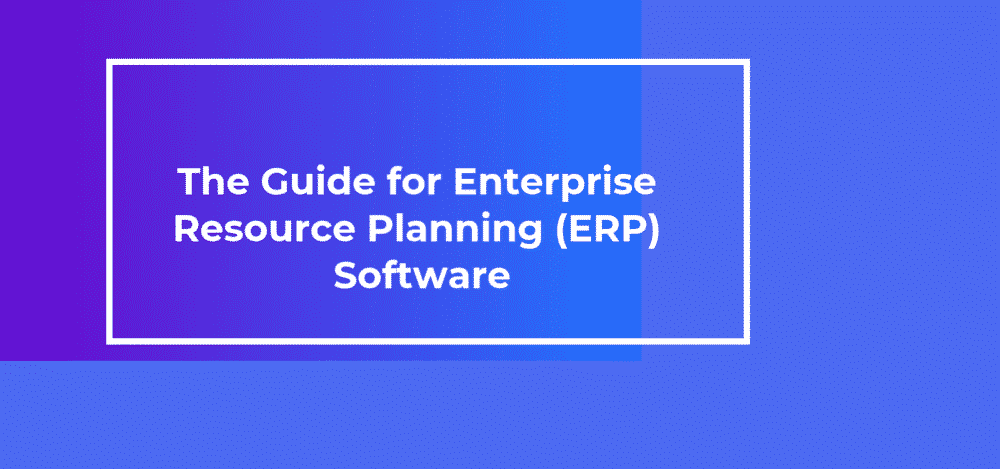 Enterprise Resource Planning (ERP) systems are business information systems or commercial software packages for small, medium and large enterprises. They cover all standard business functions and have the ability to adapt to the concrete needs of the company.
Application of the ERP Software packages can contribute to the significant quality improvement of products and services. ERP system integrates all functions of a business system using a single software solution.
The first steps modern business systems done in order to manage their resources and needs was the developing of MRP (Material Requirements Planning) Systems. These were computerized systems that upgraded the inventory control and production planning. In the second phase, the MRP II (Manufacturing Resource Planning) was developed.
Therefore, ERP Systems are a continuation of the MRP II concept with additional features for finance, product distribution and Human Resource Management. These features are integrated so that they can satisfy general business needs of an integrated or networked company.
The decision-making process can be far advanced in all spheres of company business by using these systems, since all activities and functions are connected; thus, chain value integration, resource usage optimization and synchronized planning, management and control are guaranteed. All this combined, leads to the improvement in the information flow by a vertical, horizontal and lateral communication line.
ERP should be seen as an improvement of already successful business processes. In order for the implementation to be successful, it must be in the line with the company`s strategy. In connection with that, business processes and activities that are no longer needed should be eliminated adequately, while others should be upgraded, because that is the right way to accelerate the implementation itself and, also, increase the chances for the success.
A good ERP Software should enable quick and easy performance of all these tasks and provide clear reports based on the accurate data. The ability to provide quality and precise reports is one of the most important qualities of a good ERP program.
What are Enterprise Resource Planning (ERP) Software?
Enterprise Resource Planning offers a complete suite of functionality that will seamlessly integrate and automate your business processes and provide your organization with the visibility, tools and technology you need to meet the demands of your business. ERP Software is highly configurable to accommodate the diverse needs of users across most sectors of the economy.
ERP support all business functions of an enterprise, such as procurement, material management, production, logistics, maintenance, sales, distribution, financial accounting, asset management, cash management, controlling, strategic planning, and quality management. ERP also supports industry specific business functions like managing hospitals, and student administration at universities.
ERP software is based on an integrated database that stores master and transactional data in a consistent way and with controlled redundancy.ERP is also designed for companies that do business such as purchase, produce, sell, warehouse in various countries.
ERP can handle the specific requirements of different regions and these software also includes preconfigured country specific chart of accounts, preformatted document types and HR related rules such as payroll. ERP Software also support the ability to handle multiple currencies in all transactions.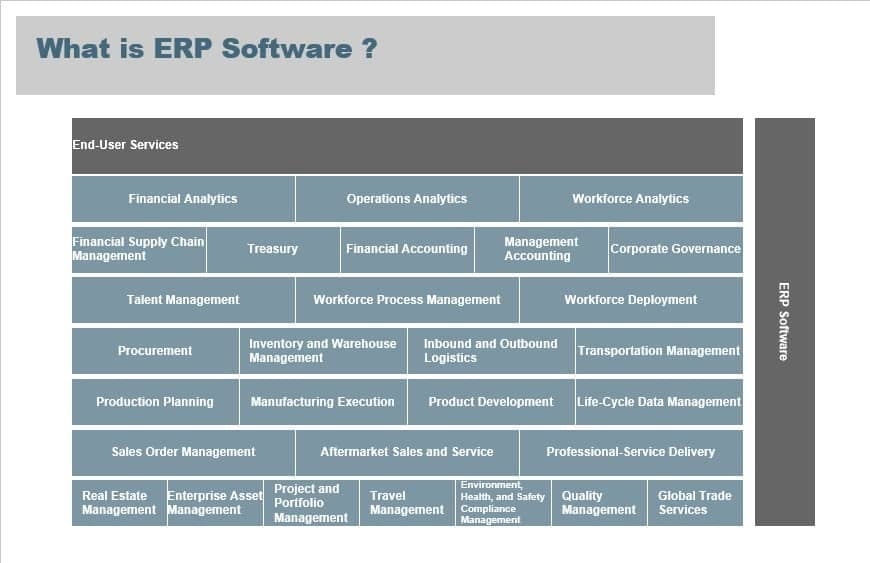 Identifying Which Type of Enterprise Resource Planning (ERP) Software is right for your Business

There are several different types of ERP Software, all divided into groups based on the features, functionality and the Industry :
Vertical ERP: It is industrial-specific. Reduces the customization requirements and cuts down on implementation duration and costs.
Horizontal ERP: It easily fits into any organization that is not industrial-specific. Often, the customization is needed to promote vertical functionality.
ERP for Small/Medium Business: Provides only needed features while leaving out the others.
Generic ERP: Stores transactional data, but doesn`t offer detailed insight into business activities.
ERP Modules: Financial and Accounting, Planning and Budgeting, Procurement, Warehouse, Human Resources, Logistics, Sales and Distribution, Controlling, Material Management, Production and Service Management.
You may like to read: Top ERP Software, Free, Open Source ERP Software, Top ERP Software for SMB, Top Cloud ERP Software, ERP Software for Large Business.
Depending on company`s needs, business requirements and future goals, there are several types of Enterprise Resource Planning (ERP) Software available based on licensing model:
Open Source Enterprise Resource Planning (ERP) : These are Open Source Software where the source code is available.
Free Proprietary Enterprise Resource Planning (ERP) : These are limited versions of a fully functional propriety Enterprise Resource Planning (ERP) Software.
Proprietary Enterprise Resource Planning (ERP) : Full paid version of Enterprise Resource Planning (ERP) Software which is available either in cloud or standalone client server architecture.
What are the Essential Features of ERP Software?

Enterprise resource planning (ERP) system stands an important role in the enterprise running no matter how large the scale of the enterprise is, as it creates the information pipe that can reach each functional department, which realizes various benefits such as high work efficiency, accurate sales forecast, and costs cut over. This software is used by a company management, commercialists, warehouse, administration. Therefore, it is essential that ERP can communicate with other software without any problems – to be compatible and flexible. Some of the inevitable features that will enable all of these are:
Procurement and Logistics Execution: Helps to quickly maximize cost savings for all spend. With one complete and integrated procurement solution, you can manage end-to-end procure-to-pay and logistics business processes for complete business cycles from self-service requisitioning to flexible invoicing and payment.
Financial Management: Provides a comprehensive financial management solution for addressing critical  financial functions,such as financial and management accounting and reporting, financial supply chain management, working capital management, treasury and risk management.
Human Capital Management: Offers a complete and integrated set of tools to manage your most important asset such as Automation of core human resource processes, such as employee administration, payroll, and legal reporting, increases efficiency and supports compliance.
Manufacturing: Helps you shorten time to market, deliver high-quality products,respond to changes in demand, and ensure delivery of promised orders.
Integration and Standardization: Integration of business processes and systems into the technological infrastructure and support for new business strategies with quality reports.
Flexibility: The modern ERP system is characterized by the ability to adapt to real needs of a particular business system, but also to standard industrial practices. Flexibility refers to the ability to set general parameters and process parameters, working with different data sources.
Modularity: In accordance with the needs, it determines the complexity level of the applied program.
Independency: Hardware and business organization independent, functions with different operative and data management systems.
Transaction base: Collecting, processing, updating and easy displaying business data.
Data warehousing: Data archive shows data analysis and visualization, and is intended for supporting decision-making process.
Availability: The ERP system is not limited by the formal boundaries of the business system. It is available to the remote organizational units, but also to provide suitable interfaces designed for enterprise partners and their clients.
Simulation of real business assets/circumstances: One of the most important functions of the ERP system is the possibility to predict the behavior of a system in a certain, real business circumstances; it uses simulation scenarios on a real business data domain based on forecasts.
Master scheduling: Represents the maintenance of an operational balance between the availability of individual products and received customer orders; provides detailed product overview.
Plant scheduling: The production termination activity mainly covers simplified work orders based on the MRP analysis.
Sales and operations planning: Includes the activities of creating an operational plan for the execution of business plan components related to sales, production and supplies.
Reporting: Generates reports from different data sources.
Capacity Requirements Planning (CRP): Based on a previously done MRP analysis; total requirements are compared with the actual capacity.
Customer order entry and Promising: Within this process, the ERP system should provide insight into current orders that are already in the process, or are waiting to enter it (backlog), existing stock, the available capacity of the business system and the time required for the total production (lead time).
Execution and Feedback: Adequate monitoring of the business process realization and reporting eventual needs for revision.
What are the Benefits of ERP Software?
Most ERP systems are initially designed to be used in manufacturing companies characterized by large-scale or mass production. ERP is a fully integrated application that fulfills the core business needs of midsize companies and large organizations across all industries and market sectors. It helps enterprises to perform financials, human capital  management, procurement and logistics, product development and manufacturing, and sales and service, supported by functionality for analytics,corporate services, and end-user servicedelivery. In addition to increasing efficiency within your organization, ERP also helps you extend end-to-end business processes to your customers,partners, and suppliers.
Financial Information Integration: Given that the ERP system implies an integrated management of financial information, although, with different responsibilities, it is obvious that, it provides an accurate, always up-to-date picture of the company's total revenue, its structure and alternative concepts.
Integrating information about client orders: It represents the most significant process in one business system and is the basic generator of information for decision support.
Standardization and acceleration of production processes: Enables process unification and a greater degree of automation in their implementation.
Inventory reduction: Production processes are more stable and predictable and storage costs are minimal.
Standardization of human resources information: If the business system includes a range of geographically remote locations, integrated and standardized information on all human resources provided by the ERP system ensure their complete accuracy and promptness.
More easily manage complex corporate structures, market channels, and business scenarios.
Streamline your business processes and operations and Optimize valuable corporate resources and assets.
Accelerate time to market and time to value, deliver individualized products and services to current and emerging markets.
Enhance employee and customer service and satisfaction in all aspects of your business.
What are the Latest trends in ERP Software

The greatest efforts are currently invested in the formulation and development of standards in the domain of interoperability components of the business information system. The integration layer of the ERP system is characterized by growing usage of web services and  corresponding standard methods and procedures:
Cloud-based applications: Easy access ERP over the Internet, adopt new capabilities and manage growth as needed.
Artificial intelligence: AI frees users from manual and repetitive interactions with the ERP software, allowing them to focus on creative and non-routine analytical tasks. The collected data used by ERP will become much more valuable as AI converts them into practical solutions.
Internet of Things (IoT): IoT can bring great potential to ERP solutions. By using the devices with sensors that are connected via the Internet, we can incredibly quickly provide data directly to the ERP. These data can be obtained very quickly, but at the same time, there is no manual input error.
Hybrid ERP: Offers greater adjustability and allows organizations to choose among various features.
Complex event processing: It offers rational and steady cause-effect patterns; identifies events and quickly responds to them.
Is a Free ERP Software Worthwhile?
Enterprise Resource Planning (ERP) Software has many features and can do a lot to help your business to succeed by making it efficient, but it can be expensive. There are plenty of free Enterprise Resource Planning (ERP) Software available. There are two category of Free Enterprise Resource Planning (ERP) Software Software : Free Open Source Enterprise Resource Planning (ERP) Software and Limited version of a Proprietary Enterprise Resource Planning (ERP) Software.
Free Open Source Enterprise Resource Planning (ERP) Software is a good choice, when you have a development team available in your company and when you want to try out the product or build new features and functionality on top of it. You need to spend time to set it up and running.
The limited version of a Proprietary Enterprise Resource Planning (ERP) Software is a good way to see if it will be useful to your business before making a big investment but these software comes with limitations.  A free limited version from a proprietary product company will make it easier to upgrade in the long run and also help you determine if that company's solution is what you want.
There are also drawbacks to Free Limited version of a Proprietary Enterprise Resource Planning (ERP) Software . These limited version do not have nearly as many features available in a fully functional paid version, and there are limits such as number of features and functionality, modules,  storage limits, number of reports, limited data integration options, and also on the number of users you can have. The free versions also have limited support options.
 How to choose the right ERP Software

The choice of ERP solutions is based on the starting assumptions of using the systems that are related to the defined goals, expected levels of their fulfillment and the results of the cost-benefit analysis. A good ERP must be applicable in different business areas and therefore needs to have tools for customizing user information requirements. In other words, it needs to:
Prioritize Your Software Requirements : Identify and prioritizing your software requirements. Have a complete process model for the respective activity such as production, wholesale and retail trade, services to prioritize your requirements.
Include all major business processes such as planning, procurement, storage, production, maintenance, sales, finance, bookkeeping, inventory, staffing and earnings, quality ...
Evaluate the Demos, Identify the integration and do a cost benefit analysis.

Build a Short List of Software Vendor : Identify and determine a shortlist of systems to consider.
Also, consider which other programs you use and which systems you would like to integrate with your business information system. Ask what maintenance service covers. The service may contain, except the program maintenance, other information services, such as the installation of yearly patch for tax administration applications, security updates or data backup.
Top Free Open Source Enterprise Resource Planning (ERP) Software
Top ERP Software
Top ERP Software
PAT Index™
You may like to read: Top ERP Software, Free, Open Source ERP Software, Top ERP Software for SMB, Top Cloud ERP Software, ERP Software for Large Business.