Review
Jeeves ERP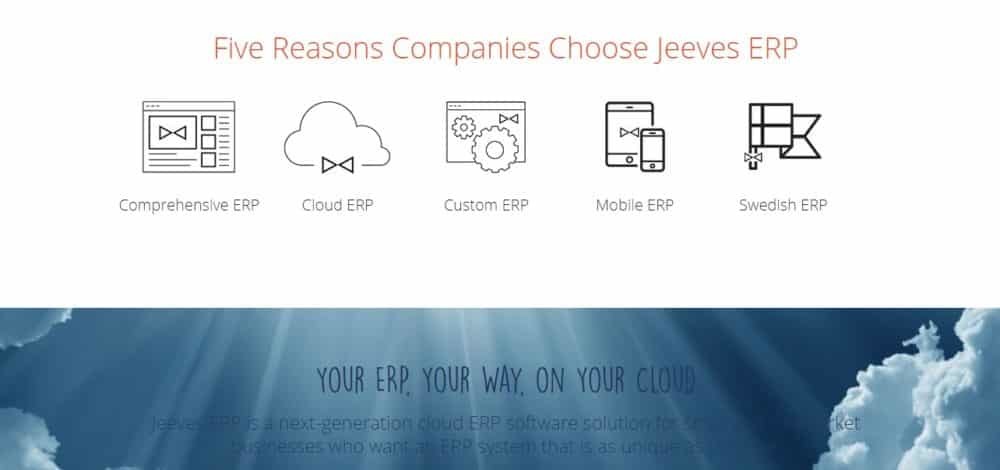 Overview
Jeeves ERP is a next-generation cloud ERP software solution for small and midmarket businesses who want an ERP system that is as unique as they are.
ERP Software,ERP Software SMB, ERP Software Cloud
• Comprehensive ERP
• Cloud ERP
• Custom ERP
• Mobile ERP
• Swedish ERP
Small (<50 employees), Medium (50 to 1000 Enterprise (>1001 employees)
What is best?
• Comprehensive ERP
• Cloud ERP
• Custom ERP
• Mobile ERP
Jeeves is an enterprise resource planning (ERP) system and a software developer in Sweden which integrates seamlessly across multiple manufacturing styles to facilitate planning, decision-making, execution and measuring.
Jeeves ERP offers features such as tab views, form design, search, integration with QlikView, user-defined portals, field service, inventory management, project management, purchasing, sales management, supply chain management, warehouse management, financial management, accounting management, CRM, dashboard and distribution management.
The Jeeves Universal product is suited to engineered-to-order, made-to-order, job shop and repetitive manufacturers, among other production environments where work order tracking and labor reporting are essential requirements. Jeeves ERP offers an innovative search feature where users can search within the system database far more easily and intuitively than other ERP products for when a user displays a data table, they simply click on the fields to immediately search and it also comes with the "dynamic search" feature which is helpful when drilling into data or tracking exceptions.
Jeeves ERP also offers a robust Business Intelligence capability which is fully integrated with QlikView which is a pre-packaged decision support system that compiles the transactions from the ERP system to clear relevant information where it has an easy to read tables and charts which offer an up to date overview of business operations within sales, purchasing, inventory, finance and manufacturing and with a simple mouse-click, the images can be filtered and angled to show different dimensions, and be broken down into detail to illustrate the different perspectives and where it can be run either as an integrated part within the ERP system or separately in any web browser.
You may like to read: Top ERP Software, Free, Open Source ERP Software, Top ERP Software for SMB, Top Cloud ERP Software, ERP Software for Large Business.