Review
DreamHost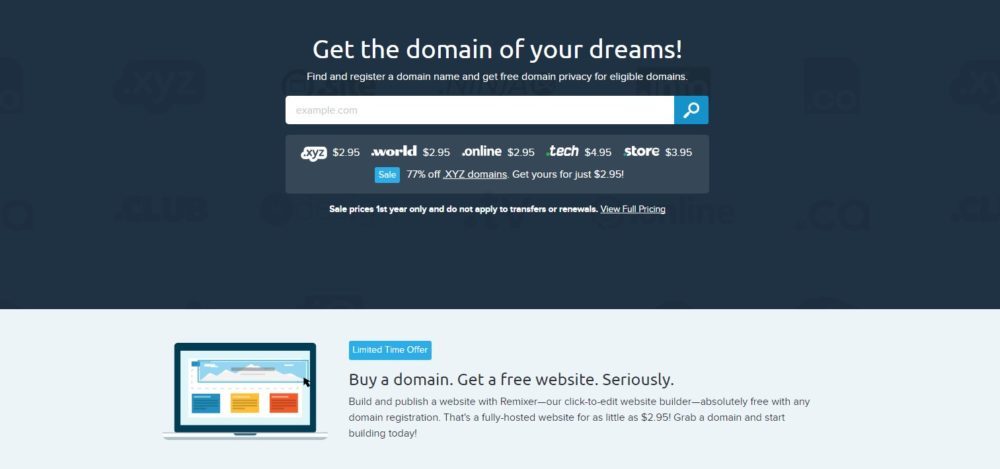 Overview
DreamHost provides domain registration, web hosting and cloud services to 1.5 million sites, blogs and applications, and supports over 400,000 web designers, developers, content creators, small businesses and entrepreneurs with the power of the Open Web.
Domain Registration Providers
Secure and trusted
Dedicated Servers
Free domain privacy
ICANN-accredited
Flexible Autorenewals
DNS Management
Annual domain hosting price varies based on the type of domain, and they range between $13.95 and $29.95
Web hosting as from $7.95 per month
Dedicated hosting as from $149 per month
WordPress hosting between $7.95 and $16.95 depending on the plan
VPS hosting as from $15 per month!
Small (<50 employees), Medium (50 to 1000 Enterprise (>1001 employees)
At Dreamhost, users shouldn't have to pay for privacy. Free Domain Privacy Protection is included at no extra charge for all eligible domains registered at Dreamhost. Also, DreamHost is an ICANN-accredited registrar for generic top-level domains, including .com, .net, .org, and .info.
That means enhanced customer protection and increased security for customer domains. As the original heavyweight champion of domain names, a .com from DreamHost is still the safest, most trusted, and most memorable domain extension.
The Dreamhost platform is also rich in salient and benefit-emitting features. For instance, it allows users to set their autorenew preferences to "yes" or "no" to receive renewal notices on a regular basis. DNS management provision allows customers to easily update their name server info along with their MX, CNAME, and other records. Moreover, it comes with free subdomains which allow consumers to create as many subdomains (news.thedomain.com) as they want to customize their sites.
Its free custom nameservers enable customers to create professional-looking "vanity" nameservers (ns1.specialdomain.com) branded with their domain. With its domain forwarding capabilities, a customer has a full control to forward their domain to any existing website. Optional domain locking provisions protect a user's domain from unauthorized transfer requests or scammers.
With Dreamhost, a client also enjoys easy domain transfers. Clients can transfer their hosting, domain registrations, or both to DreamHost. It's quick, painless, and just a few clicks away. Other benefits that users can enjoy include excellent and secure hosting for websites, blogs, and portfolios. Businesses, developers, designers, and ecommerce can also enjoy virtual private servers. Dedicated servers are also available, and they are ideal for high traffic sites, apps, agencies, and resellers.